STAT5a/b Deficiency Delays, but does not Prevent, Prolactin-Driven Prostate Tumorigenesis in Mice
1
Institut Necker Enfants Malades, Inserm U1151, 75014 Paris, France
2
Faculté de Médecine, Université Paris Descartes, 75014 Paris, France
3
Unité d'Histologie et d'Anatomie Pathologique, Ecole Nationale Vétérinaire d'Alfort, 94704 Maisons-Alfort, France
4
Laboratoire d'Anatomo-Cytopathologie, BioPôle Alfort, Ecole Nationale Vétérinaire d'Alfort, 94704 Maisons-Alfort, France
5
U955—IMRB, Inserm, Ecole Nationale Vétérinaire d'Alfort, UPEC, 94704 Maisons-Alfort, France
6
Institute of Animal Breeding and Genetics, University of Veterinary Medicine Vienna, 1210 Vienna, Austria
7
Medical University of Vienna, 1090 Vienna, Austria
*
Author to whom correspondence should be addressed.
†
These authors contributed equally to this paper.
Received: 11 June 2019 / Revised: 28 June 2019 / Accepted: 1 July 2019 / Published: 2 July 2019
Abstract
The canonical prolactin (PRL) Signal Transducer and Activator of Transcription (STAT) 5 pathway has been suggested to contribute to human prostate tumorigenesis via an autocrine/paracrine mechanism. The probasin (Pb)-PRL transgenic mouse models this mechanism by overexpressing PRL specifically in the prostate epithelium leading to strong STAT5 activation in luminal cells. These mice exhibit hypertrophic prostates harboring various pre-neoplastic lesions that aggravate with age and accumulation of castration-resistant stem/progenitor cells. As STAT5 signaling is largely predominant over other classical PRL-triggered pathways in Pb-PRL prostates, we reasoned that Pb-Cre recombinase-driven genetic deletion of a floxed
Stat5a/b
locus should prevent prostate tumorigenesis in so-called Pb-PRL
ΔSTAT5
mice. Anterior and dorsal prostate lobes displayed the highest
Stat5a/b
deletion efficiency with no overt compensatory activation of other PRLR signaling cascade at 6 months of age; hence the development of tumor hallmarks was markedly reduced.
Stat5a/b
deletion also reversed the accumulation of stem/progenitor cells, indicating that STAT5 signaling regulates prostate epithelial cell hierarchy. Interestingly, ERK1/2 and AKT, but not STAT3 and androgen signaling, emerged as escape mechanisms leading to delayed tumor development in aged Pb-PRL
ΔSTAT5
mice. Unexpectedly, we found that Pb-PRL prostates spontaneously exhibited age-dependent decline of STAT5 signaling, also to the benefit of AKT and ERK1/2 signaling. As a consequence, both Pb-PRL and Pb-PRL
ΔSTAT5
mice ultimately displayed similar pathological prostate phenotypes at 18 months of age. This preclinical study provides insight on STAT5-dependent mechanisms of PRL-induced prostate tumorigenesis and alternative pathways bypassing STAT5 signaling down-regulation upon prostate neoplasia progression.
View Full-Text
►

▼

Figures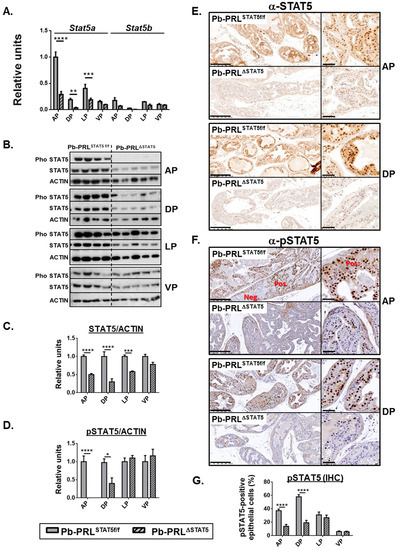 Figure 1
This is an open access article distributed under the
Creative Commons Attribution License
which permits unrestricted use, distribution, and reproduction in any medium, provided the original work is properly cited (CC BY 4.0).

Share & Cite This Article
MDPI and ACS Style
Boutillon, F.; Pigat, N.; Sackmann Sala, L.; Reyes-Gomez, E.; Moriggl, R.; Guidotti, J.-E.; Goffin, V. STAT5a/b Deficiency Delays, but does not Prevent, Prolactin-Driven Prostate Tumorigenesis in Mice. Cancers 2019, 11, 929.
Note that from the first issue of 2016, MDPI journals use article numbers instead of page numbers. See further details here.
Related Articles
Comments
[Return to top]