Open Access This article is
freely available
re-usable
Review
The d16HER2 Splice Variant: A Friend or Foe of HER2-Positive Cancers?
1
Molecular Targeting Unit, Department of Research, Fondazione IRCCS Istituto Nazionale dei Tumori, 20133 Milan, Italy
2
Faculty of Health and Applied Sciences, University of the West of England, Coldharbour Lane, Frenchay, Bristol BS16 1QY, UK
†
These authors contributed equally.

Received: 31 May 2019 / Accepted: 25 June 2019 / Published: 28 June 2019
Abstract
:
Human epidermal growth factor receptor 2 (
ERBB2
or HER2) amplification/overexpression is associated with a particularly aggressive molecular subtype of breast cancer (BC), characterized by a poor prognosis, increased metastatic potential, and disease recurrence. As only approximately 50% of HER2-positive patients respond to HER2-targeted therapies, greater knowledge of the biology of HER2 and the mechanisms that underlie drug susceptibility is needed to improve cure rates. Evidence suggests that the coexistence of full-length, wild-type HER2 (wtHER2) and altered forms of HER2—such as carboxy-terminus-truncated fragments, activating mutations, and splice variants—significantly increases the heterogeneity of HER2-positive disease, affecting its biology, clinical course, and treatment response. In particular, expression of the d16HER2 splice variant in human HER2-positive BC has a crucial pathobiological function, wherein the absence of sixteen amino acids from the extracellular domain induces the formation of stable and constitutively active HER2 homodimers on the tumor cell surface. Notably, the d16HER2 variant significantly influences the initiation and aggressiveness of tumors, cancer stem cell properties, epithelial–mesenchymal transition (EMT), and the susceptibility of HER2-positive BC cells to trastuzumab compared with its wtHER2 counterpart, thus constituting a novel and potentially clinically useful biomarker. The aims of this review are to summarize the existing evidence regarding the pathobiological functions of the d16HER2 variant and discuss its current and future value with regard to risk assessment and treatment choices in HER2-positive disease.
Keywords:
d16HER2 splice variant; wild-type HER2; breast cancer; regulation of alternative splicing; tumor aggressiveness; cancer stem cells; targeted therapy
1. Introduction
Here, we summarize the studies that have described the generation of d16HER2 and its involvement in BC, focusing on HER2-driven tumorigenesis, tumor aggressiveness, stemness, epithelial–mesenchymal transition (EMT) programs, and the response to anti-HER2 biodrugs. Establishing the function of d16HER2 in the progression of HER2-positive BC is needed to define its clinical value and determine whether it should be considered in the selection of therapeutic approaches.
1.1. Alternative Splicing and the Regulation of d16HER2 Expression
Soon after the discovery of pre-mRNA splicing in the late 1970s, it became apparent that exons are not always spliced together in the same manner. Multi-exon genes can express several mRNAs using various combinations of exons. These mRNAs can encode 'splice isoforms' of proteins with disparate and even antagonistic properties.
Alternative splicing is regulated by splice factors, which are generally RNA-binding proteins that recognize specific sequences or RNA structures in exons and introns. However, it can also be controlled by noncoding RNAs. Splice factors bind to specific regulatory sequences, known as exonic or intronic splice enhancers or silencers (ESEs, ESSs, ISEs, and ISSs). These splice factors can then block or facilitate the recognition of splice sites by the spliceosome machinery.
d16HER2: A Crucial Driver of HER2-Driven Tumor Aggressiveness
1.2. d16HER2: The Chief Factor in HER2-Positive Breast Cancer Stem Cells and the EMT Program
1.3. d16HER2: A Promising Predictor of HER2-Targeted Therapy
In contrast, the humanized antibody trastuzumab, which is the standard of care for patients with early and advanced HER2-positive BC, was found to bind d16HER2 to a lesser extent than full-length HER2 counterpart in HEK-293 transfectants, reflecting a lack of reactivity with d16HER2 homodimers that can be reverted in the presence of a reducing agent able to break disulfide bridges.
Because trastuzumab recognizes a conformational epitope in the juxtamembrane region of full-length HER2, in which sixteen amino acids are skipped in frame, we reasoned that this region is altered in d16HER2-transfected cells, impairing recognition by trastuzumab.
2. Conclusions
In this review, we have discussed the growing body of evidence that the HER2 splice isoform d16HER2 has distinct and important pathobiological functions in HER2-positive BC. As summarized in
Figure 2
, a growing body of data indicates that d16HER2 mediates tumor initiation, proliferation, invasion, and stemness and optimal sensitivity to HER2-targeted therapy in HER2-positive BC. Notwithstanding the ability of human d16HER2 to induce spontaneous tumor onset in transgenic mice, the random appearance of the tumors likely reflects the need for additional genetic and epigenetic alterations to induce neoplastic transformation, necessitating further study to determine the oncogenic potential of d16HER2.
Furthermore, the efficacy of trastuzumab in d16HER2-overexpressing cancer models is controversial, given their resistance in vitro and sensitivity in vivo. This discrepancy might be due in part to the presence of host immunological machinery in vivo that is triggered by trastuzumab against HER2-overexpressing tumor cells. However, we cannot exclude the possibility that tumors that express high levels of d16HER2 are precisely those that express high levels of wtHER2 transcript, and are extremely addicted to HER2 signaling for growth and progression and thus sensitive to blockade of the oncoprotein [
7
,
59
]. Although the binding of trastuzumab to d16HER2 might be impeded by d16HER2 homodimers with disulfide bridges, the concomitant high expression of wtHER2 on the tumor cell membrane facilitates the binding and therapeutic activity of this biodrug. Overall, d16HER2 could be considered a marker of a tumor's addiction to HER2, warranting clinical investigation as a marker of the susceptibility of HER2-driven cancers to trastuzumab.
Author Contributions
Conceptualization, L.C., E.T., and S.M.P.; writing—original draft preparation, L.C., M.L., E.T., and S.M.P.; writing—review and editing, M.L.; funding acquisition, E.T. and S.M.P.
Funding
This research received no external funding.
Acknowledgments
Data that were generated in the Molecular Targeting Unit, Department of Research, Fondazione IRCCS Istituto Nazionale dei Tumori, Milan were funded by grants from Associazione Italiana Ricerca Cancro (AIRC; call 2010 Id. 10352 and call 2015 Id. 16918 to S.M. Pupa, and call 2014 Id. 15369 to E. Tagliabue) and Ministero Italiano della Salute RF-2009-1532281 to S.M. Pupa.
Conflicts of Interest
The authors declare that they have no conflict of interest.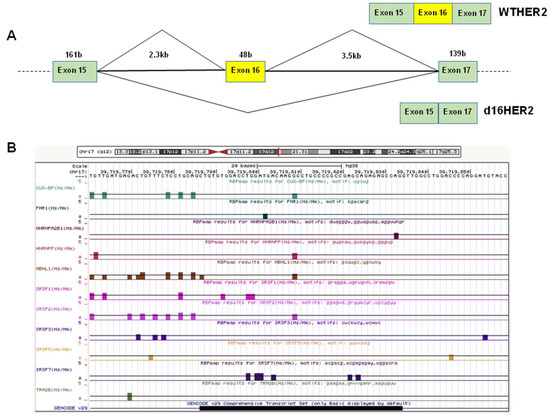 Figure 1.
Analysis of
HER2
's alternatively spliced cassette exon 16 and surrounding intron sequence. (
A
) Schematic of
HER2
splice isoforms (wtHER2, with exon 16 included and HER2, exon 16 skipped). (
B
) Analysis of human
HER2
exon 16 and flanking intronic sequence. The 3′ splice site, comprising the pyrimidine tract (underlined) is ctgtttctcctgcagCTG and the 5′ splice site is CTGgttggcctg. Putative binding sites are indicated for the splice factors CUG-BP, FMR1, hnRNPA2B1, hnRNPF, MBNL1, SRSF1, SRSF2, SRSF3, SRSF5, SRSF7, and TRA2B. The data was obtained using RBPmap (rbpmap.technion.ac.il) and visualised on the UCSC genome browser.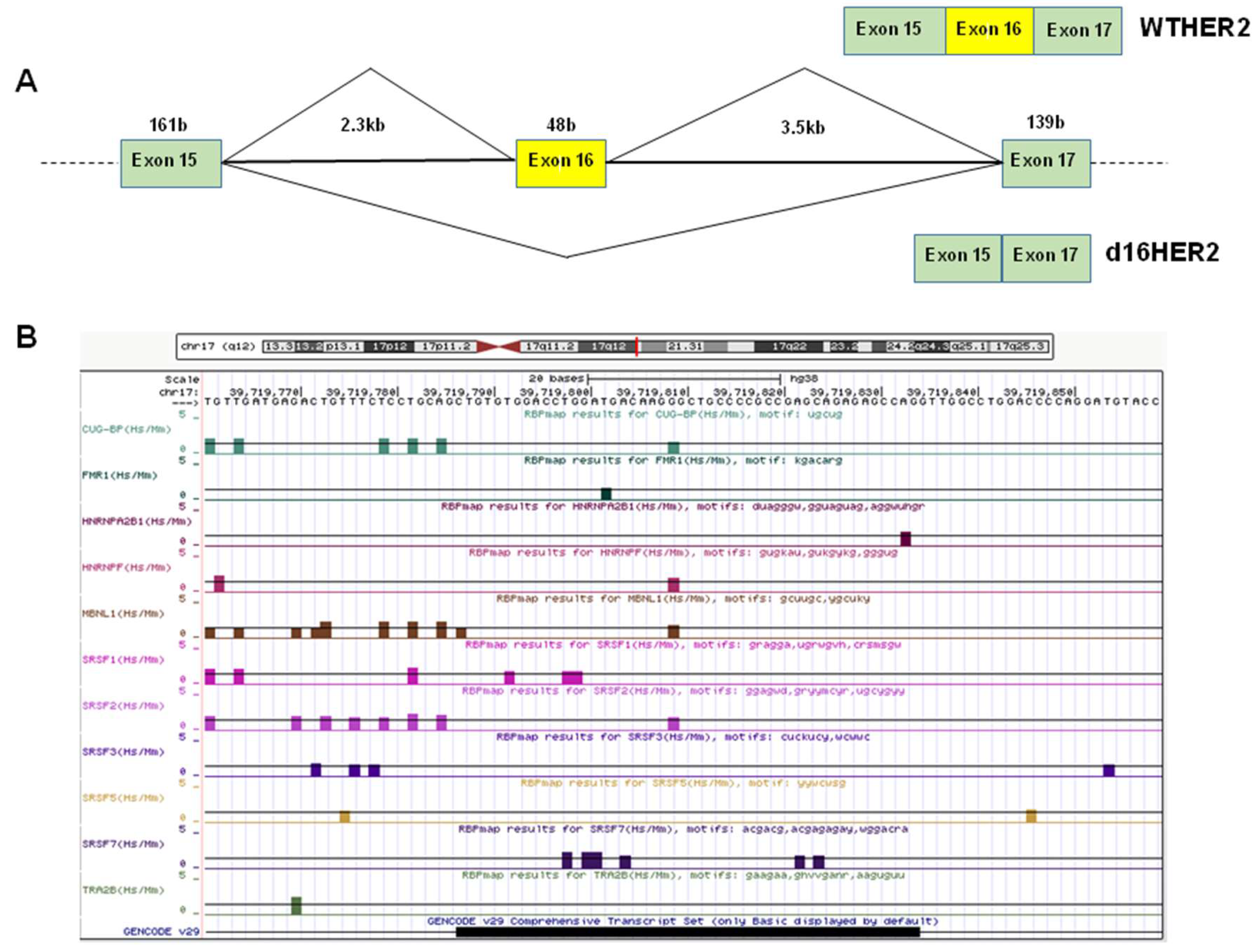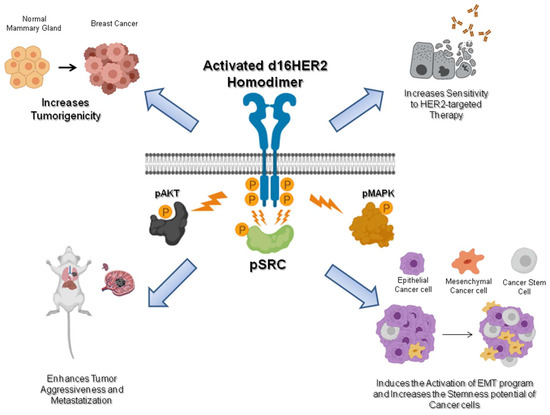 Figure 2.
Schematic of the pathobiological features of d16HER2. The homodimerization of the d16HER2 splice isoform results in autophosphorylation of the tyrosine kinase domains and induction of downstream signaling. Cell signaling downstream of d16HER2 is transduced to the nucleus through different circuitries including Mitogen-Activated Protein Kinase (MAPK), Protein Kinase B (AKT), and mainly by Proto-oncogene tyrosine-protein kinase Src (SRC). Through the activation of these downstream pathways, d16HER2 is able to increase tumorigenicity and sensitivity to anti-HER2 drugs and enhance tumor aggressiveness and metastatization. d16HER2 also induces activation of the epithelial–mesenchymal transition (EMT) program and the enrichment of cancer stem cells (CSCs) inside the tumor. Created by
Biorender.com
.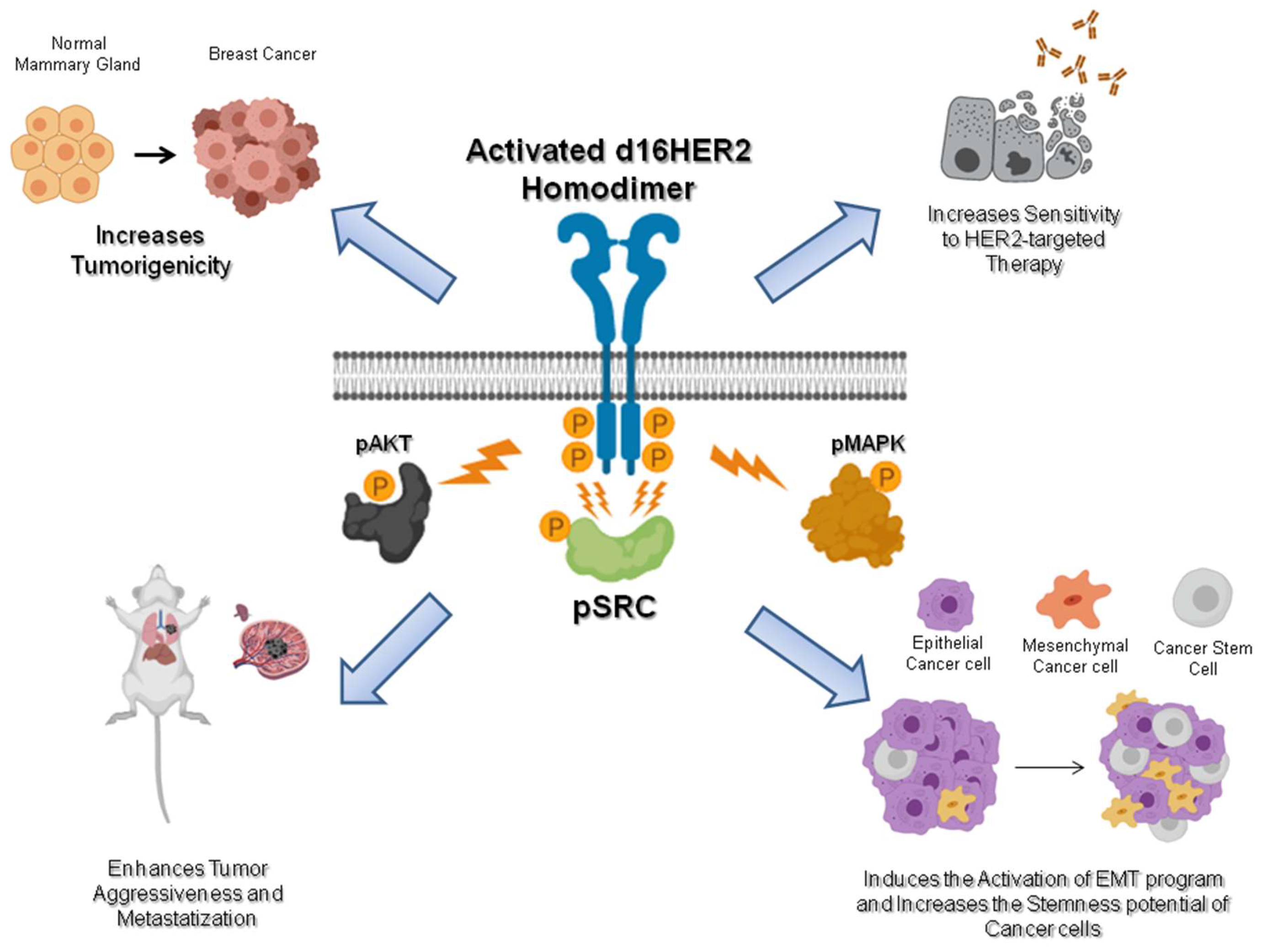 Generation Mechanism
HER2 Isoforms
Cellular Localization
Proteolytic Cleavage
HER2-ECD (p110)
Soluble extracellular
648-CTF
Anchored in cell membrane
Alternative Splicing
d16HER2
Transmembrane
Herstatin
Soluble extracellular
P100
Soluble extracellular
Alternative Initiation of translation
611-CTF (p95HER2)
Transmembrane
687-CTF (p95cyto)
Soluble intracellular
Somatic Mutations
most missense mutations
20% HER2 extracellular domain
duplications/insertions
80% HER2 transmembrane-extracellular domain

© 2019 by the authors. Licensee MDPI, Basel, Switzerland. This article is an open access article distributed under the terms and conditions of the Creative Commons Attribution (CC BY) license (http://creativecommons.org/licenses/by/4.0/).