Diagnostic Leukapheresis Enables Reliable Transcriptomic Profiling of Single Circulating Tumor Cells to Characterize Inter-Cellular Heterogeneity in Terms of Endocrine Resistance
1
Department of Obstetrics and Gynecology, University Hospital and Medical Faculty of the Heinrich-Heine University Duesseldorf, 40225 Duesseldorf, Germany
2
Department of General, Visceral and Pediatric Surgery, University Hospital and Medical Faculty of the Heinrich-Heine University Duesseldorf, 40225 Duesseldorf, Germany
3
Institute for Transplantation Diagnostics and Cell Therapeutics, University Hospital and Medical Faculty of the Heinrich-Heine University Duesseldorf, 40225 Duesseldorf, Germany
*
Authors to whom correspondence should be addressed.
Received: 20 May 2019 / Revised: 11 June 2019 / Accepted: 24 June 2019 / Published: 28 June 2019
Abstract
Circulating tumor cells (CTCs) hold great promise with regard to prognosis, treatment optimization, and monitoring of breast cancer patients. Single CTC transcriptome profiling might help reveal valuable information concerning intra-patient heterogeneity relevant to therapeutic interventions. In this study, we combined Diagnostic Leukapheresis (DLA), which is a microfluidic enrichment using the Parsortix
TM
system, micromanipulation with CellCelector
TM
and subsequent single cell multi-marker transcriptome profiling. First, a PCR panel consisting of 30 different endocrine resistance and phenotypic marker genes was validated for single cell profiling by using different breast cancer cell lines. Second, this panel was applied to characterize uncultured and cultured CTCs, which were enriched from a cryopreserved DLA product obtained from a patient suffering from metastatic breast cancer resistant to endocrine therapy. Gene expression profiles of both CTC populations uncovered inter CTC heterogeneity for transcripts, which are associated with response or resistance to endocrine therapy (e.g.,
ESR1, HER2, FGFR1
). Hierarchical clustering revealed CTC subpopulations with different expressions of transcripts regarding the CTCs' differential phenotypes (
EpCAM, CD44, CD24, MYC, MUC1
) and of transcripts involved in endocrine signaling pathways (
FOXO, PTEN
). Moreover, ER-positive CTCs exhibited significant higher expression of Cyclin D1, which might be relevant for CDK4/6 inhibitor therapies. Overall, gene expression profiles of uncultured and cultured CTCs resulted in a partly combined grouping. Our findings demonstrate that multi-marker RNA profiling of enriched single uncultured CTCs and cultured CTCs form cryopreserved DLA samples may provide important insights into intra-patient heterogeneity relevant for targeted therapies and therapy resistance.
View Full-Text
►

▼

Figures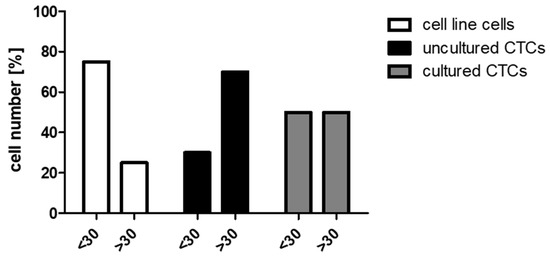 Figure 1
This is an open access article distributed under the
Creative Commons Attribution License
which permits unrestricted use, distribution, and reproduction in any medium, provided the original work is properly cited (CC BY 4.0).

Share & Cite This Article
MDPI and ACS Style
Reinhardt, F.; Franken, A.; Meier-Stiegen, F.; Driemel, C.; Stoecklein, N.H.; Fischer, J.C.; Niederacher, D.; Ruckhaeberle, E.; Fehm, T.; Neubauer, H. Diagnostic Leukapheresis Enables Reliable Transcriptomic Profiling of Single Circulating Tumor Cells to Characterize Inter-Cellular Heterogeneity in Terms of Endocrine Resistance. Cancers 2019, 11, 903.
Note that from the first issue of 2016, MDPI journals use article numbers instead of page numbers. See further details here.
Related Articles
Comments
[Return to top]