Open Access This article is
freely available
re-usable
Review
Developing Picornaviruses for Cancer Therapy
1
Department of Microbiology and Immunology, University of Otago, Dunedin 9016, New Zealand
2
Otago Micro and Nano Imaging, University of Otago, Dunedin 9016, New Zealand
*
Authors to whom correspondence should be addressed.
Received: 4 April 2019 / Accepted: 8 May 2019 / Published: 16 May 2019
Abstract
:
Oncolytic viruses (OVs) form a group of novel anticancer therapeutic agents which selectively infect and lyse cancer cells. Members of several viral families, including
Picornaviridae
, have been shown to have anticancer activity. Picornaviruses are small icosahedral non-enveloped, positive-sense, single-stranded RNA viruses infecting a wide range of hosts. They possess several advantages for development for cancer therapy: Their genomes do not integrate into host chromosomes, do not encode oncogenes, and are easily manipulated as cDNA. This review focuses on the picornaviruses investigated for anticancer potential and the mechanisms that underpin this specificity.
Keywords:
picornavirus; oncolytic virotherapy; poliovirus; coxsackievirus; senecavirus
1. Introduction
Cancer remains one of the leading causes of death worldwide. Globally, there were around 18 million new cases of cancer in 2018, with up to 9.5 million deaths [
1
]. Contemporary treatment for cancer usually involves some combination of surgical resection, radiation therapy and/or chemotherapy. While these conventional therapies have improved the prognosis for many cancers, the side-effects are often severe. In addition, some tumours are inoperable or resistant to radio- and chemotherapy, emphasising the need to develop new therapeutic strategies. Oncolytic virotherapy has emerged as a promising way of treating cancers. Broadly speaking, oncolytic viruses are naturally occurring or engineered viruses that selectively infect and lyse cancer cells. Their replication in cancer cells produces progeny viruses which in turn repeat the infection process in neighbouring cells. Furthermore, viral infection can stimulate cytotoxic immune responses against antigen from destroyed cells (
Figure 1
). The efficacy of oncolytic viruses has been shown in many cases to be increased when used in combination with other therapeutic agents. For example, in mouse models of head and neck cancers,
Herpes simplex
virus-1 has shown increased efficacy when combined with cisplatin [
2
], and coxsackievirus A21 has greater anti-tumour activity when combined with anti-programmed cell death protein 1 (PD-1) antibodies against metastatic melanoma, bladder cancer, and non-small-cell lung cancer [
3
]. Oncolytic virotherapy's roots extend back to early reports of patients with leukaemia and Hodgkin's disease, who survived concomitant viral infections and showed evidence of clinical remission [
4
,
5
]. These observations led to a number of trials from the mid-to-late 20th century, such as West Nile Virus Egypt 101 against various cancers [
6
], Adenovirus versus cervical carcinomas [
7
] and Mumps virus against various terminal cancers [
8
]. Each of these trials showed varying degrees of protective effect. For instance, the trial concerning Adenovirus showed that 26 of 40 inoculations resulted in tumour necrosis [
7
], and the Mumps virus trial resulted in complete regression of 37 out of 90 trial subjects, as well as 42 instances of growth suppression [
8
]. In 2015, an important milestone in the endeavour to make oncolytic virotherapy a viable therapy was reached.
This was the approval of the first oncolytic virus, modified
Herpes simplex
virus-1, also known as Talimogene Laherparepvec (T-VEC), by the US Food and Drug Administration (FDA) for the treatment of malignant melanomas [
9
]. In addition, Oncorine, derived from adenovirus, was approved in China in 2005 for the treatment of head and neck cancers [
10
,
11
]. While cancer cells are generally observed to be more susceptible to viral infection than healthy cells, the clinical use of oncolytic viruses is still relatively modest [
12
]. This is due to several limiting conditions: Oncolytic viruses have to be nonpathogenic and genetically stable, while still maintaining infectivity to nonhomogenous cancerous cells [
13
]. They also have to be able to overcome the unfavourable conditions of the tumour microenvironment, including dense connective tissue, poor lymphatic flow and increased interstitial pressure [
14
].
Despite the inherent challenges presented in producing safe and effective oncolytic viruses, there are a number of naturally occurring and engineered viruses that have entered clinical trials. Included in their ranks are Adenovirus engineered to express granulocyte macrophage colony-stimulating factor (GM-CSF) (ONCOS-102®), Vaccinia virus engineered to express GM-CSF with thymidine kinase deleted (PexaVec®), Measles virus engineered to express thyroidal sodium iodide importer (MV-NIS®) and naturally occurring Reovirus (Reolysin®). These viruses vary greatly with respect to several characteristics, including the species, genera, etc. to which they belong, their progress through clinical trials, cancer types they are used to treat and degree to which they have been engineered.
There are a number of ways to increase the effectiveness of oncolytic viruses. Often, they are used in combination with chemotherapeutics and/or radiation/surgical techniques. For instance, Reolysin
®
in clinical trials has been combined with carboplatin and paclitaxel for the treatment of malignant melanomas [
15
], and PexaVec
®
in clinical trials has been combined with sorafenib to combat hepatocellular carcinoma [
16
]. Oncolytic viruses can also be engineered to express tumour-specific peptides, with the purpose of magnifying the immune response against the tumour. An example of this is vesicular stomatitis virus (VSV) expressing ovalbumin (OVA), being used to greater effect than the parental VSV to treat OVA-expressing B16 melanoma tumours [
17
]. It is worth mentioning that the utility of engineered VSV extends beyond OVA expression to include expression of immunostimulatory proteins such as IL-4, alternative receptors like Sindbis virus glycoproteins and suicide genes like thymidine kinase [
18
].
Table 1
provides a brief summary of those oncolytic viruses which have been shown in clinical trials to be especially promising.
Derived from the Latin "pico", meaning small, Picornaviridae members have non-enveloped icosahedral capsids about 30 nm in diameter protecting a small, positive-sense, single-stranded RNA genome (
Figure 2
). Picornaviruses are among the most researched of viral families, with notable members such as Poliovirus, Foot-and-Mouth Disease virus, Hepatitis A virus and, more recently, Seneca Valley virus. Their genome follows a conserved L-4-3-4 format, where the single polyprotein is cleaved by virally encoded proteases into the Leader protein (present only in some species), four structural and seven nonstructural proteins [
21
]. Picornaviral genomes start with a 5′ untranslated region (UTR), which associates with the viral genome associated protein (VPg), and includes the internal ribosome entry site (IRES) [
22
]. Whereas human cellular RNA translation relies on the 7-methyl guanosine cap interacting with the eukaryotic initiation factor (eIF) protein, this function in the cap-independent translation of picornaviral genomes is performed by the IRES [
23
]. Adjacent to the IRES, the Leader protein is a protease that sits at the 5' extreme of the translated picornaviral polyprotein, though it is not present in all members of the
Picornaviridae
family. This is followed by the P1 region of the polyprotein, encoding in order the capsid proteins VP4, VP2, VP3 and VP1 respectively [
24
,
25
]. While VP1 and VP3 are separated from P1 proteolytically, VP4 and VP2 are usually processed from the precursor VP0 following genome packaging inside the viral capsid (
Figure 2
).
The P2 region of the translated polyprotein consists of 2A, 2B and 2C. The picornaviral 2A is a protein which can be absent, or in some cases present in more than one copy in the picornaviral genome. The 2A proteins can be organised into five groups based on function and conserved residues; these are: chymotrypsin-like protease, parechovirus-like, hepatitis-A-like, apthovirus-like and cardiovirus 2A proteins [
26
]. The roles of 2B, 2C and their precursor 2BC are not completely understood, but they were shown to be involved in the formation of virally induced vesicles [
26
]. The final segment of the picornaviral polyprotein is P3, comprising 3A, 3B, 3C and 3D. A function for 3A beyond acting in concert with 3B is not known, but the hydrophobic carboxy terminus is thought to anchor the protein to membranes [
27
]. The 3B, also known as VPg is a small protein which associates with the 5′ terminus of the genome and plays an essential role in genome replication by providing a primer for RNA synthesis when uridylated by cis-acting replicative elements (CREs). The CREs are looped secondary structural elements which can occur at several places in the RNA genome, including 5′ and 3′ UTRs, and 2C regions. The protease encoded by 3C performs most of the cleavages of the picornaviral polyprotein as well as inhibiting host transcription. Last among the picornaviral proteins is 3D, the RNA-dependent RNA polymerase (RdRp) [
28
]. The joint 3C and 3D proteins, known as the 3CD protein, have protease and CRE binding activity, but do not have RdRp activity. Finally, the 3′ UTR of picornaviruses will have a poly-A tail and, occasionally, as previously mentioned, a CRE [
27
]. The phylogenetic relationship and genome structure of the picornaviruses discussed in this review is presented in
Figure 3
[
29
].
By virtue of their distinct biology, picornaviruses possess several advantages for their development for cancer therapy. The small size of the capsid, around 30 nm, are an advantage in penetrating the blood–brain barrier. Picornaviral RNA genomes replicate in the cytosol and do not integrate into host chromosomes, so they are not genotoxic. Additionally, they do not encode oncogenes, and their genomes are easily manipulated as cDNA [
30
]. This could be considered advantageous when compared to the DNA genomes and nuclear replication of viruses like Adenoviruses and Vaccinia virus. However, this disadvantage is compensated by DNA viruses by their capability to be easily modified in order to encode foreign proteins. Conversely, the inherently error-prone process of viral RNA replication, which is estimated at between 0.01 to 1 mutation per hypothetical 10,000 base genomes, means that picornaviral genomic stability could present a problem [
31
]. However, this instability could also be interpreted as being a safety feature that prevents the introduction of new viruses in the population.
Picornaviridae
is an extremely rich viral family, and the viruses considered for cancer therapy include both unaltered, naturally occurring viruses as well as viruses that have been extensively altered to either attenuate pathogenesis or increase oncolytic activity. Although picornaviruses represent a subset of oncolytic viruses, the picornaviruses discussed in this review have a diverse range of oncolytic activities and mechanisms that dictate their selectivity for cancer cells, as demonstrated in
Table 2
.
2. Coxsackievirus
CVA21/CAVATAK as an oncolytic agent has garnered the greatest amount of research among the coxsackieviruses. However, the infection of CVA21 in humans is common, and pre-existing adaptive immunity to this strain could result in premature clearing of the virus before being able to exert its therapeutic effect on tumours. This prompted an evaluation of alternatives to CVA21 with less prevalent rates of immunity.
4. Echoviruses
Enteric cytopathic human orphan (ECHO) viruses are part of the species Enterovirus B. Several echoviruses have been evaluated for selective tropism towards different cancers, including EV7, EV1, EV5, EV12, EV15, EV17, EV26 and EV29.
7. Theiler's Murine Encephalomyelitis Virus
Theiler's murine encephalomyelitis virus (TMEV) is a natural murine pathogen that has been engineered to express tumour antigens to induce a targeted antitumour immune response and thus act as a cancer vaccine.
TMEV engineered to express chicken ovalbumin (TMEV–OVA) can generate host immune responses against OVA-expressing tumours [
119
,
120
]. The expression of OVA in the leader protein comes at a distinct virulence cost to TMEV [
121
,
122
]. TMEV–OVA infection in susceptible strains of mice is attenuated compared to wild-type [
121
]. Despite attenuation, TMEV–OVA has been shown to generate increased levels of OVA-specific cytotoxic T-lymphocytes (CTLs) in vivo, increasing survival time and delaying tumour outgrowth in mice with established OVA-expressing B16 melanoma [
121
]. TMEV–OVA infection effectively cleared OVA-expressing tumour cells, but this process of tumour editing had allowed the growth of escape mutant tumours, which lost the expression of the targeted epitope [
121
]. While tumours could lose OVA expression, two different TMEV–OVA constructs were confirmed to be genetically stable in mouse models up to 21 days. OVA is widely used as a model antigen for its high immunogenicity, but authentic tumour antigen is often not as immunogenic. To confirm that the immunisation process can work for weakly immunogenic tumour antigen, TMEV expressing p66 was infected into a mouse breast cancer model, and three out of ten treated mice cleared tumours [
122
]. In highly immunogenic GL261-quad mouse glioma models, infection with TMEV–OVA intracranially or intraperitoneally could significantly increase OVA-specific CD8+ T-cell populations compared to wild-type TMEV infection. This increase in CTLs coincided with a significant delay of tumour outgrowth and increase in survival time for mice given TMEV expressing OVA. The requirement for CD8+ response for therapeutic effect was shown in perforin knockout mice bearing GL261-quad gliomas, which did not benefit from TMEV–OVA vaccination [
119
].
During the host immune response generated to TMEV expressing foreign antigen, the adaptive immune response targets a combination of the foreign antigen and TMEV antigens. TMEV is known to harbour a highly immunogenic region in the VP2 structural protein (VP2
121–130
) [
120
]. Suppression of the VP2
121–130
region has been attempted in order to direct a greater proportion of the cytotoxic immune response to expressed foreign antigen. Deletion of this immunogenic region is shown to increase the relative amount of CTLs primed against foreign antigen [
120
]. Vector silencing, the inoculation of TMEV viral peptides before TMEV–OVA infection to induce tolerance, was investigated with the same aim [
120
]. However, this strategy seemed to have no appreciable effect on the magnitude of immune response directed toward OVA, tumour progression or overall survival of mice with melanoma or glioma [
123
]. In fact, TMEV–OVA infection without vector silencing appeared to be more efficacious in controlling tumour progression in the melanoma model [
123
].
Wild-type DA strain of TMEV has been investigated in vivo against breast cancer and melanoma cell tumours, without a significant protective effect in either [
71
]. Wild-type DA encoding RNA sequences from GDVII, a more neurovirulent subtype of TMEV, were used to make chimeric DA strain/GDVII subtype fusions [
71
]. Of these chimeric viruses, GD7-KS1, for which the GDVII insert replaced the 3′ end of the 5′ UTR to the 3′ end of the 2C protein of TMEV DA genome, was over 40 times more productive than the DA strain infection of B16 melanoma cells in vitro [
71
]. In vivo, GD7-KS1 significantly delayed B16 tumour outgrowth and increased survival when compared to DA strain and vehicle controls. Consistent with the observations from TMEV–OVA experiments [
119
,
120
], the number of CD8+ T-cell infiltrates increased markedly on GD7-KS1 infection, while infiltrating CD4+ T-cell numbers remained unchanged [
71
].
8. Encephalomyocarditis Virus and Mengovirus
9. Conclusions
This review discussed picornavirus species investigated for anticancer activity (
Table 1
). These viruses differ in their specific mode of oncolysis, the volume of research conducted on them as well as their future clinical prospects. CAVATAK and PVSRIPO are leading the charge in picornaviral oncotherapy by quickly progressing through clinical trials, with a number of clinical trials in active recruitment [
19
] As not all of the clinical trials have associated literature,
Table 3
surmises the current and completed clinical trials for the picornaviruses discussed in this review. The approval of CAVATAK and PVSRIPO will depend on the outcome of these clinical trials. While SVV is currently not under clinical investigation, the identification of its cellular receptor provides a criterion by which patients might be evaluated for potential therapeutic benefit from NTX-010 in the near future, provided there exists sufficient interest to restart clinical trials [
65
]. For over a decade now, Rigvir has been utilised as a cancer treatment in Eastern Europe. However, despite recently documented case studies and retrospective studies, the adoption of Rigvir by other countries would be necessarily predicated on successful clinical trials. The case for Rigvir is also undercut by the unavailability of data from clinical trials which are said to have happened in the 1960s–1990s [
96
]. The rest of the viruses discussed in this review have yet to be tested in patients. TMEV raised interest with the positive results in recent mouse trials of genetically modified virus for the treatment of cancers with which it shares exogenously expressed antigens [
71
]. A clinical application in the near future for either BEV1 or BEV2 in oncolytic virotherapy seems highly unlikely, as the most recent investigation was published in 1991 [
109
]. However, it is not unheard of that academic interest in an oncolytic virus can be restarted after a decades-long hiatus, as shown with the 50-year gap in oncolytic EMCV research [
73
]. Finally, for both EMCV and MEV, recent studies have been undertaken, with the most recent EMCV study being explicit in identifying as preclinical research [
73
]. Taken as a whole, this review is evidence of picornaviruses emerging as dynamic and promising tools within the oncolytic virotherapy field.
Author Contributions
All listed authors contributed to the writing of this review.
Funding
L.N.B. was supported by a grant from the School of Biological Sciences, University of Otago and N.J. was supported by a University of Otago Doctoral Scholarship.
Conflicts of Interest
The authors declare no conflict of interest.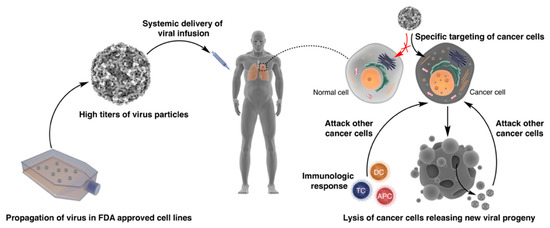 Figure 1. Oncolytic picornaviruses as a cancer treatment. The use of oncolytic picornaviruses is highlighted by their relative ease of production in high titres in food and drug administration (FDA)-approved cell lines. Resulting mature virions can then be systemically administered into a patient with a tumour. Most picornaviruses display a high tropism to a variety of tumours but not to normal tissues, resulting in intratumoural replication and subsequent cellular death. The new viral progeny released from lysed cancer cells can then infect neighbouring cancer cells. The mere presence of virus particles and virus-induced tumour cell death modulates the immune system to activate antigen-presenting cells (APC), denditric cells (DC), and T cells (TC), which collectively provide a long-lasting antitumour activity.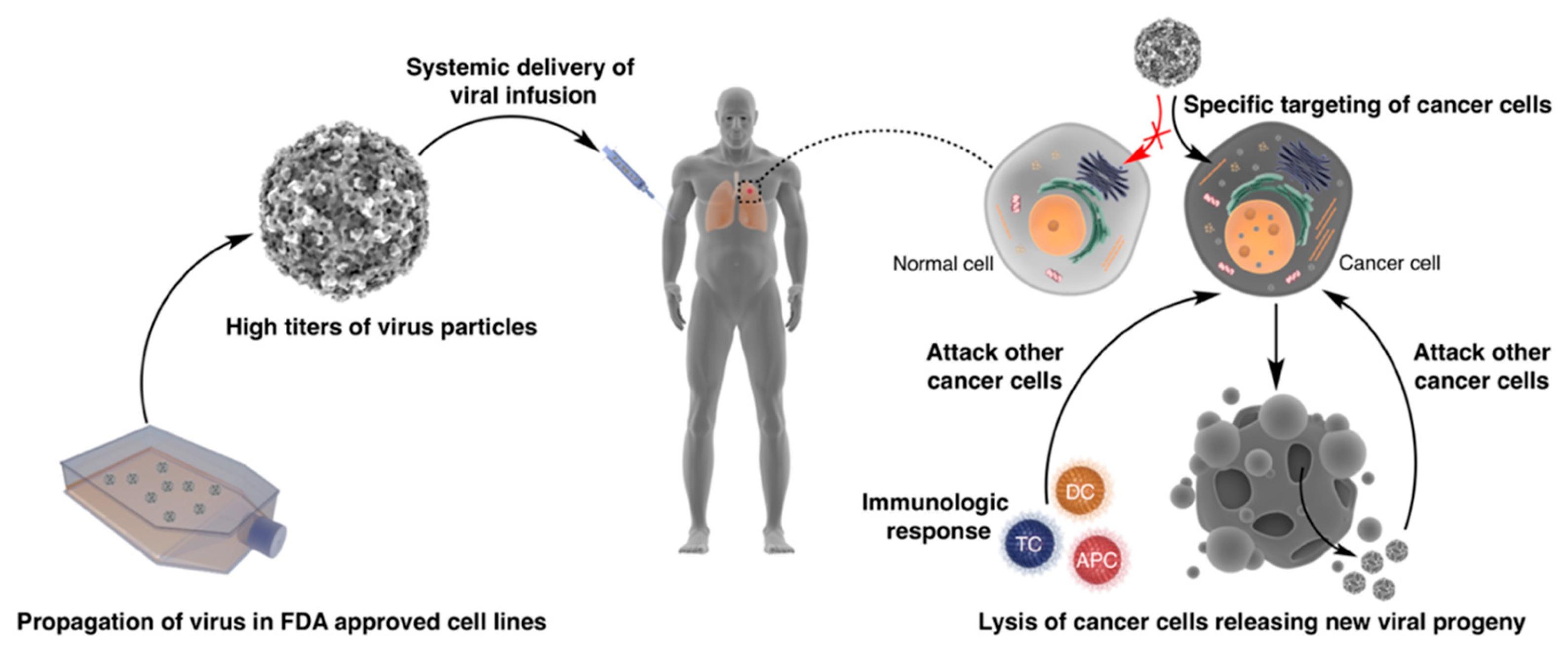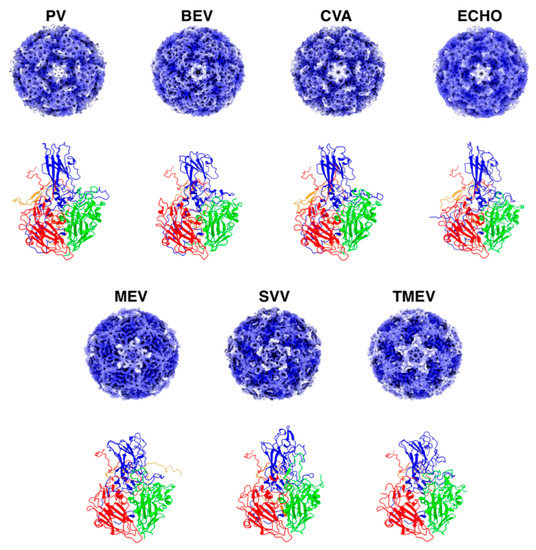 Figure 2.
Structures of picornaviruses used in oncovirotherapy. Molecular structures of Type I Poliovirus (PV, PDB ID: 1HXS), Bovine Enterovirus 2 (BEV, PDB ID: 1BEV), Coxsackievirus A21 (CVA, PDB ID: 1Z7S), Echovirus 7 (ECHO, PDB ID: 2X5I), Mengovirus (MEV, PDB ID: 2MEV), Seneca Valley virus (SVV, PDB ID: 3CJI), Theiler's Murine Encephalomyelitis virus (TMEV, PDB ID: 1TME) and their corresponding protomers. Peaks, intermediate elevations and valleys on depth-cued capsid surfaces are coloured in white, purple and blue, respectively. In capsid protomers, VP1, VP2, VP3 and VP4 are coloured in blue, green, red and yellow, respectively. Figures were generated on ChimeraX [
20
]. Comparison between the structures can also be seen in the movie: morphs between depth-cued atomic structures of oncolytic picornaviruses (
Supplementary Movie
).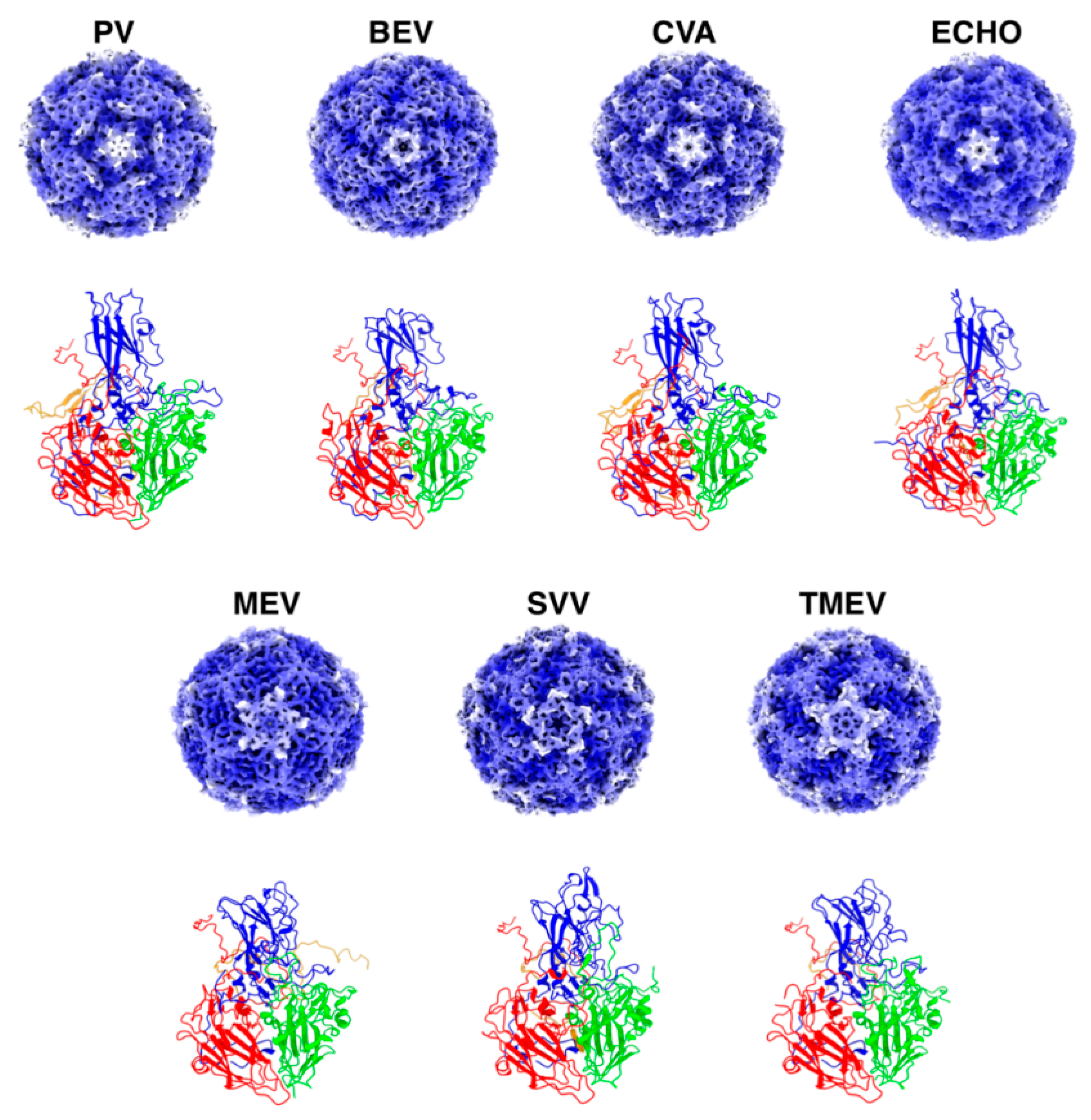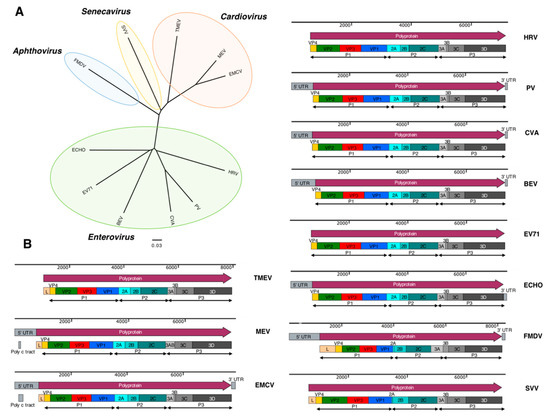 Figure 3.
Genome-based phylogeny of different picornaviruses. (
A
) A radial phylogenetic tree demonstrating the evolutionary relationship among some members of
Enterovirus
,
Aphthovirus
,
Senecavirus
and
Cardiovirus
genera. Complete RNA sequences were aligned using Clustal Omega. Multiple alignment tool, scale bar representing number of nucleotide changes per site [
29
]. (
B
) RNA genome, polyprotein and cleaved mature peptides of different picornaviruses. Picornaviruses contain a plus-strand RNA genome, which is approximately ~7.1–8.9 kb in size. RNA genome codes for a polyprotein, which is organized into regions, P1, P2 and P3, with the leader protein present in some picornaviruses. P1 encodes for four structural proteins, VP1, VP2, VP3 and VP4. P2 and P3 encodes for 2A–C and 3A–D non-structural proteins, respectively. NCBI accession codes for viruses are as follows: Human Rhinovirus, HRV (K02121.1), Poliovirus, PV (AF111984.2), Coxsackievirus A, CVA (AF546702.1), Bovine Enterovirus, BEV (NC_001859.1), Enterovirus 71, EV71 (KJ686308.1), Echovirus, ECHO (AF029859.2), Foot-and-Mouth virus, FMDV (DQ989323.1), Seneca Valley virus, SVV (NC_011349.1), Theiler's Murine Encephalomyelitis virus, TMEV (M20301.1), Mengovirus, MEV (L22089.1), Encephalomyocarditis, EMCV (X74312.1).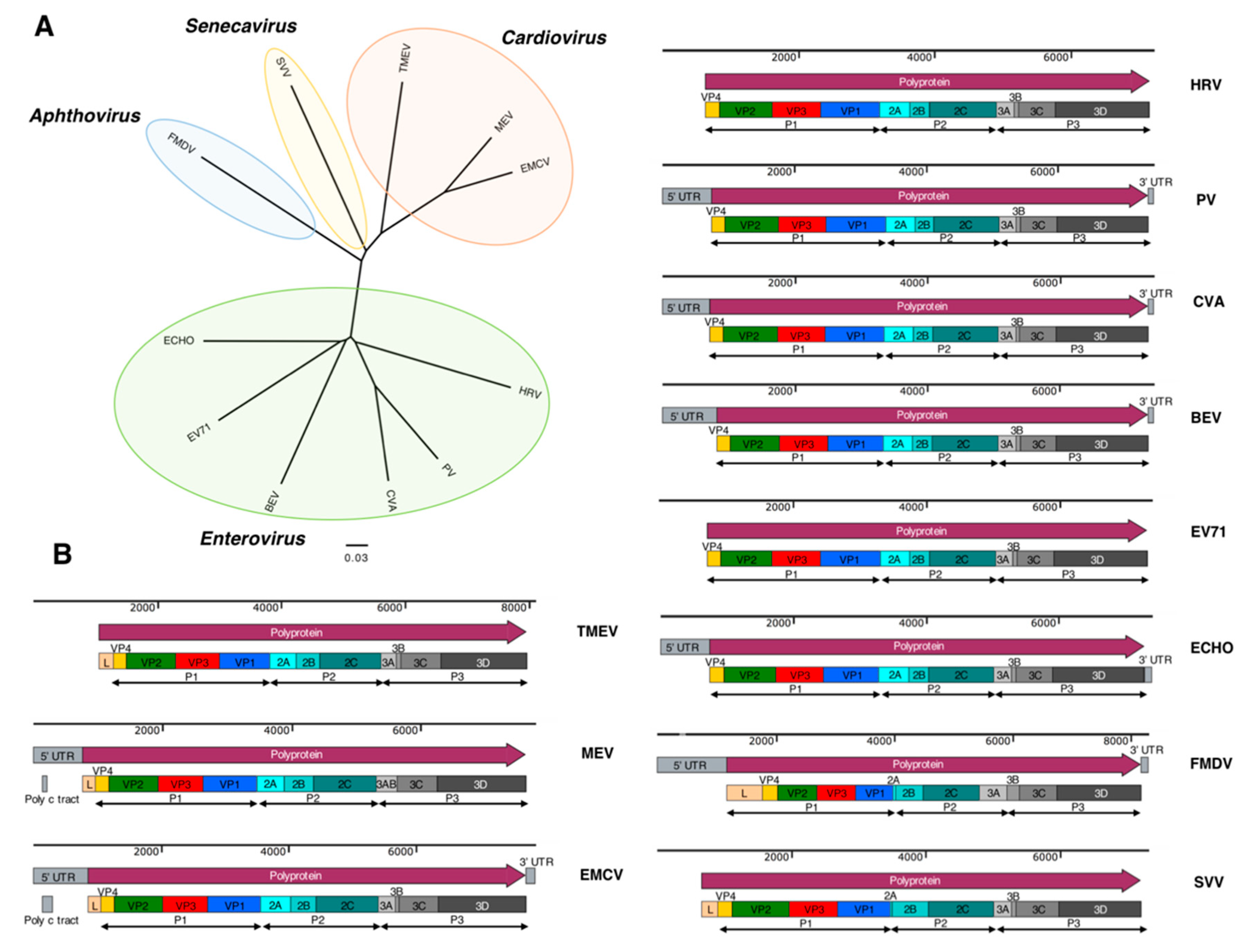 Species
Genus
Intellectual Property
Engineered Properties
Stage in Development
Examples of Highest Phase Clinical Trials

Herpes simplex

virus
Herpesvirus
T-VEC®
Expressing Granulocyte Macrophage Colony- Stimulating Factor
US FDA Approved
Phase III
T-VEC vs. combination therapy with Prembolizumab in melanoma
NCT02263508
• Active
Combination with Cisplatin and Radiotherapy for head and neck cancer
NCT01161498
• Terminated
Phase III
T-VEC vs. Granulocyte Macrophage Colony Stimulating Factor in melanoma
NCT00769704
• Completed

Melanoma
NCT01368276
• Completed
Adenovirus
Mastadenovirus
Oncorine®
E1b 55k gene deletion
Approved (China)
Phase III
Combination with Endostatin against Non-Small-Cell Lung Cancer
NCT02579564
• Completed
Adenovirus
Mastadenovirus
ONCOS-102®
Expressing Granulocyte Macrophage Colony- Stimulating Factor
Clinical trials
(Phase I/II)
Phase II
Combination with and Pemetrexed or Cisplatin in unresectable pleural mesothelemia
NCT02879669
• Active
Phase I/II
Combination with DCVAC/Pc in metastatic prostate cancer
NCT03514836
• Active
Phase I/II
Combination with Durvalumab in advanced peritoneal malignancies
NCT02963831
• Active

Phase I
Malignant solid tumours
NCT01598129
• Completed
Vaccinia virus
Orthopoxvirus
PexaVec®/JX594
Expressing Granulocyte Macrophage Colony- Stimulating Factor and deletion of thymidine kinase
Clinical trials (Phase II/III)
Phase III
Combination with Sorafenib vs. Sorafenib monotherapy in hepatocellular carcinoma
NCT02562755
• Active
Phase II
Unresectable hepatocellular carcinoma
NCT01171651
• Completed
Phase II
Combination with Metronomic Cyclophosphamide in breast cancer or soft tissue sarcoma
NCT02630368
• Active

Malignant melanoma
NCT00429312
• Completed
Measles virus
Morbillivirus
MV-NIS®
Encoding Human Thyroidal Sodium Iodide Importer
Clinical trials (Phase II)
Phase II
Combination with Cyclophosphamide in refractory multiple myeloma
NCT02192775
• Active
MV-NIS vs. combination with Cyclophosphamide in treating with recurrent/refractory multiple myeloma
NCT00450814
• Active
Phase II
MV-NIS Vs. MV-NIS infected mesenchymal stem cells in recurrent ovarian cancer
NCT02068794
• Active

MV-NIS vs. chemotherapy in ovarian, fallopian or peritoneal cancer
NCT02364713
• Active
Reovirus
Orthoreovirus
Reolysin®
N/A
Clinical trials
(Phase II/III)
Phase III
Combination with Paclitaxel and Carboplatin in platinum refractory head and neck cancers
NCT01166542
• Completed
Phase II
Advanced and metastatic breast cancer
NCT01656538
• Completed
Phase II
Bone and soft tissue sarcomas metastatic to the lung
NCT00503925
• Completed

Combination with Docetaxel and Prednisone vs. Doxitaxel and Prednisone in Prostate Cancer
NCT01619813
• Completed
As registered at https://clinicaltrials.gov [19]. Abbreviations: DCVAC/Pc (Dendritic cells pulsed with killed LNCaP prostate cancer cells), MV-NIS (Measles Virus-Sodium Iodide Symporter), PexaVec (Pexastimogene devacirepvec), T-VEC (Talimogene Laheraparepvec).
Species
Genus
Receptor
Cellular Entry
Examples of Susceptible Cancers
Coxsackievirus
Enterovirus
ICAM-1 & DAF (CVA21)
CAR (CVB3)
[33]
[53]
Receptor mediated endocytosis
Melanoma (CVA21)
Multiple Myeloma (CVA21)
Breast Cancer (CVA21)
Bladder Cancer (CVA21)
Endometrial Cancer (CVB3)
[34]
[35]
[36]
[37]
[53]
Poliovirus
Enterovirus
Necl5/CD155/PVR
[55]
Receptor mediated endocytosis
Bone/Soft Tissue (LAPV)
Neuroblastoma (A133G mono-cre PV)
Glioma (PVSRIPO)
Breast Cancer (PVSRIPO)
Melanoma (PVSRIPO)
[56]
[57]
[58]
[59]
[60]
Echovirus
Enterovirus
DAF (EV7)
VLA-2
[61]
[62]
Receptor mediated endocytosis
Melanoma
Rhabdomyosarcoma
Adenocarcinoma
Lung carcinoma
Basal cell carcinoma
[63]
[63]
[63]
[63]
[63]
Bovine Enterovirus
Enterovirus
HLA-DR (suggested)
[64]
Receptor mediated endocytosis
Leukaemia
Soft tissue sarcoma
[64]
[64]
Seneca Valley Virus
Senecavirus
ANTXR1/TEM8
[65]
Receptor mediated endocytosis
Medulloblastoma
Retinoblastoma
Glioma
Glioblastoma
Small Cell Lung Cancer
[66]
[67]
[68]
[69]
[70]
Theiler's Murine Encephalomyelitis Virus
Cardiovirus
Sialic acid moeties
[71]
Receptor mediated endocytosis
Melanoma
Breast Cancer
[71]
[71]
Encephalomyocarditis virus & Mengovirus
Cardiovirus
Sialoglycoprotein
[72]
Receptor mediated endocytosis
Renal Carcinoma (EMCV)
Sarcoma (EMCV)
Multiple Myeloma (MEV)
[73]
[74]
[75]
Abbreviations: ANTXR1 (Anthrax Toxin Receptor 1), CAR (Coxsackievirus and Adenovirus Receptor), CD155 (Cluster of Differentiation 155), CVA21 (Coxsackievirus A 21), CVB3 (Coxsackievirus B 3), DAF (Decay Accelerating Factor), HLA-DR (Human Leukocyte Antigen—DR isotype), Necl5 (Nectin-like Protein 5), PVR (Poliovirus Receptor), TEM8 (Tumour Endothelial Marker 8), VLA-2 (Very Late Antigen 2).
Species
Genus
Intellectual Property
Stage in Development
Registered Clinical Trials *
Poliovirus
Enterovirus
PVSRIPO
Clinical Trials
(Phase I)
Triple Negative Breast Cancer
NCT03564782
• Active

Recurrent malignant glioma
NCT02968178
• Active

Unresectable melanoma
NCT03712358
• Active
Recurrent malignant glioma in children
NCT03043391
• Active

Recurrent glioblastoma
NCT01491893
• Active
Coxsackievirus
Enterovirus
CAVATAK
Clinical Trials
(Phase I/II)
Melanoma—Combination with pembolizumab
NCT02565992
• Active

Non-Muscle Invasive Bladder Cancer—Combination with mitomycin C
NCT02316171
• Completed

Advanced melanoma—Combination with ipilimumab
NCT02307149
• Active

Head and neck cancer
NCT00832559
• Terminated

Late-stage melanoma
NCT01227551
NCT01636882
• Completed
Uveal melanoma—Combination with ipilimumab
NCT03408587
• Active

Melanoma
NCT00438009
• Completed

Solid tumours
NCT00636558
• Completed

Non-Small Cell Lung Cancer & Bladder Cancer—Combination with pembolizumab
NCT02043665
• Active

Non-Small Cell Lung Cancer—Combination with pembolizumab
NCT02824965
• Active
Echovirus
Enterovirus
Rigvir
Approved
(Eastern Europe)
N/A
Bovine Enterovirus
Enterovirus
N/A

In vivo

testing
N/A
Seneca Valley Virus
Senecavirus
NTX-010
Clinical Trials
(Phase II)
Paediatric Cancers—Combination with cyclophosphamide
NCT01048892
• Completed

Solid tumours with neuroendocrine features
NCT00314925
• Completed
Extensive Stage Small-Cell Lung Cancer
NCT01017601
• Terminated
Theiler's Murine Encephalomyelitis virus
Cardiovirus
N/A

In vivo

testing
N/A
Encephalomyocarditis virus & Mengovirus
Cardiovirus
N/A

In vivo

testing
N/A

© 2019 by the authors. Licensee MDPI, Basel, Switzerland. This article is an open access article distributed under the terms and conditions of the Creative Commons Attribution (CC BY) license (http://creativecommons.org/licenses/by/4.0/).