Open Access This article is
freely available
re-usable
Review
Targeting ATG4 in Cancer Therapy
1
School of Pharmaceutical Sciences, Guangdong Provincial Key Laboratory of New Drug Design and Evaluation, Sun Yat-Sen University, Guangzhou 510006, China
2
State Key Laboratory of Quality Research in Chinese Medicine, Institute of Chinese Medical Sciences, University of Macau, Macau, China
3
State Key Laboratory of Respiratory Disease, School of Basic Medical Sciences, Guangzhou Medical University, Guangzhou 511436, China
4
Department of Pathology and Laboratory Medicine, Indiana University School of Medicine, Indianapolis, IN 46202, USA
†
These authors contributed equally to this work.

Received: 23 April 2019 / Accepted: 8 May 2019 / Published: 10 May 2019
Abstract
:
Autophagy is a lysosome-mediated degradation pathway that enables the degradation and recycling of cytoplasmic components to sustain metabolic homoeostasis. Recently, autophagy has been reported to have an astonishing number of connections to cancer, as tumor cells require proficient autophagy in response to metabolic and therapeutic stresses to sustain cell proliferation. Autophagy-related gene 4 (ATG4) is essential for autophagy by affecting autophagosome formation through processing full-length microtubule-associated protein 1A/1B-light chain 3 (pro-LC3) and lipidated LC3. An increasing amount of evidence suggests that ATG4B expression is elevated in certain types of cancer, implying that ATG4B is a potential anticancer target. In this review, we address the central roles of ATG4B in the autophagy machinery and in targeted cancer therapy. Specifically, we discuss how pharmacologically inhibiting ATG4B can benefit cancer therapies.
Keywords:
autophagy; ATG4; ATG4B; cancer therapy
1. Introduction
Autophagy is an evolutionarily self-catabolism process that degrades aged, defective or unnecessary cellular contents, using lysosomes to sustain cell metabolism and survival. Autophagy is typically divided into five stages: initiation, nucleation, maturation, fusion with the lysosome, and degradation [
1
]. The core autophagy machinery of cells is encoded by a set of highly conserved autophagy-related genes (ATGs), which were first discovered in yeast, and their orthologs have been well identified in mammalian cells. It is believed that targeting autophagy can be an important strategy to prevent or to treat many common human diseases, particularly cancer.
Autophagosome biogenesis requires two ubiquitin-like conjugation systems: the Atg12-Atg5 and the Atg8-phosphatidylethanolamine (PE) system. ATG4 plays a key role in the regulation of the Atg8/microtubule-associated protein 1A/1B-light chain 3 (LC3) lipid conjugation system (
Figure 1
), which is required for the cleavage of pro-LC3 to the soluble form LC3-I and the deconjugation of the lipidated form of LC3 (LC3-PE, i.e., LC3-II) from autophagosome membranes or non-autophagosome structures to release LC3-I to facilitate autophagy process [
2
]. It has been reported that the delipidation process executed by ATG4B is important not only for the recycling of LC3-I, but also allowing the fusion between autophagosomes with lysosomes [
3
]. There are four ATG4 homologs in human genome: ATG4A, ATG4B, ATG4C and ATG4D. It has been assumed that these four homologs have both overlapping and unique functions. ATG4B is most proteolytically active toward both LC3 and GABA type A receptor-associated protein (GABARAP) subfamilies, while ATG4A is only effective for GABARAP subfamily proteins. On the contrary, ATG4C and ATG4D are almost inactive without any modifications [
4
]. Studies have shown that overexpression of an inactive mutant ATG4B
C74A
or ATG4B
C74S
causes defects in autophagosome closure and autophagic flux inhibition [
5
]. Our previous study has demonstrated that knockout of ATG4B in HeLa cells could completely inhibit the autophagy flux, even if other autophagy inducers or inhibitors were treated [
6
]. Autophagic activity was diminished in Atg4-deficient yeast [
7
], and mice lacking ATG4B showed reduced autophagy activity and a balance-related behavioral phenotype that is linked to inner ear developmental defects [
8
], while mice lacking ATG4C displayed a minimal impact on autophagy [
9
]. In addition, contrasting with other essential autophagy genes such as ATG5, ATG7 or VPS34, ATG4B and ATG4C-deficient mice presented a minor phenotype [
8
,
9
]. While ATG5-null mice were neonatal lethal [
10
], ATG7- and VPS34-deficient mice showed severe phenotypes in multiple tissues and exhibited decreased survival rates [
11
,
12
]. Thus, ATG4B is considered to be one of the most important ATGs in autophagy process since ATG4B plays an indispensable role in the Atg8-PE ubiquitin-like conjugation system.
Autophagy exists in both physiologic and pathophysiologic conditions, and dysregulation of autophagy has been implicated in the development of many diseases, including Alzheimer's disease [
13
,
14
], microorganism infection [
15
], immune homeostasis [
16
], Pompe disease [
17
] and cancer [
18
,
19
]. In a large number of normal human cells, autophagy is slightly activated at a basal level to maintain the physiological homeostasis [
20
], but under some pathophysiologic conditions the state of autophagy may alter significantly. Autophagy plays dual roles in cancer biology by suppressing tumorigenesis but promoting the survival of advanced tumors. Abundant studies have shown that autophagy inhibition can synergize with chemotherapy to enhance the efficacy of anticancer therapies [
21
,
22
,
23
,
24
]. In addition, genetic knockdown of autophagy-related genes is also an effective way to enhance the efficacy of anti-cancer drugs [
25
]. So, there is a growing need to discover and develop potent autophagic inhibitors. Currently, autophagy inhibitors used in cancer therapy are mainly lysosomal inhibitors, such as chloroquine (CQ) and CQ derivatives [
26
,
27
,
28
]. The next generation of lysosomal inhibitors including Lys05 can effectively inhibit autophagy and impair melanoma growth in preclinical mouse models [
29
]. However, these lysosomal inhibitors may be autophagy independent and simply de-acidifying the lysosomes. Therefore, the development of autophagy-specific inhibitors is a new therapeutic strategy for anticancer therapy. Currently, inhibitors against other autophagy targets such as the class III PI3K (VPS34) [
30
], ULK1 [
30
] and ATG4B [
31
] have also been reported. Growing evidence has shown that ATG4B is involved in certain physiological and pathological tumor microenvironments through affecting the autophagy process [
31
,
32
,
33
,
34
,
35
], and ATG4B has gained much attention to be a potential drug target for cancer therapy. In this review, we mainly focus on the pivotal role of ATG4 in autophagy, the progress of research on ATG4 inhibitors and the prospect of the cancer therapy by targeting ATG4 inhibition.
2. A Mechanistic Understanding of ATG4 in Autophagy
3. The Structure and Post-Translational Modifications of ATG4
5. Pharmacological Targeting of ATG4B in Cancer Therapy
6. Prospect of the Cancer Therapy Targeting ATG4B Inhibition
Due to the key role of ATG4B in autophagy process, ATG4B has attracted a great level of interest in the field of autophagy research and ATG4B inhibitors have been proposed as a potentially therapeutic approach for not only cancers but also other human diseases. In most normal tissues, the expression level of ATG4 homologues is low, with the highest protein expression level of ATG4s being detected in skeletal muscle, followed by brain, heart, liver, pancreas, and testes [
111
]. As mentioned above, a high expression level of ATG4B seems to be connected with the progression of tumor as well as with cancer therapy resistance. Apart from ATG4B, other mammalian ATG4 homologues may also be potential therapeutic targets for cancer, particularly ATG4D, which plays a notable role in apoptosis [
53
,
112
,
113
]. However, no published data have shown the prognostic value of any ATG4 members in cancers [
114
].
Paradoxically, both agonists and antagonists of ATG4B could have therapeutic significance in cancer. Most of the reported regulators of ATG4B were inhibitors, only one compound named Flubendazole was indicated as an ATG4B agonist, which could induce autophagic cell death in MDA-MB-231 cells [
102
]. Most of the discovered ATG4B inhibitors were only verified in vitro without further confirmation and in vivo testing. Moreover, ATG4B inhibitors with diverse structures were able to inhibit tumor growth in vivo [
6
,
31
,
44
], implying that these compounds may also affect targets other than ATG4B in cells.
The in vivo inhibitory efficacy of ATG4B modulators has not been well established. FMK-9a, with an IC
50
of 80 nM, is the most potent ATG4B inhibitor so far reported, but it could neither reduce the survival rate of cancer cells nor improve the anti-tumor effect of chemotherapeutic drugs within a reasonable concentration range (Fu and Li, unpublished results), suggesting that the antitumor effect of ATG4B inhibitors may not necessarily be correlated with the inhibition of ATG4B enzymatic activity as measured by in vitro assays. One study has shown that the growth arrest induced by knockdown of ATG4B in human colorectal cancer cells was independent of the autophagic flux, suggesting that ATG4B could have additional functions independent of autophagy [
74
]. Thus, it seems that the application of ATG4B inhibitors to modulate autophagy and cancer cell growth may have to be context-dependent.
In summary, while substantial progress has been made in the clarification of mechanism and function of ATG4 in autophagy and cancer therapy, more work remains to be done. As an appropriate level of ATG4 is essential for autophagy flux, it is necessary to determine how ATG4 is spatially and temporally regulated in cells. In addition, since ATG4 drives the cleavage of Atg8-family proteins at the beginning and the ending of autophagosome formation, it is necessary to further elucidate which process or if perhaps both processes may need to be targeted in order to exert the best anti-cancer effect. Moreover, ATG4-family proteins have four homologues and thus the reported ATG4B inhibitors could also target other ATG4s, it is necessary to understand whether specific ATG4B inhibitors or non-selective ATG4 inhibitors have better anti-cancer effects. It is also necessary to co-crystallize ATG4B with its inhibitors to better elucidate the biological roles of ATG4B in cells, which will in turn enable the design of more effective ATG4B inhibitors. Thus, more specific ATG4 regulators are needed for the study of the complicated role of ATG4 in autophagy and cancer cell biology. In conclusion, ATG4 plays a crucial role as a potential target in cancer biology, but more extensive studies are required to comprehend this unique protease.
7. Conclusions
In this review, we summarized how ATG4-family proteases are involved in the autophagy process, their recent structural and functional studies, their roles in cancer biology and targeted cancer therapy. Specifically, we highlighted recent advances in our knowledge of ATG4 inhibition as an alternative strategy for autophagy inhibition. While multiple drugs could inhibit ATG4 activity, most lack specificity and anti-tumor activity. Thus, more potent and selective agents targeting ATG4 are needed and represent a high priority for cancer drug development.
Author Contributions
Conceptualization, M.L., X.-M.Y. and Y.F.; writing—original draft preparation, Y.F., Z.H. and M.L.; writing—review and editing, X.-M.Y., L.H., J.-H.L. and D.F.; supervision, M.L. and X.-M.Y.; project administration, M.L. and X.-M.Y.
Funding
This work was supported in part by the National Natural Science Foundation of China (31671437), the Natural Science Foundation of Guangdong Province, China (2016A030313335), the Guangdong Provincial Key Laboratory of Construction Foundation (2017B030314030), and National Engineering and Technology Research Center for New Drug Druggability Evaluation (Seed Program of Guangdong Province, 2017B090903004).
Conflicts of Interest
The authors declare no conflict of interest.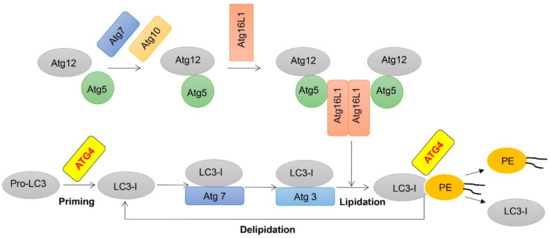 Figure 1. Schematic representation of two ubiquitination-like modifications essential for autophagy. Following translation, most pro-LC3 is cleaved into LC3-I by autophagy-related gene (ATG)4, LC3-I is activated by the E1-like molecule Atg7, transferred to the E2-like molecule Atg3 and finally conjugated to phospholipids with the assistance of the E3-like Atg12-Atg5-Atg16L1 complex. Next, membrane-localized LC3-II is also delipidated by ATG4 to recycle LC3-I.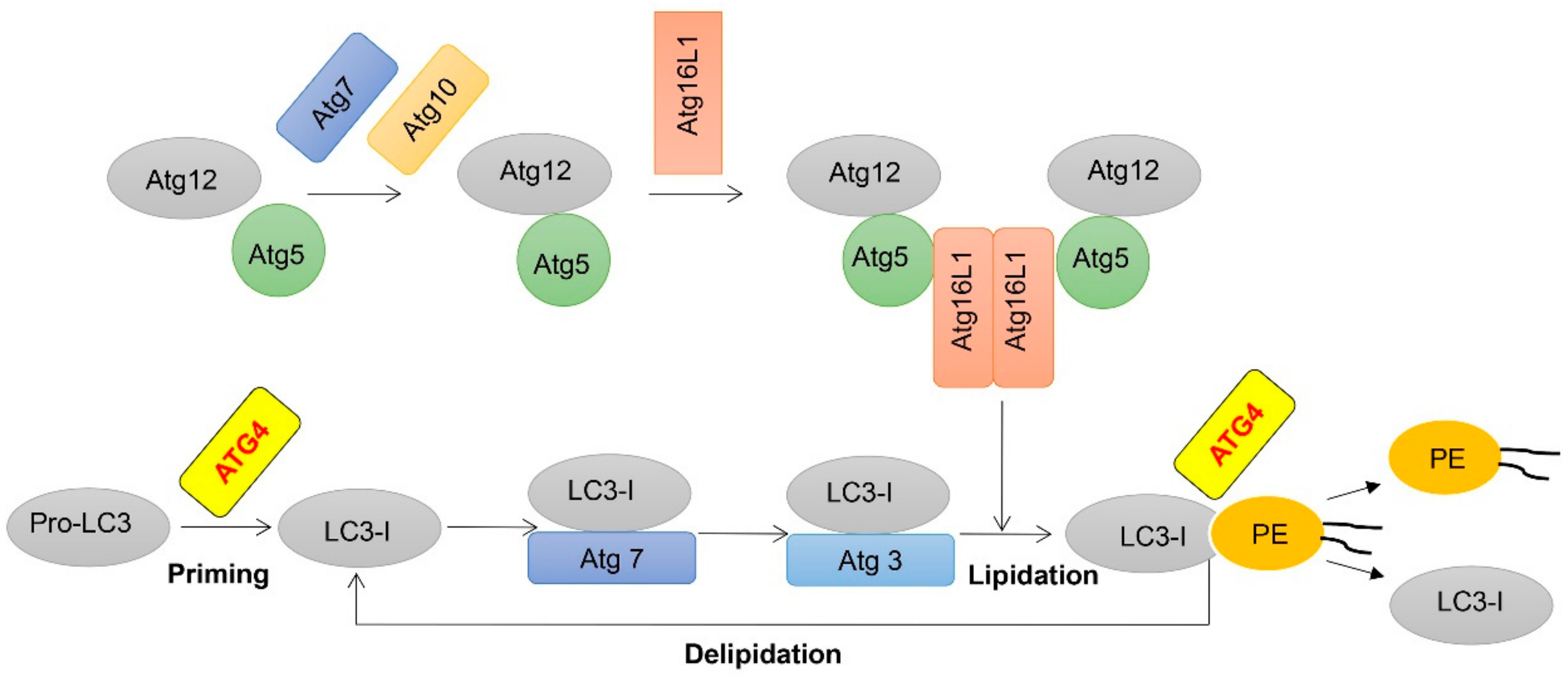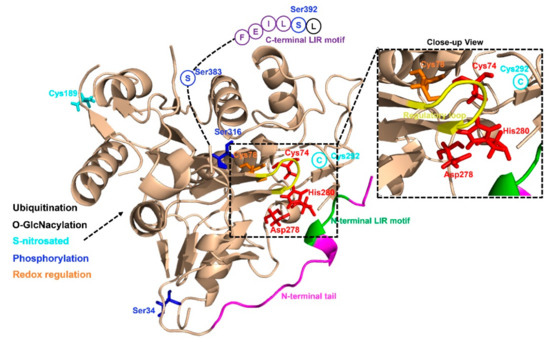 Figure 2. Structural basis of ATG4B and its post-translational modifications. S-nitrosated sites are colored cyan, and phosphorylation sites are colored blue, Redox regulation sites are colored orange, respectively.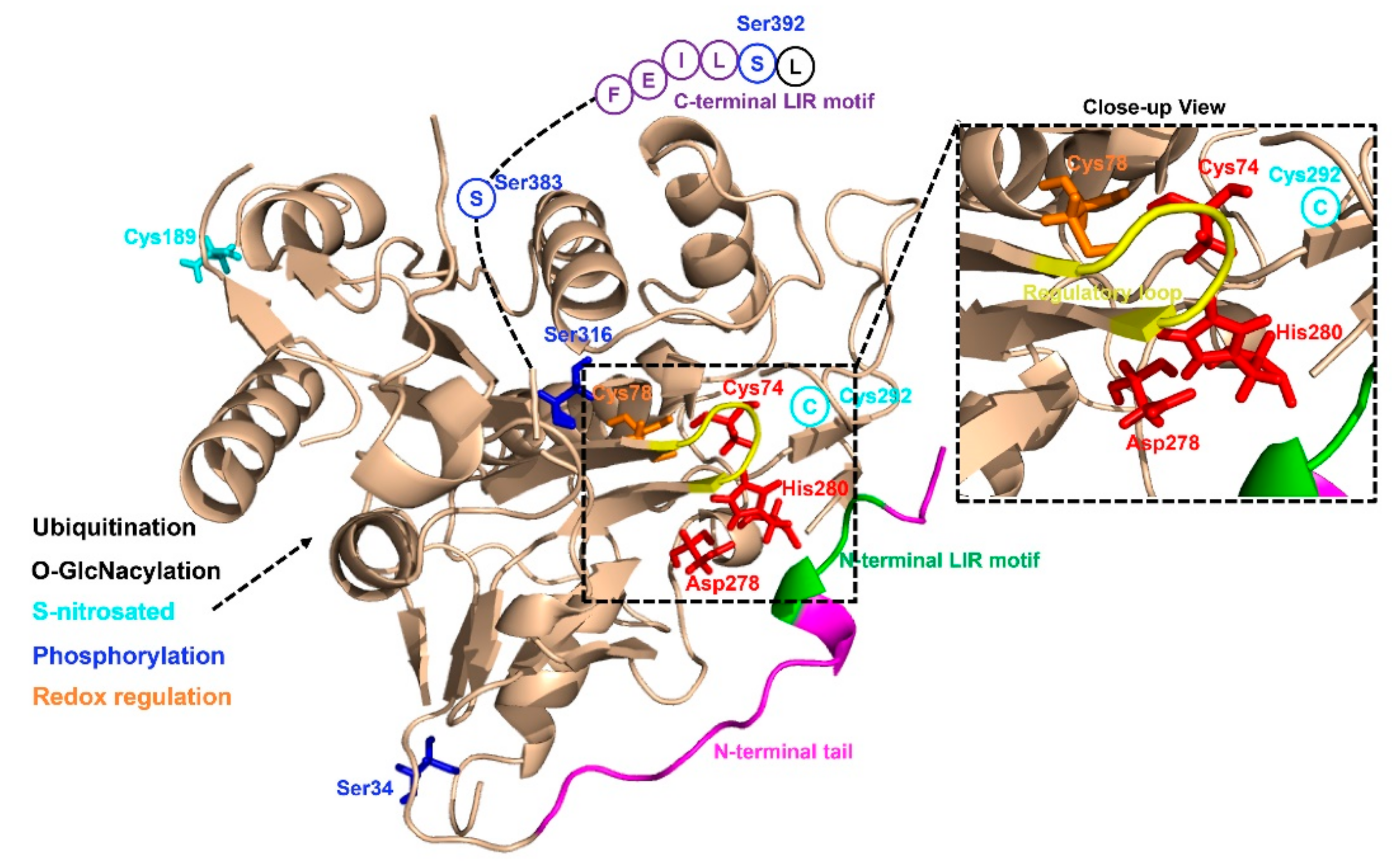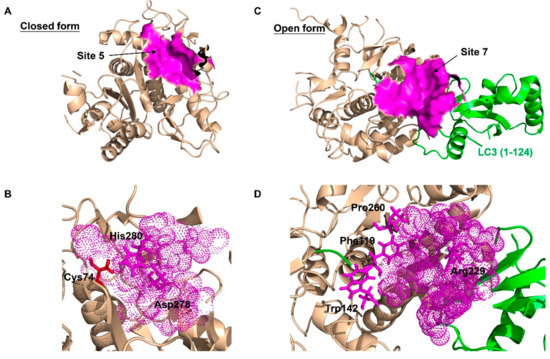 Figure 3. The best predicted-docking pockets of the closed form and open form of ATG4B structure. (A) Crystal structure of the closed form of ATG4B protein (PDB ID: 2CY7) with labeled pocket site 5. Site 5 contains Thr10, Leu11, Ala14, Asn261, Ser262, His264, Tyr276, Asp278, His280 and Cys306. Site 5 is shown with surface and colored magenta. (B) Close-up view of site 5, where site 5 is shown with dots and colored magenta. The active site amino acids Cys74 (red), Asp278 (magenta) and His280 (magenta) are shown with sticks. Asp278 and His280 are together within the pocket surface that is suitable for molecular docking. (C) Crystal structure of the open form of ATG4B (PDB ID: 2Z0E) with labeled pocket site 7. Site 7 contains Trp142, Arg229, Leu232, Thr233, Pro260, Asp314, Pro315 and Ser316 of ATG4B, and Tyr38, Gly40, Glu41, Lys42, Gln43, Ala114, Ser115, Gln116, Glu117, Thr118 and Phe119 of LC3B. Site 7 is shown with surface and colored magenta. (D) Close-up view of site 7, where site 7 is shown with dots and colored magenta. Residues Trp142, Arg229 and Pro260 of ATG4B, and Phe119 of LC3B, which are clustered within the pocket surface and related to the interaction, are shown with sticks. The best docking pockets were defined by MOE2010 and all structure models were generated using PyMOL.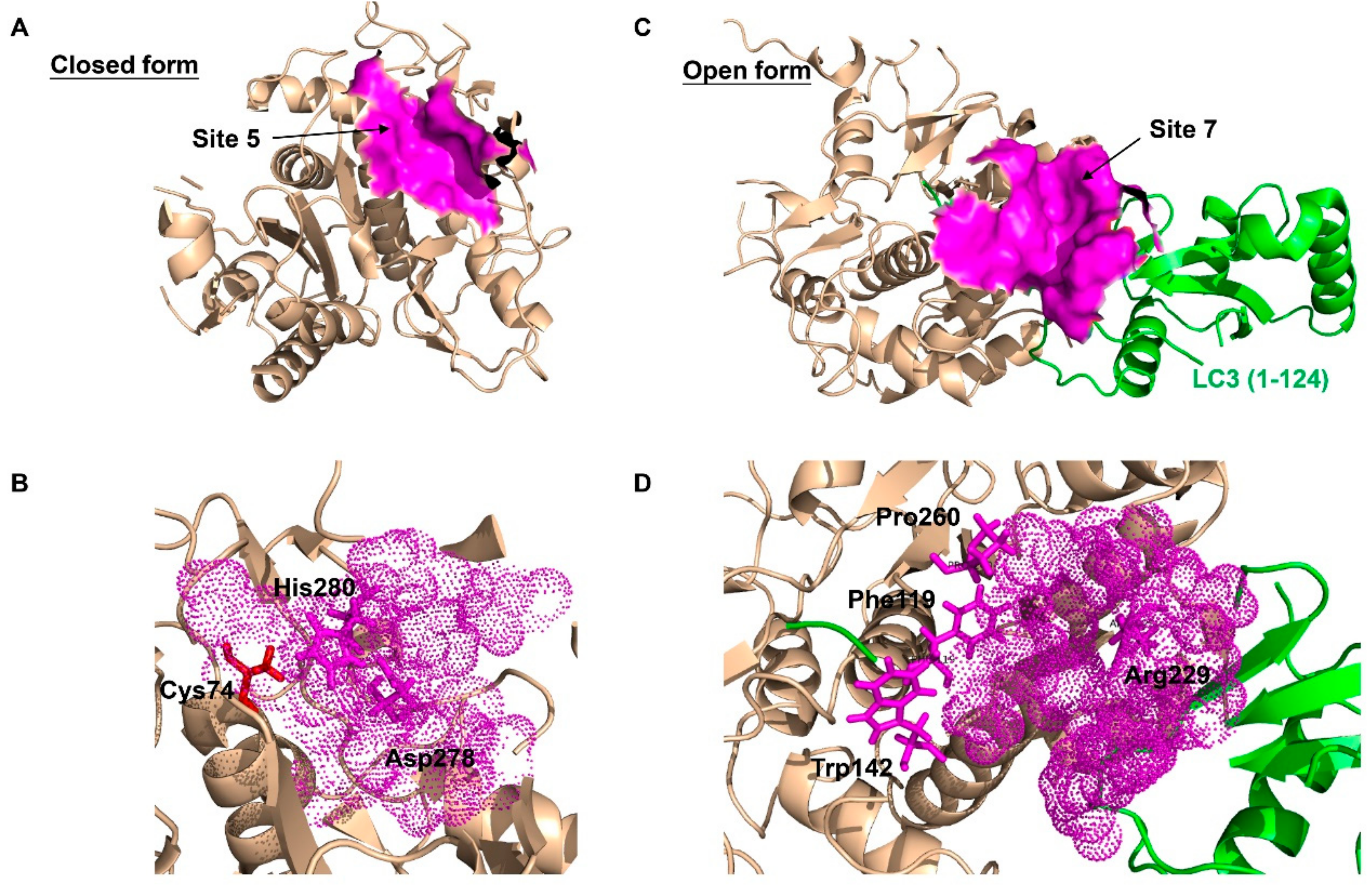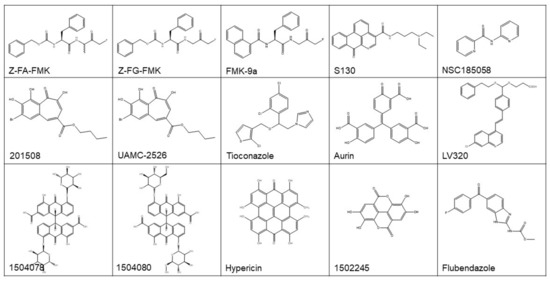 Figure 4.
The structure of reported ATG4B regulators. See the text and
Table 1
for more information.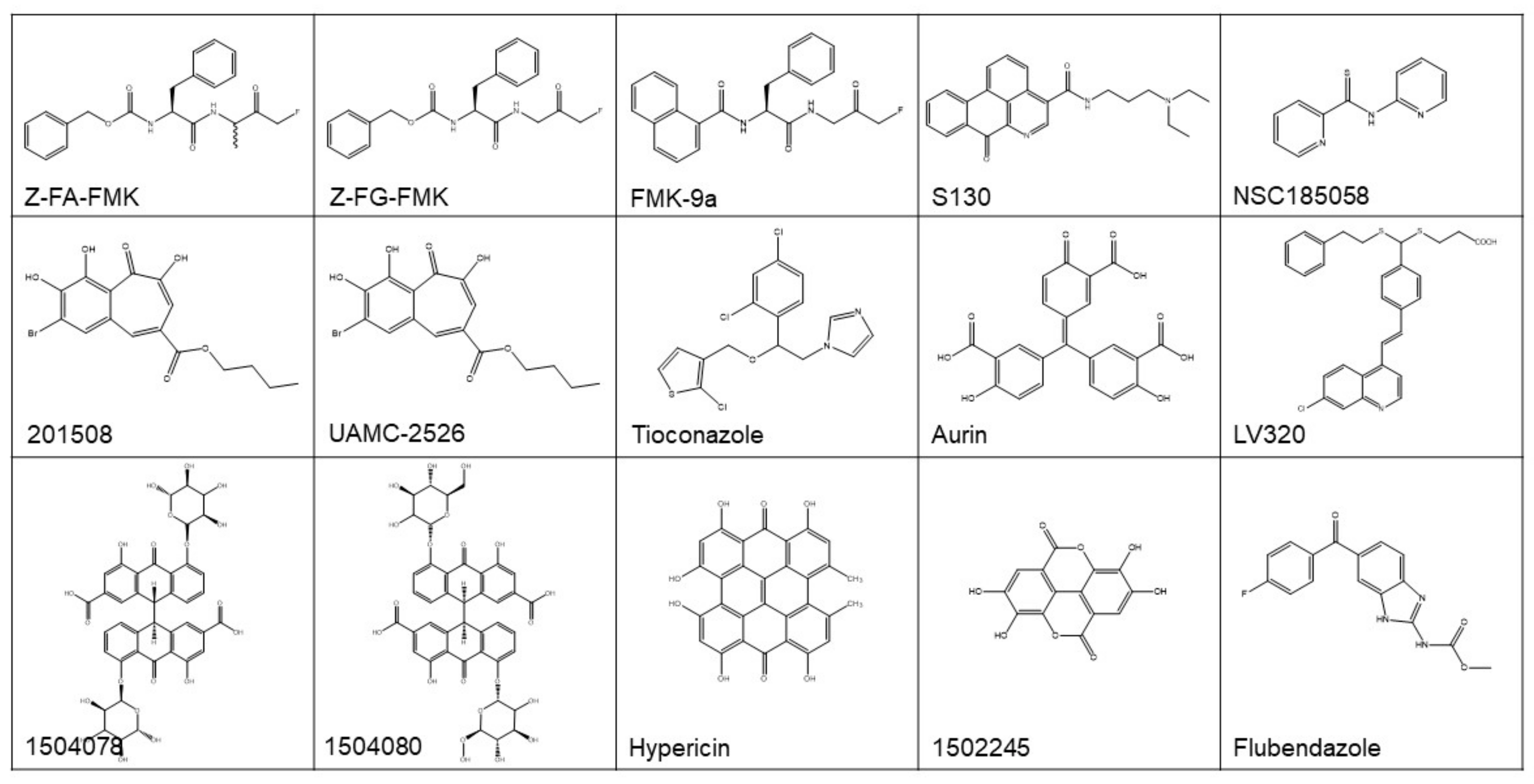 | Name/Compound ID | IC50 | Methods | Effect on ATG4B | Effect on Autophagy | Effect on Cancer | Ref. |
| --- | --- | --- | --- | --- | --- | --- |
| 201508 | 2.3 µM | LC3B-PLA2 assay | Inhibiting | N.R. | N.R. | [107] |
| 1502245 | 3.0 µM | LC3B-PLA2 assay | Inhibiting | N.R. | N.R. | [107] |
| 1504078 | 1.7 µM | LC3B-PLA2 assay | Inhibiting | N.R. | N.R. | [107] |
| 1504080 | 1.1 µM | LC3B-PLA2 assay | Inhibiting | N.R. | N.R. | [107] |
| Tioconazole | 1.8 µM | LC3B-PLA2 assay | Inhibiting | Inhibiting | Enhancing Dox-induced cytotoxicity in colorectal cancer | [44] |
| Z-FA-FMK | 14.8 µM | TR-FRET assay | Inhibiting | N.R. | N.R. | [100] |
| Z-FG-FMK | 1.13 µM | TR-FRET assay | Inhibiting | N.R. | N.R. | [100] |
| FMK-9a | 80 nM | TR-FRET assay | Inhibiting | Inducing | Having no effect on the survival of HeLa cells | [101,108] |
| Hypericin | 30 µM | FRET assay | Inhibiting | N.R. | N.R. | [109] |
| Aurin | 8.8 µM | FRET assay | Inhibiting | N.R. | N.R. | [109] |
| LV-320 | 24.5 µM | Fluorescent peptide substrate assay | Inhibiting | Inhibiting | N.R. | [103] |
| UAMC-2526 | N.R. | LC3-GST cleavage assay | Inhibiting | Inhibiting | Enhancing Oxaliplatin-induced cytotoxicity in colorectal cancer | [110] |
| NSC185058 | 51 µM | In silico screening, LC3-GST cleavage assay | Inhibiting | Inhibiting | Suppressing the development ofSao-2 cells; enhancing the anti-glioblastoma activity of radiation therapy | [31,62] |
| S130 | 3.2 µM | In silico screening, FRET assay | Inhibiting | Inhibiting | Arresting the growth of colorectal cancer | [6] |
| Flubendazole | N.R. | In silico analysis | Inducing | Inducing | Inducing autophagic cell death in MDA-MB-231 cells | [102] |

© 2019 by the authors. Licensee MDPI, Basel, Switzerland. This article is an open access article distributed under the terms and conditions of the Creative Commons Attribution (CC BY) license (http://creativecommons.org/licenses/by/4.0/).