Cannabidiol Overcomes Oxaliplatin Resistance by Enhancing NOS3- and SOD2-Induced Autophagy in Human Colorectal Cancer Cells
1
Division of Oncology/Hematology, Department of Internal Medicine, Korea University Guro Hospital, 148, Gurodong-gil, Guro-gu, Seoul 08308, Korea
2
Graduate School of Medicine, College of Medicine, Korea University, Seoul 08308, Korea
3
Division of Oncology, Department of Internal Medicine, Kyung Hee University School of Medicine, 23 Kyung Hee dae-ro, Dong-dae-mun-gu, Seoul 02447, Korea
4
Department of Surgery, Korea University Guro Hospital, Korea University College of Medicine, Seoul 08308, Korea
5
Kaiyon Bio Tech Co., Ltd, 226 Gamasan-Ro, Guro-gu, Seoul 08308, Korea
*
Authors to whom correspondence should be addressed.
†
These authors contributed equally to this work.
Received: 9 May 2019 / Revised: 3 June 2019 / Accepted: 4 June 2019 / Published: 5 June 2019
Abstract
Although oxaliplatin is an effective chemotherapeutic drug for colorectal cancer (CRC) treatment, patients often develop resistance to it. Therefore, a new strategy for CRC treatment is needed. The purpose of this study was to determine the effect of cannabidiol (CBD), one of the components of the cannabis plant, in overcoming oxaliplatin resistance in CRC cells. We established oxaliplatin-resistant cell lines, DLD-1 R and colo205 R, in CRC DLD-1 and colo205 cells. Autophagic cell death was induced when oxaliplatin-resistant cells were treated with both oxaliplatin and CBD. Additionally, phosphorylation of nitric oxide synthase 3 (NOS3) was increased in oxaliplatin-resistant cells compared to that in parent cells. Combined treatment with oxaliplatin and CBD reduced phospho-NOS3 levels and nitric oxide (NO) production and resulted in the production of reactive oxygen species (ROS) by reducing the levels of superoxide dismutase 2, an antioxidant present in the mitochondria, causing mitochondrial dysfunction. Taken together, these results suggest that elevated phosphorylation of NOS3 is essential for oxaliplatin resistance. The combination of oxaliplatin and CBD decreased NOS3 phosphorylation, which resulted in autophagy, by inducing the overproduction of ROS through mitochondrial dysfunction, thus overcoming oxaliplatin resistance.
View Full-Text
►

▼

Figures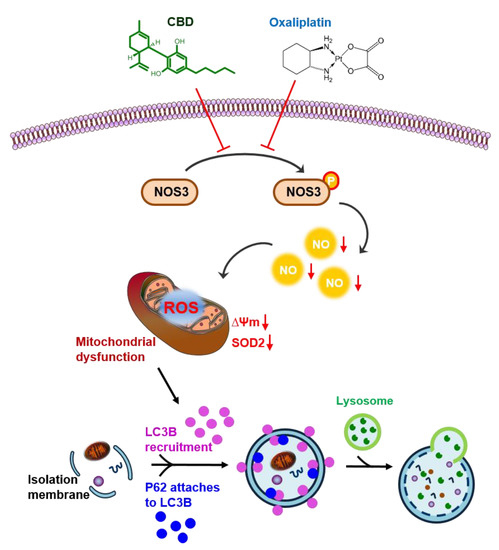 Graphical abstract
This is an open access article distributed under the
Creative Commons Attribution License
which permits unrestricted use, distribution, and reproduction in any medium, provided the original work is properly cited (CC BY 4.0).

Share & Cite This Article
MDPI and ACS Style
Jeong, S.; Kim, B.G.; Kim, D.Y.; Kim, B.R.; Kim, J.L.; Park, S.H.; Na, Y.J.; Jo, M.J.; Yun, H.K.; Jeong, Y.A.; Kim, H.J.; Lee, S.I.; Kim, H.D.; Kim, D.H.; Oh, S.C.; Lee, D.-H. Cannabidiol Overcomes Oxaliplatin Resistance by Enhancing NOS3- and SOD2-Induced Autophagy in Human Colorectal Cancer Cells. Cancers 2019, 11, 781.
Note that from the first issue of 2016, MDPI journals use article numbers instead of page numbers. See further details here.
Related Articles
Comments
[Return to top]