Role of c-MET Inhibitors in Overcoming Drug Resistance in Spheroid Models of Primary Human Pancreatic Cancer and Stellate Cells
1
Medicinal and Natural Products Chemistry Research Center, Shiraz University of Medical Sciences, 71348-14336 Shiraz, Iran
2
Department of Medical Oncology, Cancer Center Amsterdam, Amsterdam UMC, VU University Medical Center (VUmc), 1081 HV, Amsterdam, The Netherlands
3
Physics of Life Processes, Huygens-Kamerlingh Onnes Laboratory, Leiden University, 2333 CA, Leiden, The Netherlands
4
Division of Surgery, CLINTEC, Karolinska Institutet, SE-171, Stockholm, Sweden
5
Cancer Pharmacology Lab, AIRC Start Up Unit, University of Pisa, 56124 Pisa, Italy
6
Metabolic syndrome Research center, Mashhad University of Medical Sciences, 91778-99191 Mashhad, Iran
7
Department of Physiology and Pharmacology "Vittorio Erspamer", Sapienza University, 00185, Rome, Italy
8
Fondazione Pisana per la Scienza, 56017, Pisa, Italy
*
Author to whom correspondence should be addressed.
Received: 20 March 2019 / Revised: 18 April 2019 / Accepted: 2 May 2019 / Published: 8 May 2019
Abstract
Pancreatic stellate cells (PSCs) are a key component of tumor microenvironment in pancreatic ductal adenocarcinoma (PDAC) and contribute to drug resistance. c-MET receptor tyrosine kinase activation plays an important role in tumorigenesis in different cancers including PDAC. In this study, effects of PSC conditioned medium (PCM) on c-MET phosphorylation (by immunocytochemistry enzyme-linked immunosorbent assay (ELISA)) and drug response (by sulforhodamine B assay) were investigated in five primary PDAC cells. In novel 3D-spheroid co-cultures of cyan fluorescence protein (CFP)-firefly luciferase (Fluc)-expressing primary human PDAC cells and green fluorescence protein (GFP)-expressing immortalized PSCs, PDAC cell growth and chemosensitivity were examined by luciferase assay, while spheroids' architecture was evaluated by confocal microscopy. The highest phospho-c-MET expression was detected in PDAC5 and its subclone sorted for "stage specific embryonic antigen-4" (PDAC5 (SSEA4)). PCM of cells pre-incubated with PDAC conditioned medium, containing increased hepatocyte growth factor (HGF) levels, made PDAC cells significantly more resistant to gemcitabine, but not to c-MET inhibitors. Hetero-spheroids containing both PSCs and PDAC5 (SSEA4) cells were more resistant to gemcitabine compared to PDAC5 (SSEA4) homo-spheroids. However, c-MET inhibitors (tivantinib, PHA-665752 and crizotinib) were equally effective in both spheroid models. Experiments with primary human PSCs confirmed the main findings. In conclusion, we developed spheroid models to evaluate PSC–PDAC reciprocal interaction, unraveling c-MET inhibition as an important therapeutic option against drug resistant PDAC.
View Full-Text
►

▼

Figures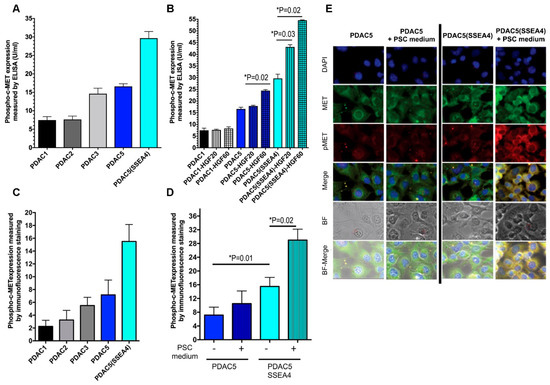 Figure 1
This is an open access article distributed under the
Creative Commons Attribution License
which permits unrestricted use, distribution, and reproduction in any medium, provided the original work is properly cited (CC BY 4.0).

Share & Cite This Article
MDPI and ACS Style
Firuzi, O.; Che, P.P.; El Hassouni, B.; Buijs, M.; Coppola, S.; Löhr, M.; Funel, N.; Heuchel, R.; Carnevale, I.; Schmidt, T.; Mantini, G.; Avan, A.; Saso, L.; Peters, G.J.; Giovannetti, E. Role of c-MET Inhibitors in Overcoming Drug Resistance in Spheroid Models of Primary Human Pancreatic Cancer and Stellate Cells. Cancers 2019, 11, 638.
Note that from the first issue of 2016, MDPI journals use article numbers instead of page numbers. See further details here.
Related Articles
Comments
[Return to top]