Open Access This article is
freely available
re-usable
Review
Emerging Roles of the Endoplasmic Reticulum Associated Unfolded Protein Response in Cancer Cell Migration and Invasion
1
Proteostasis & Cancer Team, Institut National de la Santé Et la Recherche Médicale U1242 Chemistry, Oncogenesis, Stress and Signaling, Université de Rennes, 35042 Rennes, France
2
Centre Eugène Marquis, 35042 Rennes, France
3
Biomedical Neuroscience Institute, University of Chile, 8380453 Santiago, Chile
4
Center for Geroscience, Brain Health and Metabolism (GERO), 8380453 Santiago, Chile
5
Institute of Biomedical Sciences (ICBM), Faculty of Medicine, University of Chile, 8380453 Santiago, Chile
6
The Buck Institute for Research in Aging, Novato, CA 94945, USA
7
Department of Immunology and Infectious Diseases, Harvard School of Public Health, Boston, MA 02115, USA
8
Rennes Brain Cancer Team (REACT), 35042 Rennes, France
Received: 9 April 2019 / Accepted: 1 May 2019 / Published: 6 May 2019
Abstract
:
Endoplasmic reticulum (ER) proteostasis is often altered in tumor cells due to intrinsic (oncogene expression, aneuploidy) and extrinsic (environmental) challenges. ER stress triggers the activation of an adaptive response named the Unfolded Protein Response (UPR), leading to protein translation repression, and to the improvement of ER protein folding and clearance capacity. The UPR is emerging as a key player in malignant transformation and tumor growth, impacting on most hallmarks of cancer. As such, the UPR can influence cancer cells' migration and invasion properties. In this review, we overview the involvement of the UPR in cancer progression. We discuss its cross-talks with the cell migration and invasion machinery. Specific aspects will be covered including extracellular matrix (ECM) remodeling, modification of cell adhesion, chemo-attraction, epithelial-mesenchymal transition (EMT), modulation of signaling pathways associated with cell mobility, and cytoskeleton remodeling. The therapeutic potential of targeting the UPR to treat cancer will also be considered with specific emphasis in the impact on metastasis and tissue invasion.
Keywords:
cancer; cell invasion; cell migration; ER stress; IRE1; PERK; ATF6
Funding
This work was funded by a CONICYT fellowship (21160967) and an ARED international fellowship from the Region Bretagne to C.M.L.; by a post-doctoral fellowship from the Plan Cancer to C.S.; by grants from MSCA RISE-734749 (INSPIRED) to E.C. and C.H.; by FONDECYT Iniciacion 11180825 to H.U.; and FONDECYT 1140549, FONDAP program 15150012, Millennium Institute P09-015-F, Michael J Fox Foundation for Parkinson's Research, Target Validation grant 9277, FONDEF ID16I10223, FONDEF D11E1007, US Office of Naval Research-Global N62909-16-1-2003, US Air Force Office of Scientific Research FA9550-16-1-0384, ALSRP Therapeutic Idea Award AL150111, Muscular Dystrophy Association 382453, Seed grant Leading House for the Latin American Region, Switzerland, and CONICYT-Brazil 441921/2016-7 to C.H.; by grants from INSERM, Institut National du Cancer (INCa), Région Bretagne, Rennes Métropole, Fondation pour la Recherche Médicale (FRM), EU H2020 MSCA ITN-675448 (TRAINERS) to E.C.; by la Ligue contre le Cancer (Comités 35, 56 et 37) to T.A.
Conflicts of Interest
The authors declare no conflict of interest. The funders had no role in the design of the study; in the collection, analyses, or interpretation of data; in the writing of the manuscript, or in the decision to publish the results.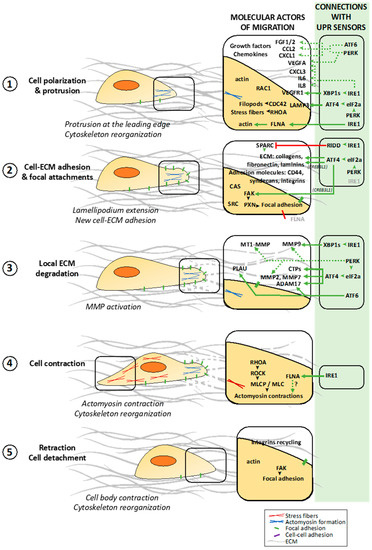 Figure 1. The cellular processes and molecular actors involved in cancer cell migration/invasion and their links to the Unfolded Protein Response (UPR) sensors. Cancer cells start to polarize via cytoskeleton reorganization at the leading edge (1) and generate new cell-matrix contacts (2). The proximal extracellular matrix (ECM) surrounding the leading edge is degraded by metalloproteinases (MMPs) activation to allow cell movement (3). Finally, cell contractions (4) and retractions allowed by cytoskeleton reorganizations, synchronized with cell-matrix detachments (5), lead the movement of the cell body. The molecular partners involved in the different cancer cell migration steps are presented in the associated boxes. The UPR sensors and their down-stream pathways that control the migration associated molecules are indicated in the green boxes (i.e., direct (solid lines) or indirect (dotted lines) links).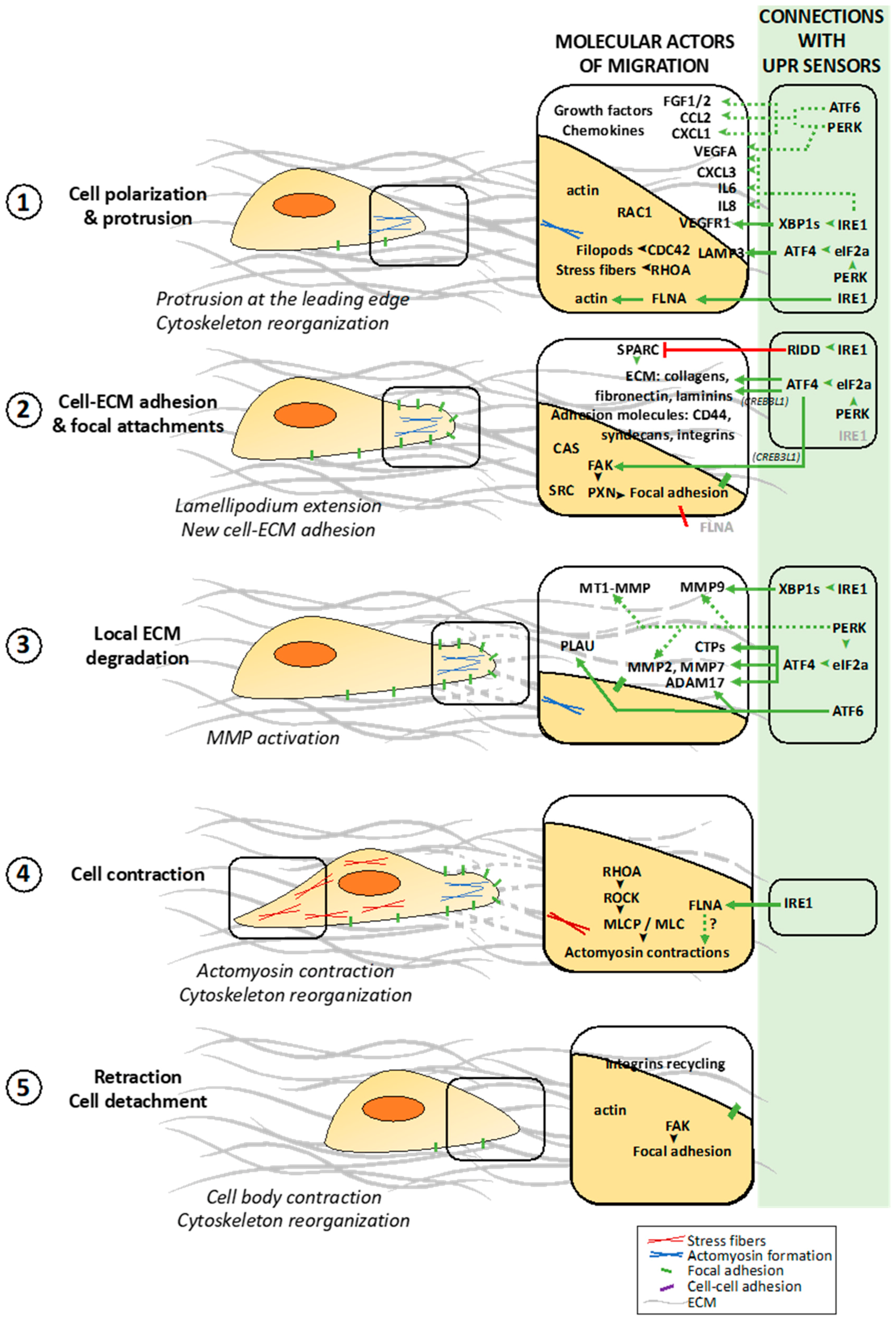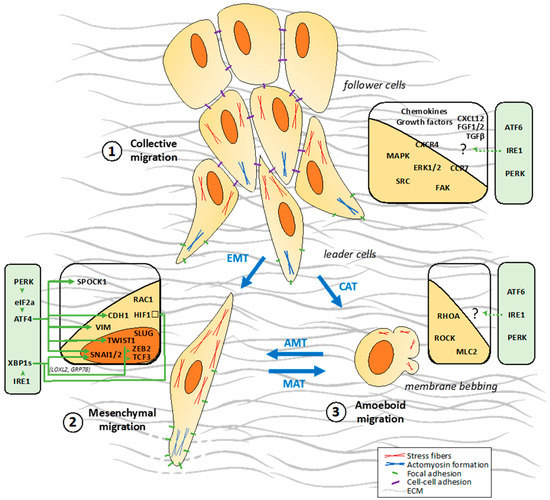 Figure 2. The migration modes used in cancer cell migration/invasion and their links to the UPR sensors. Cancer cells migrate either collectively (1) or individually according to the mesenchymal (2) or amoeboid (3) modes. The latter modes involve cell reprogramming processes including epithelial-to-mesenchymal (EMT), mesenchymal-to-amoeboid (MAT) and amoeboid-to-mesenchymal (AMT) transitions. Although less characterized, a collective-to-amoeboid transition (CAT) has been also documented. The molecules involved in these different cancer cell migration modes are presented in the associated boxes. The UPR sensors and their down-stream pathways that control the migration associated molecular partners are indicated in the green boxes.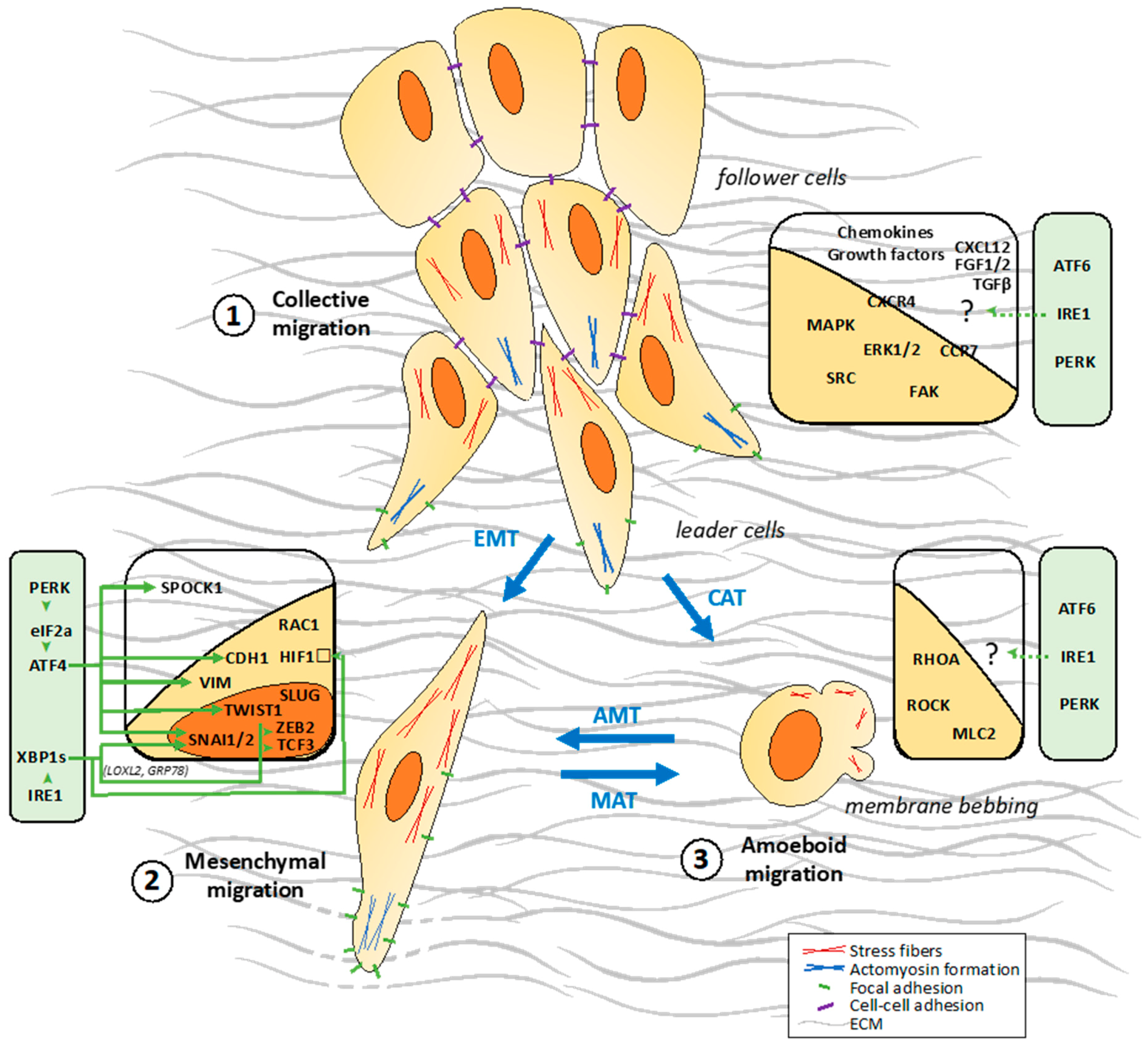 © 2019 by the authors. Licensee MDPI, Basel, Switzerland. This article is an open access article distributed under the terms and conditions of the Creative Commons Attribution (CC BY) license (http://creativecommons.org/licenses/by/4.0/).