Tumour-Derived Laminin α5 (LAMA5) Promotes Colorectal Liver Metastasis Growth, Branching Angiogenesis and Notch Pathway Inhibition
1
Nuffield Department of Surgical Sciences, University of Oxford, John Radcliffe Hospital, Oxford OX39DU, UK
2
Faculty of Medicine and Health Sciences, Department of Biomedical Sciences, Macquarie University, Sydney, NSW 2109, Australia
3
CRUK/MRC Oxford Institute for Radiation Oncology, University of Oxford, Oxford OX37LE, UK
*
Author to whom correspondence should be addressed.
†
Current affiliation: Children's Cancer and Blood Foundation Laboratories, Departments of Pediatrics, and Cell and Developmental Biology, Drukier Institute for Children's Health, Meyer Cancer Center, Weill Cornell Medicine, New York, NY 10021, USA.
Cancers 2019, 11(5), 630; https://doi.org/10.3390/cancers11050630 (registering DOI)
Received: 23 April 2019 / Accepted: 30 April 2019 / Published: 6 May 2019
Abstract
Hepatic metastatic growth is dependent upon stromal factors including the matrisomal proteins that make up the extracellular matrix (ECM). Laminins are ECM glycoproteins with several functions relevant to tumour progression including angiogenesis. We investigated whether metastatic colon cancer cells produce the laminins required for vascular basement membrane assembly as a mechanism for the promotion of angiogenesis and liver metastasis growth. qPCR was performed using human-specific primers to laminin chains on RNA from orthotopic human colorectal liver metastases. Laminin α5 (LAMA5) expression was inhibited in colon cancer cells using shRNA. Notch pathway gene expression was determined in endothelia from hepatic metastases. Orthotopic hepatic metastases expressed human laminin chains α5, β1 and γ1 (laminin 511), all of which are required for vascular basement membrane assembly. The expression of Laminin 511 was associated with reduced survival in several independent colorectal cancer cohorts and angiogenesis signatures or vessel density significantly correlated with LAMA5 expression. Colorectal cancer cells in culture made little LAMA5, but its levels were increased by culture in a medium conditioned by tumour-derived CD11b
+
myeloid cells through TNFα/NFκB pathway signalling. Down-regulation of LAMA5 in cancer cells impaired liver metastatic growth and resulted in reduced intra-tumoural vessel branching and increased the expression of Notch pathway genes in metastasis-derived endothelia. This data demonstrates a mechanism whereby tumour inflammation induces LAMA5 expression in colorectal cancer cells. LAMA5 is required for the successful growth of hepatic metastases where it promotes branching angiogenesis and modulates Notch signalling.
View Full-Text
►

▼

Figures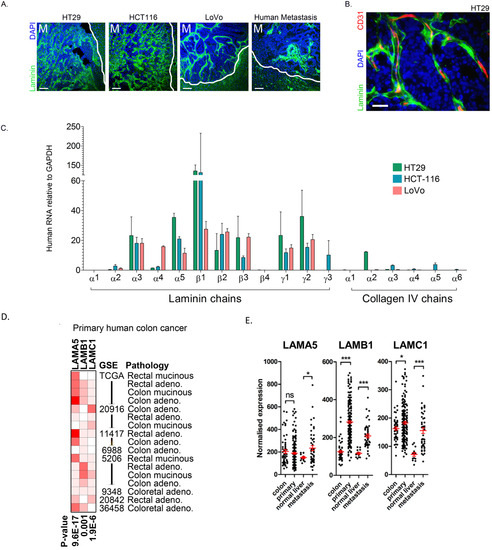 Figure 1
This is an open access article distributed under the
Creative Commons Attribution License
which permits unrestricted use, distribution, and reproduction in any medium, provided the original work is properly cited (CC BY 4.0).
Share & Cite This Article
MDPI and ACS Style
Gordon-Weeks, A.; Lim, S.Y.; Yuzhalin, A.; Lucotti, S.; Vermeer, J.A.F.; Jones, K.; Chen, J.; Muschel, R.J. Tumour-Derived Laminin α5 (LAMA5) Promotes Colorectal Liver Metastasis Growth, Branching Angiogenesis and Notch Pathway Inhibition. Cancers 2019, 11, 630.
Note that from the first issue of 2016, MDPI journals use article numbers instead of page numbers. See further details here.
Related Articles
Comments
[Return to top]