A Protective Role of Aryl Hydrocarbon Receptor Repressor in Inflammation and Tumor Growth
1
Department of Environmental Toxicology, University of California, One Shields Avenue, Davis, CA 95616, USA
2
Center for Health and the Environment, University of California, One Shields Avenue, Davis, CA 95616, USA
3
Graduate School of Integrated Sciences for Life, Hiroshima University, Hiroshima 739-8521, Japan
4
Department of Biochemistry & Molecular Medicine, School of Medicine, University of California, Davis, CA 95817, USA
5
Leibniz Research Institute for Environmental Medicine, 40225 Düsseldorf, Germany
6
Division of Hematology & Oncology, Department of Internal Medicine, University of California Davis Comprehensive Cancer Center, Sacramento, CA 95817, USA
*
Author to whom correspondence should be addressed.
†
These authors contributed equally to this work.
Received: 28 March 2019 / Revised: 19 April 2019 / Accepted: 25 April 2019 / Published: 27 April 2019
Abstract
The aryl hydrocarbon receptor (AhR) is known for mediating the toxicity of environmental pollutants such as dioxins and numerous dioxin-like compounds, and is associated with the promotion of various malignancies, including lymphoma. The aryl hydrocarbon receptor repressor (AhRR), a ligand-independent, transcriptionally inactive AhR-like protein is known to repress AhR signaling through its ability to compete with the AhR for dimerization with the AhR nuclear translocator (ARNT). While AhRR effectively blocks AhR signaling, several aspects of the mechanism of AhRR's functions are poorly understood, including suppression of inflammatory responses and its putative role as a tumor suppressor. In a transgenic mouse that overexpresses AhRR (AhRR Tg) we discovered that these mice suppress 2,3,7,8-tetrachlorodibenzo-p-dioxin (TCDD)- and inflammation-induced tumor growth after subcutaneous challenge of EL4 lymphoma cells. Using mouse embryonic fibroblasts (MEF) we found that AhRR overexpression suppresses the AhR-mediated anti-apoptotic response. The AhRR-mediated inhibition of apoptotic resistance was associated with a suppressed expression of interleukin (IL)-1β and cyclooxygenase (COX)-2, which was dependent on activation of protein kinase A (PKA) and the CAAT-enhancer-binding protein beta (C/EBPβ). These results provide mechanistic insights into the role of the AhRR to suppress inflammation and highlight the AhRR as a potential therapeutic target to suppress tumor growth.
View Full-Text
►

▼

Figures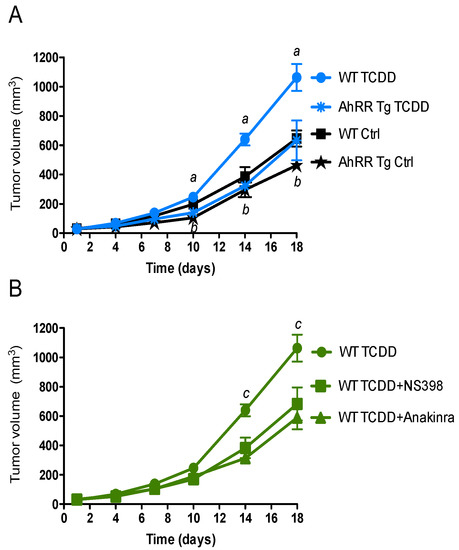 Figure 1
This is an open access article distributed under the
Creative Commons Attribution License
which permits unrestricted use, distribution, and reproduction in any medium, provided the original work is properly cited (CC BY 4.0).

Share & Cite This Article
MDPI and ACS Style
Vogel, C.F.A.; Ishihara, Y.; Campbell, C.E.; Kado, S.Y.; Nguyen-Chi, A.; Sweeney, C.; Pollet, M.; Haarmann-Stemmann, T.; Tuscano, J.M. A Protective Role of Aryl Hydrocarbon Receptor Repressor in Inflammation and Tumor Growth. Cancers 2019, 11, 589.
Note that from the first issue of 2016, MDPI journals use article numbers instead of page numbers. See further details here.
Related Articles
Comments
[Return to top]