Chromogranin A in the Laboratory Diagnosis of Pheochromocytoma and Paraganglioma
1
Institute of Endocrinology, Národní 8, 116 94 Prague, Czech Republic
2
Department of Nuclear Medicine and Endocrinology, Motol Teaching Hospital and Second Faculty of Medicine, Charles University, V Úvalu 84, 15006 Prague 5, Czech Republic
3
Urology Clinic, V Pražské bráně 74, 26601 Beroun, Czech Republic
4
1st Department of Surgery-Department of Abdominal, Thoracic Surgery and Traumatology, First Faculty of Medicine, Charles University and General University Hospital, U Nemocnice 2, 12808 Prague 2, Czech Republic
5
Department of Urology, First Faculty of Medicine, Charles University and General University Hospital, Ke Karlovu 4, 12808 Prague 2, Czech Republic
6
Institute of Pathology, First Faculty of Medicine, Charles University in Prague and General University Hospital, Studničkova 2, 12800 Prague 2, Czech Republic
7
Center for Hypertension, 3rd Medical Department-Department of Endocrinology and Metabolism, First Faculty of Medicine, Charles University and General University Hospital, U Nemocnice 1, 12808 Prague 2, Czech Republic
*
Author to whom correspondence should be addressed.
Received: 17 March 2019 / Revised: 15 April 2019 / Accepted: 17 April 2019 / Published: 25 April 2019
Abstract
This work discusses the clinical performance of chromogranin A (CGA), a commonly measured marker in neuroendocrine neoplasms, for the diagnosis of pheochromocytoma/paraganglioma (PPGL). Plasma CGA (cut-off value 150 µg/L) was determined by an immunoradiometric assay. Free metanephrine (cut-off value 100 ng/L) and normetanephrine (cut-off value 170 ng/L) were determined by radioimmunoassay. Blood samples were collected from PPGL patients preoperatively, one week, six months, one year and two years after adrenal gland surgery. The control patients not diagnosed with PPGL suffered from adrenal problems or from MEN2 and thyroid carcinoma. The clinical sensitivity in the PPGL group of patients (n = 71) based on CGA is 90% and is below the clinical sensitivity determined by metanephrines (97%). The clinical specificity based on all plasma CGA values after surgery (n = 98) is 99% and is the same for metanephrines assays. The clinical specificity of CGA in the control group (n = 85) was 92% or 99% using metanephrines tests. We can conclude that plasma CGA can serve as an appropriate complement to metanephrines assays in laboratory diagnosis of PPGL patients. CGA is elevated in PPGLs, as well as in other neuroendocrine or non-neuroendocrine neoplasia and under clinical conditions increasing adrenergic activity.
View Full-Text
►

▼

Figures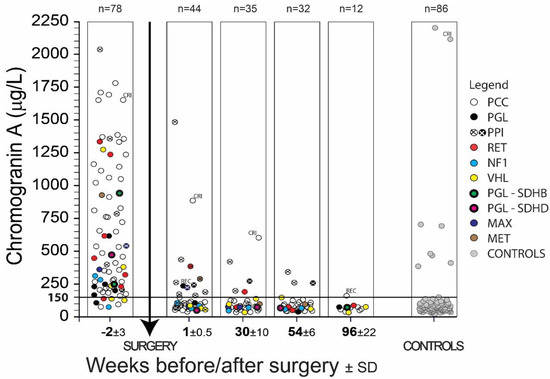 Figure 1
This is an open access article distributed under the
Creative Commons Attribution License
which permits unrestricted use, distribution, and reproduction in any medium, provided the original work is properly cited (CC BY 4.0).

Share & Cite This Article
MDPI and ACS Style
Bílek, R.; Vlček, P.; Šafařík, L.; Michalský, D.; Novák, K.; Dušková, J.; Václavíková, E.; Widimský, J., Jr.; Zelinka, T. Chromogranin A in the Laboratory Diagnosis of Pheochromocytoma and Paraganglioma. Cancers 2019, 11, 586.
Note that from the first issue of 2016, MDPI journals use article numbers instead of page numbers. See further details here.
Related Articles
Comments
[Return to top]