FGF21 Levels in Pheochromocytoma/Functional Paraganglioma
1
Third Department of Medicine, Department of Endocrinology and Metabolism of the First Faculty of Medicine, Charles University and General University Hospital in Prague, 128 00 Prague, Czech Republic
2
Institute of Sports Medicine, First Faculty of Medicine, Charles University and General University Hospital in Prague, 120 00 Prague, Czech Republic
3
Centre for Experimental Medicine and Diabetes Centre, Institute for Clinical and Experimental Medicine, 140 21 Prague, Czech Republic
4
Institute for Medical Biochemistry and Laboratory Diagnostics, Charles University and General University Hospital in Prague, 128 08 Prague, Czech Republic
5
Department of Urology of the First Faculty of Medicine, Charles University and General University Hospital in Prague, 128 00 Prague, Czech Republic
6
First Department of Surgery of the First Faculty of Medicine, Charles University and General University Hospital in Prague, 128 00 Prague, Czech Republic
*
Author to whom correspondence should be addressed.
Received: 3 March 2019 / Revised: 29 March 2019 / Accepted: 2 April 2019 / Published: 5 April 2019
Abstract
Fibroblast growth factor 21 (FGF21) is a hepatokine with beneficial effects on metabolism. Our aim was to evaluate the relationship between the serum FGF21, and energy and glucose metabolism in 40 patients with pheochromocytoma/functional paraganglioma (PPGL), in comparison with 21 obese patients and 26 lean healthy controls. 27 patients with PPGL were examined one year after tumor removal. Basic anthropometric and biochemical measurements were done. Energy metabolism was measured by indirect calorimetry (Vmax-Encore 29N). FGF21 was measured by ELISA. FGF21 was higher in PPGL than in controls (174.2 (283) pg/mL vs. 107.9 (116) pg/mL;
p
< 0.001) and comparable with obese (174.2 (283) pg/mL vs. 160.4 (180);
p
= NS). After tumor removal, FGF21 decreased (176.4 (284) pg/mL vs. 131.3 (225) pg/mL;
p
< 0.001). Higher levels of FGF21 were expressed, particularly in patients with diabetes. FGF21 positively correlated in PPGL with age (
p
= 0.005), BMI (
p
= 0.028), glycemia (
p
= 0.002), and glycated hemoglobin (
p
= 0.014). In conclusion, long-term catecholamine overproduction in PPGL leads to the elevation in serum FGF21, especially in patients with secondary diabetes. FGF21 levels were comparable between obese and PPGL patients, despite different anthropometric indices. We did not find a relationship between FGF21 and hypermetabolism in PPGL. Tumor removal led to the normalization of FGF21 and the other metabolic abnormalities.
View Full-Text
►

▼

Figures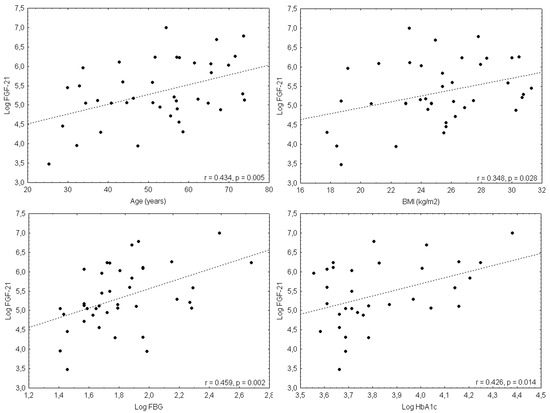 Figure 1
This is an open access article distributed under the
Creative Commons Attribution License
which permits unrestricted use, distribution, and reproduction in any medium, provided the original work is properly cited (CC BY 4.0).

Share & Cite This Article
MDPI and ACS Style
Klímová, J.; Zelinka, T.; Rosa, J.; Štrauch, B.; Haluzíková, D.; Haluzík, M.; Holaj, R.; Krátká, Z.; Kvasnička, J.; Ďurovcová, V.; Matoulek, M.; Novák, K.; Michalský, D.; Widimský Jr., J.; Petrák, O. FGF21 Levels in Pheochromocytoma/Functional Paraganglioma. Cancers 2019, 11, 485.
Note that from the first issue of 2016, MDPI journals use article numbers instead of page numbers. See further details here.
Related Articles
Comments
[Return to top]