DIRAS3-Derived Peptide Inhibits Autophagy in Ovarian Cancer Cells by Binding to Beclin1
1
Department of Experimental Therapeutics, The University of Texas M.D. Anderson Cancer Center, Houston, TX 77030, USA
2
Department of Pharmacology and Chemical Biology, Baylor College of Medicine, Houston, TX 77030, USA
3
Department of Cancer Systems Imaging, The University of Texas M.D. Anderson Cancer Center, Houston, TX 77030, USA
*
Authors to whom correspondence should be addressed.
†
These authors contributed equally to this work.
Received: 25 March 2019 / Revised: 8 April 2019 / Accepted: 11 April 2019 / Published: 18 April 2019
Abstract
Autophagy can protect cancer cells from acute starvation and enhance resistance to chemotherapy. Previously, we reported that autophagy plays a critical role in the survival of dormant, drug resistant ovarian cancer cells using human xenograft models and correlated the up-regulation of autophagy and DIRAS3 expression in clinical samples obtained during "second look" operations. DIRAS3 is an imprinted tumor suppressor gene that encodes a 26 kD GTPase with homology to RAS that inhibits cancer cell proliferation and motility. Re-expression of DIRAS3 in ovarian cancer xenografts also induces dormancy and autophagy. DIRAS3 can bind to Beclin1 forming the Autophagy Initiation Complex that triggers autophagosome formation. Both the N-terminus of DIRAS3 (residues 15–33) and the switch II region of DIRAS3 (residues 93–107) interact directly with BECN1. We have identified an autophagy-inhibiting peptide based on the switch II region of DIRAS3 linked to Tat peptide that is taken up by ovarian cancer cells, binds Beclin1 and inhibits starvation-induced DIRAS3-mediated autophagy.
View Full-Text
►

▼

Figures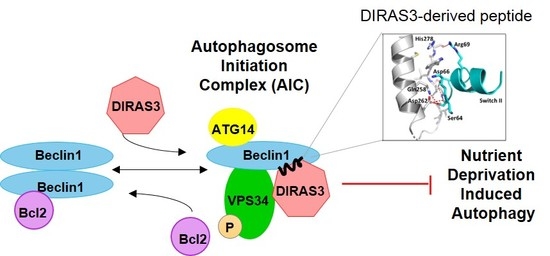 Graphical abstract
This is an open access article distributed under the
Creative Commons Attribution License
which permits unrestricted use, distribution, and reproduction in any medium, provided the original work is properly cited (CC BY 4.0).

Share & Cite This Article
MDPI and ACS Style
Sutton, M.N.; Huang, G.Y.; Liang, X.; Sharma, R.; Reger, A.S.; Mao, W.; Pang, L.; Rask, P.J.; Lee, K.; Gray, J.P.; Hurwitz, A.M.; Palzkill, T.; Millward, S.W.; Kim, C.; Lu, Z.; Bast, R.C., Jr. DIRAS3-Derived Peptide Inhibits Autophagy in Ovarian Cancer Cells by Binding to Beclin1. Cancers 2019, 11, 557.
Note that from the first issue of 2016, MDPI journals use article numbers instead of page numbers. See further details here.
Related Articles
Comments
[Return to top]