A Cell-Autonomous Oncosuppressive Role of Human RNASET2 Affecting ECM-Mediated Oncogenic Signaling
1
Unit of Molecular Therapies, Department of Research, Fondazione IRCCS Istituto Nazionale dei Tumori, Via Amadeo 42, 20133 Milan, Italy
2
Unit of Pathology, Department of Medicine and Surgery, Università degli Studi dell′Insubria, via JH Dunant 5, 21100 Varese, Italy
3
Gynecology Oncology Unit, Department of Surgery, Fondazione IRCCS Istituto Nazionale dei Tumori, Via Amadeo 42, 20133 Milan, Italy
4
Medical and Human Genetics unit, Department of Medicine and Surgery, Università degli Studi dell′Insubria, via JH Dunant 5, 21100 Varese, Italy
5
Department of Biotechnology and Life Sciences, Università degli Studi dell′Insubria, via JH Dunant 5, 21100 Varese, Italy
*
Authors to whom correspondence should be addressed.
†
These authors contributed equally to this work.
Received: 22 January 2019 / Revised: 18 February 2019 / Accepted: 20 February 2019 / Published: 22 February 2019
Abstract
RNASET2 is an extracellular ribonuclease endowed with a marked antitumorigenic role in several carcinomas, independent from its catalytic activity. Besides its antitumorigenic role by the recruitment to the tumor mass of immune cells from the monocyte/macrophage lineage, RNASET2 is induced by cellular stress and involved in actin cytoskeleton remodeling affecting cell interactions with the extracellular matrix (ECM). Here, we aimed to investigate the effects of RNASET2 expression modulation on cell phenotype and behavior in epithelial ovarian cancer (EOC) cellular models. In silico analysis on two publicly available datasets of gene expression from EOC patients (
n
= 392) indicated that increased RNASET2 transcript levels are associated with longer overall survival. In EOC biopsies (
n
= 101), analyzed by immunohistochemistry, RNASET2 was found heterogeneously expressed among tumors with different clinical–pathological characteristics and, in some cases, its expression localized to tumor-associated ECM. By characterizing in vitro two models of EOC cells in which RNASET2 was silenced or overexpressed, we report that RNASET2 expression negatively affects growth capability by conferring a peculiar cell phenotype upon the interaction of EOC cells with the ECM, resulting in decreased src activation. Altogether, these data suggest that drugs targeting activated src might represent a therapeutic approach for RNASET2-expressing EOCs.
View Full-Text
►

▼

Figures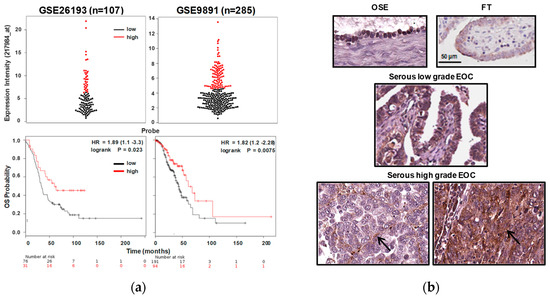 Figure 1
This is an open access article distributed under the
Creative Commons Attribution License
which permits unrestricted use, distribution, and reproduction in any medium, provided the original work is properly cited (CC BY 4.0).

Share & Cite This Article
MDPI and ACS Style
Roggiani, F.; Riva, C.; Raspagliesi, F.; Porta, G.; Valli, R.; Taramelli, R.; Acquati, F.; Mezzanzanica, D.; Tomassetti, A. A Cell-Autonomous Oncosuppressive Role of Human RNASET2 Affecting ECM-Mediated Oncogenic Signaling. Cancers 2019, 11, 255.
Note that from the first issue of 2016, MDPI journals use article numbers instead of page numbers. See further details here.
Related Articles
Comments
[Return to top]