Chasing the FOXO3: Insights into Its New Mitochondrial Lair in Colorectal Cancer Landscape
1
Medical Genetics, National Institute for Gastroenterology, IRCCS 'S. de Bellis', Via Turi, 27, Castellana Grotte, 70013 Bari, Italy
2
Division of Medical Genetics, Department of Biomedical Sciences and Human Oncology (DIMO), University of Bari Aldo Moro, Piazza G. Cesare, 11, 70124 Bari, Italy
3
Department of Molecular Medicine, Sapienza University of Rome, Viale Regina Elena, 324, 00161 Roma, Italy
*
Authors to whom correspondence should be addressed.
†
These authors contributed equally to this work.
Received: 13 February 2019 / Revised: 19 March 2019 / Accepted: 20 March 2019 / Published: 23 March 2019
Abstract
Colorectal cancer (CRC) poses a formidable challenge in terms of molecular heterogeneity, as it involves a variety of cancer-related pathways and molecular changes unique to an individual's tumor. On the other hand, recent advances in DNA sequencing technologies provide an unprecedented capacity to comprehensively identify the genetic alterations resulting in tumorigenesis, raising the hope that new therapeutic approaches based on molecularly targeted drugs may prevent the occurrence of chemoresistance. Regulation of the transcription factor FOXO3a in response to extracellular cues plays a fundamental role in cellular homeostasis, being part of the molecular machinery that drives cells towards survival or death. Indeed, FOXO3a is controlled by a range of external stimuli, which not only influence its transcriptional activity, but also affect its subcellular localization. These regulation mechanisms are mediated by cancer-related signaling pathways that eventually drive changes in FOXO3a post-translational modifications (e.g., phosphorylation). Recent results showed that FOXO3a is imported into the mitochondria in tumor cells and tissues subjected to metabolic stress and cancer therapeutics, where it induces expression of the mitochondrial genome to support mitochondrial metabolism and cell survival. The current review discusses the potential clinical relevance of multidrug therapies that drive cancer cell fate by regulating critical pathways converging on FOXO3a.
View Full-Text
►

▼

Figures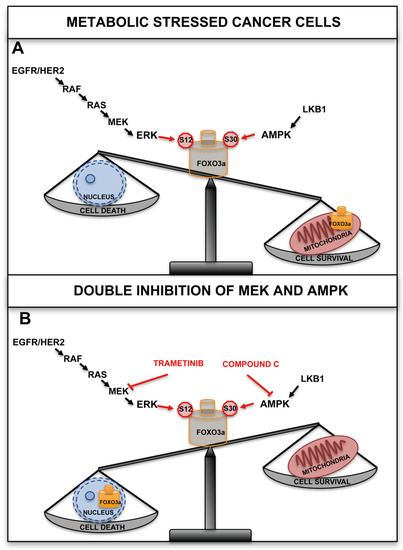 Figure 1
This is an open access article distributed under the
Creative Commons Attribution License
which permits unrestricted use, distribution, and reproduction in any medium, provided the original work is properly cited (CC BY 4.0).

Share & Cite This Article
MDPI and ACS Style
Grossi, V.; Fasano, C.; Celestini, V.; Lepore Signorile, M.; Sanese, P.; Simone, C. Chasing the FOXO3: Insights into Its New Mitochondrial Lair in Colorectal Cancer Landscape. Cancers 2019, 11, 414.
Note that from the first issue of 2016, MDPI journals use article numbers instead of page numbers. See further details here.
Related Articles
Comments
[Return to top]