Dysregulation of Macropinocytosis Processes in Glioblastomas May Be Exploited to Increase Intracellular Anti-Cancer Drug Levels: The Example of Temozolomide
1
Department of Pharmacotherapy and Pharmaceuticals, Faculty of Pharmacy, Université Libre de Bruxelles (ULB), 1050 Brussels, Belgium
2
RD3-Pharmacognosy, Bioanalysis and Drug Discovery Unit and Analytical Platform, Faculty of Pharmacy, Université libre de Bruxelles (ULB), 1050 Brussels, Belgium
3
VIB Nucleomics Core, VIB, 3000 Leuven, Belgium
4
Department of Cancer Biology, University of Toledo College of Medicine, Toledo, OH 43614, USA
5
ULB Cancer Research Center, Université libre de Bruxelles (ULB), 1050 Bruxelles, Belgium
*
Author to whom correspondence should be addressed.
Received: 27 December 2018 / Revised: 15 March 2019 / Accepted: 20 March 2019 / Published: 22 March 2019
Abstract
Macropinocytosis is a clathrin-independent endocytosis of extracellular fluid that may contribute to cancer aggressiveness through nutrient supply, recycling of plasma membrane and receptors, and exosome internalization. Macropinocytosis may be notably triggered by epidermal growth factor receptor (EGFR) and platelet-derived growth factor receptor (PDGFR), two well-known markers for glioblastoma aggressiveness. Therefore, we studied whether the expression of key actors of macropinocytosis is modified in human glioma datasets. Strong deregulation has been evidenced at the mRNA level according to the grade of the tumor, and 38 macropinocytosis-related gene signatures allowed discrimination of the glioblastoma (GBM) samples. Honokiol-induced vacuolization was then compared to vacquinol-1 and MOMIPP, two known macropinocytosis inducers. Despite high phase-contrast morphological similarities, honokiol-induced vacuoles appeared to originate from both endocytosis and ER. Also, acridine orange staining suggested differences in the macropinosomes' fate: their fusion with lysosomes appeared very limited in 3-(5-methoxy -2-methyl-1H-indol-3-yl)-1-(4-pyridinyl)-2-propen-1-one (MOMIPP)-treated cells. Nevertheless, each of the compounds markedly increased temozolomide uptake by glioma cells, as evidenced by LC-MS. In conclusion, the observed deregulation of macropinocytosis in GBM makes them prone to respond to various compounds affecting their formation and/or intracellular fate. Considering that sustained macropinocytosis may also trigger cell death of both sensitive and resistant GBM cells, we propose to envisage macropinocytosis inducers in combination approaches to obtain dual benefits: increased drug uptake and additive/synergistic effects.
View Full-Text
►

▼

Figures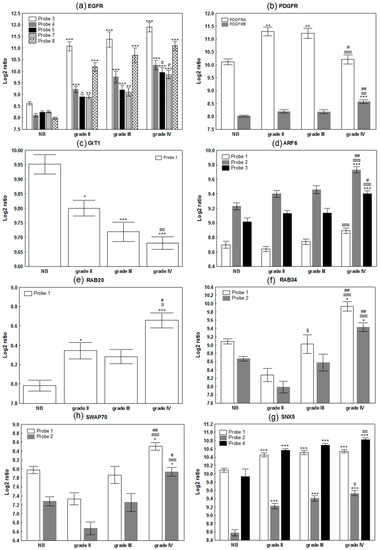 Figure 1
This is an open access article distributed under the
Creative Commons Attribution License
which permits unrestricted use, distribution, and reproduction in any medium, provided the original work is properly cited (CC BY 4.0).

Share & Cite This Article
MDPI and ACS Style
Colin, M.; Delporte, C.; Janky, R.; Lechon, A.-S.; Renard, G.; Van Antwerpen, P.; Maltese, W.A.; Mathieu, V. Dysregulation of Macropinocytosis Processes in Glioblastomas May Be Exploited to Increase Intracellular Anti-Cancer Drug Levels: The Example of Temozolomide. Cancers 2019, 11, 411.
Note that from the first issue of 2016, MDPI journals use article numbers instead of page numbers. See further details here.
Related Articles
Comments
[Return to top]