Heterogeneous Nuclear Ribonucleoproteins A1 and A2 Function in Telomerase-Dependent Maintenance of Telomeres
1
Graduate Institute of Health Industry Technology and Research Center for Food and Cosmetic Safety, Research Center for Chinese Herbal Medicine, College of Human Ecology, Chang Gung University of Science and Technology, Tao-Yuan 333, Taiwan
2
Tissue Bank, Chang Gung Memorial Hospital, Linkou, Tao-Yuan 333, Taiwan
3
Graduate Institute of Natural Products, Chang Gung University, Tao-Yuan 333, Taiwan
4
Department of Molecular and Cellular Biology, College of Medicine, Chang Gung University, Tao-Yuan 333, Taiwan
*
Author to whom correspondence should be addressed.
†
These authors contributed equally to this work.
Received: 26 January 2019 / Revised: 1 March 2019 / Accepted: 4 March 2019 / Published: 8 March 2019
Abstract
The A/B subfamily of heterogeneous nuclear ribonucleoproteins (hnRNPs A/B), which includes hnRNP A1, A2/B1, and A3, plays an important role in cell proliferation. The simultaneous suppression of hnRNP A1/A2, but not the suppression of hnRNP A1 or A2 alone, has been shown to inhibit cell proliferation and induce apoptosis in cancer cells, but not in mortal normal cells. However, the molecular basis for such a differential inhibition of cell proliferation remains unknown. Here, we show that the simultaneous suppression of hnRNP A1 and hnRNP A2 resulted in dysfunctional telomeres and induced DNA damage responses in cancer cells. The inhibition of apoptosis did not alleviate the inhibition of cell proliferation nor the formation of dysfunctional telomeres in cancer cells depleted of hnRNP A1/A2. Moreover, while proliferation of mortal normal fibroblasts was not sensitive to the depletion of hnRNP A1/A2, the ectopic expression of hTERT in normal fibroblasts rendered these cells sensitive to proliferation inhibition, which was associated with the production of dysfunctional telomeres. Our study demonstrates that hnRNP A1 and A2 function to maintain telomeres in telomerase-expressing cells only, suggesting that the maintenance of functional telomeres in telomerase-expressing cancer cells employs factors that differ from those used in the telomerase-negative normal cells.
View Full-Text
►

▼

Figures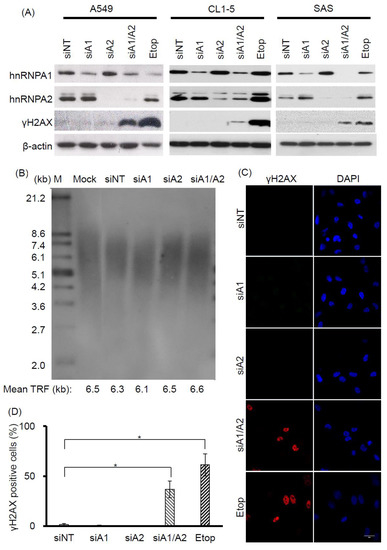 Figure 1
This is an open access article distributed under the
Creative Commons Attribution License
which permits unrestricted use, distribution, and reproduction in any medium, provided the original work is properly cited (CC BY 4.0).

Share & Cite This Article
MDPI and ACS Style
Wang, T.-H.; Chen, C.-C.; Hsiao, Y.-C.; Lin, Y.-H.; Pi, W.-C.; Huang, P.-R.; Wang, T.-C.V.; Chen, C.-Y. Heterogeneous Nuclear Ribonucleoproteins A1 and A2 Function in Telomerase-Dependent Maintenance of Telomeres. Cancers 2019, 11, 334.
Note that from the first issue of 2016, MDPI journals use article numbers instead of page numbers. See further details here.
Related Articles
Comments
[Return to top]