Tumor Energy Metabolism and Potential of 3-Bromopyruvate as an Inhibitor of Aerobic Glycolysis: Implications in Tumor Treatment
1
Beijing Key Laboratory of Environmental & Viral Oncology, College of Life Science & Bioengineering, Beijing University of Technology, Beijing 100124, China
2
National Engineering Laboratory for Advanced Municipal Wastewater Treatment & Reuse Technology, Engineering Research Center of Beijing, Beijing University of Technology, Beijing 100124, China
*
Author to whom correspondence should be addressed.
Received: 16 February 2019 / Revised: 28 February 2019 / Accepted: 1 March 2019 / Published: 6 March 2019
Abstract
Tumor formation and growth depend on various biological metabolism processes that are distinctly different with normal tissues. Abnormal energy metabolism is one of the typical characteristics of tumors. It has been proven that most tumor cells highly rely on aerobic glycolysis to obtain energy rather than mitochondrial oxidative phosphorylation (OXPHOS) even in the presence of oxygen, a phenomenon called "Warburg effect". Thus, inhibition of aerobic glycolysis becomes an attractive strategy to specifically kill tumor cells, while normal cells remain unaffected. In recent years, a small molecule alkylating agent, 3-bromopyruvate (3-BrPA), being an effective glycolytic inhibitor, has shown great potential as a promising antitumor drug. Not only it targets glycolysis process, but also inhibits mitochondrial OXPHOS in tumor cells. Excellent antitumor effects of 3-BrPA were observed in cultured cells and tumor-bearing animal models. In this review, we described the energy metabolic pathways of tumor cells, mechanism of action and cellular targets of 3-BrPA, antitumor effects, and the underlying mechanism of 3-BrPA alone or in combination with other antitumor drugs (e.g., cisplatin, doxorubicin, daunorubicin, 5-fluorouracil, etc.) in vitro and in vivo. In addition, few human case studies of 3-BrPA were also involved. Finally, the novel chemotherapeutic strategies of 3-BrPA, including wafer, liposomal nanoparticle, aerosol, and conjugate formulations, were also discussed for future clinical application.
View Full-Text
►

▼

Figures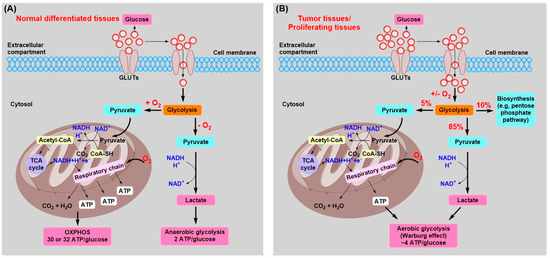 Figure 1
This is an open access article distributed under the
Creative Commons Attribution License
which permits unrestricted use, distribution, and reproduction in any medium, provided the original work is properly cited (CC BY 4.0).

Share & Cite This Article
MDPI and ACS Style
Fan, T.; Sun, G.; Sun, X.; Zhao, L.; Zhong, R.; Peng, Y. Tumor Energy Metabolism and Potential of 3-Bromopyruvate as an Inhibitor of Aerobic Glycolysis: Implications in Tumor Treatment. Cancers 2019, 11, 317.
Note that from the first issue of 2016, MDPI journals use article numbers instead of page numbers. See further details here.
Related Articles
Comments
[Return to top]