Novel Ran-RCC1 Inhibitory Peptide-Loaded Nanoparticles Have Anti-Cancer Efficacy In Vitro and In Vivo
1
Department of Pharmaceutical Technology, Faculty of Pharmacy, University of Tanta, Tanta 31111, Egypt
2
School of Pharmacy and Pharmaceutical Sciences, Saad Centre for Pharmacy and Diabetes, Ulster University, Cromore Road, Coleraine, Co. Londonderry BT52 1SA, UK
3
Northern Ireland Centre for Stratified Medicine, School of Biomedical Sciences, C-TRIC, Altnagelvin Hospital Campus, Ulster University, Glenshane Road, Derry/Londonderry BT47 6SB, Northern Ireland, UK
4
Institute of Cancer Therapeutics, Faculty of Life Sciences, University of Bradford, Bradford BD7 1DP, UK
5
School of Pharmacy and Clinical Sciences, University of Bradford, Bradford BD7 1DP, UK
6
Department of Pharmacy, Health and Well-being, University of Sunderland, Sunderland SR1 3SD, UK
7
Imhotep Diagnostics and Therapeutics, Europa Tool House, Springbank, Industrial Estate, Dunmurry BT17 0QL, Northern Ireland, UK
8
School of Chemistry and Biosciences, University of Bradford, Bradford BD7 1DP, UK
*
Author to whom correspondence should be addressed.
Received: 29 December 2018 / Revised: 31 January 2019 / Accepted: 11 February 2019 / Published: 14 February 2019
Abstract
The delivery of anticancer agents to their subcellular sites of action is a significant challenge for effective cancer therapy. Peptides, which are integral to several oncogenic pathways, have significant potential to be utilised as cancer therapeutics due to their selectivity, high potency and lack of normal cell toxicity. Novel Ras protein-Regulator of chromosome condensation 1 (Ran-RCC1) inhibitory peptides designed to interact with Ran, a novel therapeutic target in breast cancer, were delivered by entrapment into polyethylene glycol-poly (lactic-co-glycolic acid) PEG-PLGA polymeric nanoparticles (NPs). A modified double emulsion solvent evaporation technique was used to optimise the physicochemical properties of these peptide-loaded biodegradable NPs. The anti-cancer activity of peptide-loaded NPs was studied in vitro using Ran-expressing metastatic breast (MDA-MB-231) and lung cancer (A549) cell lines, and in vivo using Solid Ehrlich Carcinoma-bearing mice. The anti-metastatic activity of peptide-loaded NPs was investigated using migration, invasion and colony formation assays in vitro. A PEG-PLGA-nanoparticle encapsulating
N
-terminal peptide showed a pronounced antitumor and anti-metastatic action in lung and breast cancer cells in vitro and caused a significant reduction of tumor volume and associated tumor growth inhibition of breast cancer model in vivo. These findings suggest that the novel inhibitory peptides encapsulated into PEGylated PLGA NPs are delivered effectively to interact and deactivate Ran. This novel Ran-targeting peptide construct shows significant potential for therapy of breast cancer and other cancers mediated by Ran overexpression.
View Full-Text
►

▼

Figures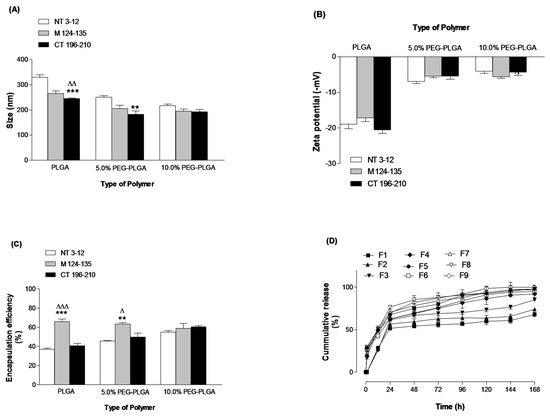 Figure 1
This is an open access article distributed under the
Creative Commons Attribution License
which permits unrestricted use, distribution, and reproduction in any medium, provided the original work is properly cited (CC BY 4.0).

Share & Cite This Article
MDPI and ACS Style
Haggag, Y.A.; Matchett, K.B.; Falconer, R.A.; Isreb, M.; Jones, J.; Faheem, A.; McCarron, P.; El-Tanani, M. Novel Ran-RCC1 Inhibitory Peptide-Loaded Nanoparticles Have Anti-Cancer Efficacy In Vitro and In Vivo. Cancers 2019, 11, 222.
Note that from the first issue of 2016, MDPI journals use article numbers instead of page numbers. See further details here.
Related Articles
Comments
[Return to top]