Open Access This article is
freely available
re-usable
Review
Structure and Function of the Nuclear Receptor Superfamily and Current Targeted Therapies of Prostate Cancer
1
Department of Urology, Upstate Cancer Center, SUNY Upstate Medical University, Syracuse, NY 13210, USA
2
Department of Biochemistry and Molecular Biology, SUNY Upstate Medical University, Syracuse, NY 13210, USA
*
Author to whom correspondence should be addressed.
Received: 24 October 2019 / Accepted: 20 November 2019 / Published: 23 November 2019
Abstract
:
The nuclear receptor superfamily comprises a large group of proteins with functions essential for cell signaling, survival, and proliferation. There are multiple distinctions between nuclear superfamily classes defined by hallmark differences in function, ligand binding, tissue specificity, and DNA binding. In this review, we utilize the initial classification system, which defines subfamilies based on structure and functional difference. The defining feature of the nuclear receptor superfamily is that these proteins function as transcription factors. The loss of transcriptional regulation or gain of functioning of these receptors is a hallmark in numerous diseases. For example, in prostate cancer, the androgen receptor is a primary target for current prostate cancer therapies. Targeted cancer therapies for nuclear hormone receptors have been more feasible to develop than others due to the ligand availability and cell permeability of hormones. To better target these receptors, it is critical to understand their structural and functional regulation. Given that late-stage cancers often develop hormone insensitivity, we will explore the strengths and pitfalls of targeting other transcription factors outside of the nuclear receptor superfamily such as the signal transducer and activator of transcription (STAT).
Keywords:
nuclear receptors; androgen receptor; prostate cancer; STAT3; treatment; transcription factors
1. Introduction
The nuclear receptor superfamily is a family of transcription factors that are widely expressed throughout the body. This family functions in well-organized signaling pathways that heavily rely on tissue microenvironment and when disrupted, endogenously or exogenously, can cause organ dysfunction, cancer, or loss of tissue integrity. Pharmacological intervention inhibiting signaling pathways of members of this family has been used for treatment of many diseases. Based on the evolution and robust treatment response to anti-androgen therapies, we examine different agents currently used in different stages of prostate cancer progression as well as new targets being explored due to a rise in treatment resistance.
There have been modifications to each subclass based on new information gathered through structural analysis and sequencing data. For this review we will focus on the classical subdivisions of the nuclear receptor superfamily defined by the hallmarks of nuclear receptor superfamily structure and function such as dimerization, DNA binding motifs and specificity, and ligand-binding activation.
2. Overview of Targeting Transcription Factors in Prostate Cancer
Transcription factors have been shown to play a key role in initiation of many cancers. Due to their role in regulating gene transcription and maintaining cellular homeostasis, the loss of their regulation results in a gain of oncogenic function and/or loss of tumor suppressors [
44
]. While all transcription factors share similarities in their ability to regulate gene transcription, understanding their differences in mode of activation and upstream/downstream signaling pathways becomes essential to modulate their function as potential therapeutic targets.
Our current understanding of how different transcription factor are regulated and activated, has identified different points at which these can be potentially targeted for cancer treatment, such as blocking co-activator binding, nuclear localization, upstream protein signaling, ligand-binding, or interfering with DNA binding. Furthermore, understanding differential expression of these targets in different tissues, and their function can better guide therapeutic development to reduce potential side effects. Additionally, it is important to be mindful of the effects these therapies might have in the natural course of cancer progression as it can potentially increase metastatic potential of the tumors through adaptive selection [
44
].
Throughout prostate cancer progression, there are unique features of protein expression and signaling pathway modifications which provide information as to which transcription factor can be effectively targeted at different stages of disease. The major signaling pathways implicated in prostate cancer such as PI3K, AKT, c-MYC, and AR give clues as to what is driving tumor growth and development [
45
].
To evaluate the clinical benefits and pitfalls of current prostate cancer treatments, we will focus on two differentially activated transcription factors, one of which is part of the standard of care in prostate cancer treatment (AR), and a newly identified but promising target (STAT3). AR is highly targeted in prostate cancer (PCa) at different stages of disease progression and namely earlier rather than late disease progression. There are multiple treatments available for an early, hormone-sensitive disease that have different mechanisms of action to target the AR pathway but remain non-curative due to loss of tissue-specificity, microenvironment, and alternative nuclear receptor activation. Late-stage of PCa disease progression is hormone-independent and leaves patients with few treatment options, which is why developing new treatments to target other transcription factors implicated in PCa, such as STAT3, is essential.
3. Conclusions
Many nuclear receptor superfamily members have been implicated in cancer development. Currently, around 10% of FDA approved drugs for the treatment of human malignancies target nuclear hormone receptors [
44
]. This review focuses on clinically relevant practices that are currently used for prostate cancer at each stage of disease progression with an emphasis on the treatments that target transcription factors. While numerous features of PCa progression have been linked to AR-targeted treatment induced changes, the identification of markers that allow for earlier detection can help extend patient survival. Although a lot of progress has been made in understanding prostate cancer progression, there are still gaps regarding how androgen and other hormone receptors play a role in this disease. Further understanding of involvement of alternative pathways, such as STAT signaling, can provide new potential and more effective targets for future treatment development.
Author Contributions
B.A.P., M.A.O., and L.K. conceptualized and constructed the outline of the review; G.B. and L.K. edited the treatment portions. B.A.P. generated all figures for the paper. All authors contributed to the writing and editing of the manuscript.
Funding
This research was funded by National Institutes of Health grant number R01CA161018 to LK.
Conflicts of Interest
The authors declare no conflict of interest.
Figure 1.
Schematic illustration of the classical nuclear receptor superfamily
. (
A
–
D
) graphically represent the four classes of the nuclear receptor superfamily which are defined based on dimerization (homo, hetero, or mono), DNA binding (direct repeat or inverted repeat), and ligand specificity (required, or not required). Class I, Steroid Receptor (also known as nuclear hormone receptors); Class II, RXR Heterodimers; Class III, Dimeric Orphan Receptors; Class IV, Monomeric Orphan Receptors.
Abbreviations: NTD, N-terminal domain; DBD, DNA-binding domain; H, Hinge region; LBD, Ligand-binding domain; C, Variable C-terminus; DR, Direct Repeat; IR, Inverted Repeat.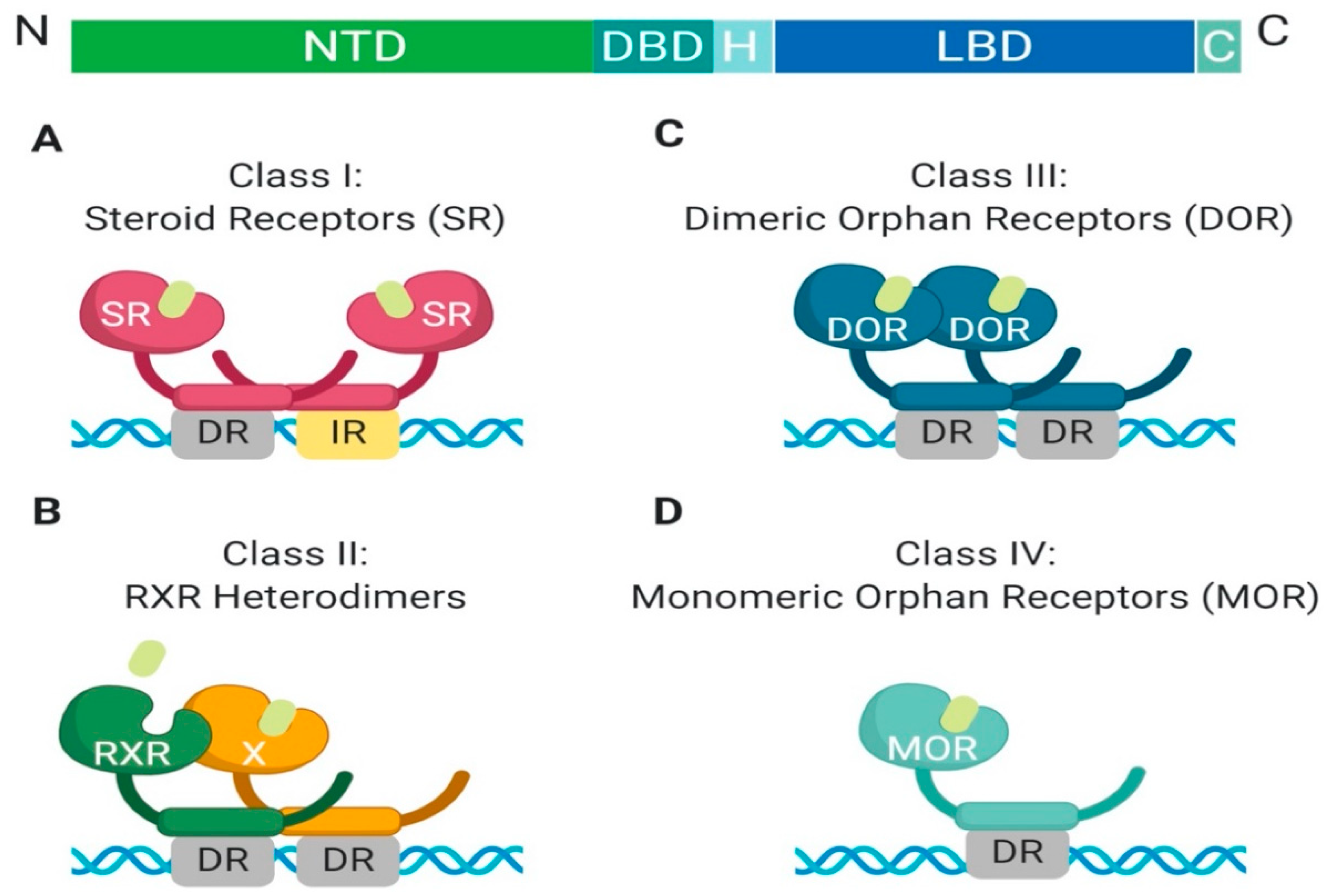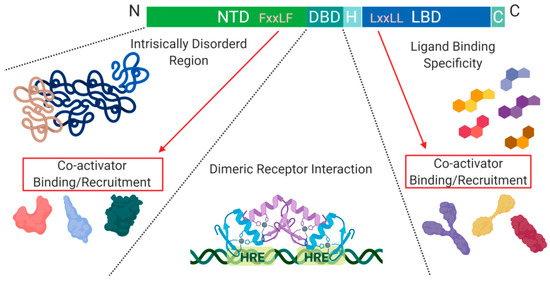 Figure 2.
Schematic illustration of the nuclear receptor hormone family.
Structural differences within the nuclear receptor hormone family occur at the NTD, DBD, and LBD. The functional differences are defined based on co-activator recruitment, dimeric receptor interactions, and ligand binding.
Abbreviations: NTD, N-terminal domain; DBD, DNA-binding domain; H, Hinge region; LBD, Ligand-binding domain; C, Variable C-terminus; HRE, Hormone Response Elements.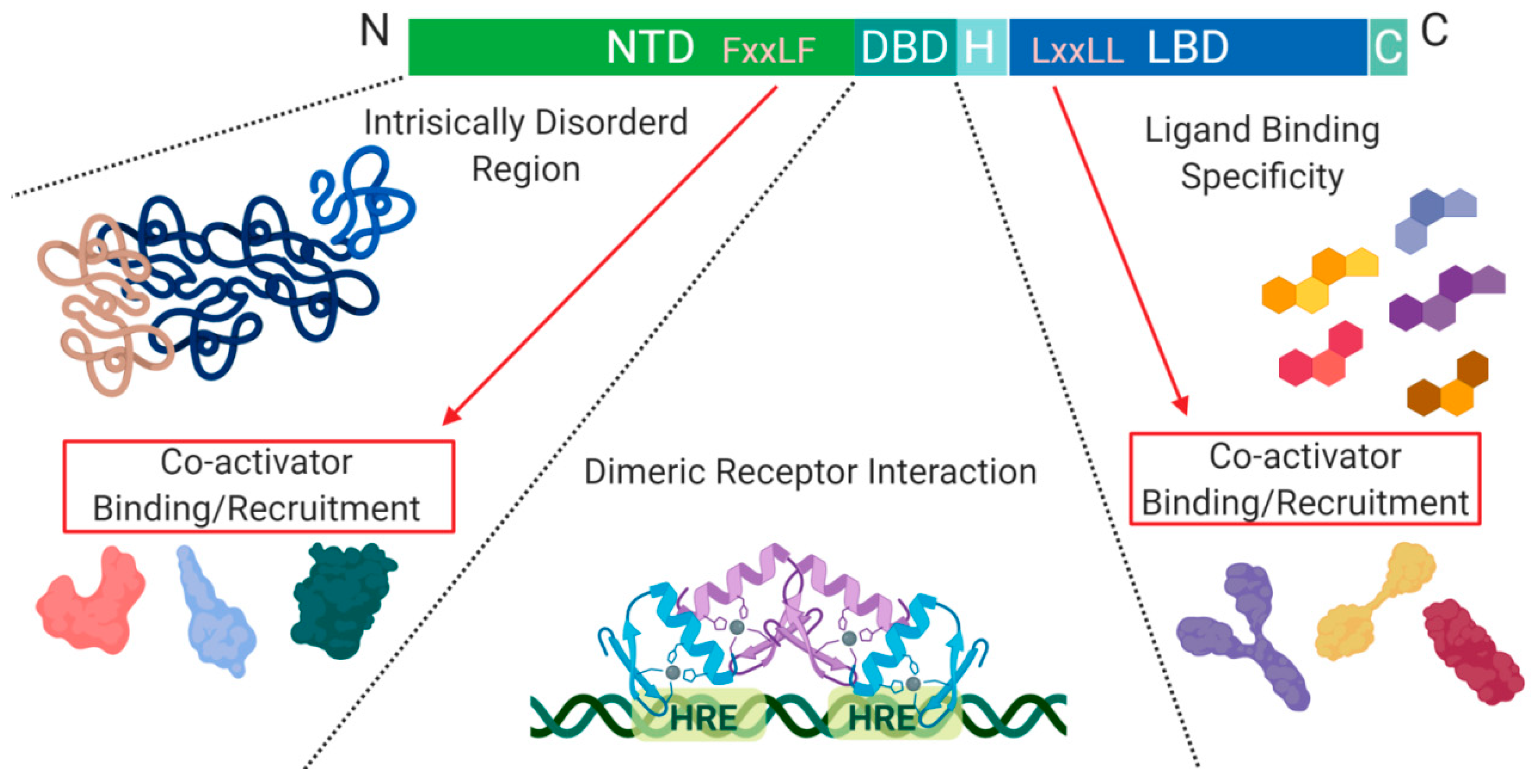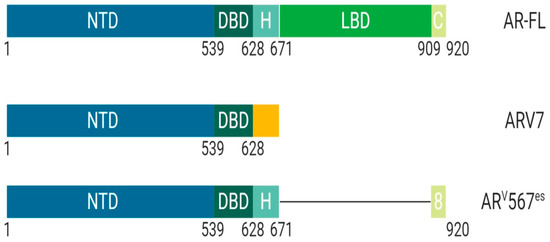 Figure 3.
Schematic illustration of androgen receptor splice variants
. The most common AR splice variants implicated in prostate cancer treatment resistance are ARV7 and AR
V
567
es
. Splice Variant ARV7 lacks the LBD and therefore does not require ligand binding for activation which allows for constitutive activity in the context of low ligand availability during PCa treatments; ARV7 can also bind AR-full length in the nucleus, promoting continuous transcriptional activity. Splice variant AR
V
567
es
has an exon skipping mutation for exons 567 but retains exon 8 and therefore can bind DNA and remain constitutively active without ligand activation. However, the remaining exon 8 can potentially allow for co-activator recruitment and various conformational differences independent of AR-full length and ARV7.
Abbreviations: AR, Androgen receptor; NTD, N-terminal domain; DBD, DNA-binding domain; H, Hinge region; LBD, Ligand-binding domain; C, Variable C-terminus.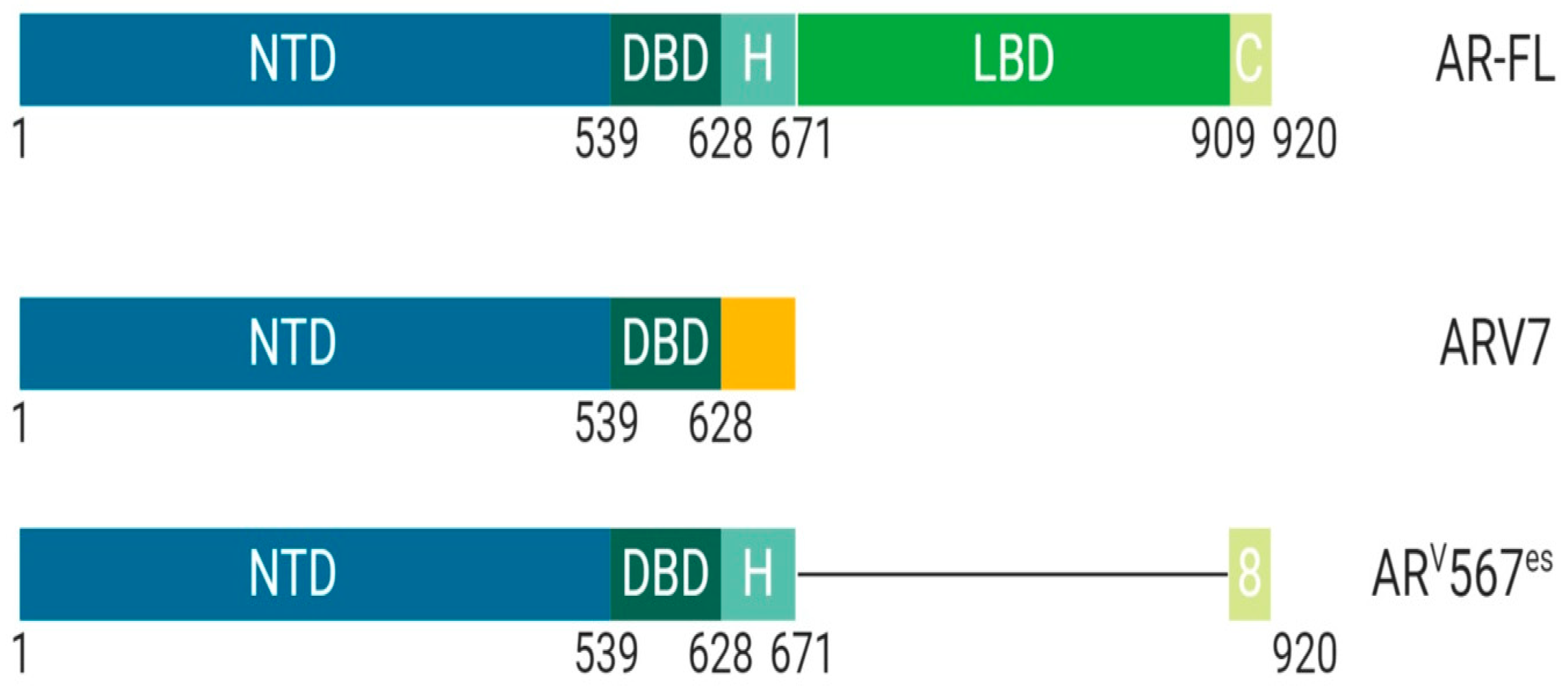 Figure 4.
Schematic illustration of progesterone receptor isoforms.
The progesterone receptor has two distinct isoforms, PR-A and PR-B. PR-B is more transcriptionally active due to the extended N-terminal domain that contains AF3 (unique domain), an activation function unit that allows for an increase in co-binding partners and activity. The isoform PR-A is less transcriptionally active than PR-B and primarily functions in non-genomic pathway activity. Its upregulation is implicated in cancers.
Abbreviations: PR, Progesterone receptor; NTD, N-terminal domain; DBD, DNA-binding domain; H, Hinge region; LBD, Ligand-binding domain; C, Variable C-terminus; AF1, Activation function-1; AF2, Activation function-2; AF3, Activation function-3.


Figure 5.
Schematic illustration of estrogen receptor isoforms.
The estrogen receptor has two isoforms, ERα and ERβ, and is comparatively smaller than other family members. The isoform ERα has an extended NTD which allows for more transcriptional activation, whereas, ERβ has a shorter NTD and is less transcriptionally active. Most often the ERα isoform is upregulated in cancers.
Abbreviations: ER, Estrogen receptor; NTD, N-terminal domain; DBD, DNA-binding domain; H, Hinge region; LBD, Ligand-binding domain; C, Variable C-terminus; AF1, Activation function-1; AF2, Activation function-2.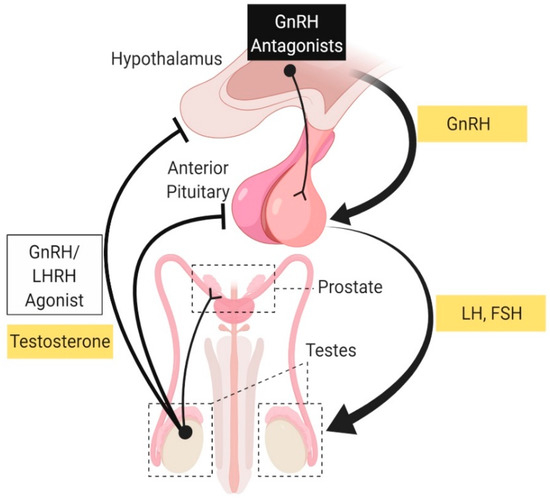 Figure 6.
Schematic illustration of the hypothalamic–gonadal axis (HGA):
Site of action of luteinizing hormone-releasing hormone (LHRH) agonist and Gonadotrophin Releasing Hormone (GnRH) analogs.
Abbreviations: LH, Luteinizing-Hormone; FSH, Follicle Stimulating Hormone.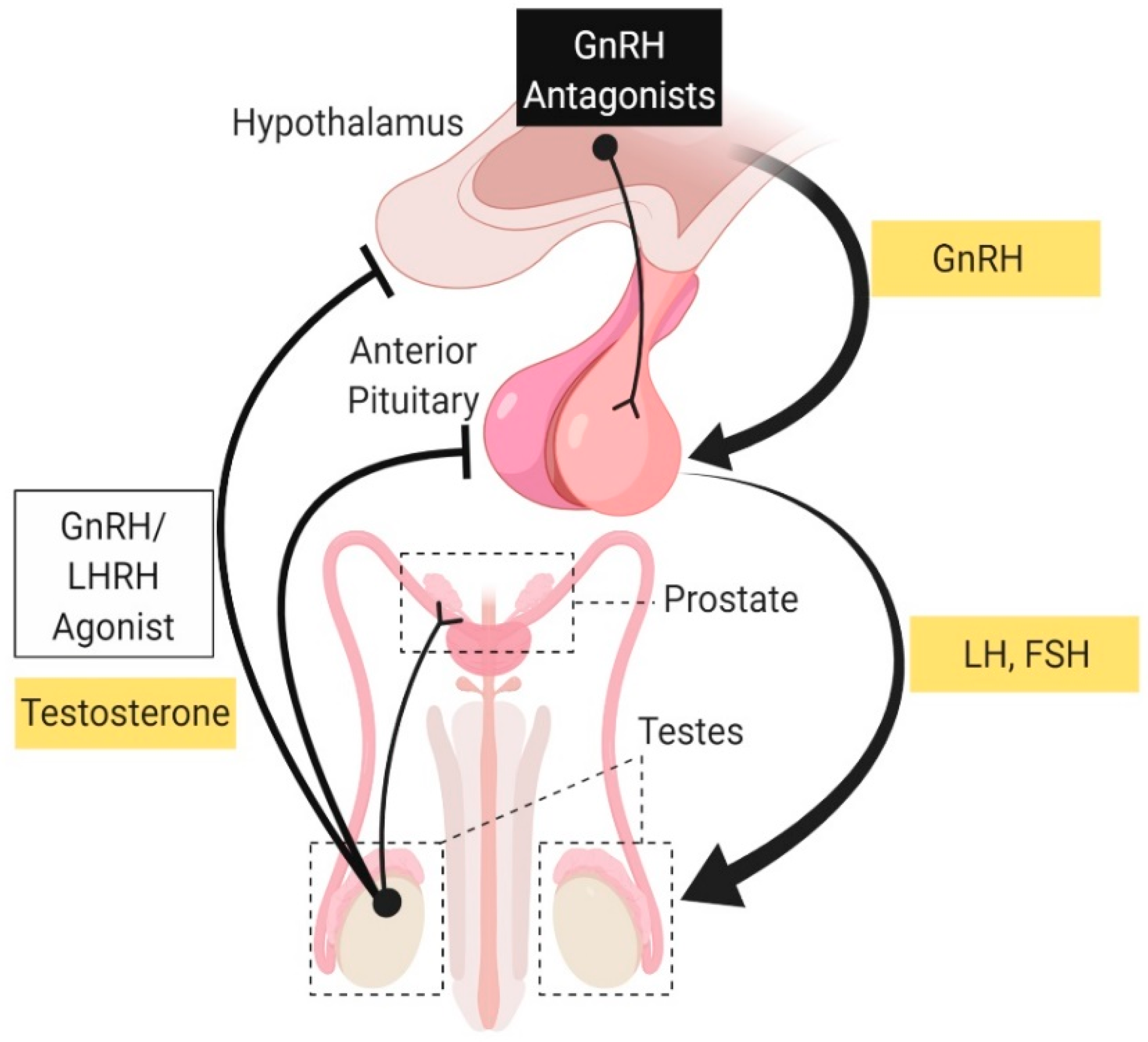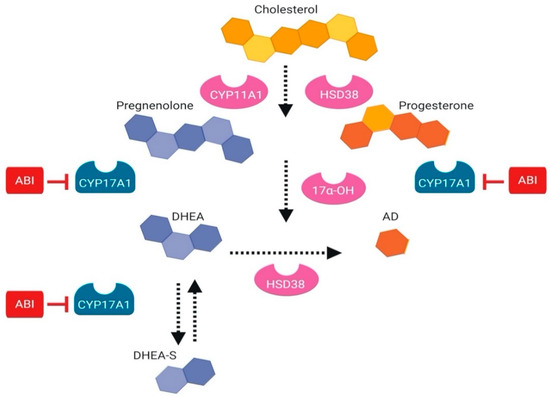 Figure 7.
Schematic illustration of abiraterone inhibition.
Abiraterone inhibits intratumoral synthesis of cholesterol into active androgens that can weakly bind AR in the context of low ligand availability. Abiraterone acts through the enzymatic inhibition of CYP17A1, which ultimately prevents synthesized androgens from further reduction to a more active state.
Abbreviations: ABI, Abiraterone; AD, Androstendione; DHEA, Dehydroepiandrosterone.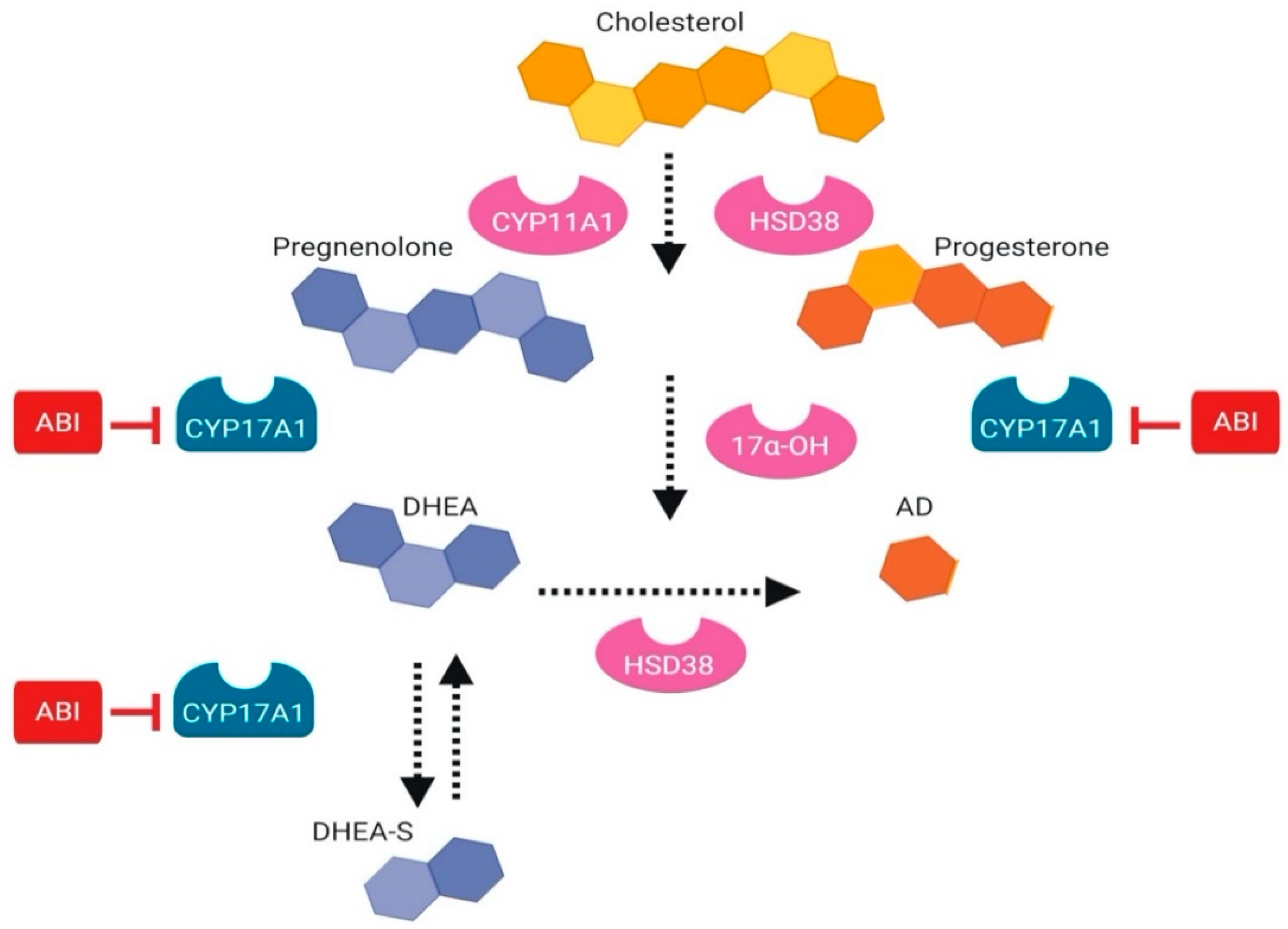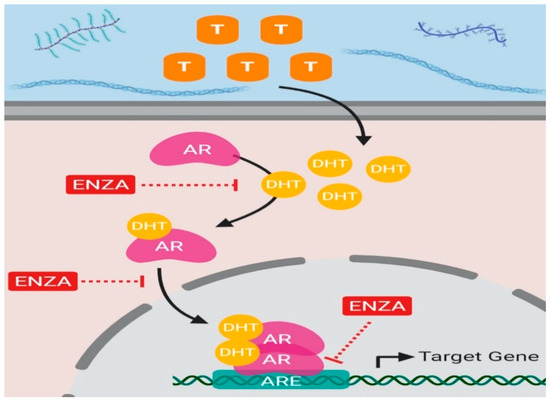 Figure 8.
Schematic illustration of enzalutamide inhibition.
When testosterone enters the cytoplasm of a tissue-specific cell it can get reduced to a more active form known as DHT which acts as a ligand for AR. When DHT binds to AR it undergoes a conformational change and it disassembles from chaperone proteins, HSP90 and HSP70, allowing it to translocate to the nucleus. Once AR translocates to the nucleus it can homodimerize and bind androgen response elements on target gene DNA. Enzalutamide is an AR antagonist that prevents ligand binding at the LBD which inhibits the ability of AR to translocate to the nucleus by inhibiting conformational changes required for AR nuclear translocation and subsequent binding of AR to the DNA of target genes at ARE binding sites.
Abbreviations: T, Testosterone; AR, Androgen Receptor; DHT, Dihydrotestosterone; ARE, Androgen Response Elements; ENZA, Enzalutamide.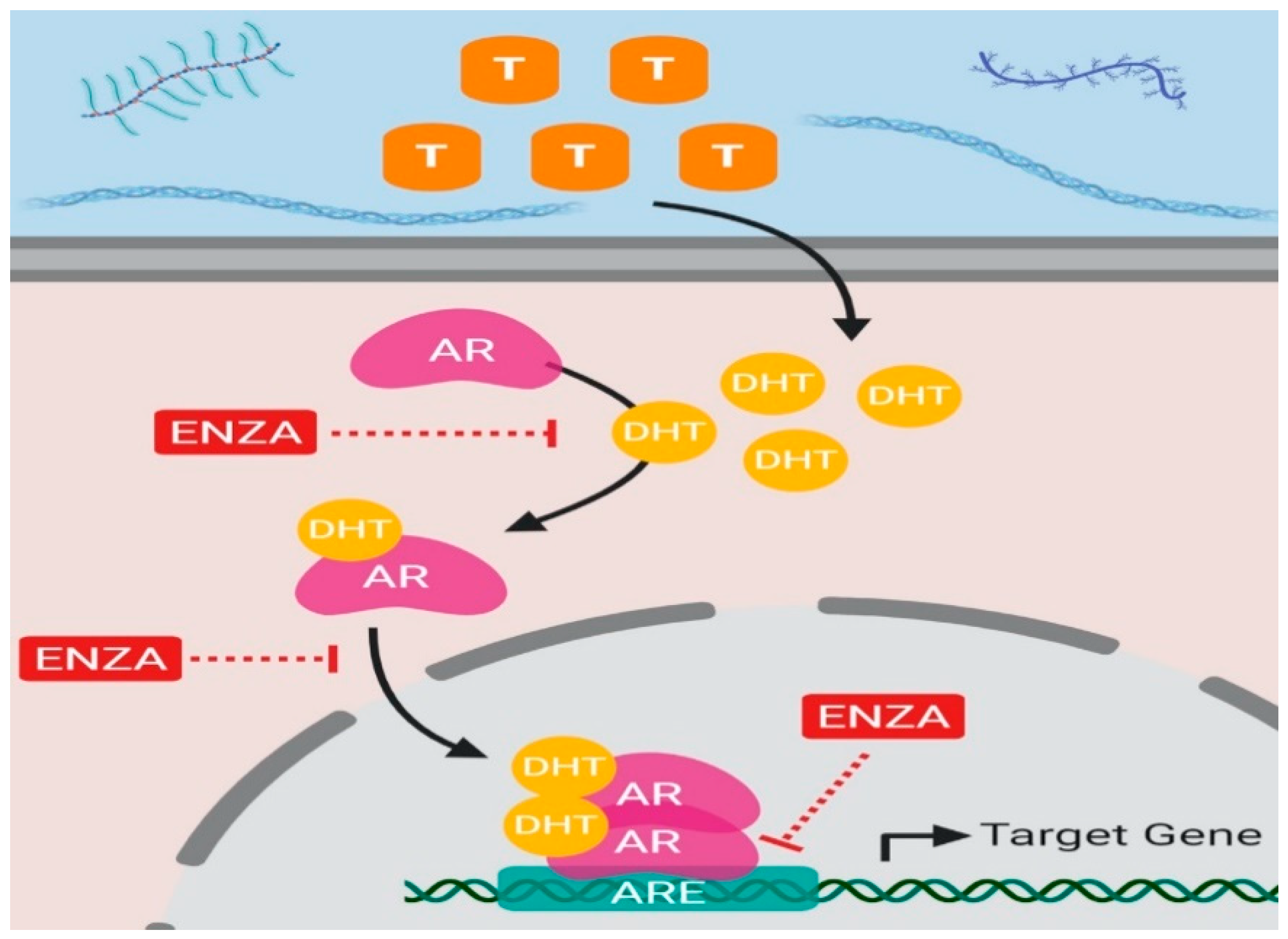 © 2019 by the authors. Licensee MDPI, Basel, Switzerland. This article is an open access article distributed under the terms and conditions of the Creative Commons Attribution (CC BY) license (http://creativecommons.org/licenses/by/4.0/).