Open Access This article is
freely available
re-usable
Article
The New Genetic Landscape of Cushing's Disease: Deubiquitinases in the Spotlight
1
Department of Internal Medicine I, Division of Endocrinology and Diabetes, University Hospital, University of Würzburg, D-97080 Würzburg, Germany
2
Comprehensive Cancer Center Mainfranken, University of Würzburg, D-97080 Würzburg, Germany
3
Chair of Medical Informatics, Friedrich-Alexander University of Erlangen-Nürnberg, D-91058 Erlangen, Germany
4
Department of Bioinformatics, Biocenter, University of Würzburg, D-97074 Würzburg, Germany
*
Author to whom correspondence should be addressed.
Received: 4 October 2019 / Accepted: 4 November 2019 / Published: 8 November 2019
Abstract
:
Cushing's disease (CD) is a rare condition caused by adrenocorticotropic hormone (ACTH)-producing adenomas of the pituitary, which lead to hypercortisolism that is associated with high morbidity and mortality. Treatment options in case of persistent or recurrent disease are limited, but new insights into the pathogenesis of CD are raising hope for new therapeutic avenues. Here, we have performed a meta-analysis of the available sequencing data in CD to create a comprehensive picture of CD's genetics. Our analyses clearly indicate that somatic mutations in the deubiquitinases are the key drivers in CD, namely USP8 (36.5%) and USP48 (13.3%). While in USP48 only Met415 is affected by mutations, in USP8 there are 26 different mutations described. However, these different mutations are clustering in the same hotspot region (affecting in 94.5% of cases Ser718 and Pro720). In contrast, pathogenic variants classically associated with tumorigenesis in genes like TP53 and BRAF are also present in CD but with low incidence (12.5% and 7%). Importantly, several of these mutations might have therapeutic potential as there are drugs already investigated in preclinical and clinical setting for other diseases. Furthermore, network and pathway analyses of all somatic mutations in CD suggest a rather unified picture hinting towards converging oncogenic pathways.
Keywords:
Cushing's disease; pathogenesis; somatic mutations; deubiquitinases
1. Introduction
Cushing's disease (CD) is caused by pituitary adrenocorticotropic hormone (ACTH) producing adenomas. ACTH oversecretion leads in turn to cortisol overproduction in the adrenal glands that results to the specific clinicopathological manifestations associated with Cushing's syndrome. The latter is characterized by increased morbidity and mortality, mainly due to cardiovascular impairment [
1
]. CD makes up to around 70% of all cases with endogenous Cushing's syndrome but with an overall incidence of 1–2 per million per year and a prevalence of around 30 patients per million per year it is still a rare disease [
2
]. To this day, transsphenoidal removal of the tumor is still the therapy of choice, almost 80 years after Harvey Cushing used this procedure for the first time in the context of corticotroph pituitary adenomas [
3
]. Surgical resection results in remission in 65–90% of patients [
4
,
5
] but in case of persistent or recurrent disease therapeutic options are limited. One reason is that most of the drug treatments are aimed at the symptoms and not at curing the disease [
6
,
7
], and another one is that pathogenetics of corticotroph adenomas have remained obscure for a long time. Mainly due to material scarcity, only very small studies addressed gene mutations in CD, usually in the context of the main known endocrine familial genetic disorders. The conclusion was that CD arising in the context of, among others, McCune–Albright syndrome, multiple endocrine neoplasia or Carney complex account only for a negligible fraction of all CD [
8
,
9
,
10
,
11
]. This situation changed in the last few years, as access to reliable and relatively affordable high throughput sequencing lead to a multitude of disease specific genetic analyses for most of the known tumor entities. The first studies concentrated on the most widespread types of tumors and lead to the identification of so called "driver" mutations in these tumors (i.e., recurrent mutations associated with one or more types of tumors) [
12
]. The most comprehensive studies were performed in the context of big genetic consortia like The Cancer Genome Atlas (TCGA) that performed genetic analyses in over 30 types of cancer since its foundation in 2005 [
13
]. More importantly even, combining these types of genetic analyses with analyses of patient response to treatment lead to identification of somatic mutations that associate with therapy resistance like in the case of KRAS [
14
] and thus opened the way to new targeted therapies that are tailored to the genetic footprint of individual tumors. Even in the case of rarer diseases like CD, the combined effort of several reference centers for patient care and genetic analysis lead to important progress being made in the last few years. The breakthrough came in 2015 when we showed for the first time-using next generation exome sequencing-recurrent somatic mutations in a hotspot region of the Ubiquitin Specific Peptidase 8 (USP8) gene in CD [
15
]. Other studies using exome sequencing [
16
,
17
,
18
] or targeted sequencing [
19
,
20
,
21
,
22
,
23
] confirmed the fact that USP8 hotspot mutations are responsible for around half of the CD tumors and identified further recurrent mutations. We here performed a meta-analysis of all original works that are currently evaluable, aiming not only to assess the preponderance of all possible somatic driver mutations in CD but also to analyze the possible impact of these new mutations on tumorigenesis and therapeutic options in this rare disease.
2. Results and Discussions
3. Materials and Methods
3.1. Patient Cohorts
All published data clearly suggest that germline mutations causing CD are extremely rare and account only for a negligible fraction of all cases with CD [
8
,
9
,
10
,
11
]. Accordingly, in this analysis we did not address this topic as it was already analyzed in more detail elsewhere [
56
].
For this meta-analysis we screened in Pubmed for all publications reporting somatic mutations associated with pituitary Cushing's disease. Following the first description of recurrent USP8 mutations in 2015 by our group [
15
] there have been several publications over the years, analyzing the presence of somatic driver mutations not only in adult and pediatric CD but also in tumors associated with Nelson's syndrome by the use of both next generation exome and Sanger hotspot sequencing [
16
,
17
,
18
,
19
,
20
,
21
,
22
,
23
,
27
,
57
]. In this meta-analysis, we analyzed all individual samples contained in these 10 publications. We did not differentiate between tumors with and without Nelson's syndrome as the study of Perez-Rivas et al. did not demonstrate a relevant difference in the frequency of driver somatic mutations in these two types of tumors [
23
]. For our analysis we used data resulting from exome sequencing reported by Reincke et al. [
15
], Ma et al. [
16
], Song et al. [
27
], Chen et al. [
17
], and Sbiera et al. [
18
]. Exome sequencing data were further filtered to exclude intronic and synonymous variants as these variants would not influence protein function. From the study by Song et al. we used only the data from three of the 20 patients with available exome results, because 17 have been included in two of the other analyzed studies [
16
,
17
]. The reason we selected the data of the study by Chen was that a detailed analysis suggested to us that this study was slightly more comprehensive, including more non-synonymous mutations per sample as in the other two studies reporting the same results.
To have a better idea about the frequency of the pathogenic variants we have also integrated the targeted sequencing data from the five studies mentioned above as well as from the studies that have analyzed specific frequent somatic driver mutations in CD using Sanger sequencing [
20
,
22
,
23
,
57
]. Here we were confronted with another problem as the cohort analyzed by Sanger sequencing reported by Ma et al. was completely included in the bigger cohort analyzed by Chen et al. However, the later study did not report the frequency of the individual mutations in the USP8 gene. Therefore, we used the numbers from Chen et al. for our analysis of the frequency of all mutations in a certain gene but we used the study by Ma et al. for reporting the frequency of individual mutations in USP8. We also excluded the publication by Faucz et al. [
19
] from any of our analyses as the number of cases carrying the specific mutations was not revealed and 24 of the 42 cases have been included in another study without us having the possibility to separate new from already reported samples [
22
].
3.2. Bioinformatics Analyses
Bioinformatics analysis combines network reconstruction and functional analysis (method see
https://www.ncbi.nlm.nih.gov/pubmed/29797762
). We reconstructed a network based on all mutations identified in CD by exome sequencing in all the publications analyzed (607 Genes), and their direct interaction partners (neighbors) from the Human Protein Reference Database (HPRD; binary protein–protein interactions, 9620 proteins (nodes) and 39,185 protein–protein interactions (edges), release 9 from 13 April 2010). The network contains 2100 nodes and 2802 interactions. The network was visualized using the Cytoscape software version 3.4.0 [
60
]. Next, we analyzed the reconstructed network for functional clusters (modules) using the Cytoscape plugin MCODE ([
61
]; standard parameter). We further performed a functional pathway enrichment analysis using the Cytoscape plugin ClueGO [
62
]; parameters: GO term grouping,
p
-value < 5 × 10
−16
).
4. Conclusions
Our meta-analysis and recently performed experiments clearly show that CD tumors harbor somatic driver mutations in several genes, from which USP8 is the most prevalent. Together with recurring somatic mutations in USP48, TP53, BRAF, and NR3C1 these mutations account for development of CD tumors in over 70% of the patients. Furthermore, an integrated network analysis of all mutations described for CD tumors revealed that despite the mutational variability there might be a mechanistical convergence through common oncogenic pathways.
Supplementary Materials
The following are available online at
https://www.mdpi.com/2072-6694/11/11/1761/s1
, Figure S1: Alternative incidence of published recurrent somatic mutations associated with CD when considering only the results from next generation sequencing, Figure S2: Schematic representation of all non-synonymous mutations identified by next generation sequencing until now in CD, Figure S3: Reconstructed whole network topology of the 607 CD genes and their direct interaction partners (2100 nodes and 2802 edges; mutations in red), Table S1: List of all the most significantly enriched processes and pathways due to 365 densely connected cluster genes in CD.
Author Contributions
Conceptualization, S.S. and M.F.; Methodology, S.S., M.K., T.D. (Thomas Dandekar); Software, M.K.; Formal analysis, S.S., M.K.; Resources, S.S., I.W. and T.D. (Timo Deutschbein); Data curation, S.S., M.K., I.W., T.D. (Timo Deutschbein); Writing—Original draft preparation, S.S., M.K.; Writing—Review and editing, S.S., M.K., I.W., T.D. (Timo Deutschbein), T.D. (Thomas Dandekar) and M.F.; Visualization, S.S., M.K., I.W., T.D. (Timo Deutschbein), T.D. (Thomas Dandekar) and M.F.; Supervision, S.S., M.K., T.D. (Thomas Dandekar) and M.F.; Funding acquisition, S.S., M.K., T.D. (Timo Deutschbein), T.D. (Thomas Dandekar) and M.F.
Funding
This work was supported by grants from the German Research Foundation (DFG; Grant SB 52/1-1 to S.S., DE 2657/1-1 to T.D. (Timo Deutschbein) and FA 466/5-1 to M.F.), the German Federal Ministry of Education and Research (BMBF; Era-Net grant 01KT1801 to M.K. and T.D. (Thomas Dandekar)) and the Bavarian Research Foundation (FORTiTher Program, TP4 to T.D. (Thomas Dandekar) and M.F.). The publication costs were supported by the German Research Foundation (DFG) and the University of Würzburg through the funding program Open Access Publishing.
Conflicts of Interest
The authors declare no conflict of interest.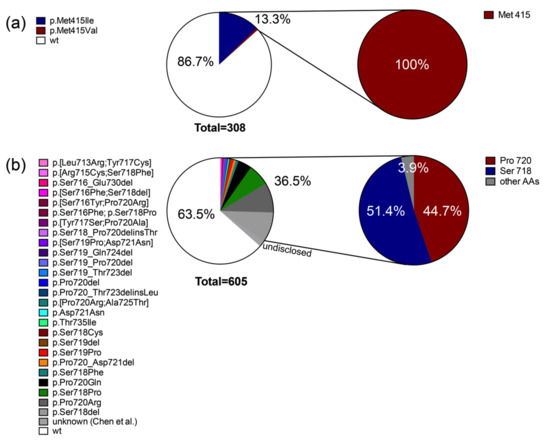 Figure 2. Summary and distribution of published USP48 (a) and USP8 (b) mutations in Cushing's disease. On the left side pie-chart representations of percentages of all ACTH-producing pituitary adenomas carrying either wild-type (white) or different mutations (colored) found using both next-generation and Sanger sequencing and associated with CD published to date. On the right side pie-chart representations of the incidence of individual amino-acids affected by mutations reported in the same publications.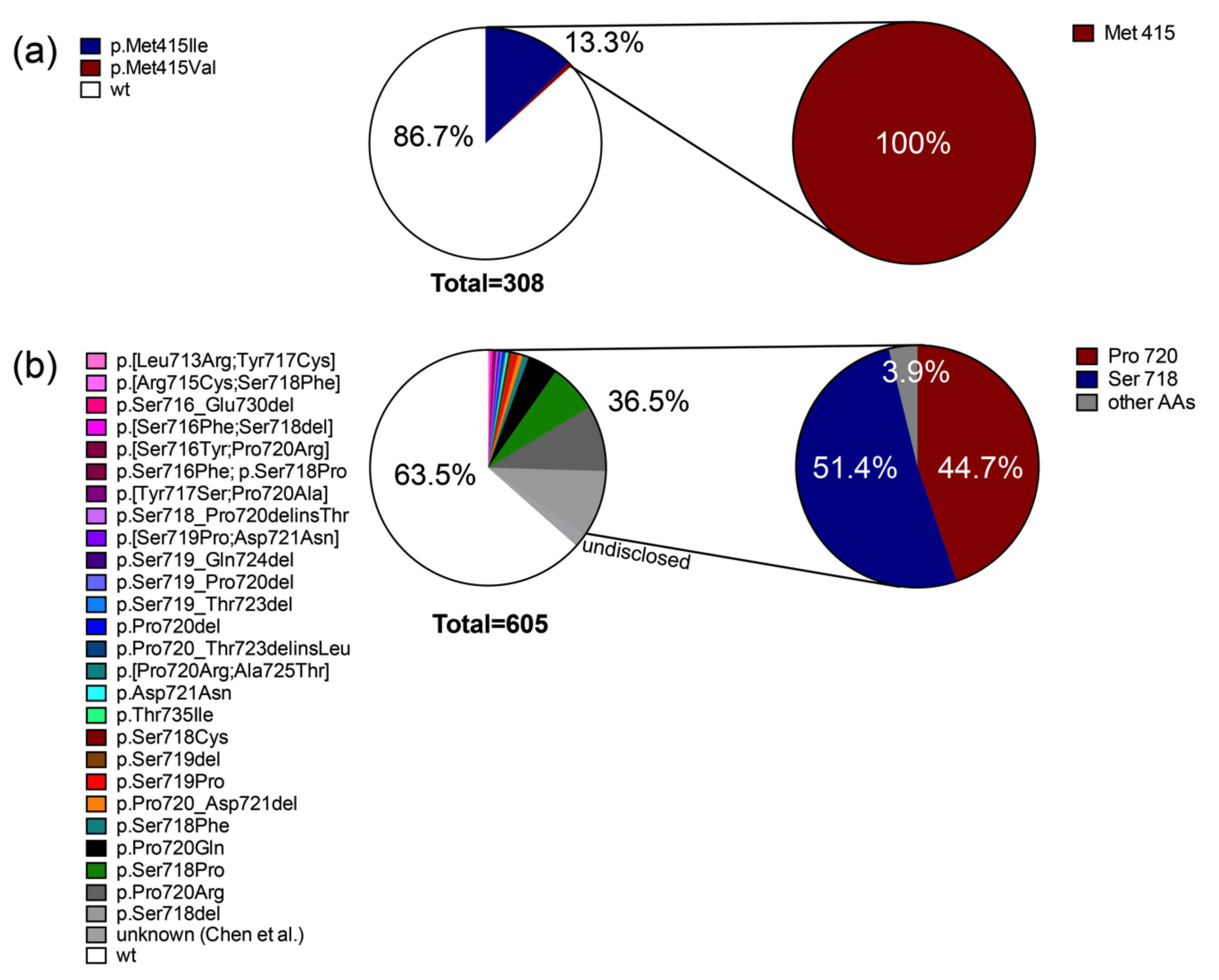 Figure 3.
Schematic representation of all recurrent mutations, both independent and dependent, identified by next generation sequencing until now in Cushing's disease. In the left column is the list of genes and in the upper line are listed the different samples in which the mutations have been identified. The letters are coding for the different studies R = Reincke et al. [
15
], M = Ma et al. [
16
], Z = Song et al. [
27
], S = Sbiera et al. [
18
], and C = Chen et al. [
17
], while the numbers indicate the individual samples as listed in the original paper.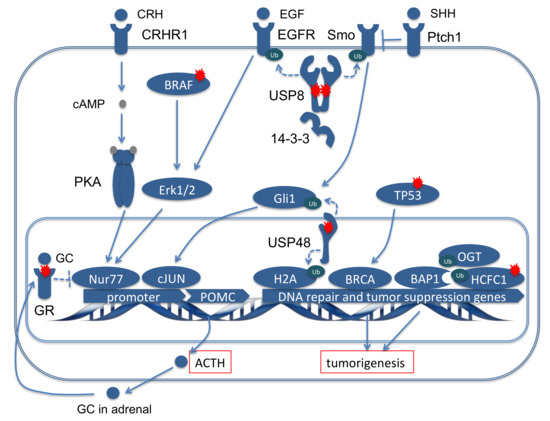 Figure 4. Graphic representation of all independent recurrent mutations in the context of a corticotroph pituitary cell in Cushing's disease. In blue are represented the different proteins and factors that are involved in different processes in a cell. The independent recurrently mutated genes are marked with red sparks. The interactions are based on literature and should visualize direct and indirect involvement of the mutations in the cellular processes in a Cushing's pituitary cell. Doted arrows indicate hypothesized mode of action of these mutations.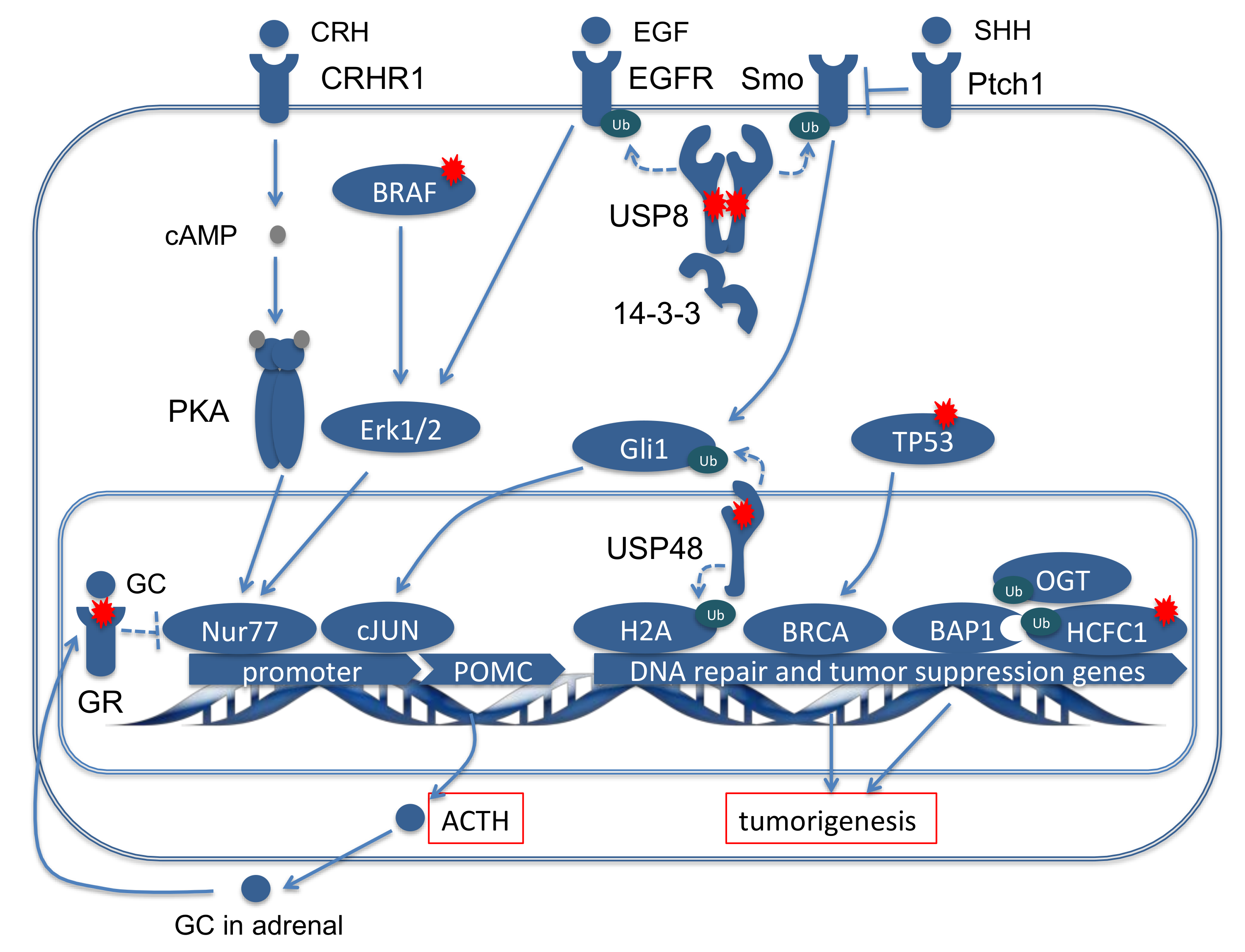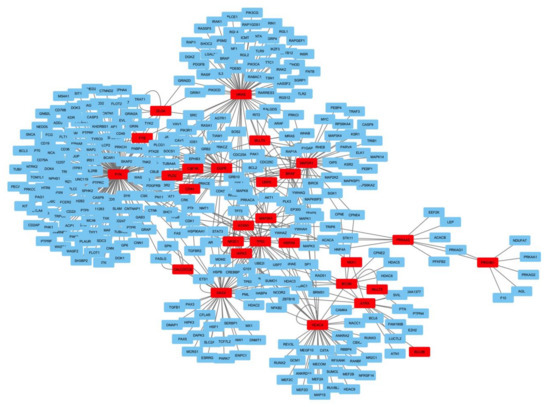 Figure 5. Bioinformatically engineered network representation of densely connected cluster nodes in CD having the highest impact on tumorigenesis. In red are represented mutated genes found in CD and in blue the main interaction partners in the cluster network (365 nodes, 576 edges) are given.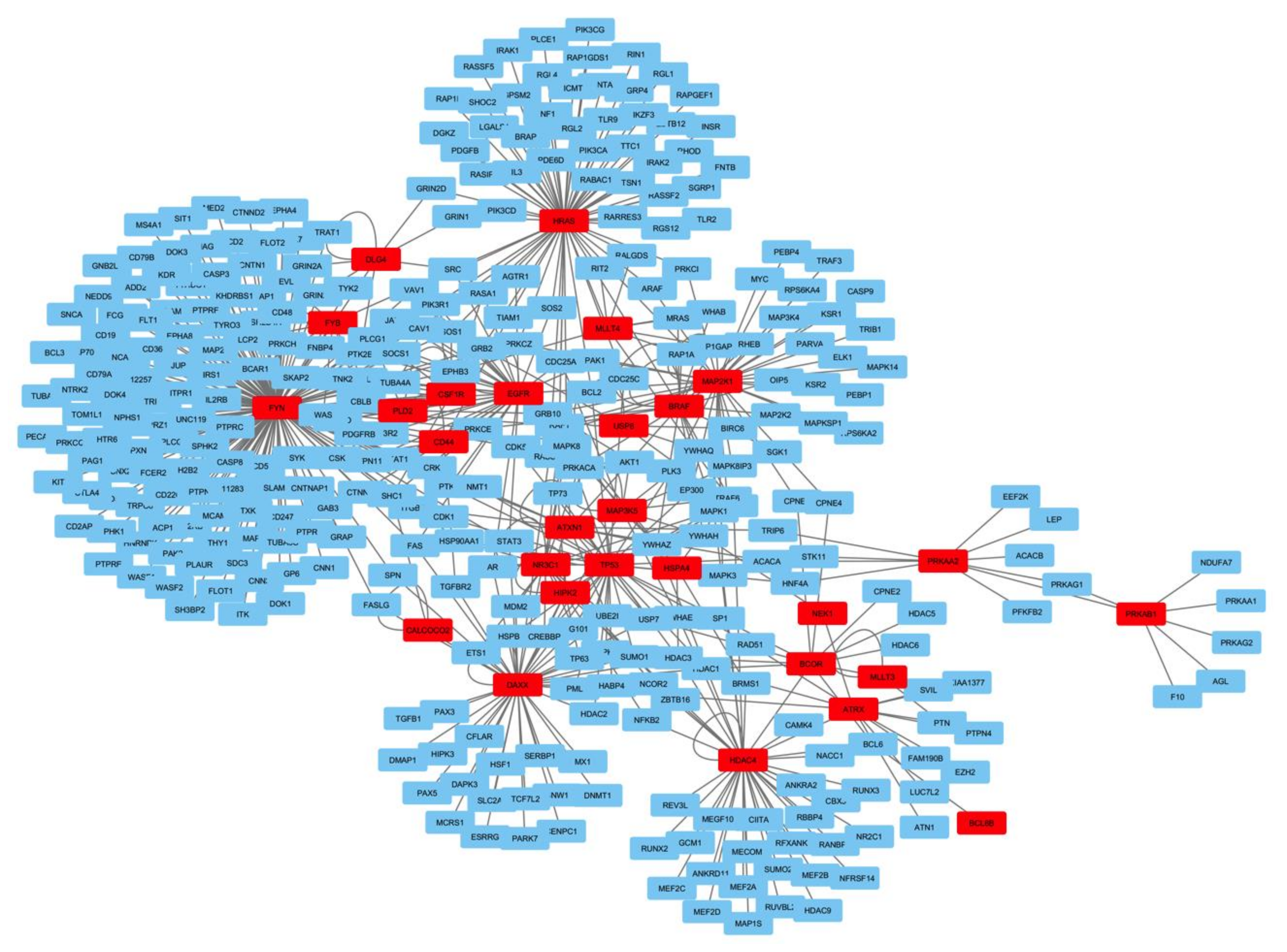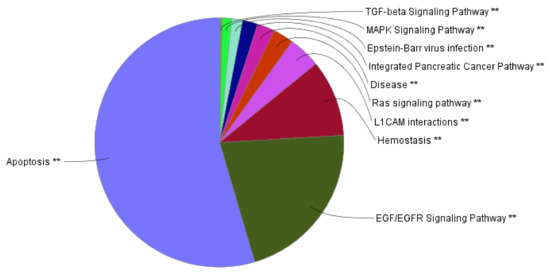 Figure 6.
Pie chart representation of the preponderance of highly enriched processes and pathways in the CD based on an analysis of 365 densely connected cluster genes found in CD. For the complete list of all the enriched pathways of the connected cluster genes in CD please see
Supplementary Table S1
. ** indicates significant GO terms and pathways with p-value <0.05.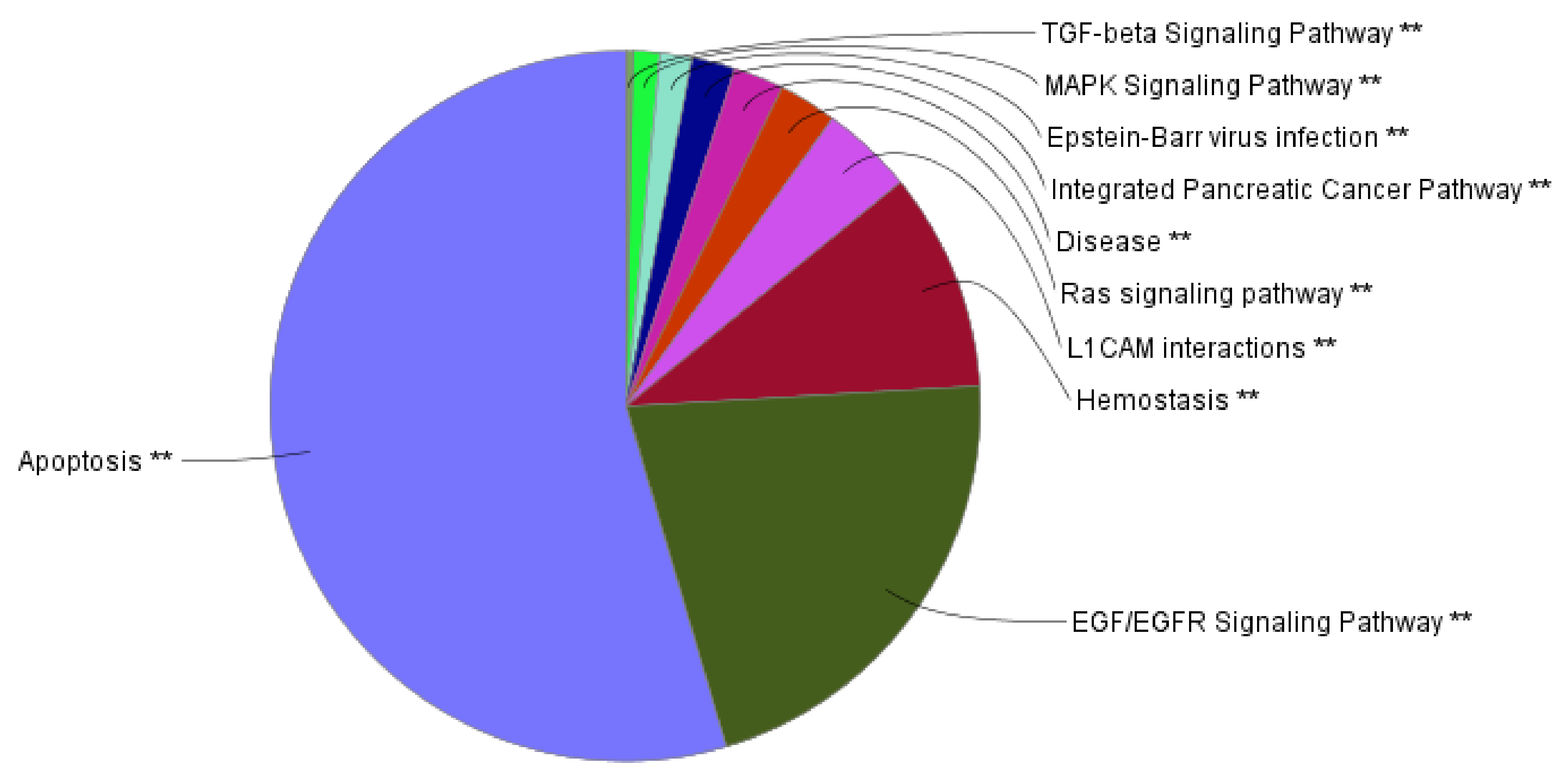 © 2019 by the authors. Licensee MDPI, Basel, Switzerland. This article is an open access article distributed under the terms and conditions of the Creative Commons Attribution (CC BY) license (http://creativecommons.org/licenses/by/4.0/).