Open Access This article is
freely available
re-usable
Review
Obesity, Leptin and Breast Cancer: Epidemiological Evidence and Proposed Mechanisms
1
Department of Pharmacy, Health and Nutritional Sciences, University of Calabria, 87036 Arcavacata di Rende (CS), Italy
2
Centro Sanitario, University of Calabria, Via P Bucci, 87036 Arcavacata di Rende (CS), Italy
Received: 7 November 2018 / Accepted: 8 January 2019 / Published: 9 January 2019
Abstract
:
The prevalence of obesity has been steadily increasing over the past few decades in several developed and developing countries, with resultant hazardous health implications. Substantial epidemiological evidence has shown that excessive adiposity strongly influences risk, prognosis, and progression of various malignancies, including breast cancer. Indeed, it is now well recognized that obesity is a complex physiologic state associated with multiple molecular changes capable of modulating the behavior of breast tumor cells as well of the surrounding microenvironment. Particularly, insulin resistance, hyperactivation of insulin-like growth factor pathways, and increased levels of estrogen due to aromatization by the adipose tissue, inflammatory cytokines, and adipokines contribute to breast cancerogenesis. Among adipokines, leptin, whose circulating levels increase proportionally to total adipose tissue mass, has been identified as a key member of the molecular network in obesity. This review summarizes the current knowledge on the epidemiological link existing between obesity and breast cancer and outlines the molecular mechanisms underlying this connection. The multifaceted role of the obesity adipokine leptin in this respect is also discussed.
Keywords:
breast cancer; obesity; adipokines; leptin; adiponectin; inflammation; estrogens; insulin/insulin-like growth factor I
1. Introduction
Overweight and obesity are preventable conditions characterized by an abnormal or an excessive fat tissue accumulation that may significantly impair health status.
The World Health Organization (WHO) and the National Institutes of Health (NIH) refer to overweight as a body mass index (BMI, defined as weight (kg)/height (m
2
)) greater than 25 kg/m
2
, and to obesity as a BMI greater than 30 kg/m
2
(30.0–34.9, grade I; 35.0–39.9, grade II; and ≥40, grade III). The increase in BMI is typically a result of an imbalance between exceeding energy consumption from dietary intake and energy expenditure from physical and metabolic activity. Unfortunately, fueled by major economic growth, social/technological changes, and a transition in nutrition over the last 30 years, the prevalence of obesity has been on the rise alarmingly [
1
], reaching epidemic proportions in many parts of the world. At present, according to the latest WHO fact sheets, more than 1.9 billion adults and a further 600 million people can be, respectively, classified as overweight or obese worldwide, and these rates are projected to increase at a faster pace in the coming decades [
2
]. This scenario has drawn particular attention from researchers due to the fact that obesity is associated with concomitant or increased risk of nearly every chronic condition, including diabetes, coronary artery disease, hypertension, kidney disease, disability, and poor mental health [
3
,
4
]. Numerous studies have also looked into the link between obesity and cancer development at various sites, especially the pancreas, oesophagus, colorectum, prostate, and breast. Indeed, there is a growing appreciation that the excessive adiposity is correlated with increased cancer incidence at a population level and may lead to poor cancer clinical outcomes [
5
,
6
,
7
,
8
]. In this regard, an intricate connection between obesity and both breast cancer incidence and the clinical behavior of the established neoplasia has been extensively described.
Here, we will review the complex and not yet completely understood impact of obesity on breast cancer pathogenesis. First, we will provide an update of the recent epidemiological research focused on the association between obesity and breast cancer. Then, we will address the molecular mechanisms by which obesity-associated changes may affect breast malignancy, and we will outline the role of the obesity cytokine leptin in this type of cancer, discussing both clinical and basic research evidence.
2. The Epidemiological Association between Obesity and Breast Cancer
Breast cancer is the most commonly diagnosed neoplastic disease and represents the leading cause of cancer-related mortality among women worldwide [
9
]. According to GLOBOCAN 2012, it was estimated that breast cancer accounts for 25% of cancer cases and 15% of cancer-related deaths, with approximately 1.7 million cases and 521,900 deaths [
10
]. In addition to established factors (i.e., older age, female sex, family history, gene sequence mutations, reproductive factors), it has been reported that around 20% of breast cancers may be due to modifiable risk factors, including alcohol drinking, smoking, excess body weight, and physical inactivity [
11
,
12
,
13
,
14
,
15
,
16
]. In particular, several studies have shown the relationship existing between obesity status and breast cancer, highlighting the potential to reduce the disease burden through an increase in individual healthy behaviors. Different clinical trials focused on obesity and breast cancer have been conducted or are ongoing (
http://www.clinicaltrials.gov
); a list of these studies is reported in
Table 1
[
10
,
13
,
17
,
18
,
19
,
20
,
21
,
22
,
23
,
24
,
25
,
26
,
27
,
28
,
29
,
30
,
31
,
32
,
33
,
34
,
35
,
36
,
37
,
38
,
39
].
2.1. Increased BMI and Risk of Breast Cancer Occurrence
2.2. Increased BMI and Risk of Breast Cancer Mortality
Several studies have reported a correlation of obesity at and after breast cancer diagnosis with mortality risk. A meta-analysis conducted on 43 studies, that enrolled breast cancer patients in the years 1963–2005 (sample size: 100–424,168, median 1192), evidenced a 33% increased rate of death among obese subjects [
67
]. More recently, Chan et al., through a robust meta-analysis of 82 studies including 213,075 breast cancer survivors with 41,477 deaths, estimated a 41% and a 35% increased risk, respectively, of all-cause mortality and breast cancer-specific mortality for obese women compared to their normal-weight counterparts [
68
]. This association was greater 1 year or more after diagnosis compared to less than 1 year after diagnosis, highlighting a persistent link between obesity and poor outcomes over time. In addition, for each 5 kg/m
2
increase in BMI, it was demonstrated an approximately 18% increment in the risk of total and breast cancer mortality. Conversely, it was shown that only the hazard of overall mortality, but not of breast cancer-specific mortality, differs for weight gainers in respect to weight maintainers [
69
]. Interestingly, in contrast to the stronger breast cancer risk in post-menopausal and ER-positive obese patients, the relationship existing between BMI and mortality was evident in both premenopausal (RR = 1.75, 95% CI 1.26–2.41) and postmenopausal (RR = 1.34, 95% CI 1.18–1.53) settings [
68
]. Other meta-analyses have also reported that the obesity effect was numerically larger in premenopausal than in postmenopausal women, although no statistically significant difference was found in these two groups (HR (Hazard Ratio) of 1.47 versus 1.22, [
67
] and 1.23 versus 1.15, [
70
]). There was no evidence on the differential interaction of obesity and mortality in relation to hormone receptor status of cancer [
68
,
70
].
2.3. Waist-To-Hip Ratio (WHR) and Breast Cancer
BMI has important limitations due to its the incapability to differentiate between fat and lean body mass as well as to measure fat distribution in the body. Therefore, alternative tools to define obesity status, including waist circumference (WC) and WHR, have been proposed in some studies. In the meta-analysis of Protani, poorer overall (HR = 1.33) and breast cancer-specific (HR = 1.33) survivals were shown in obese compared with non-obese subjects, stratified by WHR [
67
]. Elevated WC and WHR have been also associated with increased risk for ER-positive/PR-positive postmenopausal [
44
,
48
,
71
] and triple-negative premenopausal breast cancers [
48
].
2.4. Obesity and Therapeutic Implications
In addition to influencing breast cancer occurrence and mortality, obesity status has profound implications on therapeutic management of patients. Certainly, medical imaging and image-guided intervention may represent a challenge in the obese population; on the other hand, difficulties to likely accomplish the standard oncologic care using surgery, radiotherapy, chemotherapy, and/or endocrine therapy may be also encountered.
Although all of these studies add other pieces of evidence in an unfinished puzzle, more prospective trials are expected to further optimize breast cancer therapy in obese women, likely stratifying patients according to their different adipose depots.
2.5. Effects of Obesity on Quality of Life in Survivors
Obesity, at the time of breast cancer diagnosis and after receiving it, significantly impairs the quality of life and the functional health for survivors. Indeed, a greater percentage of overweight and obese patients reported sexual dysfunction, urinary incontinence, neuropathy, persistent physical fatigue, cardiotoxicity, and lymphedema compared with normal-weight women [
96
,
97
,
98
]. Conversely, an increased level of physical activity in a group of 692 breast cancer survivors with high BMI was associated with a better quality of life across various scales and dimensions [
99
]. More recently, results from the Women's Health Initiative highlighted that postmenopausal women who decreased diet quality, as defined by the Healthy Eating Index (HEI)-2010 score, exhibited an increased risk of mortality [
100
]. In contrast, a cross-sectional analysis of pilot study data evidenced no significant association between (HEI)-2010 score and quality of life in survivors of early-stage breast cancer [
101
]. A number of ongoing trials, such as the German SUCCESS-C, the DIANA (Diet and Androgens)-5 and the BWEL (Breast Cancer Weight Loss) studies will provide conclusive evidence regarding the possibility of implementing weight loss interventions in breast cancer populations.
In the meanwhile, as part of standard care, oncologists should recommend for all breast cancer survivors to achieve and keep an ideal healthy body weight with an appropriate diet and a regular exercise.
3. Biological Mechanisms Linking Obesity to Breast Cancer
Although the tight epidemiological connection between cancer development and obesity is well documented, the molecular mechanisms underlying the obesity-breast cancer link are still under investigation due to the complexity of obesity condition and the different oncogenic alterations that may sustain all breast cancer subtypes. Obesity is characterized by an expanded, metabolically active and reprogrammed fat tissue that induces local inflammation and altered levels of cytokines/adipokines. These local alterations contribute to and cooperate with systemic physiological changes regarding the levels of insulin, insulin-like growth factor (IGF) I, steroid hormones, adipokines, and inflammation-related molecules. Furthermore, hypertrophy and hyperplasia of white adipocytes reduces their vascularization, resulting in a decrease of the oxygen availability. This hypoxia state induces an increased oxidative stress, insulin resistance, ischemia, adipocyte necrosis and release of inflammatory as well as angiogenic proteins (reviewed in [
51
]). The local and systemic alterations induced by obesity may influence breast cancer through direct effects on neoplastic epithelial cells as well as indirect effects on tumor microenvironment. All these obesity-related factors can impact tumor initiation, metabolic reprogramming, angiogenesis, progression, and/or response to therapy (
Figure 1
). Interestingly, a balanced and healthy diet might contribute to down-regulating the expression of all these factors, providing a better outcome in obese patients with breast cancer [
102
].
4. Conclusions and Perspective
The epidemic of obesity is now recognized as one of the most significant public health concerns facing the world nowadays. Pathological expansion of white adipose tissue and high levels of certain cytokines and leptin, as a consequence of the obesity condition, have been implicated in several hallmarks of breast cancer, such as inflammation, sustained proliferative signaling, epithelial-to-mesenchymal transition, angiogenesis, and cellular energetics. However, our understanding of the weight of obesity on breast cancer pathogenesis is only beginning to influence routine clinical practice. Although ongoing studies are focusing on interventions for both primary and secondary prevention of obesity-related breast cancers, key biomarkers of risk are still lacking. Furthermore, whether and how the myriad of local and systemic effects of obesity may impact patient outcome and response to conventional/targeted treatments is an issue that requires additional investigation in experimental models and in humans. As with the development of more personalized oncology approaches, the evaluation of novel therapeutic strategies directed against the mechanisms described above (e.g., leptin-targeting agents) is also urgently needed in at-risk obese populations.
Author Contributions
S.A., L.G., preparing the manuscript, collecting data, writing, and editing; S.P., preparing figures and tables; C.G., D.B., contributing to revising the manuscript; I.B., S.C., preparing the manuscript, revising the manuscript, and providing critical consideration for manuscript design and editing. All authors reviewed and approved the final version of the manuscript.
Funding
This work was supported by Fondazione Italiana per la Ricerca sul Cancro–AIRC: IG #11595 to S. Andò, and MFAG #16899 to I. Barone.
Conflicts of Interest
The authors declare no conflict of interest.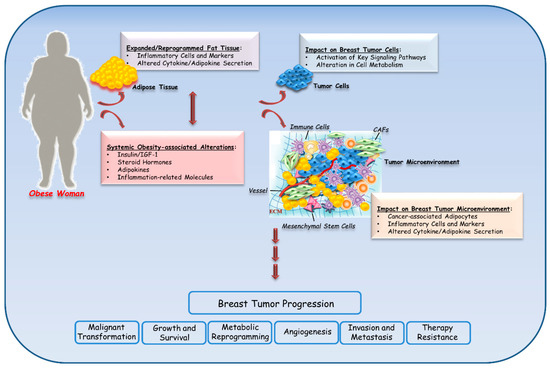 Figure 1. Mechanisms linking obesity with breast cancer. In obese women, excess adiposity is associated with key local and systemic changes, such as altered secretion of cytokines, adipokines, growth factors, and inflammatory molecules. The complex interplay among all of these alterations may contribute to breast cancer progression by both directly impacting the phenotype of cancer epithelial cells and indirectly affecting the behavior of the tumor microenvironment. IGF: insulin-like growth factor; CAFs: Cancer-associated fibroblasts; ECM: Extracellular Matrix.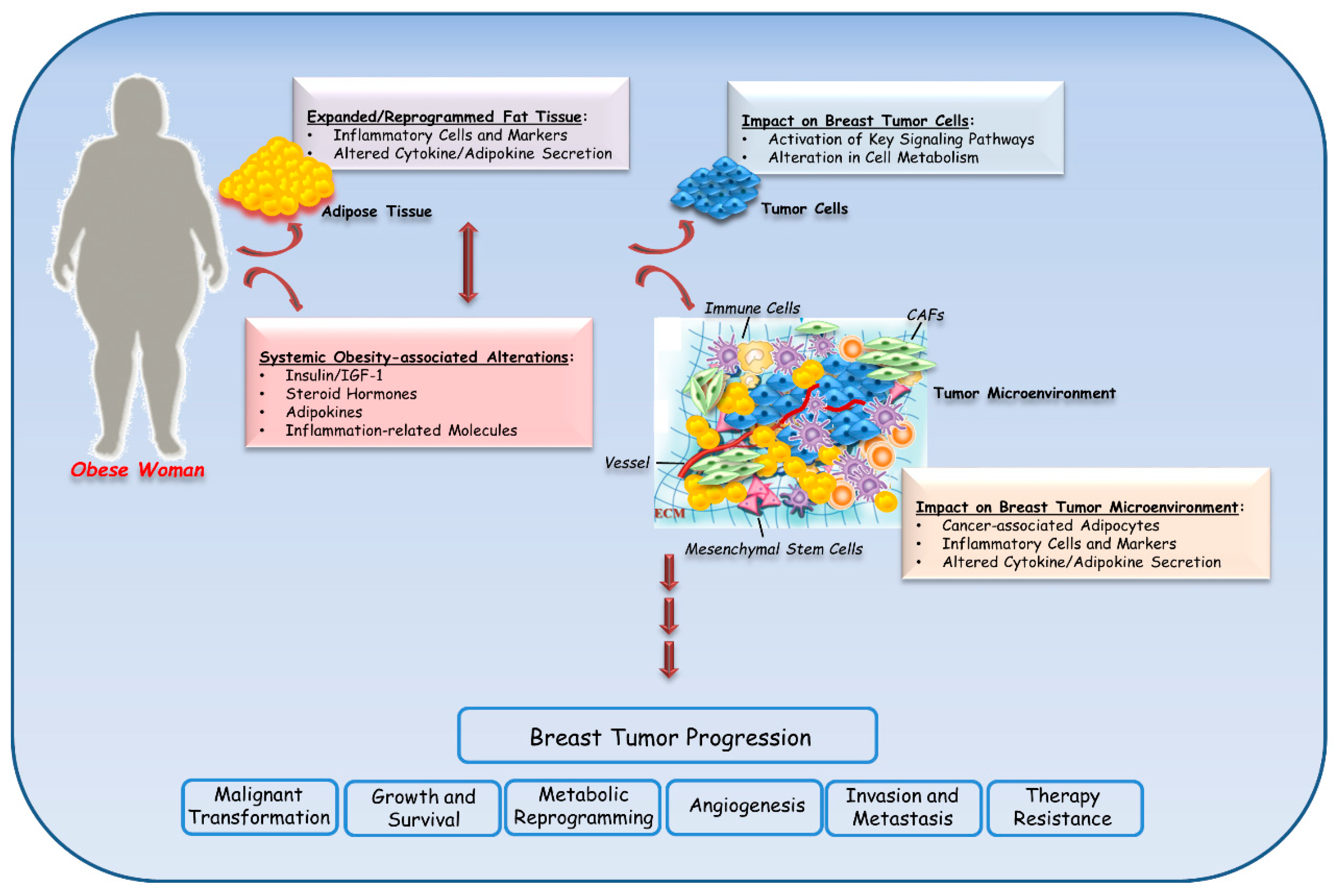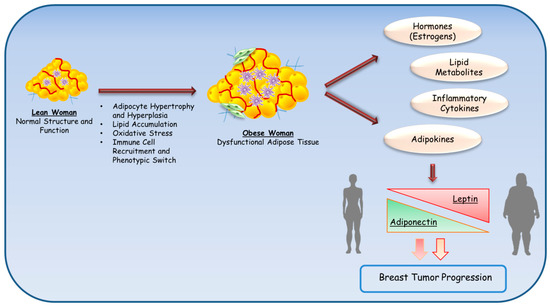 Figure 2. Adipose tissue alterations during weight gain. Obese adipose tissue expansion, characterized by adipocyte hypertrophy and hyperplasia, lipid accumulation, increased oxidative stress, and immune cell infiltration (i.e., macrophages), leads to the development of a dysfunctional adipose tissue which produces a number of bioactive molecules, such as sex hormones, lipid metabolites, and proinflammatory cytokines. In obesity, fat accumulation also causes a dysregulation of adipokine production, resulting in increased leptin and decreased adiponectin levels that strongly contribute to the onset of obesity-associated breast cancers.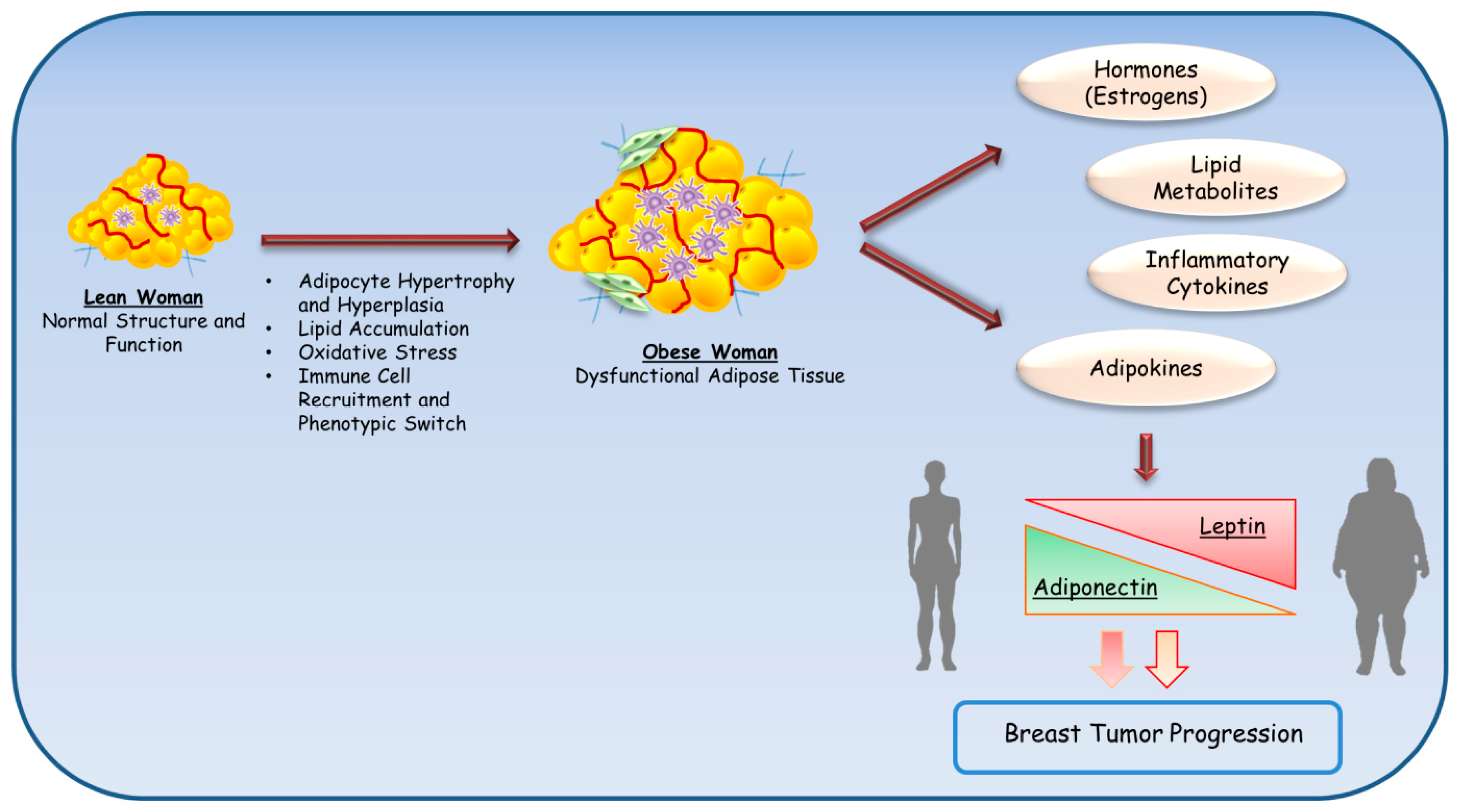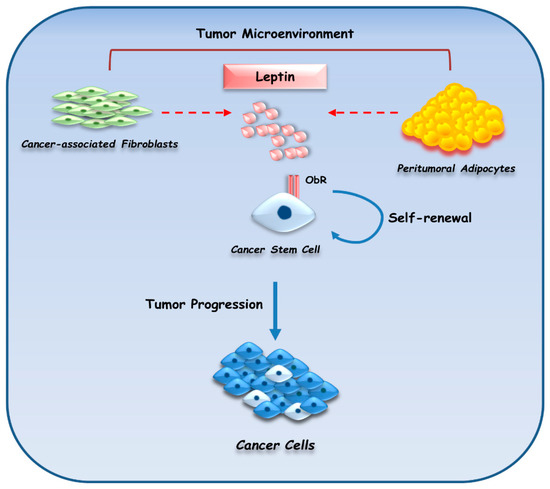 Figure 3. Role of leptin in mediating the interaction between stromal cells and breast cancer stem cells. Leptin, an important paracrine molecule secreted by adipocytes and cancer-associated fibroblasts within the tumor microenvironment, sustains breast cancer stem cell activity, indicating an additional mechanism by which this adipokine promotes breast malignancy.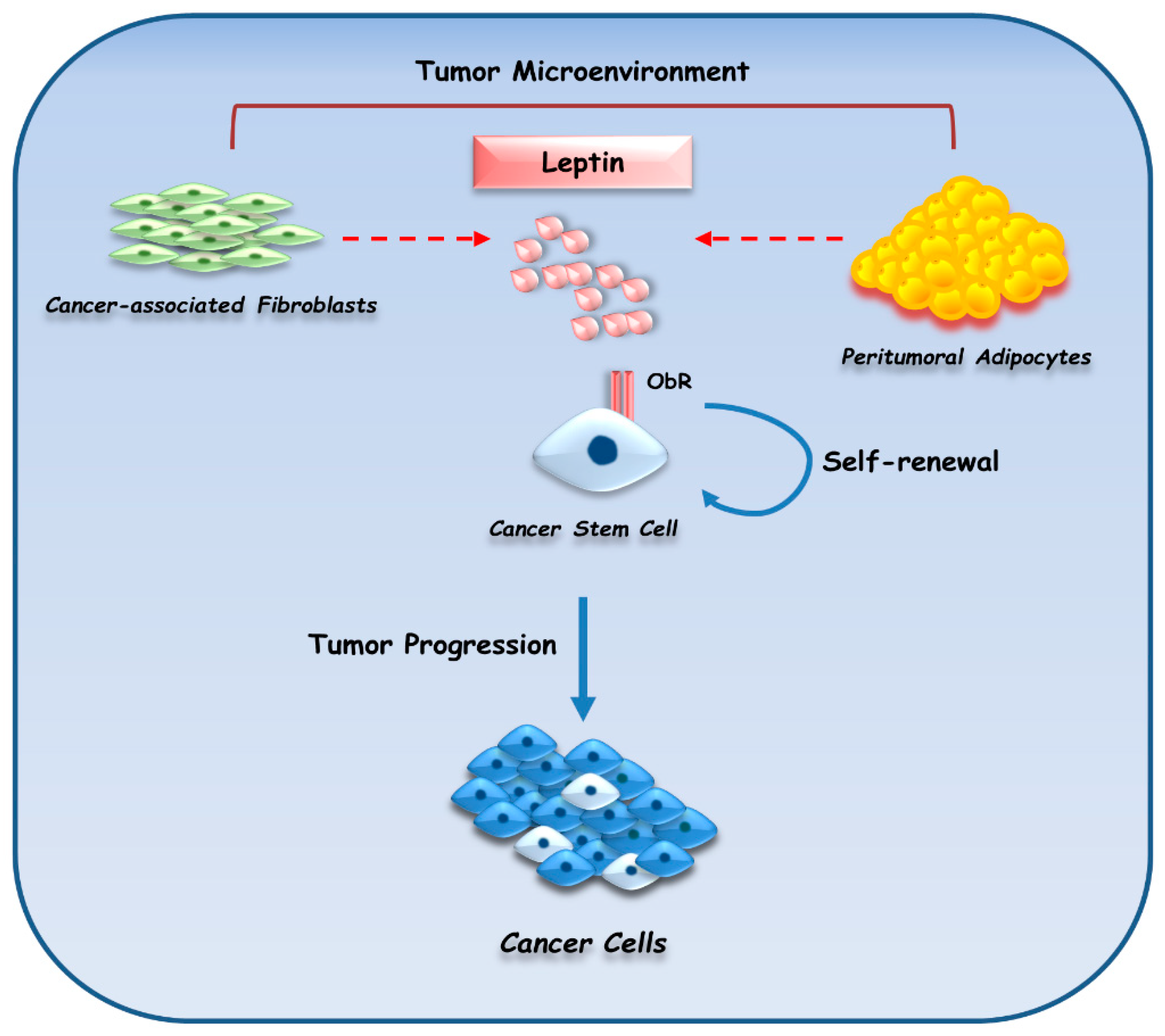 Clinicaltrials.gov
Interventions
Status
Eligible Criteria, Primary Outcome and Purpose
Results
NCT01758146
Drug: Tamoxifen Drug: Letrozole
Phase 3
Eligibility criteria: Postmenopausal patients (45–80 years) with hormone receptor positive breast cancer (tumor stage IB, IC, or II irrespective of nodal stage (<10 positive nodes)).
Primary outcome: Disease free survival (time frame: from date of random assignment to the first event over 5 years). Event in the form of locoregional recurrence, distant metastasis, cancer in the contralateral breast, second primary cancer, or death from any cause.
Purpose: To see the impact of obesity on the efficacy of adjuvant endocrine therapy with aromatase inhibitors in postmenopausal patients with early breast cancer in terms of: (1) Locoregional recurrence; (2) Distant metastases; (3) Disease-free survival; (4) Overall survival.
Not applicable
NCT00470119
Behavioral: Behavioral dietary intervention Behavioral: Exercise intervention
Not applicable
Eligibility criteria: Postmenopausal patients (50–75 years) with no history of invasive or "in situ" breast cancer and at increased risk for developing breast cancer due to several lifestyle risk factors (e.g., lack of physical activity, excess weight, obesity, etc.).
Primary outcome: Serum estrone concentrations as measured by radioimmunoassay (time frame: at baseline and 12 months)
Purpose: To compare the effects of a 1-year exercise intervention, reduced-calorie diet intervention, or a combined exercise and reduced-calorie diet intervention vs. no intervention on serum estrone concentrations in overweight or obese postmenopausal women.
[17,18,19,20,21,22,23]
NCT01172886
Not applicable
Unknown
Eligibility criteria: Healthy women and women operated for breast cancer (35–80 years).
Primary outcome: Biospecimen retention: Samples without DNA. Blood samples.
Purpose: To evaluate if the adjustments in lifestyle with physical activity intensification and healthy diet may represent modifiable factors on which sporadic breast cancer primary prevention may work.
Not applicable
NCT02750826
Other: Health education program
Other: Weight loss intervention
Phase 3
Eligibility criteria: Subjects (≥18 years) with histologically confirmed invasive breast cancer and with registration within 12 months after the first histologic diagnosis of the disease.Primary outcome: Invasive disease-free survival (time frame: up to 10 years).Purpose: To compare the effect of a supervised weight loss intervention plus health education materials versus health education materials alone on invasive disease-free survival (IDFS) in overweight (body mass index, BMI 27–29.9 kg/m2) and obese (BMI ≥30 kg/m2) women diagnosed with HER-2 (Human epidermal growth factor receptor 2) negative, stage II, and III breast cancer.
Not applicable
NCT01112839
Behavioral: Less intensive Behavioral: Intensive group
Completed
Eligibility criteria: Patients (≥21 years) with breast cancer (stages I (≥1 cm), stage II, or stage IIIA, B, C excluding distant metastasis) diagnosed between 6 months and 5 years earlier; after initial therapies were completed. BMI between 25 and 45 kg/m2.
Primary outcome: Weight loss (time frame: 2 years).
Purpose: To explore whether two different programs that are focused on weight management, through increased exercise and a healthy diet, are feasible, and have an impact on body weight, quality of life and fatigue.
[24]
NCT02618538
Not applicable
Enrolling by invitation
Eligibility criteria: All women (46–67 years) undergoing a screening mammography in the participating centers (Turin, Vercelli, and Biella).
Primary outcome: Positive predictive value (PPV) of breast cancer risk factors (time frame: 2 years).
Purpose: To estimate in a large cohort of women attending breast cancer screening, the predictive positive values of different breast cancer risk factors (alone or in combination) in order to identify appropriate risk-based stratifications for personalized screening.
[25]
NCT00393172
Behavioral: exercise
Phase 2
Phase 3
Eligibility criteria: Premenopausal healthy women (18–30 years).
Primary outcome: Changes in urine levels of F2-isoprostanes (time frame: before and after study).
Purpose: To compare the changes in urine levels of a stable marker of oxidative stress (F_2-isoprostanes) in healthy young women who undergo exercise training during 4 menstrual cycles vs. no exercise.
[26,27,28,29]
NCT00509626
Behavioral: exercise intervention
Other: questionnaire administration
Procedure: CAM (Complementary and Alternative Medicine) exercise therapy
Procedure: management of therapy complications
Procedure: psychosocial assessment and care
Procedure: quality-of-life assessment
Phase 1
Phase 2
Eligibility criteria: Premenopausal and postmenopausal patients (≥ 18 years) with diagnosis of primary breast cancer and BMI ≥20 kg/m2 and <39 kg/m2.
Primary outcome: Accrual (phase I); Retention (phase I); Weight change after 6 months (phase II).
Purpose: To determine whether: (1) conducting a clinical trial that uses a 6-month physical activity intervention initiated within 45 days after surgery for early-stage breast cancer and prior to initiation of adjuvant chemotherapy, hormonal therapy, and/or radiotherapy is feasible (phase I); (2) the participation in a 6-month physical activity intervention initiated within 45 days after surgery for early-stage breast cancer decreases weight gain in patients treated with adjuvant chemotherapy and differentially affects weight change in women who are premenopausal compared to those who are postmenopausal at diagnosis (phase II).
Not applicable
NCT03529383
Device: Connected device
Behavioral: Therapeutic education
Not applicable
Eligibility criteria: Patients (18–75 years) operated for a first primary non-metastatic invasive breast carcinoma, with the prescription of an adjuvant treatment (chemotherapy, hormonotherapy, radiotherapy).
Primary outcome: Number of patients achieving the internationally recommended level of physical activity of at least 150 min per week of moderate-to-vigorous physical activity [intensity ≥3 METs (Metabolic equivalent of task)] (time frame: 6 months). Assessment by the RPAQ self-administered questionnaire.
Purpose: To identify best modalities to implement exercise during and after breast cancer treatment. In a public health perspective, the challenge is to reduce geographical, social, and organizational inequalities among patients to practice regular physical activity and to promote the systematic integration of physical activity in routine cancer care.
[10,13,30,31,32,33,34,35,36,37]
NCT01707121
Not applicable
Completed
Eligibility criteria: Patients (≥18 years) scheduled for cholecystectomy, breast cancer surgery, colorectal cancer surgery.
Primary outcome: Length of sick-leave/time to work (time frame: 6 weeks) for breast cancer and gallbladder surgery. Length of hospital stay (time frame: 6 weeks] for colorectal surgery.
Purpose: To investigate whether a higher physical activity prior to a surgical procedure reduces hospital stay, sick leave, and the complication rate.
[38]
NCT02273206
Behavioral: Preventive care management for depression
Behavioral: Preventive care management for cancer screening
Not applicable
Eligibility criteria: Patients (50–64 years) from the Bronx with no cancer diagnosis within the past six months and overdue for breast, cervical, or colorectal cancer screening.
Primary outcome: Changes from baseline in number of participants with colorectal, breast, and/or cervical cancer screening (time frame: 12 months).Chart Review: Review of electronic medical records at each of the three community health centers.Self-Report: We will ask participants about their participation (yes/no) in specific screening methods: Pap testing (past 3 years), mammography (past 2 years), and colorectal screening (FOBT (fecal occult blood test)/FIT (fecal immunochemical test), past year; flexible sigmoidoscopy, the past 5 years; and colonoscopy, past 10 years).
Change from baseline in Patient Health Questionnaire (PHQ)-9 at 6 months (time frame: 6 months). The PHQ-9 is the 9-item depression module from the full PHQ, and is a well-validated Diagnostic and Statistical Manual of Mental Disorders 4th Edition (DSM-IV) criterion-based measure for screening and diagnosing depressive episode, assessing severity, and monitoring treatment response, either in person or over the phone.Change from baseline in Patient Health Questionnaire (PHQ)-9 at 12 months (time frame: 12 months). The PHQ-9 is the 9-item depression module from the full PHQ, and is a well-validated Diagnostic and Statistical Manual of Mental Disorders 4th Edition (DSM-IV) criterion-based measure for screening and diagnosing depressive episodes, assessing severity, and monitoring treatment response, either in person or over the phone.Change from baseline in The Hopkins Symptom Checklist (SCL-20) at 6 months (time frame: 6 months). The SCL-20 consists of 20 depression items on a 4-point scale from the SCL-90, and has been shown to be a valid and reliable measure of depression in diverse outpatient and community populations.Change from baseline in The Hopkins Symptom Checklist (SCL-20) at 12 months (time frame: 12 months). The SCL-20 consists of the 20 depression items on a 4-point scale from the SCL-90, and has been shown to be a valid and reliable measure of depression in diverse outpatient and community populations.
Purpose: To increase the investigators understanding of how to enhance primary care systems' ability to improve a range of outcomes related to cancer screening and depression among low-income minority women, and how to best support this population in making cancer-screening decisions.
Not applicable
NCT01515124
Behavioral: Exercise intervention
Behavioral: Weight loss intervention
Not applicable
Eligibility criteria: Overweight or obese child, adult, or older adult female breast cancer survivor, at least 2 months after treatment (e.g., surgery, chemotherapy, or radiotherapy), currently free of cancer.
Primary outcome: Clinical lymphedema exacerbation rate (time frame: Baseline, 6, and 12 months). Lymphedema outcomes include: incident events requiring medical care for lymphedema (e.g., flare-ups or cellulitic infections), arm swelling in the affected limb (interlimb volume differences), and pain and lymphedema symptoms (number and severity).
Purpose: To test the effects of these interventions on lymphedema outcomes, breast cancer recurrence, and quality of life.
[39]

© 2019 by the authors. Licensee MDPI, Basel, Switzerland. This article is an open access article distributed under the terms and conditions of the Creative Commons Attribution (CC BY) license (http://creativecommons.org/licenses/by/4.0/).