Mifepristone Overcomes Tumor Resistance to Temozolomide Associated with DNA Damage Repair and Apoptosis in an Orthotopic Model of Glioblastoma
1
Laboratorio de Farmacología, Subdirección de Investigación Básica, Instituto Nacional de Cancerología, Ciudad de México 14080, Mexico
2
Posgrado en Ciencias Biomédicas, Universidad Nacional Autónoma de México (UNAM), Ciudad de México 04510, Mexico
3
Facultad de Odontología, Universidad Nacional Autónoma de México (UNAM), Ciudad de México 04510, Mexico
4
Instituto de Física, Universidad Nacional Autónoma de México (UNAM), Unidad de Investigación Biomédica en Cáncer INCan-UNAM, Ciudad de México, 14080, Mexico
5
Instituto Nacional de Ciencias Médicas y de la Nutrición Salvador Zubirán, Ciudad de México 14080, Mexico
6
Instituto de Investigaciones Biomédicas, Universidad Nacional Autónoma de México (UNAM), Ciudad de México 04510, Mexico
7
Instituto de Medicina Genómica, Ciudad de México 14080, Mexico
*
Author to whom correspondence should be addressed.
Received: 10 November 2018 / Revised: 19 December 2018 / Accepted: 20 December 2018 / Published: 22 December 2018
Abstract
The standard treatment for glioblastoma multiforme (GBM) is surgery followed by chemo/radiotherapy. A major limitation on patient improvement is the high resistance of tumors to drug treatment, likely responsible for their subsequent recurrence and rapid progression. Therefore, alternatives to the standard therapy are necessary. The aim of the present study was to evaluate whether mifepristone, an antihormonal agent, has a synergistic effect with temozolomide (used in standard therapy for gliomas). Whereas the mechanism of temozolomide involves damage to tumor DNA leading to apoptosis, tumor resistance is associated with DNA damage repair through the O
6
-methylguanine-DNA-methyltransferase (MGMT) enzyme. Temozolomide/mifepristone treatment, herein examined in Wistar rats after orthotopically implanting C6 glioma cells, markedly reduced proliferation. This was evidenced by a decreased level of the following parameters: a proliferation marker (Ki-67), a tumor growth marker (
18
F-fluorothymidine uptake, determined by PET/CT images), and the MGMT enzyme. Increased apoptosis was detected by the relative expression of related proteins, (e.g. Bcl-2 (B-cell lymphoma 2), Bax (bcl-2-like protein 4) and caspase-3). Thus, greater apoptosis of tumor cells caused by their diminished capacity to repair DNA probably contributed significantly to the enhanced activity of temozolomide. The results suggest that mifepristone could possibly act as a chemo-sensitizing agent for temozolomide during chemotherapy for GBM.
View Full-Text
►

▼

Figures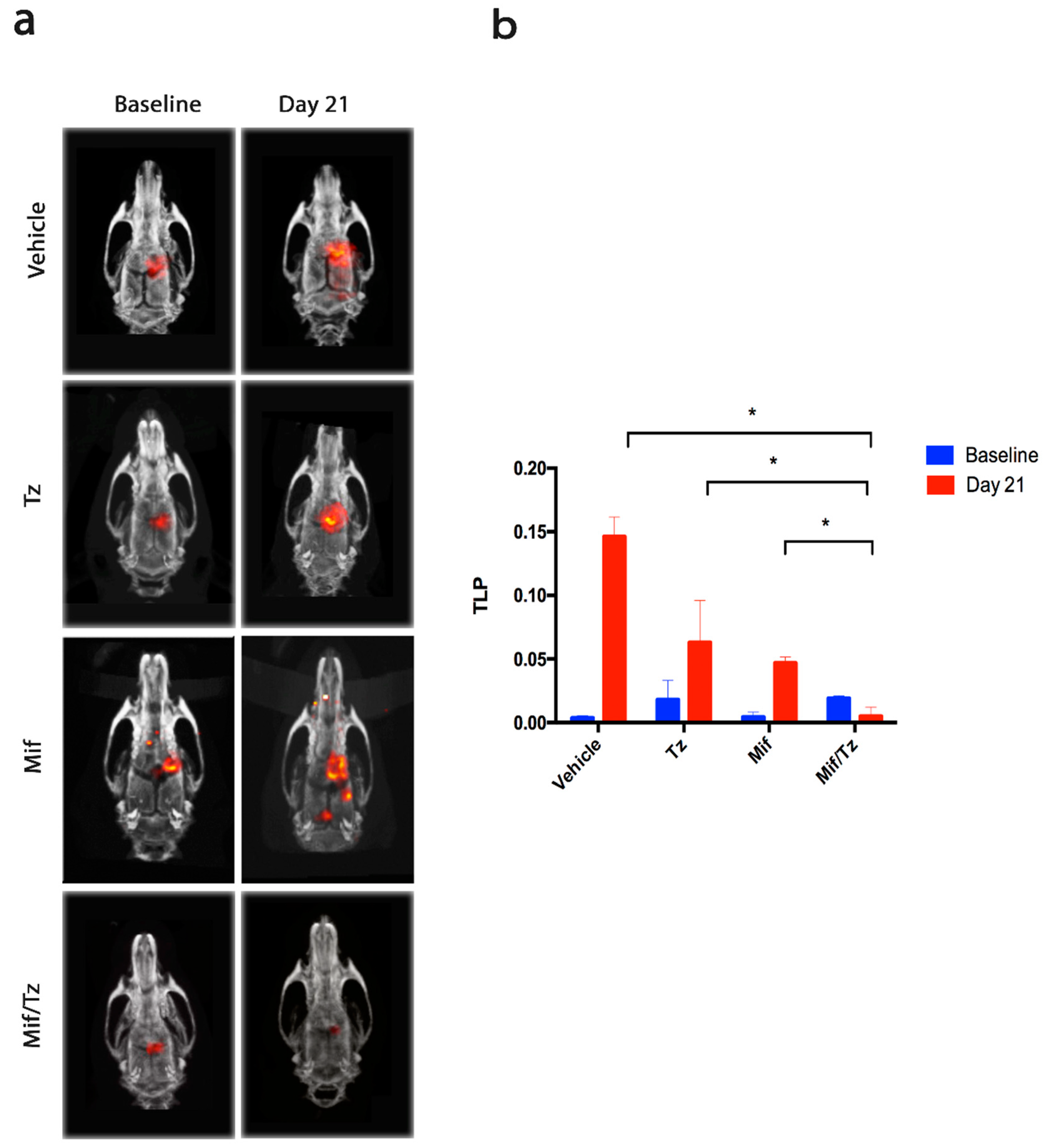 Figure 1
This is an open access article distributed under the
Creative Commons Attribution License
which permits unrestricted use, distribution, and reproduction in any medium, provided the original work is properly cited (CC BY 4.0).

Share & Cite This Article
MDPI and ACS Style
Llaguno-Munive, M.; Romero-Piña, M.; Serrano-Bello, J.; Medina, L.A.; Uribe-Uribe, N.; Salazar, A.M.; Rodríguez-Dorantes, M.; Garcia-Lopez, P. Mifepristone Overcomes Tumor Resistance to Temozolomide Associated with DNA Damage Repair and Apoptosis in an Orthotopic Model of Glioblastoma. Cancers 2019, 11, 16.
Note that from the first issue of 2016, MDPI journals use article numbers instead of page numbers. See further details here.
Related Articles
Comments
[Return to top]