PKA at a Cross-Road of Signaling Pathways Involved in the Regulation of Glioblastoma Migration and Invasion by the Neuropeptides VIP and PACAP
1
Team Récepteurs, Régulations, Cellules Tumorales (2RCT), EA3842 CAPTuR, Pôle Biologie-Santé, Université de Poitiers, F-86022 Poitiers, France
2
STIM Laboratory, CNRS ERL 7003-EA7349, Pôle Biologie-Santé, Université de Poitiers, F-86022 Poitiers, France
3
Laboratoire de Neurosciences Expérimentales et Cliniques (LNEC)–INSERM UMR-S1084, Pôle Biologie-Santé, Université de Poitiers, F-86022 Poitiers, France
*
Author to whom correspondence should be addressed.
Received: 19 December 2018 / Revised: 8 January 2019 / Accepted: 10 January 2019 / Published: 21 January 2019
Full-Text
|
PDF
[3257 KB, uploaded 21 January 2019]
|
|

Review Reports
Abstract
Glioblastoma (GBM) remains an incurable disease, mainly due to the high migration and invasion potency of GBM cells inside the brain. PI3K/Akt, Sonic Hedgehog (SHH), and PKA pathways play major regulatory roles in the progression of GBM. The vasoactive intestinal peptide (VIP) family of neuropeptides and their receptors, referred in this article as the "VIP-receptor system", has been reported to regulate proliferation, differentiation, and migration in a number of tumor cell types and more particularly in GBM cells. These neuropeptides are potent activators of the cAMP/PKA pathway. The present study aimed to investigate the cross-talks between the above cited signaling cascades. Regulation by VIP-related neuropeptides of GBM migration and invasion was evaluated ex vivo in rat brain slices explanted in culture. Effects of different combinations of VIP-related neuropeptides and of pharmacological and siRNA inhibitors of PKA, Akt, and of the SHH/GLI1 pathways were tested on GBM migration rat C6 and human U87 GBM cell lines using the wound-healing technique. Quantification of nuclear GLI1, phospho-Akt, and phospho-PTEN was assessed by western-immunoblotting. The VIP-receptor system agonists VIP and PACAP-38 significantly reduced C6 cells invasion in the rat brain parenchyma ex vivo, and C6 and U87 migration in vitro. A VIP-receptor system antagonist, VIP
10-28
increased C6 cell invasion in the rat brain parenchyma ex vivo, and C6 and migration in vitro. These effects on cell migration were abolished by selective inhibitors of the PI3K/Akt and of the SHH pathways. Furthermore, VIP and PACAP-38 reduced the expression of nuclear GLI1 while VIP
10-28
increased this expression. Selective inhibitors of Akt and PKA abolished VIP, PACAP-38, and VIP
10-28
effects on nuclear GLI1 expression in C6 cells. PACAP-38 induced a time-dependent inhibition of phospho-Akt expression and an increased phosphorylation of PTEN in C6 cells. All together, these data indicate that triggering the VIP-receptor system reduces migration and invasion in GBM cells through a PKA-dependent blockade of the PI3K/Akt and of the SHH/GLI1 pathways. Therefore, the VIP-receptor system displays anti-oncogenic properties in GBM cells and PKA is a central core in this process.
View Full-Text
►

▼

Figures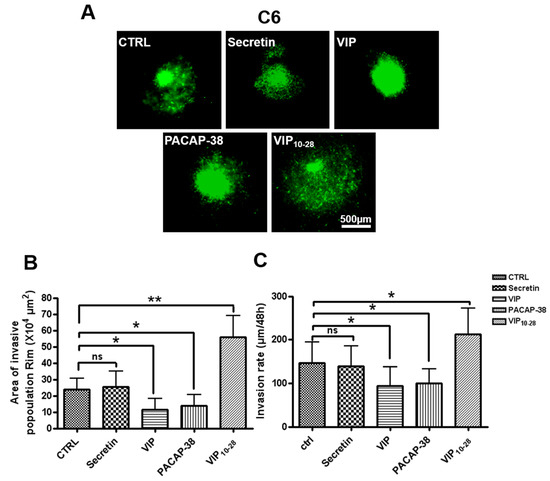 Figure 1
This is an open access article distributed under the
Creative Commons Attribution License
which permits unrestricted use, distribution, and reproduction in any medium, provided the original work is properly cited (CC BY 4.0).

Share & Cite This Article
MDPI and ACS Style
Bensalma, S.; Turpault, S.; Balandre, A.-C.; De Boisvilliers, M.; Gaillard, A.; Chadéneau, C.; Muller, J.-M. PKA at a Cross-Road of Signaling Pathways Involved in the Regulation of Glioblastoma Migration and Invasion by the Neuropeptides VIP and PACAP. Cancers 2019, 11, 123.
Note that from the first issue of 2016, MDPI journals use article numbers instead of page numbers. See further details here.
Related Articles
Comments
[Return to top]