Increased Mortality in
SDHB

but Not in

SDHD

Pathogenic Variant Carriers

1

Department of Otolaryngology/Head and Neck Surgery, Amsterdam UMC, Vrije Universiteit Amsterdam, De Boelelaan 1117, 1081 HZ Amsterdam, The Netherlands

2

Department of Endocrinology and Metabolic Diseases, Leiden University Medical Center, 2333 ZA Leiden, The Netherlands

3

Departments of Epidemiology, Leiden University Medical Center, 2333 ZA Leiden, The Netherlands

4

Department of Endocrinology, University Medical Center Groningen, University of Groningen, Hanzeplein 1, 9713 GZ Groningen, The Netherlands

5

Division of Endocrinology, Department of Internal Medicine, Radboud University Medical Center, Geert Grooteplein Zuid 10, 6525 GA Nijmegen, The Netherlands

6

Department of Otolaryngology/Head and Neck Surgery, Radboud University Medical Center, Geert Grooteplein Zuid 10, 6525 GA Nijmegen, The Netherlands

7

Department of Endocrinology and Metabolism, Amsterdam UMC, University of Amsterdam, Meibergdreef 9, 1105 AZ Amsterdam, The Netherlands

8

Department of Endocrinology, University Medical Centre Utrecht, Heidelberglaan 100, 3584 CX Utrecht, The Netherlands

9

Department of Endocrinology, Amsterdam UMC, Vrije Universiteit Amsterdam, De Boelelaan 1117, 1081 HZ Amsterdam, The Netherlands

10

Department of Clinical Genetics, Erasmus MC, University Medical Center Rotterdam, Doctor Molewaterplein 40, 3015 GD Rotterdam, The Netherlands

11

Department of Clinical Genetics, Leiden University Medical Center, De Boelelaan 1117, 1081 HZ Leiden, The Netherlands

12

Department of Otolaryngology/Head and Neck Surgery, Leiden University Medical Center, Albinusdreef 2, 2333 ZA Leiden, The Netherlands

*

Author to whom correspondence should be addressed.

Received: 17 December 2018 / Revised: 11 January 2019 / Accepted: 13 January 2019 / Published: 17 January 2019

Full-Text

|

PDF

[388 KB, uploaded 17 January 2019]

|

|

Review Reports
Abstract
Germline mutations in succinate dehydrogenase subunit B and D (
SDHB
and
SDHD
) are predisposed to hereditary paraganglioma (PGL) and pheochromocytoma (PHEO). The phenotype of pathogenic variants varies according to the causative gene. In this retrospective study, we estimate the mortality of a nationwide cohort of
SDHB
variant carriers and that of a large cohort of
SDHD
variant carriers and compare it to the mortality of a matched cohort of the general Dutch population. A total of 192
SDHB
variant carriers and 232
SDHD
variant carriers were included in this study. The Standard Mortality Ratio (SMR) for
SDHB
mutation carriers was 1.89, increasing to 2.88 in carriers affected by PGL. For
SDHD
variant carriers the SMR was 0.93 and 1.06 in affected carriers. Compared to the general population, mortality seems to be increased in
SDHB
variant carriers, especially in those affected by PGL. In
SDHD
variant carriers, the mortality is comparable to that of the general Dutch population, even if they are affected by PGL. This insight emphasizes the significance of DNA-testing in all PGL and PHEO patients, since different clinical risks may warrant gene-specific management strategies.
View Full-Text
►

▼

Figures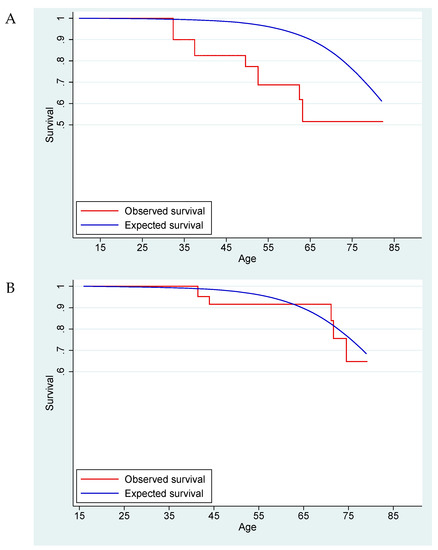 Figure 1
This is an open access article distributed under the
Creative Commons Attribution License
which permits unrestricted use, distribution, and reproduction in any medium, provided the original work is properly cited (CC BY 4.0).

Share & Cite This Article
MDPI and ACS Style
Rijken, J.A.; van Hulsteijn, L.T.; Dekkers, O.M.; Niemeijer, N.D.; Leemans, C.R.; Eijkelenkamp, K.; van der Horst-Schrivers, A.N.; Kerstens, M.N.; van Berkel, A.; Timmers, H.J.; Kunst, H.P.; Bisschop, P.H.; Dreijerink, K.M.; van Dooren, M.F.; Hes, F.J.; Jansen, J.C.; Corssmit, E.P.; Hensen, E.F. Increased Mortality in SDHB but Not in SDHD Pathogenic Variant Carriers. Cancers 2019, 11, 103.
Note that from the first issue of 2016, MDPI journals use article numbers instead of page numbers. See further details here.
Related Articles
Comments
[Return to top]