Open Access This article is
freely available
re-usable
Review
Oxidative Phosphorylation: A Target for Novel Therapeutic Strategies Against Ovarian Cancer
1
Indian Institute of Science Education and Research, Pune 411008, India
2
Department of Obstetrics and Gynecology, University of Wisconsin-Madison, Madison, WI 54911, USA
*
Author to whom correspondence should be addressed.
Received: 25 July 2018 / Accepted: 17 September 2018 / Published: 18 September 2018
Abstract
:
Aerobic glycolysis is an important metabolic adaptation of cancer cells. There is growing evidence that oxidative phosphorylation is also an active metabolic pathway in many tumors, including in high grade serous ovarian cancer. Metastasized ovarian tumors use fatty acids for their energy needs. There is also evidence of ovarian cancer stem cells privileging oxidative phosphorylation (OXPHOS) for their metabolic needs. Metformin and thiazolidinediones such as rosiglitazone restrict tumor growth by inhibiting specific steps in the mitochondrial electron transport chain. These observations suggest that strategies to interfere with oxidative phosphorylation should be considered for the treatment of ovarian tumors. Here, we review the literature that supports this hypothesis and describe potential agents and critical control points in the oxidative phosphorylation pathway that can be targeted using small molecule agents. In this review, we also discuss potential barriers that can reduce the efficacy of the inhibitors of oxidative phosphorylation.
Keywords:
high grade serous ovarian cancer; metabolism; mitochondria; oxidative phosphorylation; oxidative stress; biguanides; atovaquone; plumbagin; thiazolidinediones; ubiquinone; Nrf-2
1. Introduction
Metabolic adaptations allow tumors to maintain a highly proliferative state. Evidence in support of such adaptations was obtained nearly a century ago by Otto Warburg, and Carl and Gert Cori and their colleagues when they demonstrated an increased uptake of glucose by tumors as compared to normal tissues [
1
,
2
]. Warburg further demonstrated that even when sufficient oxygen was available, tumors used glycolysis to metabolize glucose to lactic acid [
3
,
4
]. In this respect, glucose metabolism in tumor cells resembles that occurring under anaerobic conditions. However, because glucose was being metabolized to lactate in the presence of oxygen, Warburg coined the term "aerobic glycolysis" to accurately describe this metabolic process in tumors [
3
]. Although glucose breakdown through oxidative phosphorylation (OXPHOS) yields maximum number of ATP, curtailing the metabolism to glycolysis provides the necessary biomolecule precursors needed by the tumors to maintain a high level of proliferation [
5
,
6
,
7
,
8
]. Several key enzymes in the glycolytic pathway and tricarboxylic acid cycle, (pyruvate kinase M2, pyruvate dehydrogenase kinase, isocitrate dehydrogenase, succinate dehydrogenase, lactate dehydrogenase and others (representative articles include [
9
,
10
,
11
,
12
,
13
,
14
,
15
,
16
,
17
]) are targets for anti-cancer drugs.
A rapidly growing body of evidence is demonstrating that an adaptation to aerobic glycolysis does not entail a complete shutdown of oxidative phosphorylation (OXPHOS) in tumors. Active electron transport occurs in cancer cells that trigger tumor recurrence and in cancer stem cells [
18
,
19
,
20
]. Here, we review evidence supporting the importance of OXPHOS in high grade serous ovarian cancer (HGSOC), discuss small molecule inhibitors of OXPHOS, their mechanism of action, and potential barriers to the use of such agents for the treatment of HGSOC.
2. Oxphos As Target for Hgsoc Therapy
3. OXPHOS Provides Multiple Targets for Drug Development
High energy electrons from NADH and FADH
2
are harvested in OXPHOS and transferred to molecular oxygen. Four multiprotein complexes located in the inner membrane of the mitochondria (Complexes I-IV) are required for electron transport (
Figure 1
). Electrons from NADH and FADH
2
are extracted in complex I and complex II, respectively. Electrons from complex I and II are delivered to complex III via the electron carrier, ubiquinone (coenzyme 10, CoQ10). The quinone head group of CoQ10 participates in two electron redox reactions. Addition of one electron to CoQ10 yields semiquinone and further reduction of this intermediate leads to formation of ubiquinol. The electron transfer from NADH/FADH
2
to ubiquinone occurs at the ubiquinone and ubiquinol binding sites, Q
0
and Q
i,
in the mitochondrial complexes I-III. Electron transport from complex III to complex IV is aided by cytochrome C (Cyt C). In complex IV, the electrons are delivered to molecular oxygen to form water.
The transfer of electrons is coupled with pumping of protons from the matrix to the intermembrane of the mitochondria. This transfer of protons leads to the maintenance of a proton gradient (ΔΨpion). The proton efflux from the matrix helps maintain a negative charge in the matrix and contributes to an electrical potential gradient (ΔΨm). The electromotive force generated through proton transport provides the energy necessary for the fifth mitochondrial complex, the ATP synthase, to convert ADP to ATP.
Complex chemical reactions and biochemical control points are required to regulate OXPHOS. From the standpoint of cancer drug discovery, this situation provides opportunities for the development of novel therapeutic strategies. Agents that interfere with electron transport, maintenance of the proton gradient (ΔΨ
pion
and ΔΨ
m
) and transfer of electrons to oxygen and ATP synthesis can be developed as cancer therapeutics. While small molecules are likely the preferred agents to target OXPHOS, efforts are also underway to develop peptides that can specifically target this mitochondrial metabolic pathway (reviewed in Reference [
72
]). In the subsequent sections, we will discuss small molecule agents that interfere with OXPHOS.
4. OXPHOS Inhibitors
4.1. Complex I Inhibiting Biguanides
4.2. Oxidative Stress Inducers
4.3. Superoxide Anion (O2−)
The primary source of superoxide anions is the electron transport chain in the mitochondria [
88
,
89
]. Leakage of electrons travelling through the multiple complexes in the electron transport chain results in one-electron reduction of oxygen to produce the superoxide anions. The second major producer of the superoxide anion are the NADPH oxidases (NOXs) which are transmembrane enzymes present at the different membranes in the cell (
Figure 2
) [
90
]. Superoxide anions are restricted in the cellular damage they can cause because they typically only react with peptide epitopes located near the iron sulfur complexes and hence do not cause indiscriminate cellular damage [
91
].
4.4. Hydrogen Peroxide (H2O2)
Reduction of the superoxide anions by superoxide dismutases (SODs) yields hydrogen peroxide (H
2
O
2
). H
2
O
2
, existing at nanomolar concentration in the cell, is the main ROS signaling molecule of the cell. It functions by oxidizing the thiolate anion (Cys-S
−
) of a cysteine to its sulfenic form (Cys-SO
−
). Oxidation of the cysteine thiol affects the formation of Inter- and Intramolecular disulfide bonds and has serious consequences on the biological properties of proteins [
92
]. This oxidation is reversed by the enzymatic action of thioredoxin (TRX) and glutaredoxin (GRX), which themselves are reduced back by thioredoxin reductase (TR). These set of enzymes essentially constitute the main group of molecules executing the redox signaling in the cell [
93
]. At abnormally high concentrations of H
2
O
2
(as those observed during oxidative stress), the sulfenic form (Cys-SO
−
) is irreversibly oxidized to higher oxidized states of sulfinic (Cys-SO
2
−
) and sulfonic (Cys-SO
3
−
), which cannot be repaired through redox control and hence can cause significant cellular damage.
4.5. Hydroxyl Radical (OH∙)
The hydroxyl radical (OH
∙
) is the most reactive of the three ROS molecules described in this section. H
2
O
2
reacts with metal cations (Fe
2+
, Cu
+
) present in the cytosol in a reaction called Fenton reaction, to produce OH
∙
. Additionally, nitric oxide synthases (NOS) also produce OH
∙
along with NO
2
∙
under limiting concentration of cofactors and co-substrates. OH
∙
reacts indiscriminately with various substrates such as lipids, proteins and DNA and leads to genomic instability [
94
]. Presence of OH
∙
is abnormal and therefore, an indicator of high oxidative stress in the cell.
Oxidative stress induces pleiotropic effects in the cells. These include, but are not restricted to, activation of p53, inhibition of NFκB (Nuclear Factor kappa-B), activation of protein kinases and other signaling molecules, and decrease in the expression of survivin. Molecules such as plumbagin that increase intracellular oxygen radicals, are often thought to mediate pleiotropic effects that culminate in cancer cell death. However, it is important to consider that such molecules may also be specific in their ability to compete with ubiquinone and inhibit electron transport in the mitochondria and can therefore serve as important OXPHOS-targeting agents.
5. Barriers to Using OXPHOS Inhibitors for HGSOC Therapy
5.1. Potential Toxicity of OXPHOS Inhibitors
Our studies with plumbagin clearly show that inhibition of electron transport results in a rapid increase in harmful oxygen radicals that cause significant cellular damage [
87
]. With OXPHOS serving as a major mechanism for energy generation, there is significant risk that inhibitors of this pathway may damage healthy tissues. Toxicity of the OXPHOS inhibitors is therefore a major concern that may curtail their use for the treatment of HGSOC and other tumors. It should be noted, however, that plumbagin did not produce major toxicity in pre-clinical studies in mouse models [
95
,
96
]. Additionally, metformin is generally a safe drug with minimum toxicity. While proguanil is effective inhibitor of the OXPHOS pathway in the malarial and other parasites, its specific activity as OXPHOS inhibitor is reduced in human cells [
76
,
77
]. This experience with atovaquone and proguanil suggests that rational drug development approaches can be applied to develop inhibitors that have higher potency against human OXPHOS complexes. Given the higher susceptibility of cancer cells to oxidative stress, well-designed and more potent inhibitors can potentially be used at lower concentrations to produce optimum activity in tumors while reducing toxicity in healthy tissues. Additionally, the OXPHOS inhibitors can also be functionalized with folate and other tumor targeting moieties to facilitate selective delivery of these agents to the tumor, thereby achieving higher efficacy with lower toxicity.
5.2. Anti-Oxidant Mechanisms and Chemoresistance
There are elaborate antioxidant mechanisms to maintain steady state levels of oxygen radicals in all cells. Superoxide dismutase, catalase, peroxiredoxins, glutathione, glutathione reductase, thioredoxins and others form the network of anti-oxidant mechanisms that control oxidative stress. This network is controlled by a master regulatory transcription factor, Nrf-2. Cancer cells respond to inhibition of complex III by atovaquone, (unpublished observation) and plumbagin [
87
] by increasing the expression of Nrf-2. Therefore, the oxidative stress triggered by these agents is relatively short lived and therefore attenuates their cytolytic activity. The rise in Nrf-2 should therefore be considered as a chemoresistance mechanism to oxidative stress-inducing OXPHOS inhibitors. Combining these OXPHOS inhibitors with Nrf-2 modulators such as brusatol, results in a synergistic increase in inhibition of cancer cell proliferation [
87
]. Agents that enhance Nrf-2 activity are being developed to control oxidative damage in neurologic diseases. Similar efforts are needed to develop Nrf-2 inhibitors to enhance oxidative stress in HGSOC and other tumors.
Use of Nrf-2 inhibitors for cancer treatment also raises the possibility that such approaches may inhibit the natural protection against oxygen radicals in healthy tissues. Rational drug design, targeted delivery and specific drug formulations will be required to maximize the effect of Nrf-2 inhibitors in cancer cells while attenuating the side-effects of such drugs in healthy tissues.
5.3. Mitochondrial Adaptations to Oxidative Stress
The extensive use of atovaquone has led to the realization that some malarial parasites have developed resistance to this drug through mutations in cytochrome B (Cyt B), an essential component of complex III [
97
,
98
,
99
,
100
]. Cyt B is encoded by the mitochondrial genome. The mitochondrial population with mutated Cyt B is likely to be exposed to minimum oxidative damage in response to atovaquone and will therefore show enrichment through successive mitochondrial replications. A similar situation can also be envisioned in cancer where oxidative stress-inducing OXPHOS inhibitors may result in an increase in the drug-resistant mitochondrial pool. Studies are needed to determine the contributions of such mitochondrial adaptations to chemoresistance against OXPHOS inhibitors.
6. Conclusions
Inhibition of glucose metabolism will result in significantly curtailing the ability of cancer cells to proliferate and modulate the tumor microenvironment through the release of lactic acid and other intermediates. OXPHOS pathway in tumors, cancer stem cells and the stromal and immune cells in the tumor microenvironment is recognized as a target for development of novel anti-cancer therapies. The multimeric complexes of the OXPHOS pathway are targets for small molecule inhibitors that can inhibit metabolism as well as induce oxidative damage and cancer cell death. OXPHOS inhibitors can be paired with immunologic and other therapies. While the development of novel OXPHOS inhibitors will be necessary, it will be important that these agents are specifically targeted to the cancer or the tumor microenvironment in order to reduce toxicity in healthy tissues. Finally, the use of OXPHOS inhibitors may result in Nrf-2 activation and mitochondrial adaptations that may pose as pathways that are typically not considered to contribute towards chemoresistance. Studies on atovaquone, proguanil, metformin have provided the foundation that will support the development of additional and more potent OXPHOS inhibitors for the treatment of HGSOC and other tumors.
Author Contributions
This manuscript was conceptualized by A.P.N. and M.S.P. who also compiled the majority of the text. A.P.N. and A.K. collected the data necessary to interpret the literature and propose the central concept of this review. L.B. participated in discussions and helped write the text and provided her clinical expertise.
Funding
This research was funded by the Department of Obstetrics and Gynecology and funds from the Wisconsin Ovarian Cancer Alliance (WOCA) to M.S.P. and L.B.
Acknowledgments
Support from the University of Wisconsin Carbone Cancer Center Support Grant P30 CA014520 that supports the Flow Lab and the Small Molecule Screening Facility is acknowledged.
Conflicts of Interest
Authors declare no conflict of interest.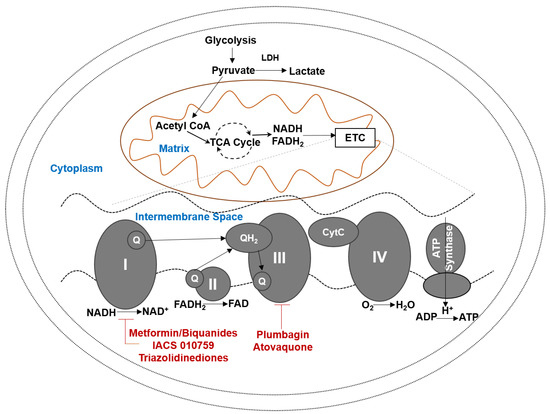 Figure 1. Oxidative phosphorylation. Aerobic glycolysis metabolizes glucose to lactic acid. Oxidative phosphorylation (OXPHOS) occurs in mitochondria and leads to efficient generation of ATP. OXPHOS is an active pathway in tumors and cancer stem cells. Several inhibitors or the various subunits of the mitochondrial electron transport complexes can serve as candidates for tumor therapy. Prominent drug candidates for HGSOC are shown. CytC, Cytochrome C, ETC, Electron Transport Chain, LDH, Lactate Dehydrogenase, Q, unbiquinone, QH2, Ubiquinol, TCA, Tricarboxylic Acid Cycle, FADH2, Flavine Adenine Dinucleotide, NADH, Nicotinamide Adenine Dinucleotide.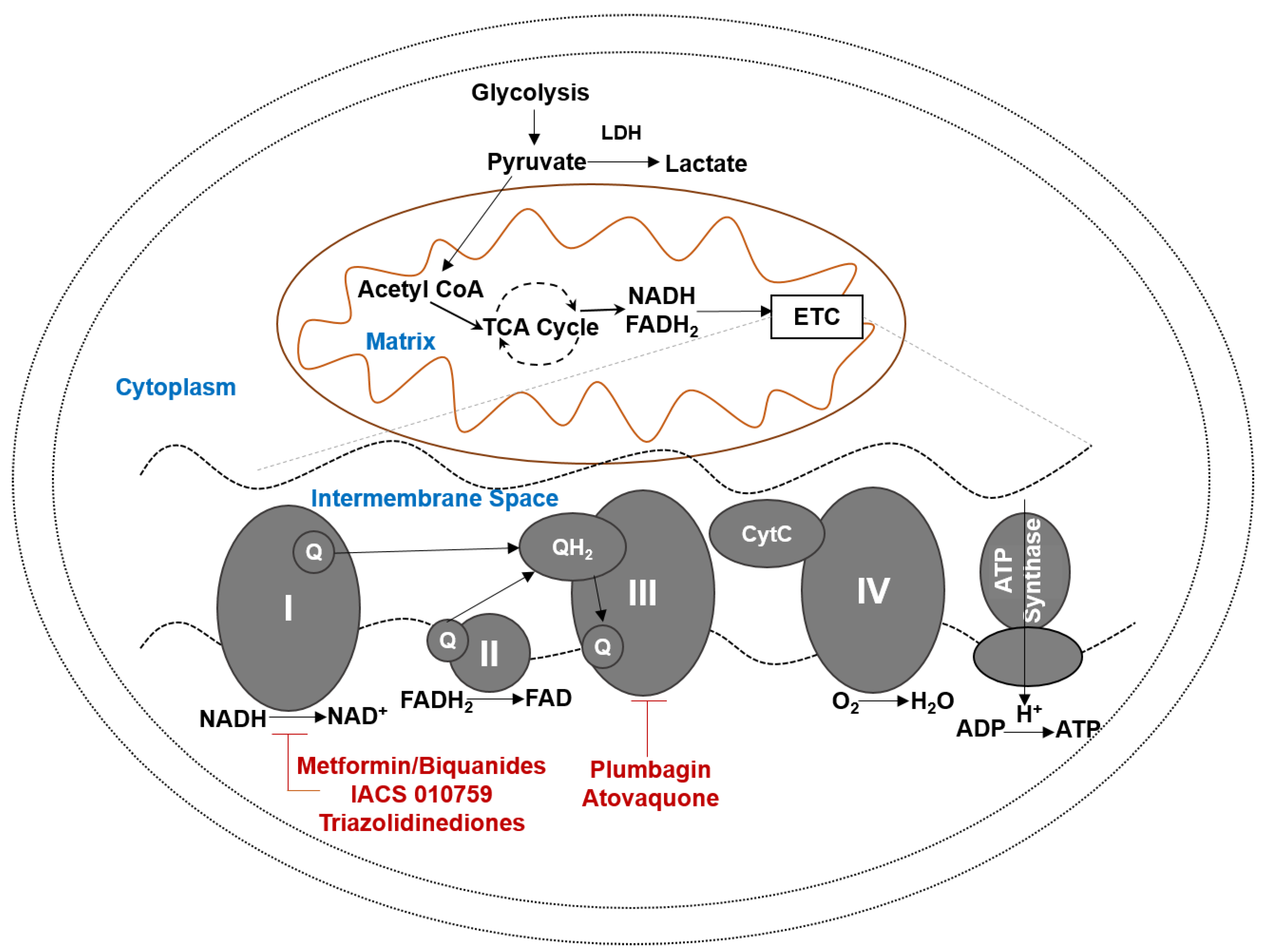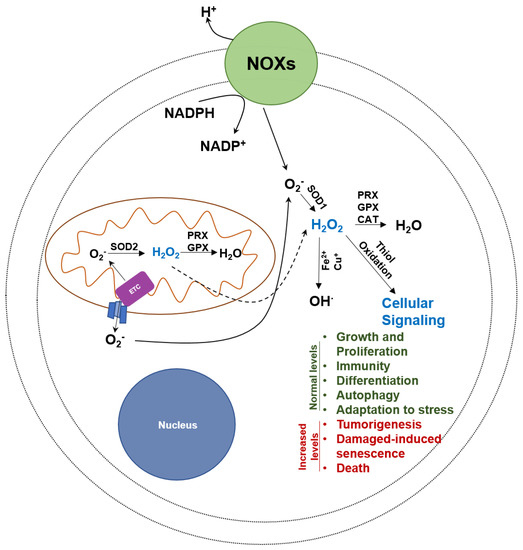 Figure 2. Uncontrolled oxidative stress is cytotoxic to cancer cells. OXPHOS is a major producer of oxygen radicals. While oxygen radicals have positive benefits in cells, a rapid and uncontrolled rise in hydroxyl radicals can lead to cancer cell death. PRX, peroxiredoxin, GPX, glutathione peroxidase, CAT, catalase, SOD, superoxide dismutase, and NOX, NADPH oxidase.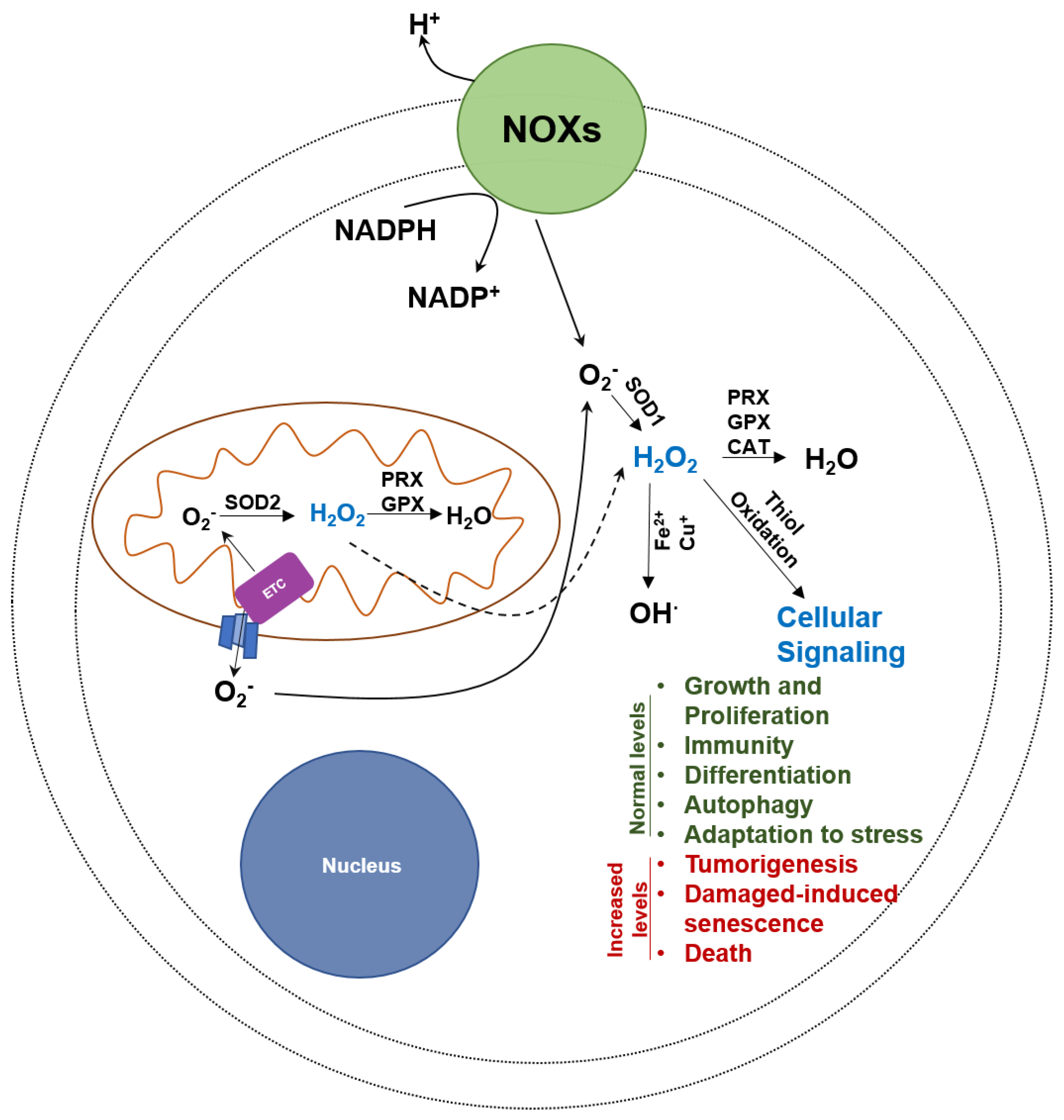 © 2018 by the authors. Licensee MDPI, Basel, Switzerland. This article is an open access article distributed under the terms and conditions of the Creative Commons Attribution (CC BY) license (http://creativecommons.org/licenses/by/4.0/).