Combination of EGFR Inhibitor Lapatinib and MET Inhibitor Foretinib Inhibits Migration of Triple Negative Breast Cancer Cell Lines
1
Department of Cell Pathology, Faculty of Biotechnology, University of Wroclaw, Joliot-Curie 14a, 50-383 Wroclaw, Poland
2
Department of Biochemistry, Faculty of Medicine and Health Sciences, Ghent University, Albert Baertsoenkaai 3, B-9000 Ghent, Belgium
*
Author to whom correspondence should be addressed.
Received: 24 July 2018 / Revised: 10 September 2018 / Accepted: 14 September 2018 / Published: 17 September 2018
Abstract
Triple-negative breast cancer (TNBC) is the most challenging subtype to treat due to the lack of estrogen receptor, progesterone receptor, and HER2 expression, which excludes the usage of directed targeted therapy against them. Promising therapeutic targets are the hepatocyte growth factor receptor (MET) and epidermal growth factor receptor (EGFR), which expression is frequently elevated in TNBC. Inhibitors of these receptors used as monotherapy are often ineffective. Due to that, we studied the efficacy of combined therapy targeting MET and EGFR simultaneously. Two TNBC cell lines were treated with lapatinib (a dual EGFR and HER2 inhibitor), foretinib (a MET inhibitor), or a combination of the two. After the inhibitors treatment, we verified the cell viability (XTT assay), distribution of the cell cycle phases, the activation of signaling pathways (Western blotting), distribution of invadopodia, fluorescent gelatin digestion (immunofluorescence), and the invasion capacity of cells. A combination of foretinib and lapatinib effectively reduced the viability of examined cells, led to G2/M arrest and reduction of pAKT. There was also a decreasein number of invadopodia formed by cells, their ability to digest gelatin and reduction of cells migration/invasion capacity. Therapy targeting of both EGFR and MET receptors was much more effective against tested cells than monotherapy. We selected a combination of drugs that could be successfully used against this breast cancer subtype.
View Full-Text
►

▼

Figures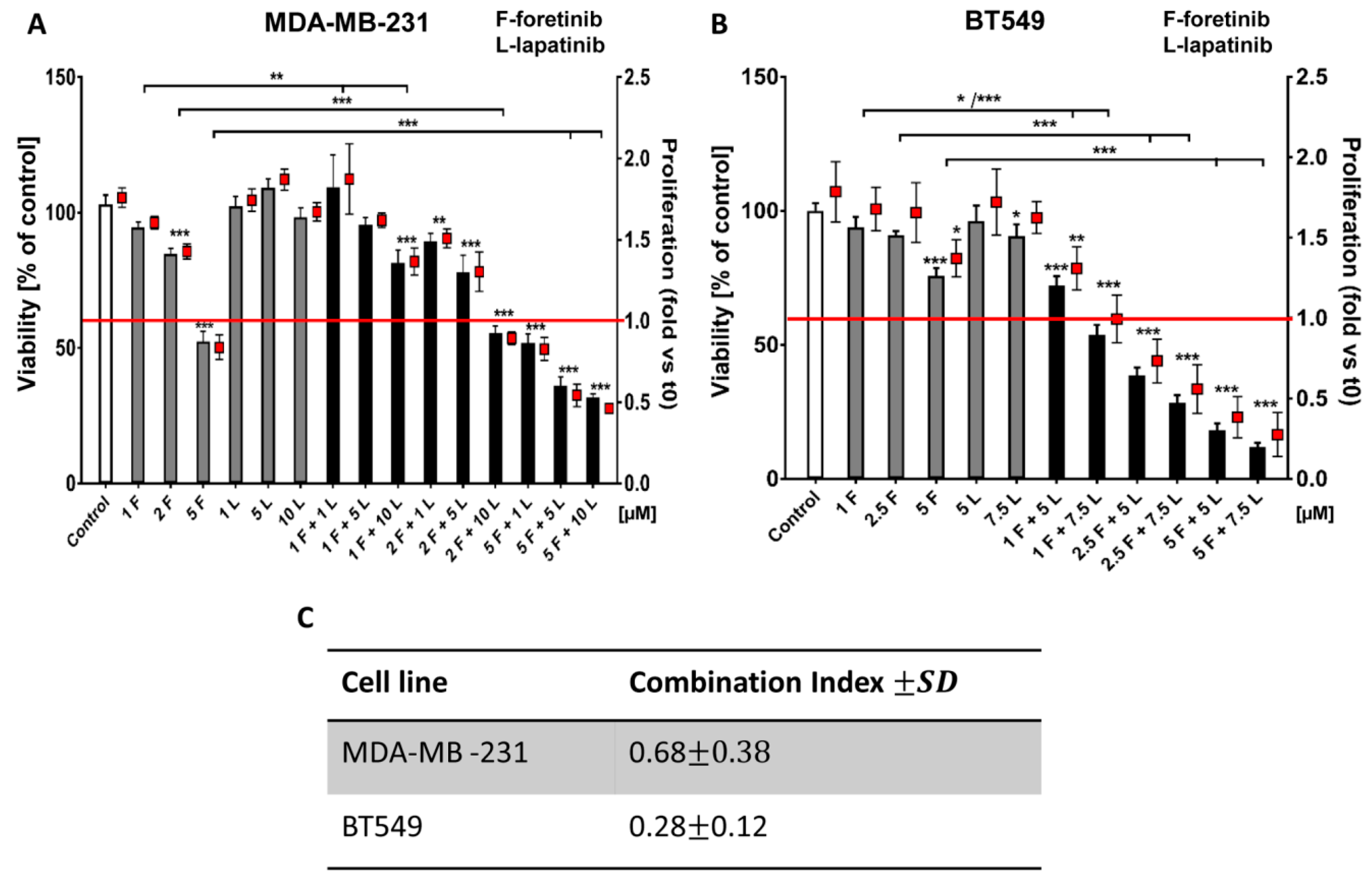 Figure 1
This is an open access article distributed under the
Creative Commons Attribution License
which permits unrestricted use, distribution, and reproduction in any medium, provided the original work is properly cited (CC BY 4.0).

Share & Cite This Article
MDPI and ACS Style
Simiczyjew, A.; Dratkiewicz, E.; Van Troys, M.; Ampe, C.; Styczeń, I.; Nowak, D. Combination of EGFR Inhibitor Lapatinib and MET Inhibitor Foretinib Inhibits Migration of Triple Negative Breast Cancer Cell Lines. Cancers 2018, 10, 335.
Note that from the first issue of 2016, MDPI journals use article numbers instead of page numbers. See further details here.
Related Articles
Comments
[Return to top]