Open Access This article is
freely available
re-usable
Review
Regulation of Ovarian Cancer Prognosis by Immune Cells in the Tumor Microenvironment
Cardinal Bernardin Cancer Center, Department of Medicine, Loyola University Chicago, Building 112, 2160 South First Avenue, Maywood, IL 60153, USA
*
Author to whom correspondence should be addressed.
Received: 8 August 2018 / Accepted: 29 August 2018 / Published: 1 September 2018
Abstract
:
It is estimated that in the United States in 2018 there will be 22,240 new cases of ovarian cancer and 14,070 deaths due to this malignancy. The most common subgroup of this disease is high-grade serous ovarian cancer (HGSOC), which is known for its aggressiveness, high recurrence rate, metastasis to other sites, and the development of resistance to conventional therapy. It is important to understand the ovarian cancer tumor microenvironment (TME) from the viewpoint of the function of pre-existing immune cells, as immunocompetent cells are crucial to mounting robust antitumor responses to prevent visible tumor lesions, disease progression, or recurrence. Networks consisting of innate and adaptive immune cells, metabolic pathways, intracellular signaling molecules, and a vast array of soluble factors, shape the pathogenic nature of the TME and are useful prognostic indicators of responses to conventional therapy and immunotherapy, and subsequent survival rates. This review highlights key immune cells and soluble molecules in the TME of ovarian cancer, which are important in the development of effective antitumor immunity, as well as those that impair effector T cell activity. A more insightful knowledge of the HGSOC TME will reveal potential immune biomarkers to aid in the early detection of this disease, as well as biomarkers that may be targeted to advance the design of novel therapies that induce potent antitumor immunity and survival benefit.
Keywords:
tumor microenvironment; immune inhibition; tumor-infiltrating lymphocytes; tumor-associated macrophages; dendritic cells; antitumor immunity; immunotherapy
1. Introduction
Ovarian cancer may be divided into six subgroups, namely, serous, mucinous, endometroid, transitional-cell, clear-cell, and squamous carcinoma [
1
]. The most common group is high-grade serous ovarian carcinoma (HGSOC), a disease that escapes detection and diagnosis until after it is disseminated to areas of the abdomen and beyond. At this advanced stage, survival is dismal, with only about twenty percent of patients diagnosed at International Federation of Gynecology and Obstetrics (FIGO) stage III or IV disease fortunate enough to reach a five-year survival time point, since most of these individuals become resistant to conventional therapy and succumb to disease. This disease grows aggressively, often recurs at the primary or metastatic sites, and is the most deadly of gynecologic cancers [
2
,
3
].
HGSOC is believed to arise from the ovarian-surface epithelium and/or the fallopian epithelium [
4
]. Most patients (96%) with this disease have TP53 mutations, with BRCA1/2 (22% patients) mutations also common [
5
,
6
]. An accompanying feature of HGSOC is an accumulation of ascites fluid in the peritoneal cavity, which allows the adhesion of cancer cells to the omentum (connective and fatty tissue covering the ventral surface of the intestines) and serous membranes lining the peritoneal organs [
7
], thereby increasing the potential of cancer lesions at these sites soon after the primary disease is established [
8
,
9
].
The tumor microenvironment (TME) in HGSOC is comprised of an intricate system of immune cells, including subsets of T cells, dendritic cells, macrophages, and NK cells, as well as soluble factors elaborated by myriads of existing cell types, both spontaneously and as a result of their networking interactions [
10
,
11
]. Studies on the ovarian TME in HGSOC have been prompted by the need to understand the disease biology, with the goal of targeting cancer-promoting immune mechanisms, and providing effective therapies for the management and ultimately a cure for HGSOC. The full significance of the ovarian TME in determining disease progression, recurrence, or regression is yet to be revealed. This review focuses on the dynamic and diverse immune components in the ovarian TME and how they mediate the balance between protumor and antitumor immunity, and patient survival.
2. Immune Regulation by T Cells in the TME
3. Multifaceted Nature of Macrophages in the TME
4. Dendritic Cell Function in the Ovarian TME
5. Tumor-Associated Neutrophils
7. Other Components of the Ovarian TME
7.1. TME Architecture
An underlying factor in metastasis involves the attachment of ovarian-cancer cells in ascites to areas of the abdomen. The mesothelium, the squamous epithelium that covers organs of the peritoneal cavity, consists of a single layer of mesothelial cells, below which is a basement membrane of collagen, fibronectin, and laminin, components of the ECM. Some studies showed that cancer cells from ascites preferentially attach to the basement membrane rather than to mesothelial cells [
147
], suggesting that this mesothelial layer may be a limited frontline defence against ovarian-cancer progression. However, it is also known that ovarian-cancer cells also directly attach to mesothelial cells via β1 integrin and CD44 [
71
,
148
,
149
,
150
]. During this process, ovarian-cancer cells upregulate mesenchymal genes such as
TWIST1
and
ZEB1
[
149
], and decrease the expression of genes such as
CDH1
, an epithelial gene for E-cadherin [
71
]. There are several other processes whereby ovarian-cancer cells may invade the mesothelial cell layer, such as by actively killing mesothelial cells. In colon-cancer cells for example, a Fas (expressed on mesothelial cell)- Fas ligand (expressed on cancer cells) mediated mechanism of killing mesothelial cells has been described [
150
].
As earlier addressed, TAMS also play a central role in altering the ECM, thereby contributing to the adhesion, invasion, and proliferation of ovarian-cancer cells. Additionally, adipocytes of the omentum contribute to a protumor TME by secreting IL-6, IL-8, CCL2, and adiponectin, which support ovarian-cancer cell metastasis [
151
].
Cancer-associated fibroblasts (CAFs) contribute to excessive deposition and alteration of the ECM, creating a barrier that blocks efficient delivery of anticancer drugs and enhancing chemoresistance [
152
]. CAFs also secrete a range of protumor molecules that create an immunosuppressive milieu in the ovarian TME, and support the proliferation, invasion, and migration of cancer cells [
153
,
154
,
155
,
156
,
157
]. In an epithelial ovarian-cancer (EOC) xenograft model, human bone-marrow mesenchymal stem cells were shown to give rise to CAFs that produced IL-6 to enhance tumor growth [
158
].
7.2. Exosomal Vesicles (EVs)
These vesicles are released by tumor cells and most other cells types of the TME [
159
,
160
]. They mediate the transfer of proteins, lipids, and nucleic acids such as DNAs, mRNAs, and miRNAs between tumor and stroma [
161
]. EVs range from 30 to 150 nm, whereas microvesicular bodies (MVBs) are 100 nm to 1 µm [
162
]. EVs carry molecules such as CD24, and epithelial cell adhesion molecule (EPCAM1), which directly regulate cancer-cell migration, proteases (MMP2, MMP9), which promote ECM degradation and cancer invasiveness [
160
,
163
,
164
], or EV-associated mRNAs, such as miR21, which may induce resistance to paclitaxel [
163
,
165
,
166
].
8. Interactive Communication in the TME
9. Conclusions and Perspectives
A better understanding of the TME in HGSOC will reveal useful diagnostic and prognostic biomarkers, and advance the development of suitable bioassays for routine clinical use for the detection and diagnosis of this malignancy. With such a heterogenous disease and multiple immune and biochemical networks, success in diagnosing this disease and predicting outcome will require multiple biomarkers, and more sensitive and precise methods of imaging to detect early lesions.
Current tools used to study the TME involve the use of genomics to investigate gene-expression signatures in the tumors of HGSOC. Verkaak and colleagues described four different gene classifications in a study of ovarian tumors as differentiated, immunoreactive, mesenchymal, and proliferative [
179
]. By IHC, the immunoreactive group had increased T lymphocytes, whereas desmoplasia associated with infiltrating stromal cells was in the mesenchymal group. Patients in the immunoreactive group had the best survival outcome. Some tumors also exhibited more than one of the 4 gene clusters. Findings were validated on an independent dataset of 879 HGSOC-expression profiles. Additional information to survival outcome and platinum resistance rates was obtained by using survival-outcome prediction models for association with BRCA1/2 mutation status, residual disease after surgery and stage of disease [
179
]. Similar gene-classification models may be useful for the selection of patients for targeted or immunotherapy, or to predict patient outcome. It is likely that patients exhibiting mesenchymal signatures may respond better to treatments such as angiogenesis inhibitors.
Additional methods to study the HGSOC TME include combinations of proteomic and other genomic data output [
180
,
181
] and a study approach addressing multiple parameters (such as gene expression, matrix proteomics, cytokine and chemokine expression, ECM parameters, and biomechanical properties) on a single biopsy sample for a better understanding of the events occurring in tumor tissue [
182
]. Other novel tools to study the ovarian TME include the use of artificial microenvironments to monitor ovarian-cancer progressiveness [
183
].
The HGSOC TME is a complex and dynamic interactive entity, which may vary between the primary disease and at the time of recurrence, and in the quest for more effective therapy design one needs to take into account pre-existing immunosuppression, as well as emerging resistance mechanisms with therapy [
184
]. Attempts to manage ovarian cancer with immunotherapy has not been as successful as for some other cancers [
174
,
185
]. We are hopeful that combining immunotherapy, such as PD-1 blockade, with other checkpoint inhibitory molecules (such as anti-CTLA-4, anti-TIM-3, anti-LAG-3), PARP inhibitors, kinase inhibitors, chemotherapeutics [
186
], dendritic-cell vaccines, CAR T cell therapy [
187
,
188
], or other treatments, will prove to be successful measures to overcome the multiple immunosuppressive mechanisms in the TME. As a cautionary measure, combination therapy will require optimizing doses and schedules of regimens, while limiting adverse effects. However, we anticipate that a combined therapy approach will be the way forward, towards providing effective therapy for improved survival, and ultimately a cure for HGSOC.
Author Contributions
M.L.D. wrote the original draft and reviewed the manuscript. P.J.S. reviewed the manuscript.
Funding
This research received no external funding.
Acknowledgments
This work was supported by the Cronk Foundation funds to M.L.D. and the Perritt Charitable Foundation funds to P.J.S. We are also grateful for additional support from the Leo and Anne Albert Charitable Trust, all of which made this work possible.
Conflicts of Interest
The authors declare no conflict of interest.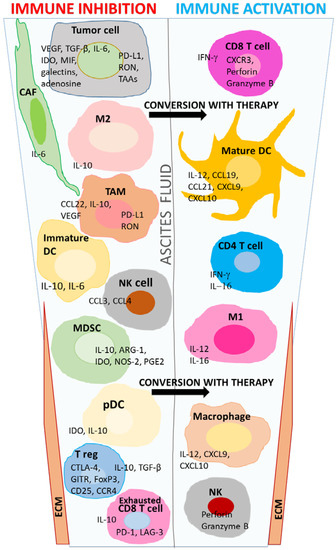 Figure 1. Schematic representation of the primary immune components in the tumor microenvironment (TME). Several cell types in the TME of high-grade serous ovarian carcinoma (HGSOC) elaborate factors that can lead to immune dysregulation and inhibition of antitumor responses. The ascites of these patients is rich in TGF-β, IL-6, IL-8, IL-10, vascular endothelial growth factor (VEGF), and CCL22 and other factors released by contributing cell types as shown in the graphic. CCL22 (the ligand for CCR4) preferentially recruits Tregs into tumors. Exhausted CD8 T cells in tumors express PD-1 and LAG-3 and secrete low quantities of IFN-γ. Several Treg subsets exist in the TME, each bearing some of the phenotypic markers, CD4, CD8, CCR4, FoxP3, CD25, GITR, or CTLA-4, and primarily release TGF-β and IL-10. Molecules such as recepteur d'origine nantais (RON) on tumor cells are associated with invasiveness, and tumor associated antigens (TAAs) such as New York Esophageal antigen-1 (NY-ESO-1), human epidermal growth factor receptor 2 (HER-2), and Wilm's tumor-1 (WT-1) are immunogenic targets. Immune-suppressive mechanisms in the TME that foster tumor initiation, progression, and recurrence may be reversed with combinations of conventional and novel therapies, designed to potentiate antitumor immune responses. Parameters consistent with disease improvement include CD8+ T cells secreting IFN-γ, perforin, and granzyme B, which facilitate the killing of tumor cells. Additionally, DC-secreted chemokines, such as CXCL9 and CXCL10, can recruit CD4+ and CD8+ immunocompetent T cells, and IL-16-a-cytokine secreted by T cells, macrophages, and dendritic cells, is a primary chemoattractant for CD4+T cells in ovarian cancer.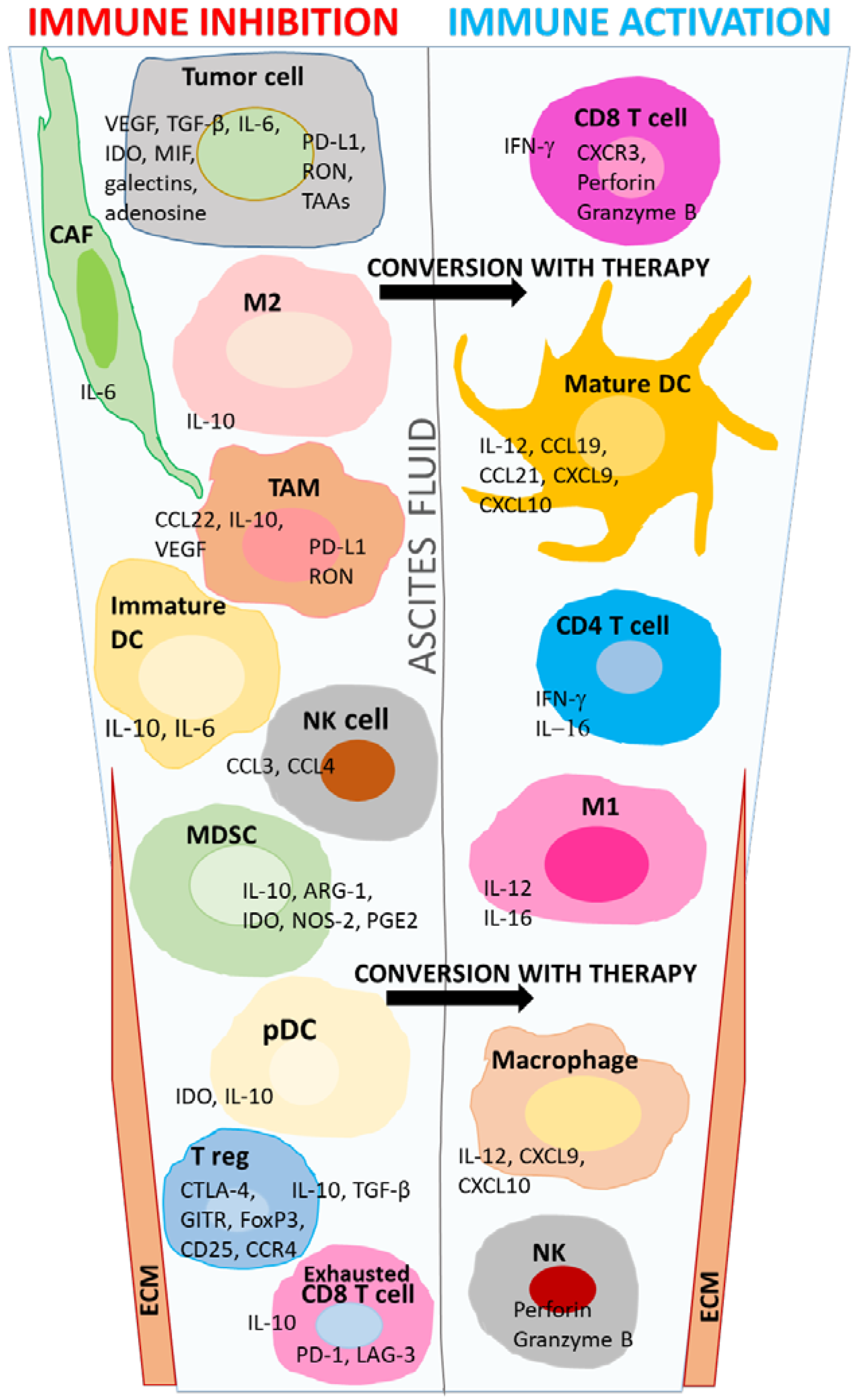 Myeloid Group a
Cell Classification
Phenotype
TAMS
(monocytes/macrophages)
Inflammatory monocyte
CD14+, HLA-DR high, CD11c+, CD64+
M1 macrophage
HLA-DR+, CD68+, CD80+, CD86+
M2 macrophage
HLA-DR+, CD68+, CD163+, CD206+, CD200R
M-MDSC
CD11b+, CD33+, CD14+, HLA-DR low
G-MDSC
CD11b+, CD33+, CD15+, CD66b+, HLA-DR low
Dendritic cells
Immature DC
CD80 low, CD86 low, CD40 low, CD14+, CXCR3+
Mature DC
C80 high, CD86 high, CD40 high, CD83+, HLA DR high, CCR7+, CD103+
a The primary identification markers of TAM subsets and of myeloid DC in the TME are shown.
| Mediators a | Cell Targets | Major Actions |
| --- | --- | --- |
| IL-10 | CTL | Inhibits activation |
| TGF-β | Treg | Induces differentiation |
| TGF-β, HGF, collagen, cathepsin and serine proteases, EGF, CSF-1 | Tumor | Increases adhesion, invasion, and EMT |
| IL-6, TNF-α, WNT, JAG | Tumor | Promotes survival, growth, stemness |
| ADM, VEGF, COX-2, MMPs, HIF-1α, TGF-β | Endothelial | Angiogenesis |
a TAMS elaborate a range of immune molecules and soluble mediators that are involved in the initiation and progression of cancer.

© 2018 by the authors. Licensee MDPI, Basel, Switzerland. This article is an open access article distributed under the terms and conditions of the Creative Commons Attribution (CC BY) license (http://creativecommons.org/licenses/by/4.0/).