HIV-1 Envelope Protein gp120 Promotes Proliferation and the Activation of Glycolysis in Glioma Cell
1
Department of Biochemistry, Universidad Central del Caribe, School of Medicine, Ave. Laurel, Santa Juanita, Bayamon, PR 00956, USA
2
Biomedical Proteomics Facility, Department of Microbiology and Immunology, Universidad Central del Caribe, School of Medicine, Ave. Laurel, Santa Juanita, Bayamon, PR 00956, USA
3
Department of Biochemistry, University of Puerto Rico, School of Medicine, San Juan, PR 00936, USA
4
Department of Physiology, Universidad Central del Caribe, School of Medicine, Ave. Laurel, Santa Juanita, Bayamon, PR 00956, USA,
[email protected]
5
Department of Physics, University of Puerto Rico, Río Piedras Campus, San Juan, PR 00931, USA
6
Department of Microbiology and Immunology, Universidad Central del Caribe, School of Medicine, Ave. Laurel, Santa Juanita, Bayamon, PR 00956, USA
7
Department of Neurologic Surgery, Mayo Clinic, 4500 San Pablo Road South, Jacksonville, FL 32224, USA
*
Author to whom correspondence should be addressed.
Received: 19 July 2018 / Revised: 28 August 2018 / Accepted: 30 August 2018 / Published: 1 September 2018
Abstract
Patients infected with human immunodeficiency virus (HIV) are more prone to developing cancers, including glioblastomas (GBMs). The median survival for HIV positive GBM patients is significantly shorter than for those who are uninfected, despite the fact that they receive the same treatments. The nature of the GBM–HIV association remains poorly understood. In this study, we analyzed the effect of the HIV envelope glycoprotein gp120 on GBM cell proliferation. Specifically, we performed cell cycle, western blot, protein synthesis and metabolomics analysis as well as ATP production and oxygen consumption assays to evaluate proliferation and metabolic pathways in primary human glioma cell line, U87, A172 cells and in the HIVgp120tg/GL261 mouse model. Glioma cells treated with gp120 (100 ng/mL for 7–10 days) showed higher proliferation rates and upregulation in the expression of enolase 2, hexokinase and glyceraldehyde-3-phosphate dehydrogenase when compared to untreated cells. Furthermore, we detected an increase in the activity of pyruvate kinase and a higher glycolytic index in gp120 treated cells. Gp120 treated GBM cells also showed heightened lipid and protein synthesis. Overall, we demonstrate that in glioma cells, the HIV envelope glycoprotein promotes proliferation and activation of glycolysis resulting in increased protein and lipid synthesis.
View Full-Text
►

▼

Figures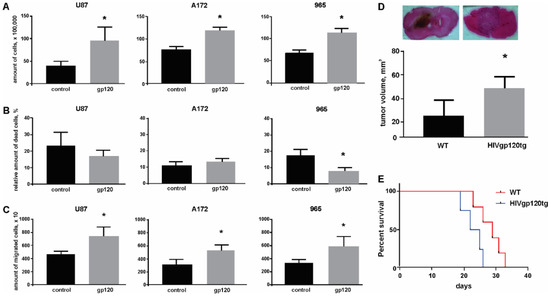 Figure 1
This is an open access article distributed under the
Creative Commons Attribution License
which permits unrestricted use, distribution, and reproduction in any medium, provided the original work is properly cited (CC BY 4.0).

Share & Cite This Article
MDPI and ACS Style
Valentín-Guillama, G.; López, S.; Kucheryavykh, Y.V.; Chorna, N.E.; Pérez, J.; Ortiz-Rivera, J.; Inyushin, M.; Makarov, V.; Valentín-Acevedo, A.; Quinones-Hinojosa, A.; Boukli, N.; Kucheryavykh, L.Y. HIV-1 Envelope Protein gp120 Promotes Proliferation and the Activation of Glycolysis in Glioma Cell. Cancers 2018, 10, 301.
Note that from the first issue of 2016, MDPI journals use article numbers instead of page numbers. See further details here.
Related Articles
Comments
[Return to top]