Cerium Oxide Nanoparticles Sensitize Pancreatic Cancer to Radiation Therapy through Oxidative Activation of the JNK Apoptotic Pathway
1
Burnett School of Biomedical Sciences University of Central Florida College of Medicine, Orlando, FL 32827, USA
2
Department of Surgery, Miller School of Medicine, University of Miami, Miami, FL 33136, USA
3
Cardiovascular Research Institute, Department of Molecular Physiology & Biophysics, Baylor College of Medicine, Houston, TX 77030, USA
4
Department of Pharmacology and Cancer Biology, Duke University School of Medicine, Durham, NC 27710, USA
5
Department of Microbiology, College of Life Sciences, Wuhan University, Wuhan, Hubei 430072, China
6
Department of Mechanical, Materials and Aerospace Engineering, Advanced Materials Processing and Analysis Center; Nanoscience and Nanotechnology Center, University of Central Florida, Orlando, FL 32816, USA
*
Author to whom correspondence should be addressed.
Received: 10 August 2018 / Revised: 30 August 2018 / Accepted: 30 August 2018 / Published: 1 September 2018
Abstract
Side effects of radiation therapy (RT) remain the most challenging issue for pancreatic cancer treatment. Cerium oxide nanoparticles (CONPs) are currently being tested in pre-clinical trials as an adjuvant to sensitize pancreatic cancer cells to RT and protect normal tissues from the harmful side effects. CONPs were not able to significantly affect RT-induced DNA damage in cancer cells, thereby ruling out sensitization through increased mitotic catastrophe. However, activation of c-Jun terminal kinase (JNK), a key driver of RT-induced apoptosis, was significantly enhanced by co-treatment with CONPs and RT in pancreatic cancer cells in vitro and human pancreatic tumors in nude mice in vivo compared to CONPs or RT treatment alone. Further, CONP-driven increase in RT-induced JNK activity was associated with a marked increase in Caspase 3/7 activation, indicative of apoptosis. We have previously shown that CONPs increase reactive oxygen species (ROS) production in cancer cells. ROS has been shown to drive the oxidation of thioredoxin 1 (TRX1) which results in the activation of apoptosis signaling kinase 1 (ASK1). The increase in ASK1 activation following the co-treatment with CONPs followed by RT suggests that the increased JNK activation is the result of increased TRX1 oxidation. The ability of CONPs to sensitize pancreatic cancer cells to RT was mitigated when the TRX1 oxidation was prevented by mutagenesis of a cysteine residue or when the JNK activation was blocked by an inhibitor. Taken together, these data demonstrate an important mechanism for CONPs in specifically killing cancer cells and provide novel insights into the utilization of CONPs as a radiosensitizer and therapeutic agent for pancreatic cancer.
View Full-Text
►

▼

Figures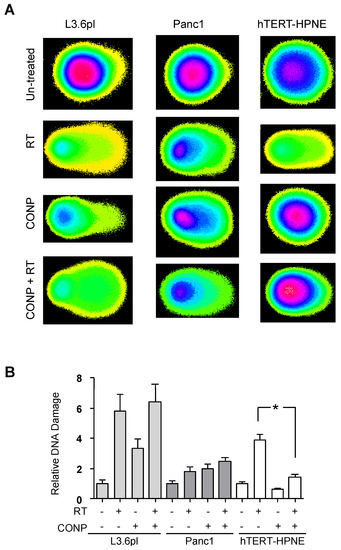 Figure 1
This is an open access article distributed under the
Creative Commons Attribution License
which permits unrestricted use, distribution, and reproduction in any medium, provided the original work is properly cited (CC BY 4.0).

Share & Cite This Article
MDPI and ACS Style
Wason, M.S.; Lu, H.; Yu, L.; Lahiri, S.K.; Mukherjee, D.; Shen, C.; Das, S.; Seal, S.; Zhao, J. Cerium Oxide Nanoparticles Sensitize Pancreatic Cancer to Radiation Therapy through Oxidative Activation of the JNK Apoptotic Pathway. Cancers 2018, 10, 303.
Note that from the first issue of 2016, MDPI journals use article numbers instead of page numbers. See further details here.
Related Articles
Comments
[Return to top]