Open Access This article is
freely available
re-usable
Review
UnPAXing the Divergent Roles of PAX2 and PAX8 in High-Grade Serous Ovarian Cancer
Department of Medicinal Chemistry and Pharmacognosy, College of Pharmacy, University of Illinois at Chicago, Chicago, IL 60607, USA
*
Author to whom correspondence should be addressed.
Received: 14 June 2018 / Accepted: 4 August 2018 / Published: 8 August 2018
Abstract
:
High-grade serous ovarian cancer is a deadly disease that can originate from the fallopian tube or the ovarian surface epithelium. The PAX (paired box) genes PAX2 and PAX8 are lineage-specific transcription factors required during development of the fallopian tube but not in the development of the ovary. PAX2 expression is lost early in serous cancer progression, while PAX8 is expressed ubiquitously. These proteins are implicated in migration, invasion, proliferation, cell survival, stem cell maintenance, and tumor growth. Hence, targeting PAX2 and PAX8 represents a promising drug strategy that could inhibit these pro-tumorigenic effects. In this review, we examine the implications of PAX2 and PAX8 expression in the cell of origin of serous cancer and their potential efficacy as drug targets by summarizing their role in the molecular pathogenesis of ovarian cancer.
Keywords:
high-grade serous ovarian carcinoma (HGSC); PAX2; PAX8; cell of origin; ovary; fallopian tube
1. Introduction
In 2017, there were 22,440 new cases of ovarian cancer and 14,080 deaths [
1
]. Ovarian cancer is the fifth leading cause of cancer related death in women and the most lethal gynecological malignancy. High-grade serous carcinoma (HGSC) accounts for 80% of ovarian cancer cases and it is the deadliest histological subtype of epithelial ovarian cancer (EOC). This high mortality rate is due in part to the insidious nature of the disease, as the majority of cases are detected at an advanced stage with distant metastases. Symptoms of HGSC, such as abdominal pressure, bloating, and urinary frequency, are non-specific and do not present until after the tumor cells have metastasized and obstructed organs in the peritoneum. Current treatment strategies at this late stage include surgical debulking followed by chemotherapy with platinum and taxane drugs. While tumors are initially responsive to chemotherapy, the 5-year survival rate remains poor because of drug resistance and subsequent patient relapse. Patients with chemoresistant disease may receive chemotherapy in combination with targeted therapy against PARP (Olaparib) or VEGF-A (Bevacizumab) [
2
,
3
].
While it was originally believed that the ovary was the primary site of HGSC development, accumulating histologic, molecular, and animal model evidence suggests that the majority of cases originate from the fallopian tube epithelium [
4
,
5
,
6
,
7
]. The PAX (paired box) genes PAX2 and PAX8 are lineage-specific transcription factors that are involved in epithelial development of the fallopian tube but not the ovary [
8
,
9
]. PAX8 is expressed in HGSC tumors derived from both the fallopian tube and ovarian surface epithelium (OSE), at least in murine models where the source of the tumor is experimentally derived. In regard to the other histotypes of EOC, PAX8 shows high expression in clear cell and endometrioid tumors and reduced expression in mucinous tumors [
10
,
11
,
12
]. PAX2 is lost early in the molecular progression of fallopian tube derived cancer and is absent in ~85% of HGSC. PAX2 is detected in clear cell and mucinous tumors and absent in most endometrioid tumors [
13
,
14
,
15
,
16
]. Studying PAX2 and PAX8 in this context provides valuable insight into the site of origin of ovarian cancer and the tumorigenic properties that make the PAX proteins promising drug targets for treatment of HGSC.
2. Site of Origin of HGSC
3. Role of PAX2 and PAX8 in Development and Adult Tissues
4. Role of PAX2 and PAX8 in HGSC
Examining the histologic and molecular events that give rise to serous carcinoma is crucial to understanding the drivers of ovarian cancer. Secretory cell outgrowths (SCOUTs) are precursor lesions of serous carcinoma that can be found in the proximal and distal fallopian tube. Normal fallopian tube epithelial cells express high levels of PAX2 but approximately 90% of SCOUTs have lost PAX2 expression [
16
]. Almost all serous tumor cells also have mutation in the tumor suppressor p53, yet only 25% of SCOUTs have p53 mutation that can be detected histologically [
16
,
56
]. SCOUTs located at the fimbrial edge with p53 mutation are coined 'p53 signatures' [
16
]. Cells with the p53 signature have PAX2 loss, suggesting a step-wise progression from PAX2 loss to p53 signature to STIC to metastatic serous carcinoma. This progression has been extensively researched, and there are many excellent reviews detailing these findings [
4
,
30
,
57
,
58
].
Through molecular characterization of SCOUTs, Ning and colleagues demonstrated that PAX2 loss is associated with an increased stem cell phenotype [
59
]. They show through in vitro culture of SCOUTs that these cells can differentiate into both ciliated and basal cell histotypes. PAX2 knockdown in fallopian tube epithelial cell lines increased expression of the stem cell markers CD44 and SCA1 and decreased the capability of these cells to form differentiated epithelial luminal structures [
60
]. Modi et al. demonstrated in murine oviductal epithelial cells that
Pax2
loss and
p53
mutation increased proliferation and migration, but was insufficient to drive tumorigenesis [
39
]. This is consistent with human histological findings that p53 signatures are benign secretory outgrowths. ChIP analysis revealed wild type
p53
enhances
Pax2
transcription while mutant
p53
decreases
Pax2
transcription, suggesting a mechanism for sustained
Pax2
loss in neoplastic lesions [
39
]. Interestingly, cells lost
Pax2
expression in a fallopian tube model of ovarian cancer derived through loss of
Pten
[
39
]. Re-expression of
Pax2
inhibited the tumorigenic properties of these cells and prolonged survival (
Figure 1
). Alternatively,
Pax2
expression in a spontaneous OSE derived model of HGSC (called STOSE) reduced proliferation and metastasis by increasing COX2 and reducing HTRA1 expression [
61
]. Taken together, these findings suggest
Pax2
loss is an early molecular event in ovarian cancer progression that predisposes cells to further mutations that can drive tumorigenesis, regardless of cell of origin. Further research should examine the mechanistic requirement for
Pax2
loss in HGSC progression, especially considering that there is increased hypomethylation and activation of
Pax2
in endometrial and renal carcinoma, yet The Cancer Genome Atlas (TCGA) does not find increased methylation at this locus in HGSC tumor samples [
47
,
62
,
63
].
Pathologists have used PAX8 for decades as a histologic marker to define HGSC, but a genome-wide RNA interference screen of cancer cell lines was the first to identify the importance of PAX8 in ovarian cancer [
64
]. PAX8 was the top-ranked differentially expressed gene in the screen between ovarian and non-ovarian cancer cell lines.
PAX8
knockdown reduced proliferation, migration and invasion and increased apoptosis in ovarian cancer cells [
65
].
Pax8
was shown to directly bind and increase the transcription of
p53
, which then increased
p21
to induce proliferation [
66
].
Pax8
also promoted tumor cell growth by increasing transcription of the cell cycle regulator
E2f1
through direct binding to the
E2f1
promoter in a complex with the RB protein [
67
]. In thyroid follicular carcinoma, a translocation event results in
PAX8-PPARγ1
fusion [
68
], but this genetic event is not observed in HGSC (regulation of PAX2 and PAX8 in specific cancers is summarized in
Table 1
). To better understand the mechanism of PAX8 oncogenesis in HGSC despite its normal expression in the fallopian tube, several research groups have examined the role of PAX8 in the ovary and fallopian tube. Serial passaging of the normal OSE transforms cells into serous carcinoma with PAX8 expressed [
22
]. Loss of LKB1 and PTEN in the OSE also leads to a HGSC cell line with acquired PAX8 expression [
69
]. Rodgers and colleagues demonstrated that forced PAX8 expression in normal OSE increases proliferation, migration, and epithelial-mesenchymal transition through upregulation of the FOXM1 pathway [
70
]. Correspondingly,
PAX8
knockdown in three human HGSC cell lines decreased expression of FOXM1, decreased proliferation, and increased apoptosis [
70
]. Reducing PAX8 expression in the normal fallopian tube, however, did not produce noticeable phenotypic effects, suggesting that targeting PAX8 pharmacologically would not affect normal tissues. These phenotypic observations were corroborated by Elias and colleagues who performed an RNA sequencing experiment demonstrating few transcripts altered in the fallopian tube but increased transcript alterations in serous tumors after
PAX8
knockdown. The authors suggest alterations to the
PAX8
cistrome are responsible for changes in gene expression leading to HGSC derived from the fallopian tube. The
PAX8
consensus binding motif is altered between the fallopian tube and serous tumor cells that may affect downstream regulated genes. Elias et al. show differential association between PAX8 and Yes-associated protein (YAP1), a major downstream regulator of the evolutionarily conserved Hippo pathway that regulates organ size, cell proliferation, and apoptosis [
71
]. Interestingly, ChIP-Seq identified PAX8 mostly binds at non-promoter sites and is enriched at super-enhancers, where PAX8 can globally regulate genes involved in tumorigenesis [
72
]. Taken together, these findings suggest PAX8 could be targeted for drug development to reduce proliferation, migration and survival of tumor cells while leaving other organs unaffected (
Figure 1
).
5. Clinical Strategies to Target PAX2 and PAX8
Ovarian cancer is a heterogeneous disease with few common molecular alterations [
56
]. Developing therapeutic strategies that target common molecular alterations, such as loss of PAX2 or gain of PAX8, may produce greater therapeutic benefits. A promoter activation screen identified luteolin as a small molecule that restores PAX2 expression in cells with wild type p53 [
39
]. Luteolin could be taken as a preventative supplement to decrease the occurrence of SCOUTs, but it would be ineffective in treating serous tumors with p53 mutation. Further screens or combination therapy studies should be performed in HGSC cells to identify molecules that increase PAX2 in tumors. The effect of these molecules on the homologue PAX8 should also be explored. Molecules that increase expression of PAX2 may also increase expression of PAX8, which could then increase the aggressive properties of a tumor cell. Therapies that reduce transcription of these PAX proteins, however, may significantly mediate the deleterious effect of PAX8 while maintaining the already decreased PAX2 levels.
PAX8 seems to have little functional effect in the fully differentiated adult fallopian tube, but mediates several tumorigenic effects in HGSC, including proliferation, migration, angiogenesis, and apoptosis [
65
,
70
,
71
,
72
,
79
]. Reducing PAX8 levels or disrupting the transcriptional activity of PAX8 may inhibit these pro-cancerous effects while leaving the normal fallopian tube epithelium unaffected. Using a virtual screen that modeled paired domain binding to DNA, Grimley and colleagues identified small molecules that disrupt binding of the paired domain of PAX2/5/8 to DNA [
80
]. Other potential drug targets include the adapter proteins that bind to the chromosome in a complex with PAX8. PAX8 requires interactions with YAP1, CTCF and SP1 to initiate transcription, as discussed earlier. Disrupting these interactions may mediate the deleterious effects of PAX8 in serous carcinoma.
6. Concluding Remarks
Proper temporal and spatial expression of the PAX protein family is essential for embryonic development. PAX2 and PAX8 are co-expressed during mesenchymal-to-epithelial transition of the Müllerian duct and they continue to be expressed in adult structures, such as the fallopian tube. These proteins maintain a regenerative stem cell population in adult tissues. In HGSC, PAX8 provides growth advantages by enhancing the proliferative, migratory, and survival capabilities of cancer cells from the fallopian tube and ovary. The OSE does not normally express PAX8, yet it acquires PAX8 expression during malignant transformation in certain mouse models. More work is required to tease apart the role of PAX8 in tumors derived from the fallopian tube or OSE. PAX2 is a homolog of PAX8 that has been shown to impart similar growth advantages, yet tumors derived from the fallopian tube epithelium lose PAX2 expression during malignant transformation. Further research is required to understand the importance and regulatory machinery that leads to PAX2 loss and PAX8 dependence in HGSC.
Identifying drug targets for novel cancer treatments in HGSC has been challenging because it is a heterogeneous disease with few shared mutations. The PAX proteins are promising because PAX8 is ubiquitously expressed in serous tumors and PAX2 loss is an early molecular event shared in the progression from benign to malignant carcinoma. Targeting these proteins may hold promise in reducing tumor growth and progression in a majority of patients and significantly improving patient survival.
Author Contributions
Literature search, L.R.H., A.S. and J.E.B.; Writing—Original Draft Preparation, L.R.H., A.S.; Writing—Review & Editing, A.S., J.E.B., Figures, L.R.H.; Funding Acquisition, L.R.H. and J.E.B.
Funding
This research was funded by NCI grant number F30CA224986, NIH R21 CA208610, and by DOD OCRP grant number OC160076.
Conflicts of Interest
The authors declare no conflict of interest.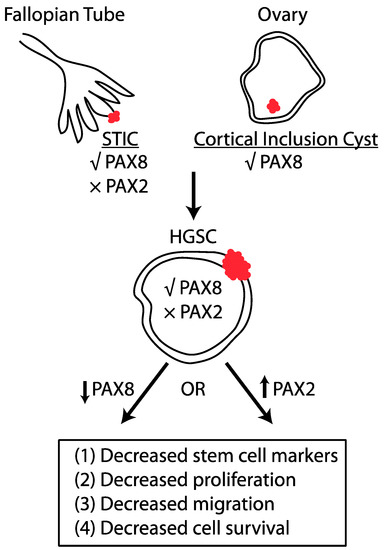 Figure 1. PAX2 and PAX8 regulate tumor formation in HGSC in an opposing manner. Serous tubal intraepithelial carcinomas (STICs) express PAX8, but not PAX2. Similarly, epithelial cells in cortical inclusion cysts express PAX8. HGSC tumor cells express PAX8 and it has been experimentally shown that PAX8 reduction decreases characteristics that enhance tumor formation. PAX2 is not expressed in HGSC and re-expression of PAX2 inhibits the tumorigenic properties of tumor cells.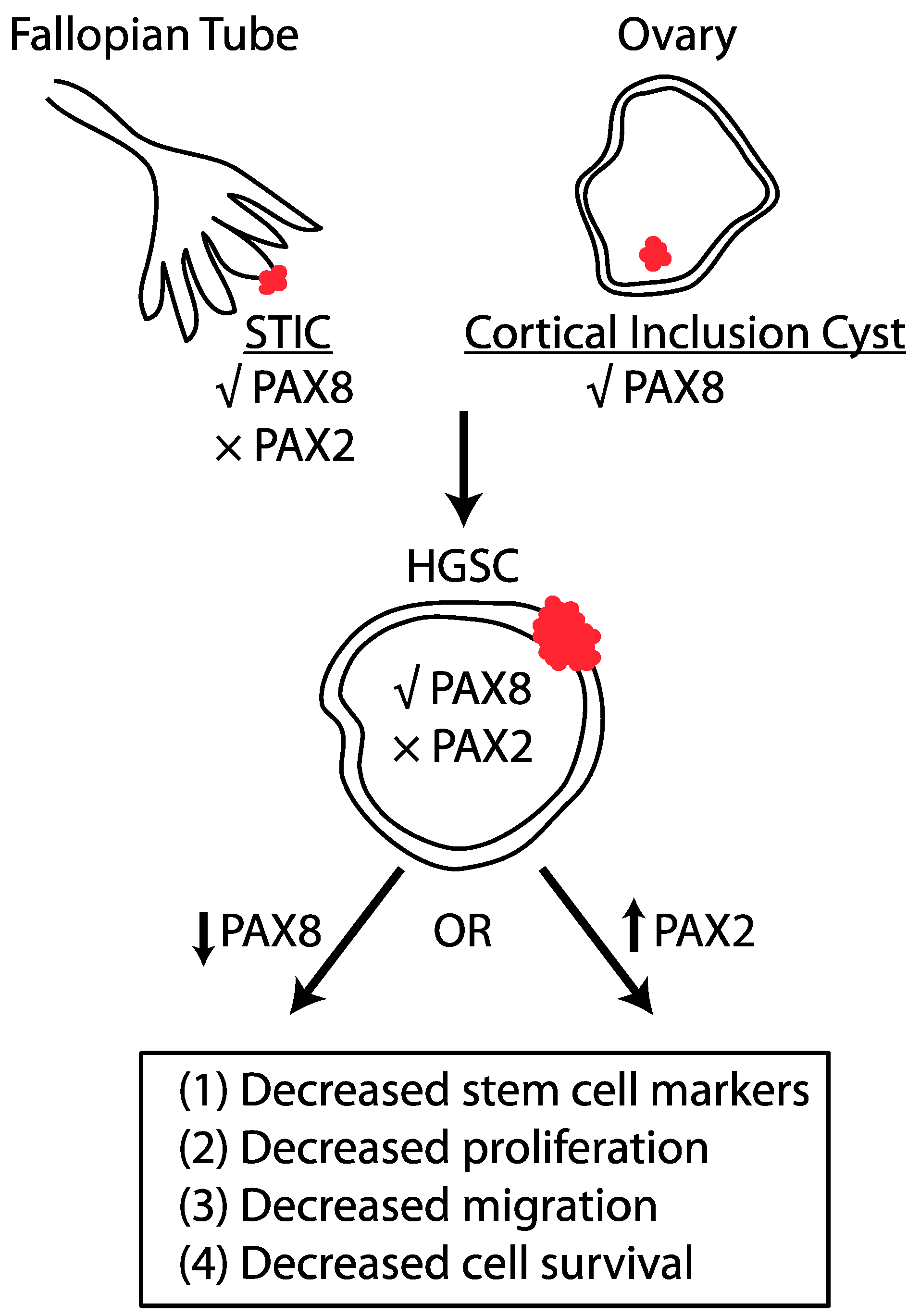 | Cancer Type | PAX2 Regulation | PAX8 Regulation | References |
| --- | --- | --- | --- |
| HGSC | Transcriptional downregulation | No change | [39] |
| Endometrial | Promoter hypomethylation | No change | [62] |
| Thyroid | No change | PAX8-PPARγ1 fusion | [68] |
| Renal | Promoter hypomethylation | Increased protein levels | [63,73] |
| Wilms tumor | Transcriptional upregulation | Transcriptional upregulation | [74,75] |
| Breast | Transcriptional upregulation | No change | [76] |
| Glioma | Transcriptional upregulation | Transcriptional upregulation | [77,78] |

© 2018 by the authors. Licensee MDPI, Basel, Switzerland. This article is an open access article distributed under the terms and conditions of the Creative Commons Attribution (CC BY) license (http://creativecommons.org/licenses/by/4.0/).