Open Access This article is
freely available
re-usable
Review
With Great Age Comes Great Metastatic Ability: Ovarian Cancer and the Appeal of the Aging Peritoneal Microenvironment
1
Department of Chemistry and Biochemistry, University of Notre Dame, South Bend, IN 46617, USA
2
Harper Cancer Research Institute, University of Notre Dame, South Bend, IN 46617, USA
3
Integrated Biomedical Sciences Program, University of Notre Dame, South Bend, IN 46617, USA
4
Department of Mathematics, University of Notre Dame, South Bend, IN 46617, USA
*
Author to whom correspondence should be addressed.
Received: 8 June 2018 / Accepted: 4 July 2018 / Published: 10 July 2018
Abstract
:
Age is one of the biggest risk factors for ovarian cancer. Older women have higher rates of diagnosis and death associated with the disease. In mouse models, it was shown that aged mice had greater tumor burden than their younger counterparts when intraperitoneally injected with ovarian tumor cells. While very few papers have been published looking at the direct link between ovarian cancer metastasis and age, there is a wealth of information on how age affects metastatic microenvironments. Mesothelial cells, the peritoneal extracellular matrix (ECM), fibroblasts, adipocytes and immune cells all exhibit distinct changes with age. The aged peritoneum hosts a higher number of senescent cells than its younger counterpart, in both the mesothelium and the stroma. These senescent cells promote an inflammatory profile and overexpress Matrix Metalloproteinases (MMPs), which remodel the ECM. The aged ECM is also modified by dysregulated collagen and laminin synthesis, increases in age-related crosslinking and increasing ovarian cancer invasion into the matrix. These changes contribute to a vastly different microenvironment in young and aged models for circulating ovarian cancer cells, creating a more welcoming "soil".
Keywords:
ovarian cancer; age; tumor microenvironment; extracellular matrix; mesothelial cells; immune; fibroblast; adipocytes; peritoneum
2. Aging Modifies the Metastatic Microenvironment
In vivo
models of intraperitoneal (IP) metastasis have been utilized to demonstrate an age-related difference in tumor burden in mice injected with ovarian tumor cells. When IP injected with syngeneic tumor cell lines, both C57Bl/6 and FVB mice exhibited a dramatic difference in disease progression between the young (3–6 months) and aged (20–23 months) cohort, with the aged mice harboring greater tumor burden than their younger counterparts [
26
]. Transcriptome analysis of gonadal adipose tissue from young and aged mice points to a difference in immune response in the aged mice but it is likely that the immune system is only one of the components of the microenvironment that is contributing to the age-related disparity in metastasis [
26
].
3. Conclusions
While this review has divided the peritoneal microenvironment into distinct cellular or functional units, in reality there is complex crosstalk between all components of the microenvironment that is just beginning to be uncovered and understood. The end result is a vastly different metastatic microenvironment in aged patients relative to that seen in young patients (
Figure 1
), reminiscent of one of the first big debates in the field: the seed-and-soil hypothesis. Based on the research discussed above, it is clear that the aging peritoneum provides a better "soil" for metastasizing OvCa cells. Each component of the microenvironment has the potential to affect OvCa metastasis in a variety of ways (
Figure 4
).
At every step of the establishment of metastases, we see differences in aged hosts. OvCa cells first adhere to mesothelial cells; aged hosts have higher numbers of senescent mesothelial cells, which increase inflammation and also increase factors such as fibronectin and ICAM-1 that mediate cell-cell adhesion [
16
,
33
,
38
]. Once the OvCa cells adhere to and disrupt the mesothelial cells, they next invade into the collagen-rich matrix below. Aged hosts have an increase in MMP activity and lower rates of collagen synthesis, resulting in a less dense matrix that facilitates invasion. In addition, aged collagen accumulates crosslinks, which make the tissue stiffer and more aligned, allowing OvCa cells to adhere more readily [
8
,
75
]. The other cells present in the microenvironment, including fibroblasts, immune cells and adipocytes, also play a large role in changing the metastatic microenvironment. Aged fibroblasts secrete less collagen than their younger counterparts and senescent fibroblasts share many of the characteristics of CAFs, promoting OvCa metastasis [
24
,
96
]. In the immune landscape, it is unclear whether the effect of age on macrophages promotes or obstructs tumor growth. However, it can be concluded T-cell lymphocytes and certain B-cell lymphocytes experience a loss of function with age, resulting in less regulated tumor growth and increased proliferation [
125
]. Aged individuals have been shown to have increased adipocyte deposits, which provide energy for the OvCa metastases [
137
]. Aged adipose tissue also has a chronic inflammation response, resulting in immune stimulation as well as secretion of elements such as growth factors and MMPs, that can contribute to OvCa invasion and proliferation [
136
]. These molecular processes may also represent targets for therapeutic intervention in the aged host.
There are not many therapeutic interventions that target aging. Recent studies of senescence and the senescent-associated secretory phenotype (SASP) illuminate the field of senolytics as a promising anti-cancer treatment [
148
,
149
]. Many senolytic drugs have been discovered and tested in murine models, working to selectively target the senescent cells' anti-apoptotic pathways to induce cell death [
148
]. In murine models, this decreases the SASP to decrease cancer spread [
148
]. Notably, this is a selective treatment [
148
,
149
]—not every senescent cell has to be eliminated. Much work remains to bring this field to clinical trial stages but this review supports the observation that senolytic treatments are a propitious focus for age-associated cancers.
The studies performed in this field to date have shown that aging has multi-faceted effects on the tumor microenvironment. However, many questions remain. Much of the work reviewed here is not specific to the peritoneal tumor microenvironment and many studies were performed outside the context of OvCa metastasis. Just as Yancik voiced in 1993, there is still a need for aging research in the OvCa field. As the field progresses, integrating research on the molecular mechanisms of aging may reveal new targets for anti-metastatic therapies for OvCa patients.
Funding
This work was supported by Grants RO1CA109545 (MSS) and RO1CA086984 (MSS) from the National Institutes of Health/National Cancer Institute; from the Leo and Anne Albert Charitable Trust (MSS); University of Notre Dame College of Science Summer Undergraduate Research Fellowship (EFS).
Acknowledgments
We would like to acknowledge Elizabeth Loughran for her help with editing this manuscript.
Conflicts of Interest
The authors declare no conflict of interest.

Figure 1. Changes in the Aged Microenvironment. Young: In the young metastatic microenvironment, collagens I and III form a directionally random meshwork that supports the tissue. In addition, there are low rates of senescence in mesothelial cells, fibroblasts and adipocytes, all of which secrete factors into the extracellular environment, forming the young secretome. The young secretome is characterized by decreased Matrix Metalloproteinase (MMP) expression, increased cytokine expression by immune cells, decreased cytokine expression by fibroblasts and decreased adipocyte-associated inflammatory factors. Milky spot immune cell aggregates exist in both young and aged metastatic environments, providing the tumor with abundant vascularization. Aged: In the aged metastatic microenvironment, there are lower levels of collagens I and III, which are remodeled to form more aligned, linear structures. In addition, higher levels of senescence alter the secretome, increasing inflammation and other factors that can promote ovarian cancer (OvCa) metastasis.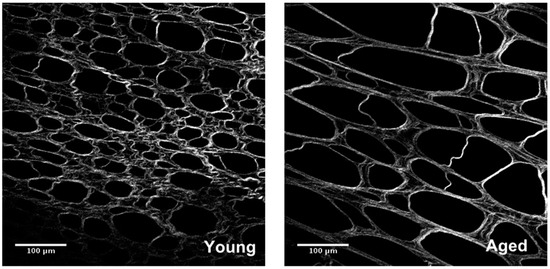 Figure 2. Age-related changes in omental collagen structure. Second harmonic generation imaging of omental tissue isolated from young and aged mice shows a distinct difference in structure. Aged collagen forms crosslinks that result in the loss of meshwork, formation of tendon-like structures and increased anisotropy. This causes a disruption of tissue structure that can affect how metastasizing OvCa cells interact with the tumor microenvironment.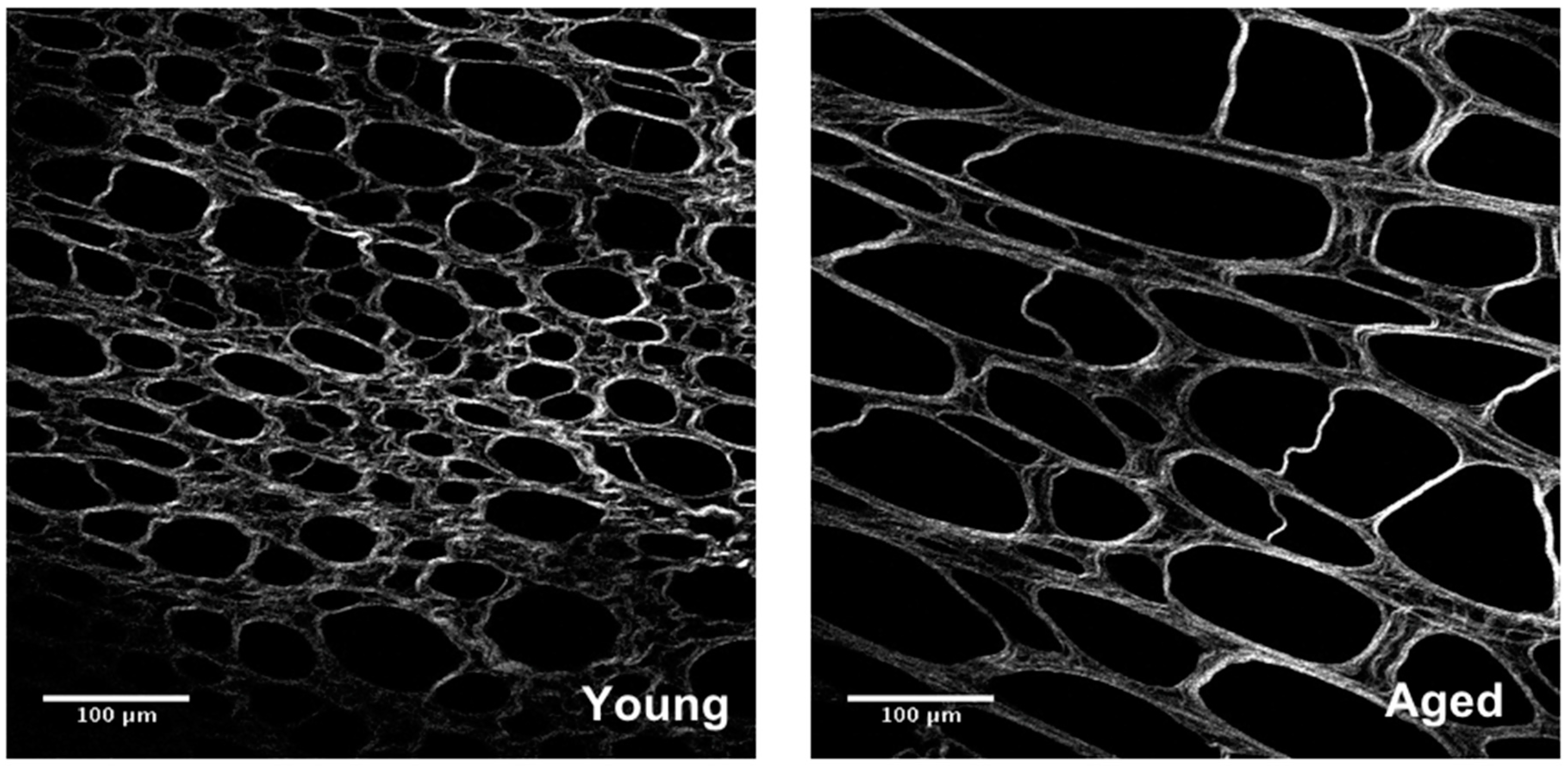 Figure 3. Stromal-Epithelial Crosstalk. Active crosstalk occurs between senescent and activated fibroblasts and OvCa cells. This induces activated fibroblasts, while concurrently inducing proliferation and malignancy of the invading tumor.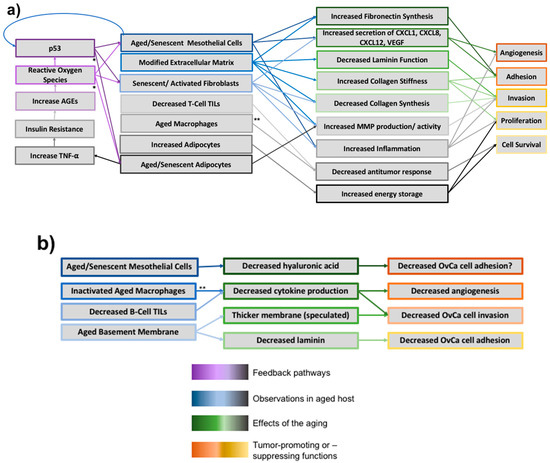 Figure 4.
The effects of aging on the peritoneal microenvironment. (
a
) Tumor-Inducing Effects: Aging of the host stimulates a vast and interconnected network of alterations to the peritoneal microenvironment. These changes are often correlated with increased tumor burden due to heightened angiogenesis of the region and OvCa cell adhesion, invasion, proliferation and survival. As depicted, the multifactorial causes and results of aging present significant challenges for analysis; (
b
) Tumor-Suppressing Effects: While our review generally concludes that aging alters the microenvironment in a way conducive to tumor growth, in contrast certain aspects of aging seem to impair tumorigenesis. Aged and senescent mesothelial cells secrete less hyaluronic acid, which is hypothesized to decrease OvCa adhesion to the extracellular matrix (ECM). Inactivated aged macrophages are less capable of cytokine secretion, which thereby decreases angiogenesis potential and cell invasion. The aged BM thickens due to less collagen IV turnover, which we speculate could in theory decrease OvCa invasion (however, to our knowledge no conclusions have been drawn regarding this). The aged basement membrane (BM) also has a decreased laminin content, which may decrease cell adhesion. * While not shown to be a causative link, in aged adipose tissue there is an increase in reactive oxygen species (ROS) that is correlated with adipocytes presenting a senescent phenotype, suggesting that ROS plays the same role in adipocytes that it does in other cell types [
145
]. p53 has been shown to have numerous effects on adipose tissue and is likely also contributing to the senescent phenotype [
145
]. ** Aged macrophages paradigm: aged macrophages have been shown to both induce tumorigenesis and inhibit it., we depict both pathways. Note: Color gradients intended to help viewer differentiate between different effects of each component of the aging microenvironment.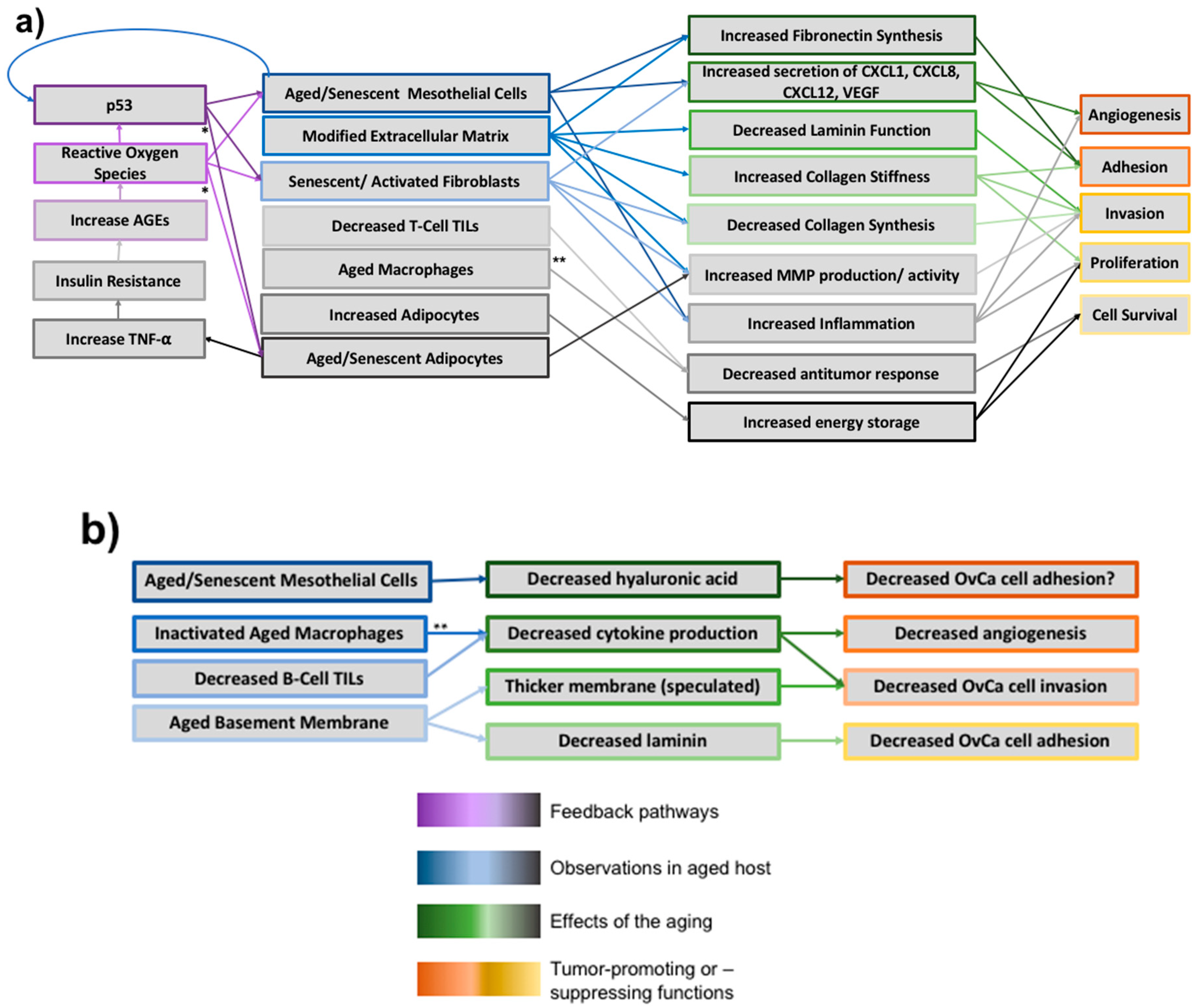 Immune Cell Component
Effect of Aging
Effect on OvCa Metastasis
T-cell Tumor Infiltrating Lymphocytes

Decreased cytokine secretion

Increased apoptosis

Decreased lymphocyte association

Decreased tumor lysis leads to increased proliferation
B-Cell tumor Infiltrating Lymphocytes

Decreased cytokine secretion

Decreased T-cell association

Possibly increased angiogenesis, possibly decreased tumor lysis
Pre-Activated Macrophages

Decreased cytokine secretion

Decreased phagocytic activity

Unknown, possibly mixed effects.

© 2018 by the authors. Licensee MDPI, Basel, Switzerland. This article is an open access article distributed under the terms and conditions of the Creative Commons Attribution (CC BY) license (http://creativecommons.org/licenses/by/4.0/).