RIPK2: New Elements in Modulating Inflammatory Breast Cancer Pathogenesis
1
Department of Pediatrics, Faculty of Medicine and Dentistry, University of Alberta, 113 Street 87 Avenue, Edmonton, AB T6G 2E1, Canada
2
Anatomic Pathologist at DynalifeDx, Diagnostic Laboratory Services, Department of Laboratory Medicine and Pathology, University of Alberta, 113 Street 87 Avenue, Edmonton, AB T6G 2R3, Canada
3
Cross Cancer Institute, Department of Laboratory Medicine and Pathology, University of Alberta, 11560 University Ave, Edmonton, AB T6G 1Z2, Canada
4
Division of Medical Oncology, Department of Oncology, Faculty of Medicine and Dentistry, University of Alberta, Edmonton, AB T6G 2R7, Canada
5
Division of Experimental Oncology, Department of Oncology, Faculty of Medicine and Dentistry, University of Alberta, 113 Street 87 Avenue, Edmonton, AB T6G 2E1, Canada
6
Department of Biochemistry, Faculty of Medicine and Dentistry, University of Alberta, 113 Street 87 Avenue, Edmonton, AB T6G 2E1, Canada
7
Cancer Research Institute of Northern Alberta, University of Alberta, Edmonton, AB T6G 2R7, Canada
8
Women and Children's Health Research Institute, Edmonton Clinic Health Academy (ECHA), University of Alberta, 4-081 11405 87 Avenue NW Edmonton, AB T6G 1C9, Canada
*
Author to whom correspondence should be addressed.
Received: 29 March 2018 / Revised: 29 May 2018 / Accepted: 4 June 2018 / Published: 5 June 2018
Abstract
Inflammatory breast cancer (IBC) is a rare and aggressive form of breast cancer that is associated with significantly high mortality. In spite of advances in IBC diagnoses, the prognosis is still poor compared to non-IBC. Due to the aggressive nature of the disease, we hypothesize that elevated levels of inflammatory mediators may drive tumorigenesis and metastasis in IBC patients. Utilizing IBC cell models and patient tumor samples, we can detect elevated NF-κB activity and hyperactivation of non-canonical drivers of NF-κB (nuclear factor kappaB)-directed inflammation such as tyrosine phosphorylated receptor-interacting protein kinase 2 (pY RIPK2), when compared to non-IBC cells or patients. Interestingly, elevated RIPK2 activity levels were present in a majority of pre-chemotherapy samples from IBC patients at the time of diagnosis to suggest that patients at diagnosis had molecular activation of NF-κB via RIPK2, a phenomenon we define as "molecular inflammation". Surprisingly, chemotherapy did cause a significant increase in RIPK2 activity and thus molecular inflammation suggesting that chemotherapy does not resolve the molecular activation of NF-κB via RIPK2. This would impact on the metastatic potential of IBC cells. Indeed, we can demonstrate that RIPK2 activity correlated with advanced tumor, metastasis, and group stage as well as body mass index (BMI) to indicate that RIPK2 might be a useful prognostic marker for IBC and advanced stage breast cancer.
View Full-Text
►

▼

Figures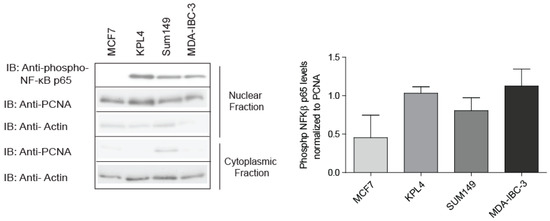 Figure 1
This is an open access article distributed under the
Creative Commons Attribution License
which permits unrestricted use, distribution, and reproduction in any medium, provided the original work is properly cited (CC BY 4.0).

Share & Cite This Article
MDPI and ACS Style
Zare, A.; Petrova, A.; Agoumi, M.; Armstrong, H.; Bigras, G.; Tonkin, K.; Wine, E.; Baksh, S. RIPK2: New Elements in Modulating Inflammatory Breast Cancer Pathogenesis. Cancers 2018, 10, 184.
Note that from the first issue of 2016, MDPI journals use article numbers instead of page numbers. See further details here.
Related Articles
Comments
[Return to top]