Clinico-Pathological Importance of TGF-β/Phospho-Smad Signaling during Human Hepatic Fibrocarcinogenesis
Department of Gastroenterology and Hepatology, Kansai Medical University 2-5-1, Shin-Machi, Hirakata, Osaka 573-1010, Japan
*
Author to whom correspondence should be addressed.
Received: 30 April 2018 / Revised: 19 May 2018 / Accepted: 1 June 2018 / Published: 5 June 2018
Abstract
Chronic viral hepatitis is a global public health problem, with approximately 570 million persons chronically infected. Hepatitis B and C viruses increase the risk of morbidity and mortality from liver cirrhosis, hepatocellular carcinoma (HCC), and extrahepatic complications that develop. Hepatitis virus infection induces transforming growth factor (TGF)-β, which influences microenvironments within the infected liver. TGF-β promotes liver fibrosis by up-regulating extracellular matrix production by hepatic stellate cells. TGF-β is also up-regulated in patients with HCC, in whom it contributes importantly to bringing about a favorable microenvironment for tumor growth. Thus, TGF-β is thought to be a major factor regulating liver fibrosis and carcinogenesis. Since TGF-β carries out regulatory signaling by influencing the phosphorylation of Smads, we have generated several kinds of phospho-specific antibodies to Smad2/3. Using these, we have identified three types of phospohorylated forms: COOH-terminally phosphorylated Smad2/3 (pSmad2C and pSmad3C), linker phosphorylated Smad2/3 (pSmad2L and pSmad3L), and dually phosphorylated Smad3 (pSmad2L/C and pSmad3L/C). TGF-β-mediated pSmad2/3C signaling terminates cell proliferation; on the other hand, cytokine-induced pSmad3L signaling accelerates cell proliferation and promotes fibrogenesis. This review addresses TGF-β/Smad signal transduction in chronic liver injuries and carcinogenic processes. We also discuss the reversibility of Smad signaling after antiviral therapy.
View Full-Text
►

▼

Figures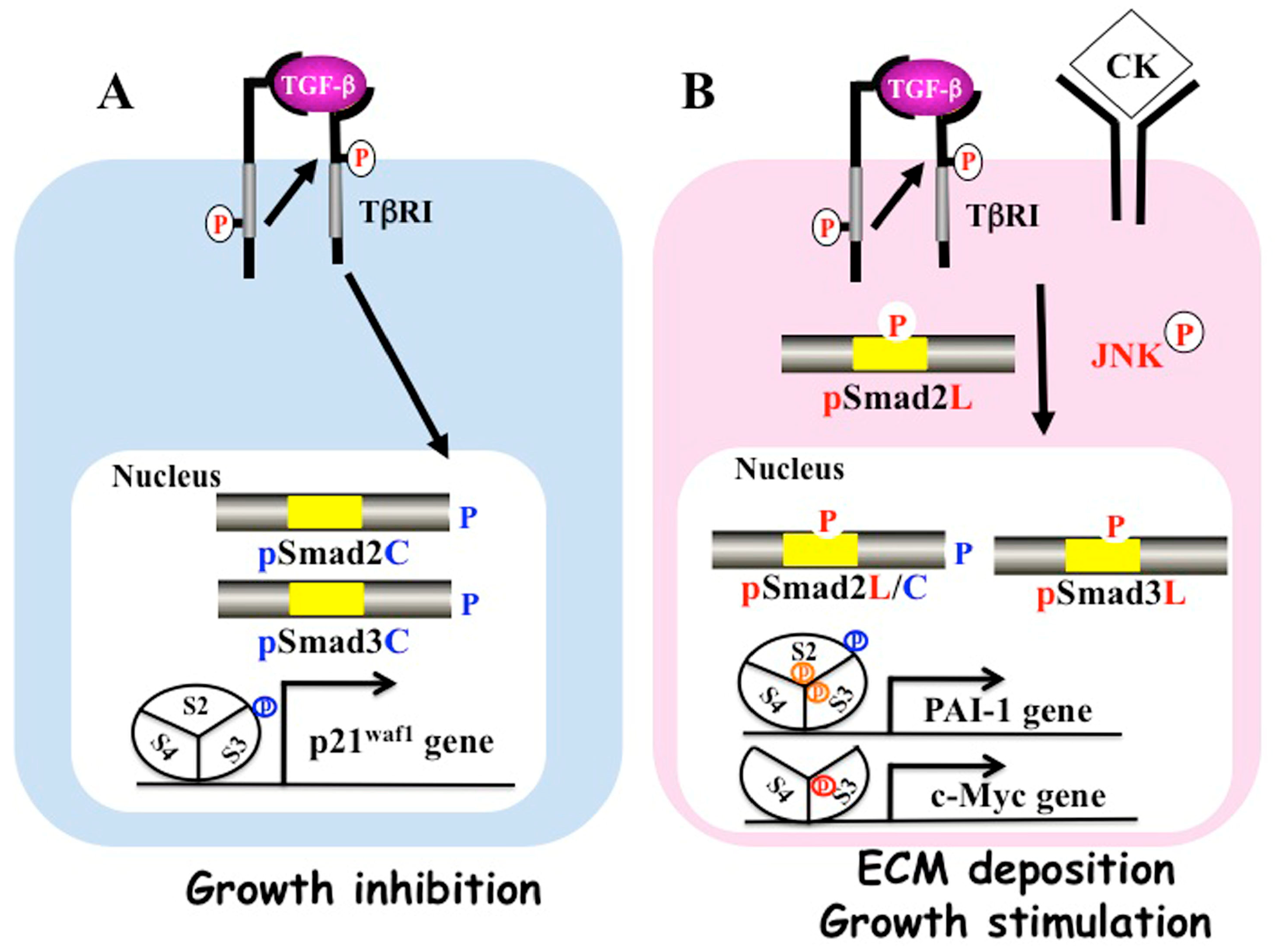 Figure 1
This is an open access article distributed under the
Creative Commons Attribution License
which permits unrestricted use, distribution, and reproduction in any medium, provided the original work is properly cited (CC BY 4.0).

Share & Cite This Article
MDPI and ACS Style
Yoshida, K.; Matsuzaki, K.; Murata, M.; Yamaguchi, T.; Suwa, K.; Okazaki, K. Clinico-Pathological Importance of TGF-β/Phospho-Smad Signaling during Human Hepatic Fibrocarcinogenesis. Cancers 2018, 10, 183.
Note that from the first issue of 2016, MDPI journals use article numbers instead of page numbers. See further details here.
Related Articles
Comments
[Return to top]