The Role of Oncogenic Tyrosine Kinase NPM-ALK in Genomic Instability
1
Central European Institute of Technology (CEITEC), Masaryk University, Kamenice 5, 62500 Brno, Czech Republic
2
Department of Internal Medicine—Hematology and Oncology, University Hospital Brno, 62500 Brno, Czech Republic
*
Author to whom correspondence should be addressed.
Received: 26 January 2018 / Revised: 20 February 2018 / Accepted: 27 February 2018 / Published: 5 March 2018
Abstract
Genomic stability is crucial for cell life and transmitting genetic material is one of the primary tasks of the cell. The cell needs to be able to recognize any possible error and quickly repair it, and thus, cells have developed several mechanisms to detect DNA damage and promote repair during evolution. The DNA damage response (DDR) and DNA repair pathways ensure the control of possible errors that could impair the duplication of genetic information and introduce variants in the DNA. Endogenous and exogenous factors compromise genomic stability and cause dysregulation in the DDR and DNA repair pathways. Cancer cells often impair these mechanisms to overcome cellular barriers (cellular senescence and/or apoptosis), leading to malignancy. NPM (nucleophosmin)-ALK (anaplastic lymphoma kinase) is an oncogenic tyrosine kinase that is involved in the development of anaplastic large cell lymphoma (ALCL). NPM-ALK is known to be involved in the activation of proliferative and anti-apoptotic signaling pathways. New evidence reveals that NPM-ALK translocation also impairs the ability of cells to maintain the genomic stability through both DDR and DNA repair pathways. This review aims to highlight the role of the oncogenic tyrosine kinase NPM-ALK in the cell, and pointing to new possible therapeutic strategies.
View Full-Text
►

▼

Figures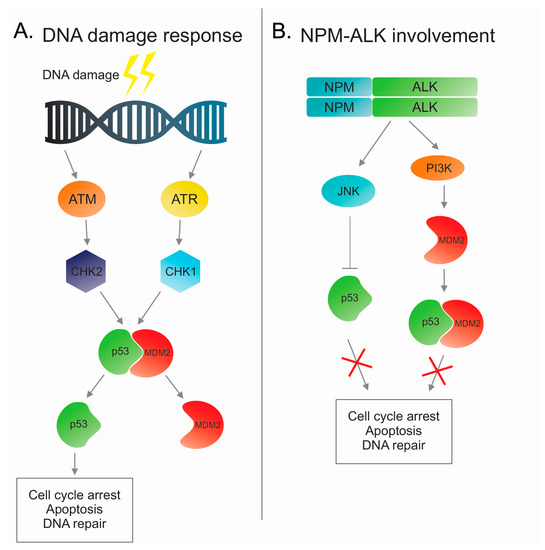 Figure 1
This is an open access article distributed under the
Creative Commons Attribution License
which permits unrestricted use, distribution, and reproduction in any medium, provided the original work is properly cited (CC BY 4.0).

Share & Cite This Article
MDPI and ACS Style
Lobello, C.; Bikos, V.; Janikova, A.; Pospisilova, S. The Role of Oncogenic Tyrosine Kinase NPM-ALK in Genomic Instability. Cancers 2018, 10, 64.
Note that from the first issue of 2016, MDPI journals use article numbers instead of page numbers. See further details here.
Related Articles
Comments
[Return to top]