Gap Junction Intercellular Communication Positively Regulates Cisplatin Toxicity by Inducing DNA Damage through Bystander Signaling
1
Department of Cancer Biology, University of Toledo Health Science Campus, Toledo, OH 43614, USA
2
Department of Oncology, Karmanos Cancer Institute and Wayne State University, Detroit, MI 48201, USA
*
Author to whom correspondence should be addressed.
†
Current address: Cancer Prevention and Control Program, Fox Chase Cancer Center, Philadelphia, PA 19111, USA
Received: 17 September 2018 / Revised: 27 September 2018 / Accepted: 28 September 2018 / Published: 2 October 2018
Abstract
The radiation-induced bystander effect (RIBE) can increase cellular toxicity in a gap junction dependent manner in unirradiated bystander cells. Recent reports have suggested that cisplatin toxicity can also be mediated by functional gap junction intercellular communication (GJIC). In this study using lung and ovarian cancer cell lines, we showed that cisplatin cytotoxicity is mediated by cellular density. This effect is ablated when
GJA1
or Connexin 43 (Cx43) is targeted, a gap junction gene and protein, respectively, leading to cisplatin resistance but only at high or gap junction forming density. We also observed that the cisplatin-mediated bystander effect was elicited as DNA Double Strand Breaks (DSBs) with positive H2AX Ser139 phosphorylation (γH2AX) formation, an indicator of DNA DSBs. These DSBs are not observed when gap junction formation is prevented. We next showed that cisplatin is not the "death" signal traversing the gap junctions by utilizing the cisplatin-GG intrastrand adduct specific antibody. Finally, we also showed that cells deficient in the structure-specific DNA endonuclease
ERCC1
-
ERCC4
(ERCC1-XPF), an important mediator of cisplatin resistance, further sensitized when treated with cisplatin in the presence of gap junction forming density. Taken together, these results demonstrate the positive effect of GJIC on increasing cisplatin cytotoxicity.
View Full-Text
►

▼

Figures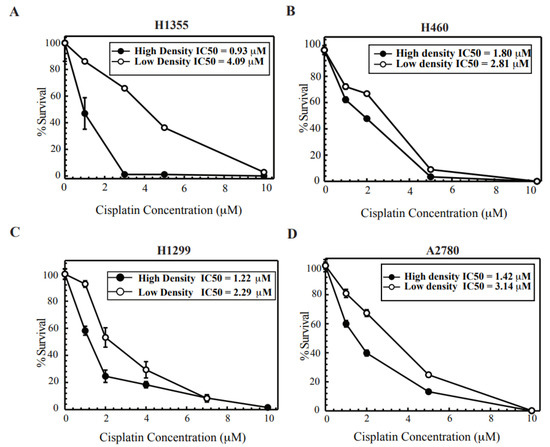 Figure 1
This is an open access article distributed under the
Creative Commons Attribution License
which permits unrestricted use, distribution, and reproduction in any medium, provided the original work is properly cited (CC BY 4.0).

Share & Cite This Article
MDPI and ACS Style
Arora, S.; Heyza, J.R.; Chalfin, E.C.; Ruch, R.J.; Patrick, S.M. Gap Junction Intercellular Communication Positively Regulates Cisplatin Toxicity by Inducing DNA Damage through Bystander Signaling. Cancers 2018, 10, 368.
Note that from the first issue of 2016, MDPI journals use article numbers instead of page numbers. See further details here.
Related Articles
Comments
[Return to top]