Anticancer Activity of
Cynomorium coccineum
1
Sunnybrook Research Institute, 2075 Bayview Avenue, Toronto, ON M4N 3M5, Canada
2
Environment Biomonitoring Laboratory (LR01/ES14), Sciences Faculty of Bizerta, University of Carthage, Zarzouna 7021, Tunisia
3
Department of Laboratory Medicine and Pathobiology, University of Toronto, Toronto, ON M5S 1A8, Canada
4
State Key Laboratory of Applied Microbiology Southern China, Guangdong Provincial Key Laboratory of Microbial Culture Collection and Application, Guangdong Institute of Microbiology, Guangzhou 510070, China
5
Laboratory of Biodiversity, Biotechnologies and Climate Change (LR11/ES09), Faculty of Sciences of Tunis, Tunis El-Manar University, Tunis 2092, Tunisia
6
Yuewei Edible Fungi Technology Co. Ltd., Guangzhou 510070, China
*
Author to whom correspondence should be addressed.
Received: 19 August 2018 / Revised: 17 September 2018 / Accepted: 22 September 2018 / Published: 26 September 2018
Abstract
The extensive applications of
Cynomorium
species and their rich bioactive secondary metabolites have inspired many pharmacological investigations. Previous research has been conducted to examine the biological activities and numerous interesting pharmaceutical activities have been reported. However, the antitumor activities of these species are unclear. To understand the potential anticancer activity, we screened
Cynomorium coccineum
and
Cynomorium songaricum
using three different extracts of each species. In this study, the selected extracts were evaluated for their ability to decrease survival rates of five different cancer cell lines. We compared the cytotoxicity of the three different extracts to the anticancer drug vinblastine and one of the most well-known medicinal mushrooms
Amaurederma rude
. We found that the water and alcohol extracts of
C. coccineum
at the very low concentrations possessed very high capacity in decreasing the cancer cells viability with a potential inhibition of tumorigenesis. Based on these primitive data, we subsequently tested the ethanol and the water extracts of
C. coccineum
, respectively in in vitro and in vivo assays. Cell cycle progression and induction of programmed cell death were investigated at both biological and molecular levels to understand the mechanism of the antitumor inhibitory action of the
C. coccineum
. The in vitro experiments showed that the treated cancer cells formed fewer and smaller colonies than the untreated cells. Cell cycle progression was inhibited, and the ethanol extract of
C.
coccineum
at a low concentration induced accumulation of cells in the G1 phase. We also found that the
C. coccineum
's extracts suppressed viability of two murine cancer cell lines. In the in vivo experiments, we injected mice with murine cancer cell line B16, followed by peritoneal injection of the water extract. The treatment prolonged mouse survival significantly. The tumors grew at a slower rate than the control. Down-regulation of c-myc expression appeared to be associated with these effects. Further investigation showed that treatment with
C.
coccineum
induced the overexpression of the tumor suppressor Foxo3 and other molecules involved in inducing autophagy. These results showed that the
C. coccineum
extract exerts its antiproliferative activity through the induction of cell death pathway. Thus, the
Cynomorium
plants appear to be a promising source of new antineoplastic compounds.
View Full-Text
►

▼

Figures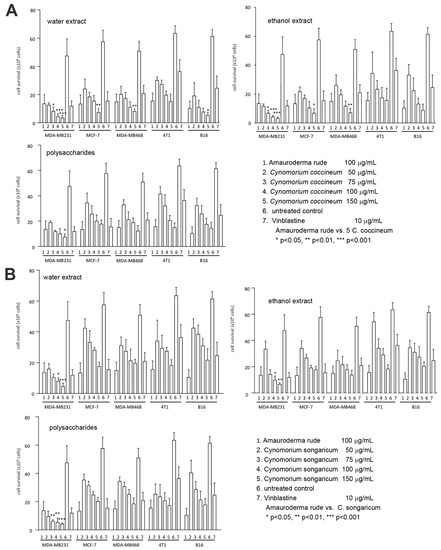 Figure 1
This is an open access article distributed under the
Creative Commons Attribution License
which permits unrestricted use, distribution, and reproduction in any medium, provided the original work is properly cited (CC BY 4.0).

Share & Cite This Article
MDPI and ACS Style
Sdiri, M.; Li, X.; Du, W.W.; El-Bok, S.; Xie, Y.-Z.; Ben-Attia, M.; Yang, B.B. Anticancer Activity of Cynomorium coccineum. Cancers 2018, 10, 354.
Note that from the first issue of 2016, MDPI journals use article numbers instead of page numbers. See further details here.
Related Articles
Comments
[Return to top]