Prognostic Factors in Merkel Cell Carcinoma: A Retrospective Single-Center Study in 90 Patients
1
Surgical Oncology Unit, Veneto Institute of Oncology IOV–IRCCS, 35121 Padua, Italy
2
Dermatology Unit and Pathology Unit, Department of Medicine (DIMED), University of Padua, 35121 Padua, Italy
3
Independent Statistician, 35121 Solagna, Italy
4
Melanoma and Esophagus Oncology Unit, Veneto Institute of Oncology IOV-IRCCS, 35121 Padua, Italy
5
Radiotherapy Unit, Veneto Institute of Oncology, IOV–IRCCS, 35121 Padua, Italy
6
Department of Surgery, Oncology and Gastroenterology, University of Padua, 35121 Padua, Italy
7
Dermatology Unit, Department of Medicine (DIMED), University of Padova, 35128 Padua, Italy
*
Author to whom correspondence should be addressed.
†
These authors contributed equally to the work.
Received: 6 August 2018 / Revised: 20 September 2018 / Accepted: 21 September 2018 / Published: 24 September 2018
Abstract
Merkel Cell Carcinoma (MCC) is a rare but highly aggressive neuroendocrine neoplasm of the skin. This study aimed at describing characteristics, treatment, and prognosis of a series of consecutive cases of MCC patients, in order to contribute to the investigation of this rare malignancy and provide better patient care. This is a retrospective cohort study including all 90 patients diagnosed and/or treated for MCC between 1991 and 2018 at the Veneto Institute of Oncology in Padua (Italy). Patient and tumor characteristics, treatment, and immunohistochemical data were extracted from a prospectively collected local database. There were 68 primary (76%) and 22 non-primary (15 occult primary, three metastatic, four recurrence) tumors (24%). CK20 expression was associated with reduced overall (HR 2.92, 95% CI 1.04–8.16) and disease-specific (HR 4.62, 95% CI 1.31–16.28) survival. Immunomodulatory regimens for treatment of other comorbidities were associated with reduced disease-specific ((HR 2.15, 95% CI 1.06–4.36) and recurrence-free (HR 3.08, 95% CI 1.44–6.57) survival. Iatrogenic immunomodulation resulted as the main factor associated with impaired prognosis. Lack of CK20 expression was associated with better survival.
View Full-Text
►

▼

Figures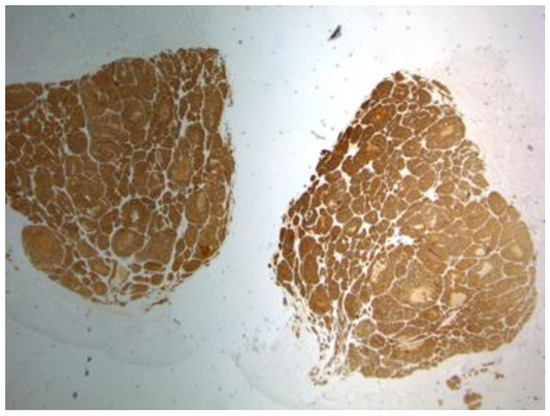 Figure 1
This is an open access article distributed under the
Creative Commons Attribution License
which permits unrestricted use, distribution, and reproduction in any medium, provided the original work is properly cited (CC BY 4.0).

Share & Cite This Article
MDPI and ACS Style
Rastrelli, M.; Ferrazzi, B.; Cavallin, F.; Chiarion Sileni, V.; Pigozzo, J.; Fabozzi, A.; Tropea, S.; Vecchiato, A.; Costa, A.; Parisi, A.; Rossi, C.R.; Del Fiore, P.; Alaibac, M. Prognostic Factors in Merkel Cell Carcinoma: A Retrospective Single-Center Study in 90 Patients. Cancers 2018, 10, 350.
Note that from the first issue of 2016, MDPI journals use article numbers instead of page numbers. See further details here.
Related Articles
Comments
[Return to top]