Open Access This article is
freely available
re-usable
Review
Role of COX-2/PGE2 Mediated Inflammation in Oral Squamous Cell Carcinoma
Department of Pathology and Microbiology, Atlantic Veterinary College, University of Prince Edward Island, Charlottetown, PE C1A 4P3, Canada
*
Author to whom correspondence should be addressed.
Received: 28 August 2018 / Accepted: 20 September 2018 / Published: 22 September 2018
Abstract
:
A significant amount of research indicates that the cyclooxygenase/prostaglandin E2 (PGE2) pathway of inflammation contributes to the development and progression of a variety of cancers, including squamous cell carcinoma of the oral cavity and oropharynx (OSCC). Although there have been promising results from studies examining the utility of anti-inflammatory drugs in the treatment of OSCC, this strategy has been met with only variable success and these drugs are also associated with toxicities that make them inappropriate for some OSCC patients. Improved inflammation-targeting therapies require continued study of the mechanisms linking inflammation and progression of OSCC. In this review, a synopsis of OSCC biology will be provided, and recent insights into inflammation related mechanisms of OSCC pathobiology will be discussed. The roles of prostaglandin E2 and cluster of differentiation factor 147 (CD147) will be presented, and evidence for their interactions in OSCC will be explored. Through continued investigation into the protumourigenic pathways of OSCC, more treatment modalities targeting inflammation-related pathways can be designed with the hope of slowing tumour progression and improving patient prognosis in patients with this aggressive form of cancer.
Keywords:
Oral squamous cell carcinoma; inflammation; invasion; COX-2; PGE-2; CD147
Author Contributions
Writing-Original Draft Preparation, W.H.S.N.; Writing-Review & Editing, J.C.R.-L. and C.K.M.
Funding
This research received no external funding.
Conflicts of Interest
The authors declare no conflict of interest.

Figure 1. Generation of prostaglandin E2(PGE2). Stimuli, such as chemical damage, physical damage, infections and other inflammatory mediators can trigger synthesis of PGE2. The process starts with the activation of phospholipase A2 (PLA2), an enzyme, which liberates free fatty acids, such as arachidonic acid. Arachidonic acid is converted into prostaglandin H2 (PGH2) by cyclooxygenase 1 and 2 enzymes (COX-1 and COX-2). COX-1 is often referred to as the housekeeping isoform, expressed in many tissues in order to maintain homeostasis, and COX-2 is considered the inducible form, important for augmented prostaglandin synthesis when an inflammatory response is required. PGH2 is converted into prostaglandin E2 by microsomal and cytosolic PGE2 synthase enzymes (mPGES and cPGES). PGE2 elicits cellular responses through interactions with prostaglandin receptors on target cells (EP1-4).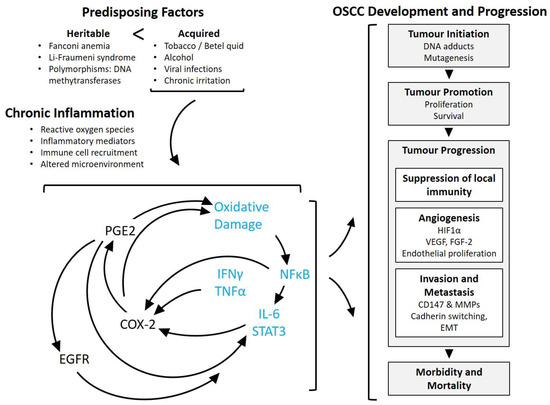 Figure 2. General role of PGE2-mediated inflammation in oral and oropharyngeal squamous cell carcinoma (OSCC) development and progression. Most cases of OSCC are attributable to acquired risk factors that are dominated by long-term tobacco and alcohol use, and infection with high risk human papillomavirus (HPV), rather than germline mutations. Infection and mechanical or chemical factors leads to chronic inflammation accompanied by oxidative damage and genetic and epigenetic alterations. In general, chronic inflammation is driven by a cycle of increased expression of mediators, including (but not limited to) PGE2, IFNγ and TNFα; arising from immune cells, stromal cells and tumour cells. PGE2 synthesis is chiefly attributed to COX-2 in OSCC. COX-2 activity and PGE2 have been shown to contribute to oxidative damage, increased expression of inflammation-associated transcription factors, and altered gene expression. Demonstrated outcomes of COX-2/PGE2 activity include activation of EGFR signalling, increased HIF1α and VEGF, and increased activity of CD147 and MMP enzymes. Collectively, chronic inflammation contributes to OSCC at various stages from initiation of carcinogenesis through invasion and metastasis, ultimately contributing to patient morbidity and mortality. Blue text signifies hypothesised mechanisms based on studies in other forms of cancer. COX-2 (cycloxygenase-2), PGE2 (prostaglandin E2), EP1-4 (PGE2 receptors 1 though 4), NFκB (nuclear Factor kappa-light-chain-enhancer of activated B cells), IL-6 (interleukin 6), STAT3 (signal transducer and activator of transcription 3), IFNγ (interferon γ), TNFα (tumour necrosis factor α), EGFR (epidermal growth factor receptor), HIF1α (hypoxia inducible factor 1α), VEGF (vascular endothelial growth factor), FGF-2 (fibroblast growth factor 2), CD147 (cluster of differentiation factor 147), MMP (matrix metalloproteinase), EMT (epithelial to mesenchymal transformation).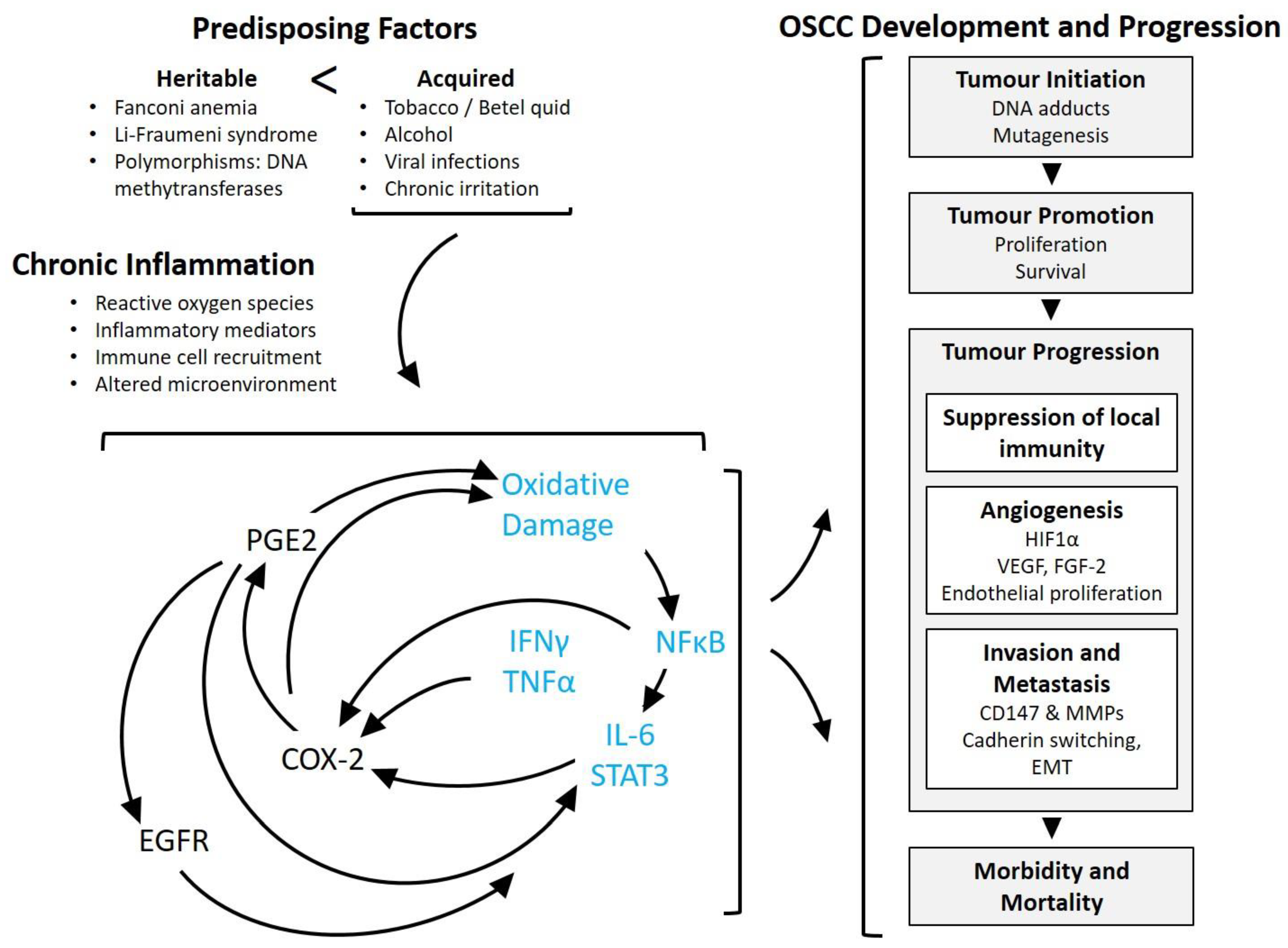 © 2018 by the authors. Licensee MDPI, Basel, Switzerland. This article is an open access article distributed under the terms and conditions of the Creative Commons Attribution (CC BY) license (http://creativecommons.org/licenses/by/4.0/).