Open Access This article is
freely available
re-usable
Article
Liquid Crystal Elastomer-Based Microelectrode Array for In Vitro Neuronal Recordings
Department of Bioengineering, University of Texas at Dallas, Richardson, TX 75080, USA
†
These authors contributed equally to this work.

Received: 31 July 2018 / Accepted: 16 August 2018 / Published: 20 August 2018
Abstract
:
Polymer-based biomedical electronics provide a tunable platform to interact with nervous tissue both in vitro and in vivo. Ultimately, the ability to control functional properties of neural interfaces may provide important advantages to study the nervous system or to restore function in patients with neurodegenerative disorders. Liquid crystal elastomers (LCEs) are a class of smart materials that reversibly change shape when exposed to a variety of stimuli. Our interest in LCEs is based on leveraging this shape change to deploy electrode sites beyond the tissue regions exhibiting inflammation associated with chronic implantation. As a first step, we demonstrate that LCEs are cellular compatible materials that can be used as substrates for fabricating microelectrode arrays (MEAs) capable of recording single unit activity in vitro. Extracts from LCEs are non-cytotoxic (>70% normalized percent viability), as determined in accordance to ISO protocol 10993-5 using fibroblasts and primary murine cortical neurons. LCEs are also not functionally neurotoxic as determined by exposing cortical neurons cultured on conventional microelectrode arrays to LCE extract for 48 h. Microelectrode arrays fabricated on LCEs are stable, as determined by electrochemical impedance spectroscopy. Examination of the impedance and phase at 1 kHz, a frequency associated with single unit recording, showed results well within range of electrophysiological recordings over 30 days of monitoring in phosphate-buffered saline (PBS). Moreover, the LCE arrays are shown to support viable cortical neuronal cultures over 27 days in vitro and to enable recording of prominent extracellular biopotentials comparable to those achieved with conventional commercially-available microelectrode arrays.
Keywords:
microelectrode array; liquid crystal elastomer; neuronal recordings
Author Contributions
Conceptualization, R.T.R., H.K., J.J.P. and T.H.W.; Methodology, R.T.R. and H.K.; Software, R.T.R.; Validation, R.T.R. and H.K.; Formal Analysis, R.T.R.; Investigation, R.T.R., H.K., R.A. and M.O.S.; Resources, J.J.P. and T.H.W.; Data Curation, R.T.R.; Writing-Original Draft Preparation, R.T.R. and H.K.; Writing-Review & Editing, R.T.R., B.J.B., H.K., J.J.P. and T.H.W.; Visualization, R.T.R. and H.K.; Supervision, J.J.P., T.H.W. and B.J.B.; Project Administration, J.J.P. and T.H.W.; Funding Acquisition, J.J.P. and T.H.W.
Funding
This research was partially-funded by the National Science Foundation under grant No. 1711383 and by the University of Texas at Dallas.
Acknowledgments
The authors extend their appreciation to Hamid Charkhkar for providing custom MATLAB code.
Conflicts of Interest
The authors declare no conflict of interest. The funders had no role in the design of the study; in the collection, analyses, or interpretation of data; in the writing of the manuscript, and in the decision to publish the results.
Figure 1. Chemistry of LCE and MEA fabrication: (a) Molecular structure of monomers used to synthesize the LCE and device fabrication procedure; (b) Cross-sectional schematic of LCE MEA devices.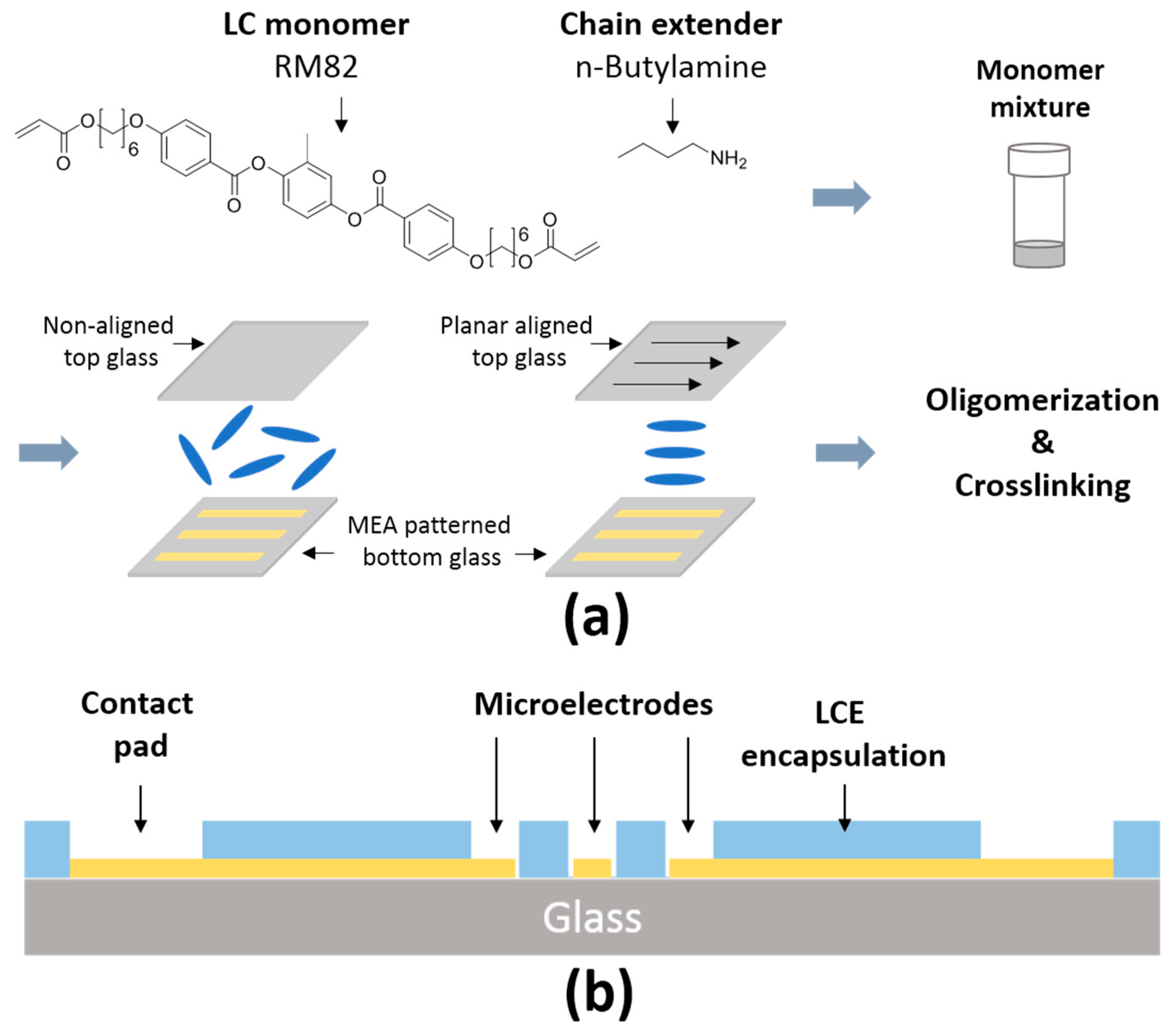 Figure 2. Cytotoxicity assays using both NCTC fibroblasts and primary cortical neurons: (a) Fluorescent images of NCTC fibroblasts (left) and primary murine-derived cortical neurons (right) stained with CaAM (green) for live cells and EthD-1 (red) for apoptotic cells. Scale bars represent 100 μm (b) Mean normalized fibroblast (left) and cortical neuron (right) viability percentages of LCE extract at 50% and 100% concentrations, positive control, and negative control. Blue dotted line at 70% represents the ISO threshold set for non-cytotoxic materials.
Figure 3. Functional neurotoxicity assays using primary cortical neurons: (a) Representative raster plots of spontaneous activity from single electrodes before (left) and after (right) each treatment. Scale bar represents 3 s. (b) Average Burst rate (left) and spike rate (right) of cortical neurons after 48 h exposure to LCE extract at 50% and 100% concentrations, positive control, and negative control.
Figure 4. LCE encapsulated MEA devices: (a) Optical image of LCE encapsulated MEA device with polycarbonate ring attachment. Red square indicates microelectrode sites at the center of the device. (b) Reflection optical microscope image of the microelectrode site. 30 × 30 μm microelectrodes are exposed by 50 μm windows for recording of extracellular activity. Electrical traces are fully encapsulated with LCE.
Figure 5. Neuronal Recordings and pharmacology on LCE MEAs: (a) Phase contrast image of cultured cortical neurons on LCE MEA DIV2. Scale bar represents 30 μm. (b) Representative extracellular waveforms recorded from LCE MEAs on DIV 21. Vertical and horizontal scale bars represent 40 μV and 280 μs. (c) Representative bandpass-filtered extracellular recordings from 2 representative electrodes on a single MEA (DIV 27) before and after application of TTX. Red arrowheads indicate network bursts. Vertical and horizontal scale bars represent 55 μV and 2 s.

© 2018 by the authors. Licensee MDPI, Basel, Switzerland. This article is an open access article distributed under the terms and conditions of the Creative Commons Attribution (CC BY) license (http://creativecommons.org/licenses/by/4.0/).