Open Access This article is
freely available
re-usable
Review
Spray Pyrolysis Technique; High-
K
Dielectric Films and Luminescent Materials: A Review
1
Departamento de Física, CINVESTAV, Apdo. Postal 14-470, Delegación Gustavo A. Madero, Mexico City C.P. 07000, Mexico
2
Instituto Politécnico Nacional, Centro de Investigación en Ciencia Aplicada y Tecnología Avanzada, Legaría 694 Colonia Irrigación, Mexico City C.P. 11500, Mexico
3
Instituto de Investigaciones en Materiales, UNAM, Apdo. Postal 70-360, Delegación Coyoacán, Mexico City C.P. 04150, Mexico
*
Author to whom correspondence should be addressed.
Received: 7 July 2018 / Accepted: 23 July 2018 / Published: 19 August 2018
Abstract
:
The spray pyrolysis technique has been extensively used to synthesize materials for a wide variety of applications such as micro and sub-micrometer dimension MOSFET´s for integrated circuits technology, light emitting devices for displays, and solid-state lighting, planar waveguides and other multilayer structure devices for photonics. This technique is an atmospheric pressure chemical synthesis of materials, in which a precursor solution of chemical compounds in the proper solvent is sprayed and converted into powders or films through a pyrolysis process. The most common ways to generate the aerosol for the spraying process are by pneumatic and ultrasonic systems. The synthesis parameters are usually optimized for the materials optical, structural, electric and mechanical characteristics required. There are several reviews of the research efforts in which spray pyrolysis and the processes involved have been described in detail. This review is intended to focus on research work developed with this technique in relation to high-
K
dielectric and luminescent materials in the form of coatings and powders as well as multiple layered structures.
Keywords:
spray pyrolysis technique; dielectric materials; luminescent materials
1. Introduction
The spray pyrolysis technique is a low-cost, non-vacuum required, way to synthesize materials in the form of powders and films. In the case of films, they are usually deposited over a wide variety of substrates that can be easily adapted for large area deposition and industrial production processes [
1
,
2
,
3
,
4
,
5
,
6
,
7
]. A large amount of the work reported using this technique is concerned with semiconductors, metal and transparent conductive oxides (TCO's) related to their electrical conductivity characteristics. In particular, in the case of TCO's and their relevance for photovoltaic applications, a considerable amount of effort was set to optimize their optical transparency in the visible and electrical conductivity characteristics. This was the case for indium-tin oxides (ITO), indium-Zinc Oxide (IZO), fluorinated-tin oxide (FTO) and many others [
1
,
3
]. It was until a few decades ago that different metal oxide and compounds, mixed or in a multiple layer form, incorporating a large variety of dopants were synthesized by this technique for other application purposes [
8
,
9
,
10
]. Thus, coatings were developed to modify the optical absorption/transmittance, and emissivity of flat glass for the automotive, as well as construction industries. Furthermore, they were also developed for multiple layered structures, such as planar waveguides and resonant optical cavities for photonics [
11
,
12
,
13
], as well as semiconducting and metal oxide layers. These were doped with a variety of atomic and molecular centers, synthesized by this technique, for the development of light emission devices [
14
,
15
]. The dielectric characteristics of many metal oxides were also evaluated for high dielectric constant coatings for dielectric gate layers that might find applications in MOSFET technology, as well [
16
,
17
,
18
,
19
,
20
].
This technique is an atmospheric pressure chemical synthesis of materials, in which a precursor solution of chemical compounds in the proper solvent is sprayed through a furnace. In the case of powders, or on a hot substrate in the case of films, where a pyrolysis reaction is achieved, metal oxides is the preferred compound to be obtained by this technique. Nonetheless, metal and semiconductor materials have also been synthesized by a proper deposition ambient and carrier gas choice [
1
,
15
]. In this paper, a revision of the work involving the spray pyrolysis technique (published in the later period of time) will be presented. This focuses on the high-
K
dielectric and luminescent properties of coatings and powders as well as multiple layered structures. This review will begin with a brief general description of the basic physical and chemical principles utilized by this technique, and the different experimental arrangements and deposition regimes that are involved in this process. The main characteristics of high-
K
dielectric materials deposited on different type of substrates will then be discussed, as well as the luminescent characteristics of both powders and coatings of materials obtained by the incorporation of dopants in a suitable matrix.
2. Spray Pyrolysis as Materials Synthesis Technique
The spray pyrolysis technique involves three major process stages: Precursor solution composition, aerosol generation and transport, and synthesis process. Every one of these stages is tuned according to of the final chemical and physical characteristics of the material targeted; these adjustments and the choice of materials/processes at each stage will affect the rest of the stages, to some extent. Thus, at the first stage, the chemical composition of the precursor solution will have to involve a compound(s) that will render after the pyrolysis stage the chemical composition required. The selection of the solvent will limit the maximum concentration of the precursor compound in the solution and will determine the best choice for the aerosol generation/transport process and the temperature and rate of synthesis. At the second stage, the aerosol droplet size distribution, determined by the aerosol generation mechanism, will set the morphological characteristics of the final material produced, as well as the proper range of synthesis temperatures. The carrier gas nature and flux rate will propitiate or reduce the probability of a reactive interaction with the precursor compound. At the last stage, the decision whether the final chemical reaction takes place on a gas phase or on a hot substrate will determine if the material synthesized is a powder or a film coating. In general, given an experimental setup, the synthesis parameters that are more relevant are the concentration molarity of the precursor solution, the carrier gas flux rate, and the synthesis temperature.
The solvent in the precursor solution is chosen attending to the solubility of the precursor compound and on its physical properties such as density and viscosity as well as on the final byproducts that will generate and how neutral for their disposal they will be. The preferred choice is water or a mixture of water and an alcohol, which will dissolve many inorganic salts (such as chlorides, some nitrites and fluorides). Organic salts will require organic solvents that, when properly selected, could render excellent precursor solutions, especially for thin films deposition processes [
4
].
The aerosol generation mechanism could be as simple as a pneumatic system or a more complex but more tunable ultrasonic system.
Figure 1
illustrates both systems. In the most common setup for a pneumatic system (
Figure 1
a), a Venturi nozzle is used in which the precursor solution is fed through a fine (capillary like) inlet into a pressurized carrier gas jet flow. An equation to estimate the average drop diameter has been developed for this type of nozzle [
21
]:
where;
G
l
and
G
g
represent the mass flow rate of liquid and gas, respectively,
γ
the liquid surface tension,
ρ
the density of the gas,
D
the diameter of the spraying solution inlet orifice, and
ν
the velocity of gas. The actual experimental distribution of the droplet diameter size distribution generated by pneumatic means [
3
] is shown in
Figure 1
b, for the number of drops and for the total mass carried by the drops, in both cases a broad distribution is observed.
Figure 1
c shows a diagram of an ultrasonic system [
5
], in which the aerosol is generated by the ultrasonic waves produced with a piezoelectric disc in contact with the precursor solution. The standing waves generated at/near the surface of the liquid solution result in a generation of droplets in a combination of surface waves (capillary waves) and cavitation phenomena. The first mechanism dominates at low frequencies (20–100 kHz) and the later at frequencies above 100 kHz (0.1–5 MHz). An expression that estimates well the diameter of the droplets was derived [
22
] as follows:
where
In these expressions;
f
is the ultrasonic wave frequency,
Am
is the amplitude,
σ
is the surface tension,
ρ
is the liquid density, μ is the viscosity and
Q
is the volumetric flow rate of the liquid and
νs
is the speed of sound.
Figure 1
d shows the experimental distribution for the number of drops and for the total mass carried by the drops generated by ultrasound waves at three different frequencies: 0.7, 0.115, and 3 MHz. The narrow distribution of drops, as well as the control on the average size, is considered the main advantages of the ultrasonic aerosol generation systems. Once the aerosol mist is generated, it has to be transported to the material synthesis area, since in most cases the droplets in the aerosol are below 20 µm in diameter, they can be carried with a gas flow set to minimize coalescence of the drops throughout the transport process, and also to render a desired synthesis rate. Since the carrier gas will be closely present during the synthesis process, whether it is chosen to be an inert or a reactive gas becomes relevant. Thus, if the carrier gas is air, the synthesis is limited to compounds that are as stable like or even better than oxides. In the case of metals, the carrier gas has to be an inert gas which in some cases is combined with a reduction gas (N
2
and H
2,
as in the case of forming gas) [
1
].
At the reactive zone, several parameters are determinant as to what type of material synthesis process occurs, such as temperature, droplet size and their speed. The reactive zone is, in the case of film deposition, the space near the surface of the hot substrate (a few millimeters above the surface of the substrate), or the furnace heated chamber, in the case of powder synthesis.
Figure 2
shows a diagram of the different stages at which the droplet is subjected as it approaches the hot substrate for two cases a fixed droplet size and speed, different (increasing from A to D,
Figure 2
a) temperature of the substrate and fixed substrate temperature and speed of different droplet sizes (decreasing droplet size from A to D,
Figure 2
b) [
23
,
24
]. At low temperature (large initial droplet size), the solvent within the droplet is not completely vaporized and the liquid droplet hits the substrate and upon contact with it vaporizes leaving a ring-shaped dry precipitate on the substrate (process A). At low or intermediate temperature values (large or medium droplet size) the solvent is vaporized, and a dry precipitate (an amorphous precursor salt) hits the substrate surface where a pyrolysis reaction takes place (process B). At intermediate or high temperatures (medium or small droplet size) the droplet goes through all previously described stages. Near the substrate surface the dry precipitates are vaporized, propitiating a chemical vapor reaction (CVD) on the surface of the substrate (process C). Finally, for high temperature (small droplet sizes) the vaporized precipitates undergo a chemical reaction in the vapor phase before they reach the substrate surface (process D). In the case powder synthesis, similar processes occur—but for this case, the parameter that controls the occurrence of the different synthesis stages is the time of flight (time of residence) of the droplet inside the hot zone of the furnace [
5
].
3. High-
K

Dielectric Films

Results associated to the fabrication and characterization of high-

K

dielectrics obtained by ultrasonic spray pyrolysis (USP) is shown in this section. The synthesis of high-

K

dielectric thin films by USP is considered of great importance because, as can be inferred from the last section, the technique is neither expensive nor difficult to be developed in any fair laboratory [

2

]. Several high-

K

dielectrics have been attempted, including aluminum oxide thin films, zirconium oxide, and yttrium oxide [

16

,

17

,

18

,

19

,

20

]. The main goal of researching high-

K

dielectrics is the preparation of metal oxides that might be of interest for the scaling and gate capacitance of some devices in the future. Literature has shown clearly the need to develop high-

K

dielectric materials [

25

,

26

] for electronic microdevices in the silicon based Complementary Metal Oxide Semiconductor (CMOS) technology. This is the case of Field Effect Transistors (FETs), one of the most important devices, because of its low power consumption and performance. However, the need of down scaling has been a very dramatic issue. Furthermore, the materials involved for these applications show a dramatic constraint in the dielectric layers that play an important role in the FETs. In them, the thickness of the SiO

2

layer needed for the gate dielectric is under 1.4 nm; so thin that the gate leakage current by direct tunneling of electrons through the SiO

2

film becomes too high. This, and other drawbacks, have resulted in a search for better suited dielectric materials than that of SiO

2

. Since the tunneling current across a dielectric film decreases exponentially with increasing thickness (, where is the barrier height for tunneling), a thicker layer of a higher dielectric constant material than SiO

2

is a possible solution. In a FET, the source-drain current depends on the gate capacitance: , where is the permittivity of free space, is the relative permittivity, is the area and is the oxide thickness. So, to solve the problem of leakage current due to tunneling, it is required to replace SiO

2

with a physically thicker layer of a higher dielectric constant material. This would preserve the capacitance value with a reduced tunneling current. With this purpose in mind, the "equivalent oxide thickness", (EOT), defined as , where the 3.9 value is the dielectric constant of SiO

2

, has been used as a figure of merit for high-

K

dielectrics to be used instead SiO

2

. The requirements for choosing a new high dielectric are the following: (i) Its value must be high enough. (ii) The oxide should be thermodynamically stable when in contact with the Si channel. (iii) It must act as an insulator (large barrier with Si for both holes and electrons), and (iv) It should have a good electrical interface with Si. The static dielectric constant of high-

K

oxides is already known. Some oxides with its dielectric constant are listed in

Table 1

[

25

,

26

].
4. Luminescent Materials
Luminescent materials, in the form of powders (phosphors) and films, have been extensively studied in recent decades [
35
,
36
] because their great importance for a wide variety of applications such as: Lighting, image displays, signaling, lasers, medical applications, etc. [
37
,
38
]. They have been synthesized through a variety of physical and chemical techniques, including: Hidrothermal/Solvothermal [
39
,
40
,
41
], solid-state reaction [
42
], sol-gel [
43
,
44
], laser ablation [
45
,
46
], sputtering [
47
], Pechini Method [
48
], plasma electrolitic oxidation [
49
], conventional melt-quenching method [
50
,
51
], combustion synthesis [
52
], solvent evaporation method [
53
,
54
,
55
], and co-precipitation process [
56
]. Among these techniques, spray pyrolysis began to be used for this purpose in the mid-1980s, and it is still used today [
57
,
58
]—proving to be a practical, low cost, easy to extrapolate for large area deposition technique. In this review, an account is made on diverse luminescent materials synthesized by this technique. These materials in general involve one or more luminescent centers incorporated as dopants in a host lattice. A great variety of host lattices have been used for the synthesis (by means of spray pyrolysis) of phosphors and luminescent films, among them stand out metal oxides such as: ZrO
2
, Al
2
O
3
, HfO
2
, Y
2
O
3
, ZnO, In
2
O
3
, ZnSiO
3
, CdO, (Y, Gd)BO
3
, Gd
2
O
3
, LaPO
4
, BaMgAl
10
O
17
, and some sulfur based compounds such as: ZnS, CaSO
4
, CdS, and others. The luminescent active centers have been mainly RE (Rare Earth) and some transition metal ions. In some cases, luminescence emission has been observed to be generated by mechanisms that involve structural defects and intrinsic states in the host lattices as well. This review focuses mainly on the work done on host lattices such as: ZrO
2
, Al
2
O
3
, HfO
2
, Y
2
O
3
, ZnO, and ZnS with different dopants.
4.6. ZnS
A research on the luminescence of ZnS, ZnS:TbC1
3
and ZnS:SmC1
3
films, deposited by the Pneumatic SP technique, was first reported in 1988 [
137
]. The ZnS films were deposited using a spraying solution obtained by mixing in equal proportions solutions of 0.1 M of Zn acetate and 0.1 M of dimetylthiourea (C
3
H
8
N
2
S), both dissolved in three parts of isopropyl alcohol and one part of deionized water. The doped films were prepared by adding TbCI
3
; or SmCI
3
, to the spraying solution at a 10 at.% concentration; the substrate temperature, during the deposition, was either 300, 330, 360, or 375 °C. The solution flow rate was 14 cm
3
/minute and the nozzle substrate distance was 30 cm in all cases. The doped films exhibited strong PL emission with a blue dominant peak at about 460 nm. This peak is characteristic of chlorine-doped ZnS phosphors. The films had poor crystallinity with a cubic crystalline structure. The optical transmission (T about 80%) characteristics of these films showed an absorption edge shifted to shorter wavelengths compared with those of the undoped films. Photoluminescent characteristics of In-, Al-, and Cu-doped ZnS films were reported in 1989 [
138
]. These films were deposited from a spraying solution formed by 0.1 M (CH
3
COO)
2
+ 0.1 M C
3
H
8
N
2
S dissolved in a mixture of three parts of isopropyl alcohol plus one part of deionized water. Doping was reached adding InC1
3
, A1C1
3
, or CuCl to the starting solution. The substrate temperatures were either 270, 300 or 330 °C. The substrates were pyrex glass slides, pyrex glass coated with In
2
O
3
and silicon oxide. All films showed polycrystalline features which could be associated to a wurtzite structure of ZnS. Also, the presence of chlorine was detected into the films in quantities that depended on the deposition parameters. The PL spectra measured at room temperature displayed different emission peaks for each one of the impurities. The PL spectra from the Al-doped ZnS films showed a peak centered at 470 nm. The In-doped ZnS films showed a peak about 545 nm and the PL spectrum from the Cu-doped films exhibited a peak at 570 nm. The shape and intensity of the PL spectra do not depend strongly on the type of substrate.
The luminescent properties of ZnS:Mn films deposited by the pyrolysis spray technique on glass substrates at atmospheric pressure using air as a carrier gas were reported, for the first time, in 1992 [
139
]. The spraying solution in this case consisted of 0.1 M of Zn acetate and 0.1 M of dimethylthiourea in a mixture of three parts of isopropyl alcohol and one part of deionized water. The Mn doping was achieved by mixing MnCl
2
(0–20 at.%) in the spraying solutions; the deposition temperature was varied between 340 and 500 °C in steps of 20 °C. All films resulted polycrystalline with a wurtzite (hexagonal) structure. The PL spectra show, besides the characteristic light emission associated with Mn (yellow at 590 nm) in a ZnS host lattice, a peak associated with the self-activated emission (blue at 490 nm) observable at low substrate temperatures and/or long deposition times. The presence of chlorine impurities in the films was suggested to be associated with this emission. The Mn related luminescence showed a quenching effect with the Mn concentration (at concentrations higher than 3 at.% Mn in the spraying solution). The light emission at this center had an activation energy of 0.71 ± 0.05 eV with the deposition temperature. This energy was proposed to be related with the energy required for the Mn atoms to find a proper site during the growth process to form a Mn
2+
center. These films were incorporated in a Metal-Insulator-active layer- Insulator-Metal (M-I-S-I-M) structure and their electroluminescent features were reported in 1995 [
14
]. These alternating current electroluminescent thin film structures were prepared using, for the first time, high-quality SiO
2
insulating thin films and spray pyrolyzed ZnS:Mn
2+
as the active layer. The structures prepared with 60 nm thick insulating films showed threshold voltages of 30 V (rms) and saturation voltages of about 56 V (rms). The electroluminescent emission spectra presented a peak centered at 590 nm (yellow emission) associated with the Mn
2+
center. The brightness-voltage characteristics were typical for a structure of the M-I-S-I-M type. The external efficiency calculated from the charge-voltage characteristics had a value of 1.8 Lumen/Watt.
Spray pyrolysis synthesis of ZnS nanoparticles (sub-10 nm) from a single-source precursor was published in 2009 [
140
]. Here, it was reported the synthesis of cubic ZnS nanoparticles from a low-cost single-source precursor in a continuous spray pyrolysis reactor. In this study, a single-source precursor: Diethyldithiocarbamate, [(C
2
H
5
)
2
NCS
2
]
2
Zn, dissolved in toluene was used to synthesize ZnS nanoparticles. The furnace setpoint temperature was typically 600–800 °C. In this method, the evaporation and decomposition of precursor and nucleation of particles occur sequentially. XRD indicated a Cubic ZnS (zinc blende) for the synthesized particles. High Resolution Transmission Electron Microscopy (HRTEM) images showed ZnS particles with diameters ranging from 2 to 7 nm were. As-synthesized ZnS nanoparticles (excited at 350 nm) exhibited blue photoluminescence near to 440 nm had quantum yields up to 15% after HF treatment. This demonstrated a potentially general approach for continuous low-cost synthesis of semiconductor quantum dots, and applications in solar cells, lasers and displays. Also, ZnS nanoparticles can be applied as phosphors, probes for bio-imaging, emitters in light emitting diodes and photocatalysts.
5. Conclusions
This review describes some of the very extensive research work about the spray pyrolysis technique, which without doubt, is an extraordinarily flexible and practical materials synthesis method. It is a low-cost, non-vacuum required, way to synthesize materials in the form of powders and films deposited over a wide variety of substrates, and can be easily adapted for large area deposition and industrial production processes. The present work has been limited to review several luminescent materials and those with high-
K
dielectric properties, most of them metal oxides, synthesized by this process. Concerning the dielectric materials, it has been focused on the work carried out in high-
K
dielectric films of aluminum oxide, yttrium oxide, and zirconium oxide, developed for application on MOSFET technology devices. Through the works reviewed, the spray pyrolysis technique has been proved to be a technique capable of producing films as thin as 30 nm on silicon wafers with an outstanding dielectric and optical qualities, which could also be considered for design and development of sensors and other multilayered microdevices—such as planar waveguides and resonant optical structures. In the case of luminescent materials (PL, CL, TL, Up-conversion), the information reviewed shows that metal oxides (ZrO
2
, HfO
2
, Al
2
O
3
, Y
2
O
3
, ZnO) and ZnS doped with rare earth and transition metal ions with specific luminescent characteristics could be tailored according to light emitting devices, and to many other applications requirements.
Author Contributions
Writing-Review & Editing, C.F.; Writing-Review of High K dielectrics section, M.A.A.-F.; Writing-Review of luminescent materials section, M.G.-H.
Funding
This research was funded by CINVESTAV IPN and CONACyT-Mexico grant number (CB-2015/253342).
Acknowledgments
J.U. Balderas and G.L. Jimenez for their technical support. Especial thanks to G. Righini for his invitation to write this review.
Conflicts of Interest
The authors declare no conflict of interest. The founding sponsors had no role in the design of the study; in the collection, analyses, or interpretation of data; in the writing of the manuscript, and in the decision to publish the results.
Figure 1. The most common aerosol generation systems, pneumatic and ultrasonic, and the droplet distribution by diameter size or by the amount of solution delivered: (a) Shows the pneumatic setup, and (b) the corresponding droplet distribution. (c) Shows the ultrasonic system, and (d) the droplet distribution for this system.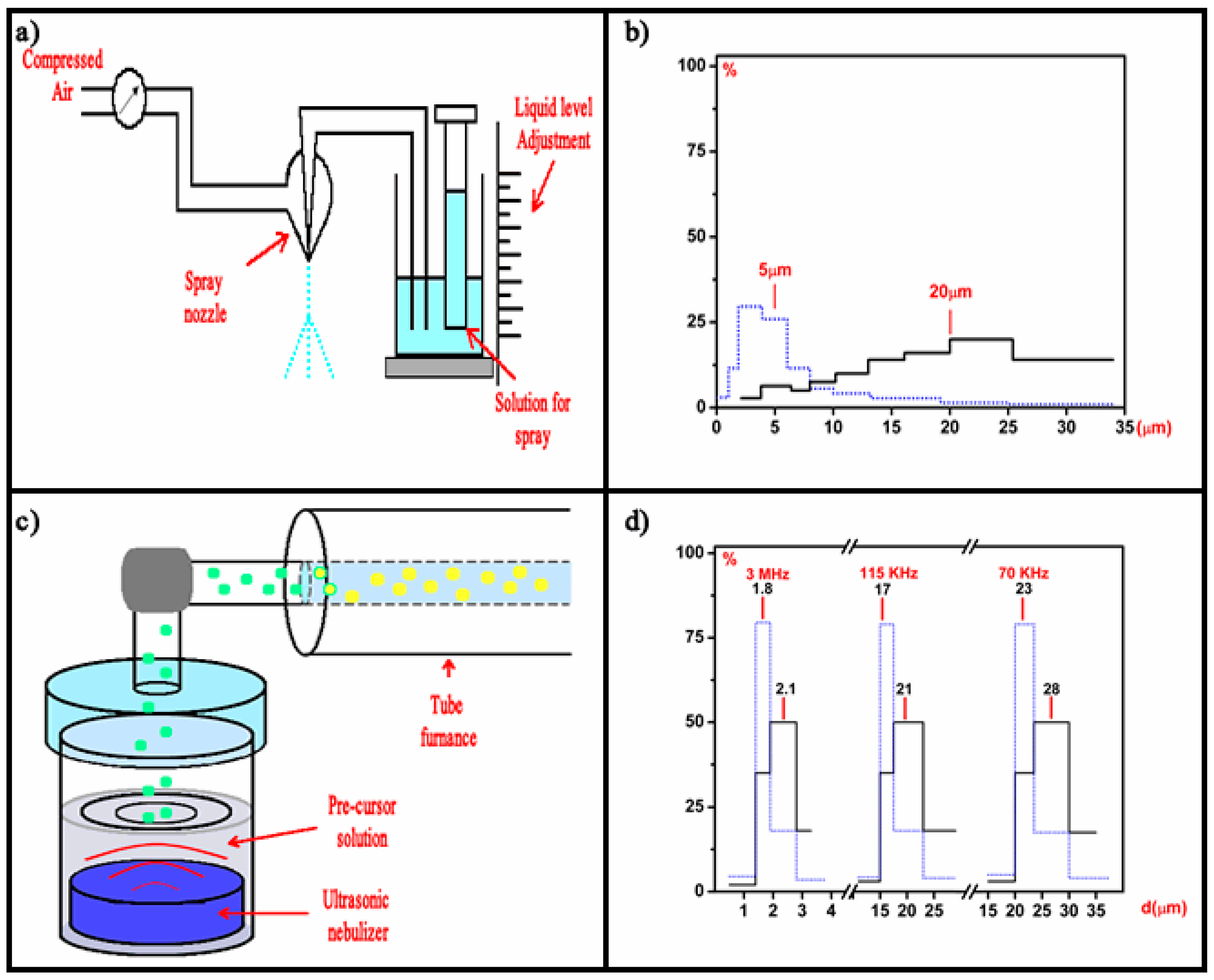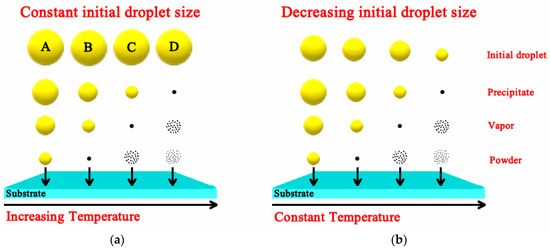 Figure 2. Diagram of the different process stages for the aerosol droplet evolution as it approaches the hot substrate for two cases: (a) Constant initial droplet size and increasing substrate temperature, and (b) constant substrate temperature and decreasing initial droplet size.
| Oxide | |
| --- | --- |
| SiO2 | 3.9 |
| Si3N4 | 7 |
| Al2O3 | 9 |
| Ta2O5 | 22 |
| TiO2 | 80 |
| ZrO2 | 25 |
| HfO2 | 25 |
| HfSiO4 | 11 |
| La2O3 | 30 |
| Y2O3 | 15 |
| a-LaAlO3 | 30 |

Table 2.
Physical properties of a few solvents used during the deposition of some high-
K
dielectrics.
| Solvent | Boiling Point (°C) | Viscosity at Room Temperature (mPas) | Density (g/cm3) | Chemical Formula |
| --- | --- | --- | --- | --- |
| Dimethylformamide | 153.0 | 0.80 | 0.95 | C3H7NO |
| Methanol (Methyl Alcohol) | 65.0 | 0.52 | 0.79 | CH3OH |
| Ethanol (Ethyl Alcohol) | 78.5 | 1.19 | 0.78 | CH3CH2OH |
| Propanol (n-Propyl Alcohol) | 97.4 | 2.25 | 0.80 | CH3(CH2)2OH |
| Butanol (n-Butyl Alcohol) | 117.0 | 2.95 | 0.80 | CH3(CH2)2CH2OH |

© 2018 by the authors. Licensee MDPI, Basel, Switzerland. This article is an open access article distributed under the terms and conditions of the Creative Commons Attribution (CC BY) license (http://creativecommons.org/licenses/by/4.0/).