Inkjet Printing of High Aspect Ratio Superparamagnetic SU-8 Microstructures with Preferential Magnetic Directions
1
Microsystems Laboratory, Ecole Polytechnique Fédérale de Lausanne (EPFL), 1015 Lausanne, Switzerland
2
Multi-Scale Robotics Lab, Institute of Robotics and Intelligent Systems, ETH Zurich, 8092 Zurich, Switzerland
3
Micro and Nanosystems, ETH Zurich, 8092 Zurich, Switzerland
*
Authors to whom correspondence should be addressed.
†
Present Address: Micro Resist Technology GmbH, Köpenicker Str. 325, 12555 Berlin, Germany.
‡
Present Address: Takeuchi Biohybrid System Laboratory, The University of Tokyo, Komaba, Tokyo 153-0041, Japan.
§
Present Address: Laboratory for Micro- and Nanotechnology, Paul Scherrer Institut, 5232 Villigen-PSI, Switzerland.
||
Present Address: Bio, Electro and Mechanical Systems, Ecole Polytechnique, Université Libre de Bruxelles, 1050 Bruxelles, Belgium.
Received: 29 June 2014 / Revised: 2 August 2014 / Accepted: 18 August 2014 / Published: 25 August 2014
Abstract
Structuring SU-8 based superparamagnetic polymer composite (SPMPC) containing Fe
3
O
4
nanoparticles by photolithography is limited in thickness due to light absorption by the nanoparticles. Hence, obtaining thicker structures requires alternative processing techniques. This paper presents a method based on inkjet printing and thermal curing for the fabrication of much thicker hemispherical microstructures of SPMPC. The microstructures are fabricated by inkjet printing the nanoparticle-doped SU-8 onto flat substrates functionalized to reduce the surface energy and thus the wetting. The thickness and the aspect ratio of the printed structures are further increased by printing the composite onto substrates with confinement pedestals. Fully crosslinked microstructures with a thickness up to 88.8 μm and edge angle of 112° ± 4° are obtained. Manipulation of the microstructures by an external field is enabled by creating lines of densely aggregated nanoparticles inside the composite. To this end, the printed microstructures are placed within an external magnetic field directly before crosslinking inducing the aggregation of dense Fe
3
O
4
nanoparticle lines with in-plane and out-of-plane directions.
View Full-Text
►

▼

Figures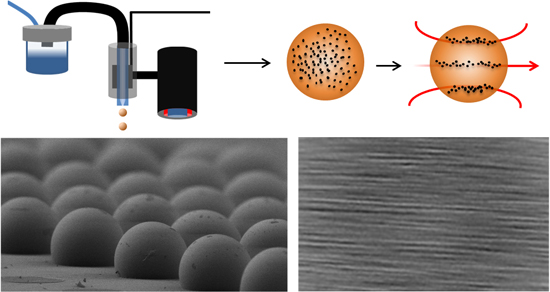 Graphical abstract

Share & Cite This Article
MDPI and ACS Style
Jacot-Descombes, L.; Gullo, M.R.; Cadarso, V.J.; Mastrangeli, M.; Ergeneman, O.; Peters, C.; Fatio, P.; Freidy, M.A.; Hierold, C.; Nelson, B.J.; Brugger, J. Inkjet Printing of High Aspect Ratio Superparamagnetic SU-8 Microstructures with Preferential Magnetic Directions. Micromachines 2014, 5, 583-593.
Related Articles
Comments
[Return to top]