Open Access This article is
freely available
re-usable
Article
Sustainable Fully Printed UV Sensors on Cork Using Zinc Oxide/Ethylcellulose Inks
i3N/CENIMAT, Department of Materials Science, NOVA School of Science and Technology, Universidade NOVA de Lisboa and CEMOP/UNINOVA, Campus de Caparica, 2829-516 Caparica, Portugal
*
Author to whom correspondence should be addressed.
Received: 3 August 2019 / Accepted: 10 September 2019 / Published: 12 September 2019
Abstract
:
Low-cost and large-scale production techniques for flexible electronics have evolved greatly in recent years, having great impact in applications such as wearable technology and the internet of things. In this work, we demonstrate fully screen-printed UV photodetectors, successfully fabricated at a low temperature on a cork substrate, using as the active layer a mixture of zinc oxide nanoparticles and ethylcellulose. The photoresponse under irradiation with a UV lamp with peak emission at 302 nm exhibited a quasi-quadratic behavior directly proportional to the applied voltage, with a photocurrent of about 5.5 and 20 μA when applying 1.5 V and 5 V, respectively. The dark current stayed below 150 nA, while the rise and falling times were, respectively, below 5 and 2 s for both applied voltages. The performance was stable over continuous operation and showed a degradation of only 9% after 100 bending cycles in a 45 mm radius test cylinder. These are promising results regarding the use of this type of sensor in wearable applications such as cork hats, bracelets, or bags.
Keywords:
UV sensors; cork substrates; printing; low temperature; zinc oxide nanoparticles
2. Experimental Section
The ZnO ink vehicle was prepared by dissolving 5 wt. % ethylcellulose (C6H7O2(OC2H5)3; CAS:9004-57-3 from Aldrich, Alabama, AL, USA) in a 80:20 toluene/ethanol solution (both purchased from Aldrich, Alabama, AL, USA). After complete dissolution by stirring at 250 rpm overnight, ZnO nanopowder (<100 nm particle size, CAS:1314-13-2 from Aldrich, Alabama, AL, USA) was added, representing 40 wt. % of the final ink, and the mixture was continuously stirred until it was dispersed completely. ZnO/EC layers were screen-printed using a mesh model 77–55 (mesh count 190, aperture 81 μm, thread diameter 55 μm) and dried at room temperature. Carbon ink (TU-10s, 30–50 Pa.s) was obtained from Asahi Chemical Research Laboratory Co., Ltd (31350 Ipoh, Perak, Malaysia), and the pattern of the carbon interdigital electrodes was defined using a mesh model 120–34 (mesh count 305, aperture 45 μm, and thread diameter 34 μm). The pattern was dried at 100 °C. In this work, commercial cork sheet fabric obtained from Corticeira Viking Lda. was used as substrate.
For comparison purposes, reference samples were printed on a regular glass substrate 1 mm thick from Marienfeld (Lauda-Königshofen, Germany) (previously cleaned and then subjected to a UV-irradiation surface treatment lasting 30 min through a UV–ozone cleaner—Novascan PSD Series).
The photoresponsivity and time response of the prepared sensors were obtained using a Gamry Instruments Reference 600 Potentiostat in a chronoamperometry configuration, applying a continuous DC voltage (1.5, 5, or 10 V) between the interdigital electrodes. The response of the photodetector was tested under dark (UV lamp OFF) and light (UV lamp ON) conditions, using a UV lamp UVM-28; 8 W; λ = 302 nm (UVB) at a fixed distance of 10 cm from the sensor. The ON/OFF time period was 30 or 60 s, depending on the tests, and the time step for data acquisition was fixed at 0.1 s.
The surface of the substrate and printed layers was examined by scanning electron microscopy (SEM) using a Hitachi TM3030Plus table top workstation (Tokyo, Japan), to assess the printing quality and substrate coverage.
In order to study the sensors' flexibility, two different mechanical tests were performed: a cycling test with a controlled bending radius (45 mm and 25 mm) and a fixed bending test (45 mm) over time (up to 48 h). A standard peeling test, also known as "Scotch Tape test" was performed using a commercial transparent adhesive tape from Staples® to make inferences about the adhesion of the printed layers to the cork.
3. Results and Discussion
3.1. Substrate and Printing Process
The UV photosensors were printed directly onto the cork sheet surface without any pre-treatment, as shown in
Figure 1
a. The ZnO/EC layers were the first to be printed, with a drying step at room temperature, followed by printing of the carbon interdigital electrodes, with a drying step of 30 min at 100 °C (
Figure 1
b,c, respectively). The photosensitive layer had the dimensions of a 6.5 × 6.5 mm square, and the electrodes had four pairs of interdigital fingers 0.3 mm wide, with a 0.3 mm gap between neighboring fingers, which left an active layer of approximately 13.65 mm
2
to be directly stimulated by the light source. A real top-view image of a finished photosensor is shown in
Figure 1
c.
3.2. Electrical Characterization
4. Conclusions
In this work, we have reported for the first time the fabrication of fully-printed UV photosensors on an eco-friendly and low-cost cork sheet substrate. Proper optimization of the ZnO/EC ink and number of printing steps allowed any pre-treatment of the substrate surface to be avoided, while the whole production process was done at a maximum temperature of 100 °C. The EC was revealed to be a good option as a binder and dispersing agent for ZnO nanoparticles. The combination of the eco-friendly functional ink with a top-electrode architecture allowed for a fast response to UV irradiation with a τrise < 5 s and τfall < 2 s. The photo-response of the sensors on cork remained stable for more than one month without any encapsulation or special storage conditions. The results presented here show that cork is an alternative low-cost and sustainable substrate able to be used in printed electronics, presenting a great potential for wearable applications.
Author Contributions
Conceptualization, J.F., C.G., T.C.; Methodology, J.F., C.G. and L.P.; Data curation J.F, J.L. and L.P.; Investigation, J.F. and C.G.; Writing—original draft preparation, J.F.; Project administration, L.P. and R.M.; Writing—review and editing, C.G., J.L., L.P., E.F. and R.M.; Funding acquisition, L.P., E.F. and R.M..
Funding
The authors acknowledges the support from FCT—Portuguese Foundation for Science and Technology through the Ph.D. scholarships SFRH/BD/121679/2016 (Joana Figueira) and SFRH/BD/139225/2018 (José Tiago Carvalho). The authors would like to acknowledge the European Commission under project NewFun (ERC-StG-2014, GA 640598) and BET-EU (H2020-TWINN-2015, GA 692373). This work was also supported by FCT—Portuguese Foundation for Science and Technology, Reference UID/CTM/50025/2019, project PapEl, reference PTDC/CTM-NAN/5172/2014, project reference PTDC/CTMBIO/6178/2014.
Acknowledgments
The authors would like to acknowledge Corticeira Viking Lda for the cork sheet fabrics and Rogério Morais for some SEM images.
Conflicts of Interest
The authors declare no conflict of interest.
Figure 1. UV photosensor printing process scheme: (a) cork substrate glued to paper or fabric; (b) ZnO/EC (ethylcellulose) active layer printing step; (c) carbon interdigital electrode printing step. A scanning electron microscope (SEM) image of the cork surface is also shown, together with a top view of the sensors obtained by an optical microscope.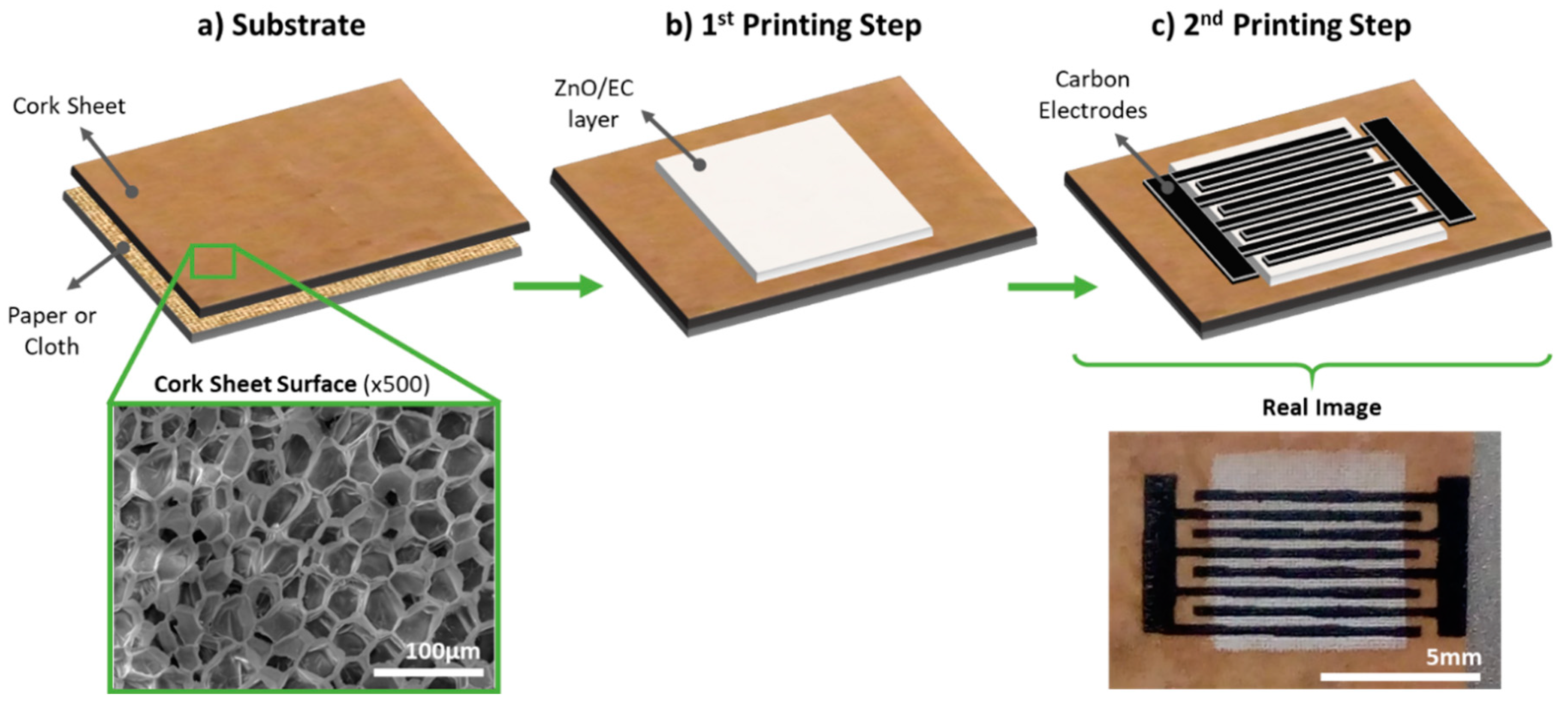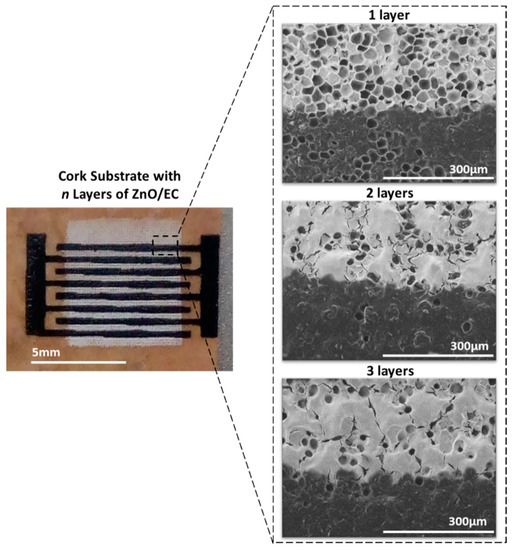 Figure 2. SEM images of the printed layers on top of cork sheet, showing the influence of the number of printed layers (n) on the coverage quality and surface morphology. The light zones correspond to the printed ZnO/EC, while the dark ones are the printed carbon interdigital electrodes.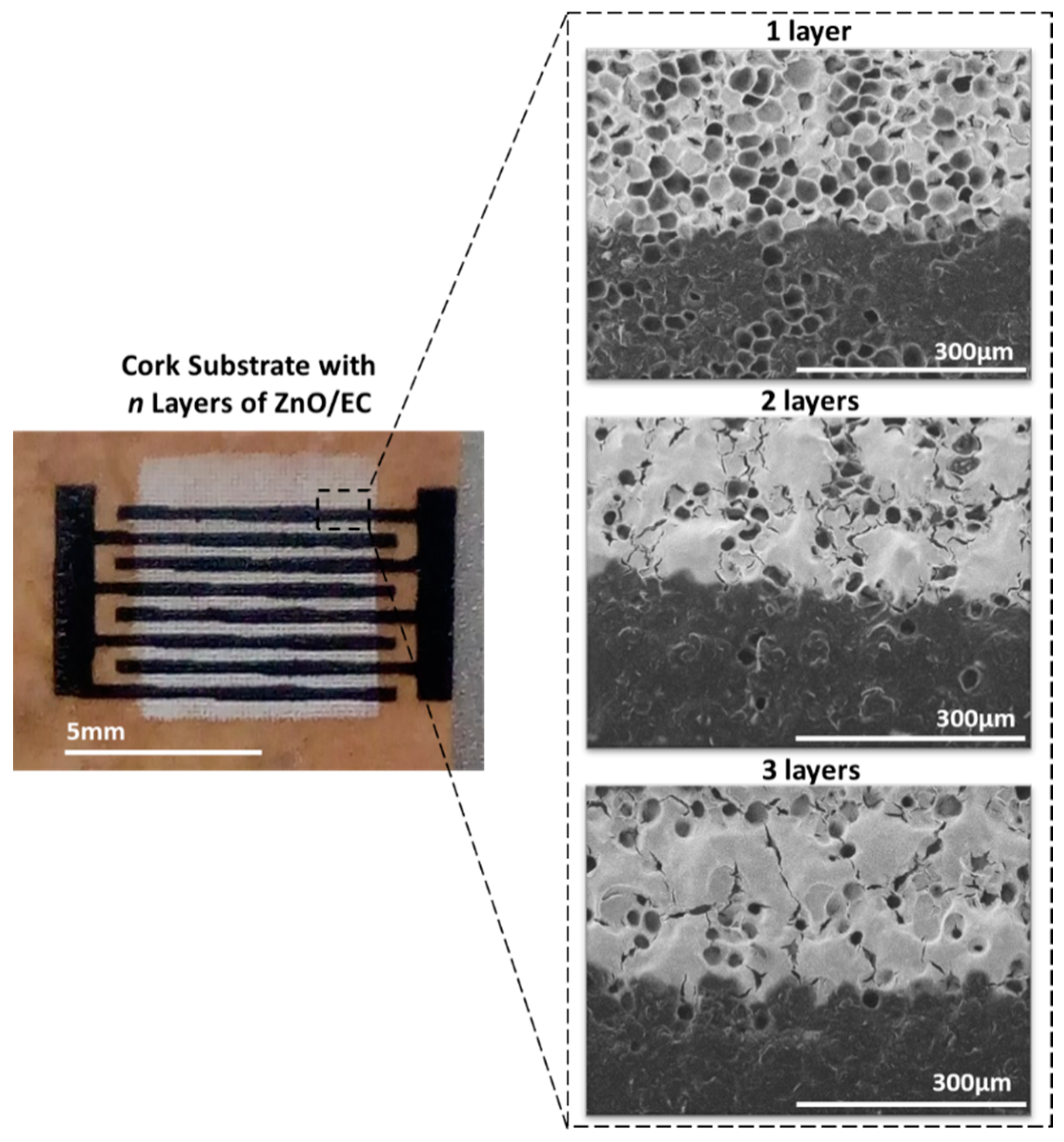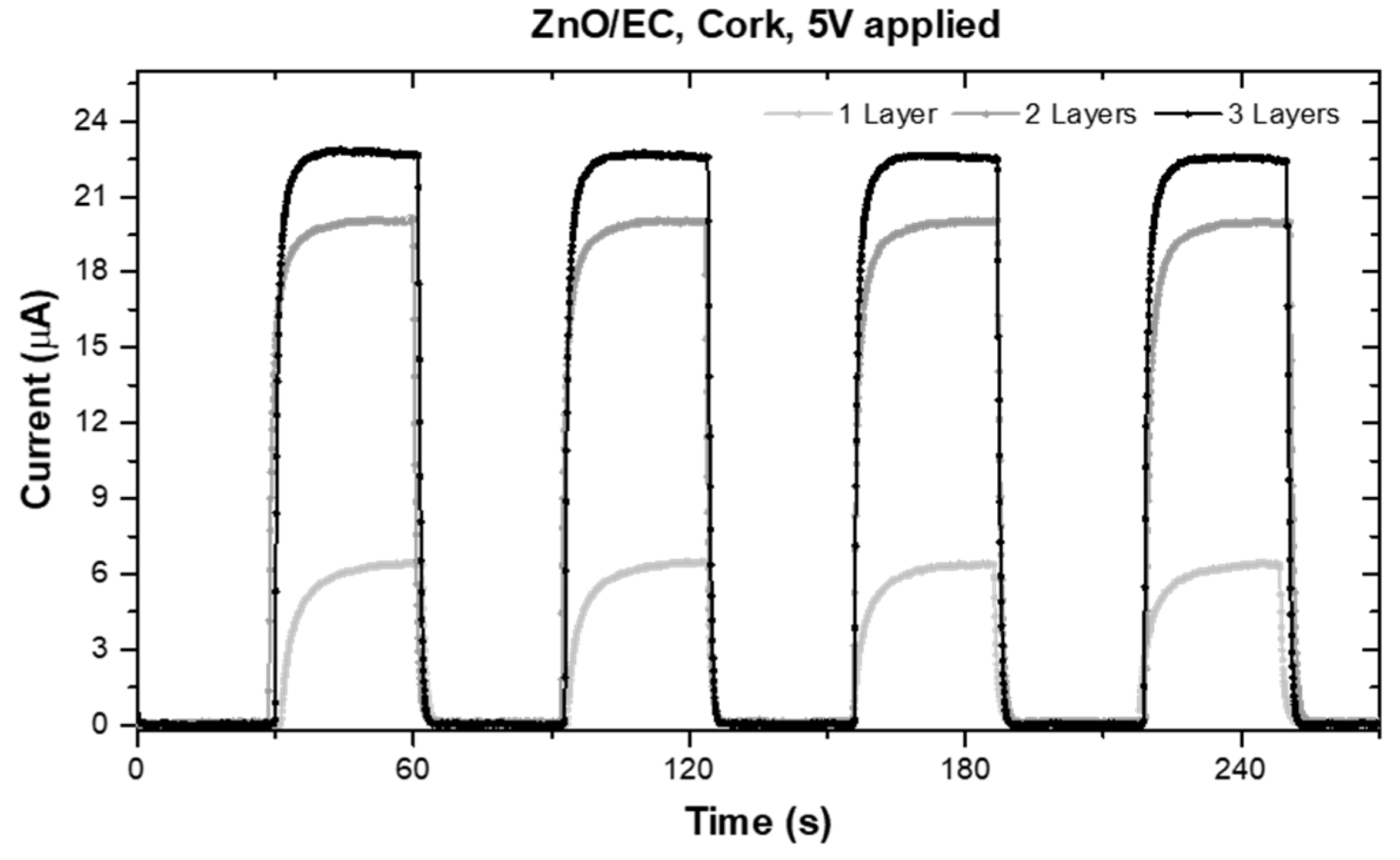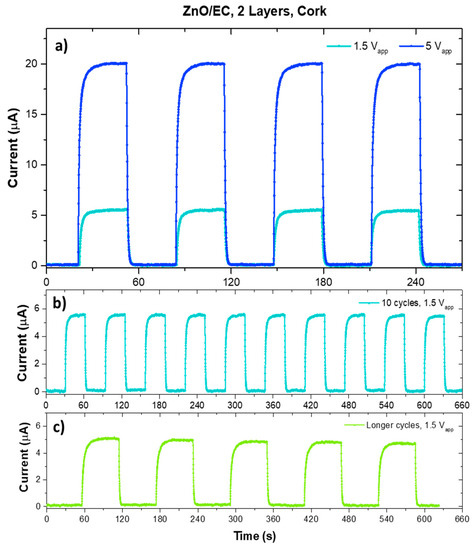 Figure 4. (a) Photoresponse of a cork sensor with two ZnO/EC printed layers for different applied voltages; (b) photoresponse of a cork sensor to 10 complete cycles ON/OFF, at a lower voltage; (c) photoresponse of a cork sensor to longer ON/OFF cycles.
Figure 5. (a) Photoresponse of two sensors, one printed on a glass substrate and the other on a cork substrate; (b) SEM image of the printed sensor surface using the glass substrate; (c) zoomed in view of the dark currents.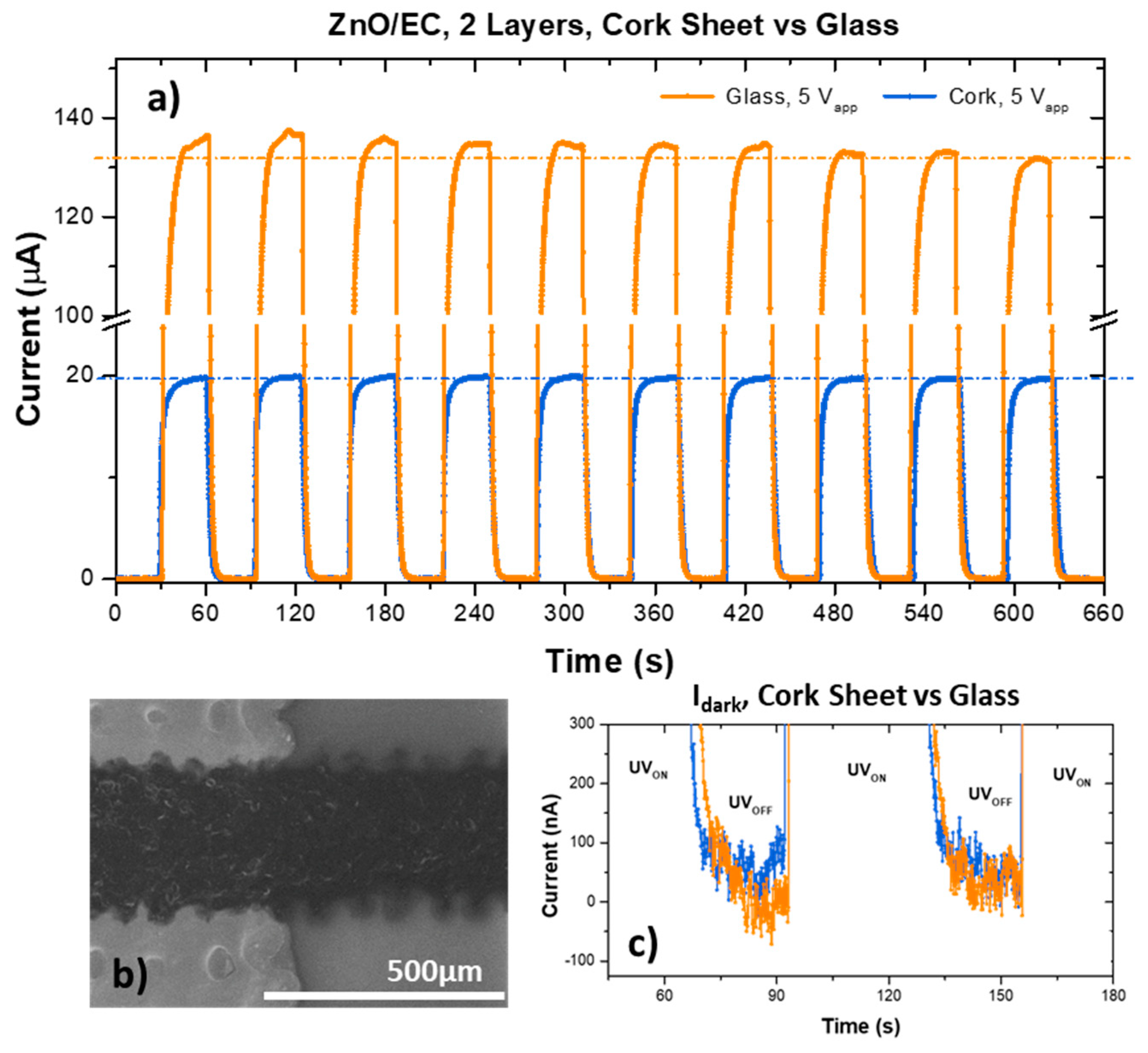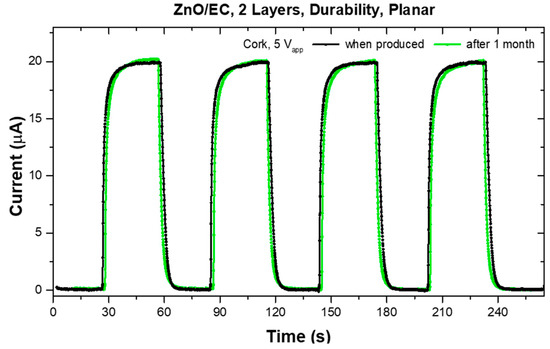 Figure 6. Photoresponse of a cork sensor over time, right after being produced and then after one month of being stored in the lab (23 °C and 30% RH).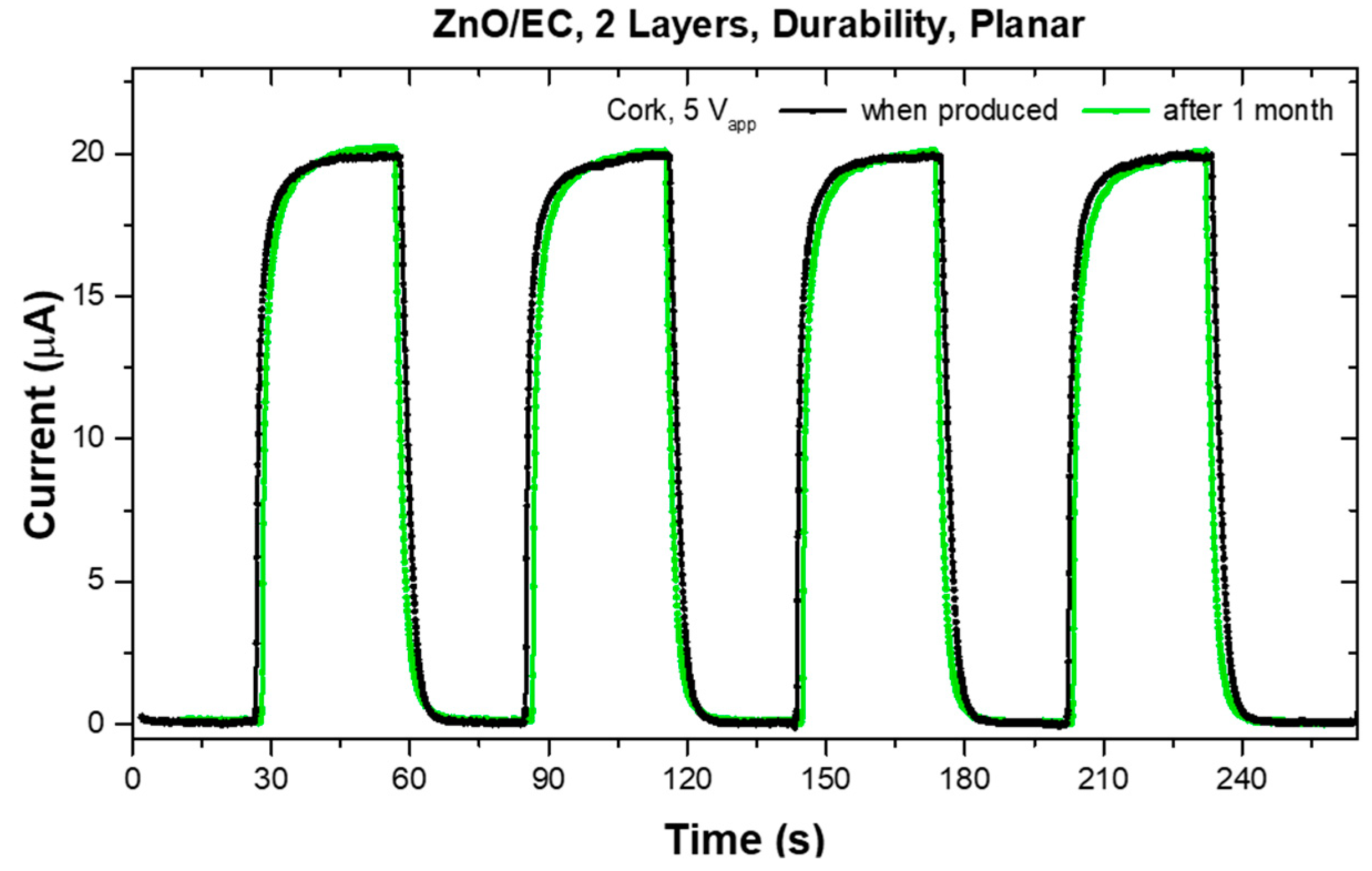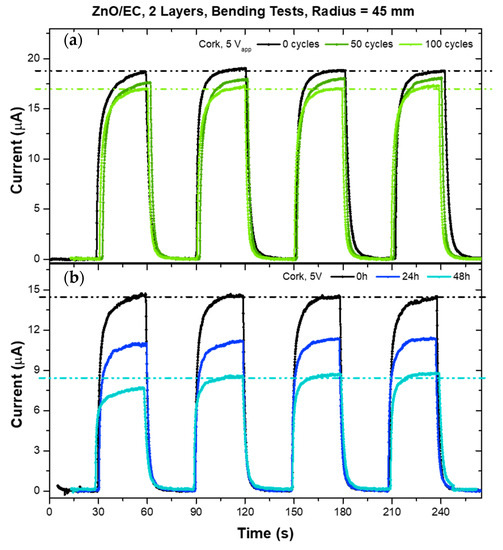 Figure 7. (a) Photoresponses during cyclic bending deformation using a cylinder with a 45 mm radius; (b) Photoresponse for a fixed curvature over time on the same test cylinder.
| Applied Voltage (V) | Rise Time (s) | Fall Time (s) |
| --- | --- | --- |
| 1.5 | 4.4 ± 0.5 | 1.9 ± 0.1 |
| 5.0 | 3.6 ± 0.2 | 1.5 ± 0.1 |

© 2019 by the authors. Licensee MDPI, Basel, Switzerland. This article is an open access article distributed under the terms and conditions of the Creative Commons Attribution (CC BY) license (http://creativecommons.org/licenses/by/4.0/).