Open Access This article is
freely available
re-usable
Review
Resveratrol and Cardiovascular Diseases
1
Department of Biochemistry, Faculty of Pharmacy, Paris Descartes University, Sorbonne Paris Cité, Paris 75006, France
2
Department of Metabolic Biochemistry, Pitié-Salpêtrière-Charles Foix Hospital (AP-HP), Paris 75013, France
3
Inserm UMR_S 1166 ICAN, UPMC, La Pitié Hospital, Paris 75013, France
Received: 28 February 2016 / Accepted: 20 April 2016 / Published: 2 May 2016
Abstract
: The increased incidence of cardiovascular diseases (CVDs) has stimulated research for substances that could improve cardiovascular health. Among them, resveratrol (RES), a polyphenolic compound notably present in grapes and red wine, has been involved in the "French paradox". RES is known for its antioxidant and anti-inflammatory properties and for its ability to upregulate endothelial NO synthase (eNOS). RES was able to scavenge •OH/O2•− and peroxyl radicals, which can limit the lipid peroxidation processes. Moreover, in bovine aortic endothelial cells (BAEC) under glucose-induced oxidative stress, RES restored the activity of dimethylargininedimethylaminohydrolase (DDAH), an enzyme that degrades an endogenous inhibitor of eNOS named asymmetric dimethylarginine (ADMA). Thus, RES could improve •NO availability and decrease the endothelial dysfunction observed in diabetes. Preclinical studies have made it possible to identify molecular targets (SIRT-1, AMPK, Nrf2, NFκB…); however, there are limited human clinical trials, and difficulties in the interpretation of results arise from the use of high-dose RES supplements in research studies, whereas low RES concentrations are present in red wine. The discussions on potential beneficial effects of RES in CVDs (atherosclerosis, hypertension, stroke, myocardial infarction, heart failure) should compare the results of preclinical studies with those of clinical trials.
Keywords:
antioxidant; atherosclerosis; clinical; heart failure; hypertension; inflammation; myocardial infarction; preclinical; resveratrol
1. Introduction
The increased incidence of cardiovascular diseases (CVDs) (atherosclerosis, hypertension, stroke, ischemic heart diseases, heart failure,
etc.
) will lead to an expected worldwide number of CVD-related deaths of more than 23.6 million by 2030 [
1
]. Resveratrol (RES) is a non-flavonoid polyphenolic compound that is a stilbene derivative. It is a phytoalexin produced by plants, and is notably present in grapes and red wine. It could play a potential protective role against CVDs, and be involved in the "French paradox" characterized by the low incidence of CVDs in the French population despite a high intake of saturated fats, in association with moderate red wine consumption [
2
]. Even if a combination of polyphenols, rather than RES alone, may account for this paradox [
3
,
4
], RES is a good candidate, owing to its protective action of vascular walls towards oxidation, inflammation, platelet oxidation and thrombus formation [
4
]. However, some difficulties in interpreting results can arise from the use of high-dose supplements of RES that are often used for research studies, whereas there are low concentrations of RES in red wine [
5
,
6
]. Moreover, despite the exponential increase in published studies on RES, few are related to human clinical trials [
3
]. Long-term well-controlled trials are thus needed to confirm its beneficial effect on CVDs.
2. Resveratrol as an Antioxidant Able to Improve Nitric Oxide Availability
in Vitro
3. Health Benefits of Resveratrol against Cardiovascular Diseases: Examples of Preclinical and Clinical Studies
Several preclinical studies on animal models have highlighted beneficial effects of RES on CVDs [
22
], supported by the identification of multiple molecular targets for RES (
i.e
., silent information regulator 2/sirtuin 1 (SIRT-1), AMP-activated protein kinase (AMPK), nuclear factor (erythroid-derived 2)-like 2 (Nrf2), nuclear factor-kappa B (NF-κB),
etc.
) [
23
]. Micro-RNAs could play a key role as regulators in cardiac functions, as shown by miRNA profiles that were different in patients with coronary artery disease and in healthy subjects. Thus, miR-126, miR-27, miR-92a and miR-155 were lowered in these patients, whereas myocardial-derived miRNAs such as miR-133 and miR-208 were increased [
24
]. Few miRNAs are suggested as regulators involved in cardioprotection, and heart preconditioning by RES could result in up or down regulation of these miRNAs [
25
], as discussed below, especially regarding myocardial ischemia. Nevertheless, there are a limited number of human clinical trials, with sometimes inconsistent findings [
26
]. The potential beneficial effects of RES on CVD observed in preclinical studies thus need to be discussed in the light of these clinical studies in the main CVDs,
i.e.
, atherosclerosis, hypertension, stroke, myocardial ischemia and heart failure.
3.1. Anti-Atherosclerotic Effects of RES
Atherosclerosis predominantly affects the intimal layer of the arterial vessel wall. It is characterized by the deposition of extracellular lipids, the proliferation and migration of local smooth muscle cells, and a chronic inflammation. It leads to luminal narrowing and/or thrombus formation, resulting in clinical events such as coronary artery disease, peripheral arterial disease or stroke [
27
]. Due to the involvement of lipids, especially low density lipoproteins (LDLs), in the atherosclerotic process, it could be of interest to improve the lipid profile. Some preclinical studies have shown that RES could modify this profile, notably by decreasing plasma triglyceride and LDL-cholesterol levels, and by increasing HDL-cholesterol [
28
]. As reported by Cho
et al.
[
29
], RES could also potentiate the hypocholesterolemiant action of pravastatin, by down-regulating the 3-hydroxy-3-methyl-glutaryl-CoAreductase (HMG-CoA reductase), an enzyme that intervenes in the first steps of cholesterol biosynthesis. Besides, RES could increase the expression of the LDL receptors (LDL-R) in hepatocytes
in vitro
[
30
], thereby contributing to further decrease blood LDL-cholesterol levels. In addition, the antioxidant properties of RES resulted in a decrease of LDL oxidation (process directly involved in atherogenesis [
31
]), an induction of several endogenous antioxidant systems [
32
], and anti-inflammatory properties [
33
]. The inhibition of smooth muscle cell migration also participates to the antiatherogenic properties of RES [
34
]. All these properties show that RES acts on the major factors involved in the atherosclerotic process.
Accordingly, several potential targets related to the beneficial effects of RES in CVDs have been highlighted. RES especially activates SIRT-1 (a class III histone deacetylase), eNOS, Nrf2 and antioxidant response element (ARE), and decreases TNFα production. The global action of RES thus results in a decrease of endothelial apoptosis, endothelial activation and vascular inflammation, and improves the endothelial function [
35
]. Actions of RES in the first steps of the atherogenic process have been observed. Indeed, RES has been shown to decrease the expression of adhesion molecules (intercellular adhesion molecule-1, ICAM-1, and vascular cell adhesion molecule-1, VCAM-1) via inhibition of NF-κB pathway activation [
36
]. RES could also counteract the formation of foam cells by inhibiting NADPH oxidase 1 expression and the production of monocyte chemotactic protein-1 (MCP-1) in macrophages treated with lipopolysaccharide, via an action on the Akt and forkhead box O3a (FoxO3a) pathways [
37
]. RES effects on inflammation could involve the modification of the expression of miRNAs that can be anti-inflammatory (e.g., miR-663) or pro-inflammatory (e.g., miR-155) [
38
]. As regards anti-inflammatory actions of RES, it has also been shown to activate Nrf2 and suppress proinflammatory cytokine production in cardiomyocytes, thereby alleviating endotoxin-induced myocardial injury in mice, which could constitute a potential way to prevent sepsis-induced cardiomyopathy [
39
]. Another effect of RES that could contribute to its anti-atherogenic effect is the inhibition of the migration and proliferation of vascular smooth muscle cells [
34
,
40
] (
Figure 2
).
On the other hand, the clinical studies showed either an absence of effect on the lipid profile, as reported in a meta-analysis of seven clinical trials [
41
], or beneficial effects. As an example, treatment with 250–1000 mg RES/day lowered LDL-cholesterol in patients with type 2 diabetes [
42
]. Similarly, treatment with RES decreased plasma triglycerides in healthy obese men (150 mg RES/day) [
43
] and in healthy adult smokers (500 mg RES/day) [
44
]. In patients at high CV risk under statin treatment for primary prevention, RES (350 mg/day of RES-enriched grape extract containing 8 mg RES) led to a 20% decrease of oxidized LDL and 4.5% decrease in LDL-cholesterol [
45
]. Nevertheless, the anti-atherosclerotic effect of RES should not be limited to an effect on serum lipid profile and needs to be proven by large clinical trials.
3.2. Anti-Hypertensive Effects of RES
Hypertension constitutes a major risk factor for CVDs [
46
]. Anti-hypertensive effects of RES have been reported in several animal models of hypertension, after treatment by 10 to 320 mg RES/kg body weight/day, for 14 days to 10 weeks, depending on the studies [
5
]. It is noteworthy that relatively low doses of RES (5–10 mg/kg/day) significantly lowered blood pressure in animal models associating hypertension with insulin resistance [
47
], which could suggest that RES would be more efficient in patients with diabetes or metabolic syndrome. In several studies, RES was administered prior to the development of hypertension. For instance, Dolinsky
et al.
[
48
] observed that a high dose of RES attenuated high pressure and prevented cardiac hypertrophy in two hypertensive animal models, namely spontaneously hypertensive rats and angiotensin-II infused mice. A few studies have shown the ability of RES to reverse cardiac hypertrophy and contractile dysfunction, two structural and functional abnormalities associated with hypertension [
49
,
50
]. In a recent study [
51
], RES alone has been shown to be ineffective at reducing blood pressure in 28 weeks old spontaneously hypertensive rats, but a combination of RES with hydralazine (a blood pressure lowering agent) was more effective than hydralazine alone in improving CV parameters. It can be noted that in all studies RES treatment was of short-term duration.
The mechanisms involved in the antihypertensive properties of RES can be endothelium-dependent, with the implication of AMPK (a regulator of energy metabolism), SIRT-1 and Nrf2 [
5
]. This results in a vasodilation via an improved availability of
•
NO, in relation to increased expression and activity of eNOS [
7
,
8
], and this property is associated with the antioxidant properties of RES [
52
]. RES-induced activation of SIRT-1 increased both expression and activity of eNOS [
53
]. RES is also able to activate AMPK thereby increasing
•
NO production [
48
]. Thus, RES has been shown to improve flow-mediated vasodilation in several animal models [
54
,
55
]. Besides, endothelium-independent mechanisms have also been reported [
5
], such as an inhibition of vascular smooth muscle cells contractility, via AMPK activation, leading to an inhibition of angiotensin II (AngII)-induced phosphorylation of myosin phosphatase-targeting subunit 1 and myosin light chain [
56
]. In addition, the authors showed that RES inhibited the AngII-induced aorta contractions, an effect that was abolished by AMPK inhibition. Accordingly, daily treatment with RES decreased hypertension in an experimental model of AngII-induced hypertensive mice [
56
].
As regards clinical studies, a meta-analysis of six randomized controlled trials (including 247 subjects) showed that high doses of RES (≥150 mg/day) significantly decreased blood pressure, while lower doses had no effect [
57
]. The decrease in blood pressure is often associated with an improvement of metabolic parameters, which constitutes a confounding factor. It is noteworthy that the antihypertensive action of RES, as evaluated by the increase in acetylcholine-evoked vasorelaxation, was more pronounced if RES was administered to hypertensive and dyslipidemic subjects [
58
], which could be related to what has been previously observed in animal models [
47
].
3.3. Protective Effect of RES in Stroke
A protective effect of RES against ischemic stroke have been reported in adult rats and related to a protection of endothelial function [
59
]. Accordingly, treatment of cell culture with RES improved cell viability against oxygen and glucose deprivation (conditions that mimic an
in vitro
"ischemia"). This endothelial protection would be dependent on SIRT-1, as shown by the suppression of the effect when SIRT-1 was inhibited with sirtinol. In relation to this effect, RES protected endothelial cells, decreased brain damage and inflammation, and preserved blood brain barrier function [
59
]. Similarly, RES decreased the infarct size in a rat model of focal cerebral ischemia [
60
]. Treatment with RES succeeded in preventing diabetes-induced impairment of eNOS-dependent vasorelaxation in cerebral arterioles of type 1 diabetic rats [
61
], which could be of interest for the treatment of cerebrovascular dysfunction in diabetic patients. In adition, neuroprotective effects of RES have been described [
62
], and mechanisms of this neuroprotection were proposed in a recent study conducted on rats [
63
]; the authors showed that RES inhibited phosphodiesterases and regulated the cAMP/AMPK/SIRT1 pathway, which reduced ATP energy consumption during ischemia. The levels of ATP, phospho-AMPK, SIRT1, and cAMP were thus increased by RES.
Unfortunately, no investigation has been conducted in stroke patients. Nevertheless, RES has been shown to increase cerebral blood flow in healthy adult subjects [
64
,
65
], which could participate to potential beneficial effects of this molecule in stroke patients. Similarly, RES has also been proposed to enhance cerebrovascular perfusion in postmenopausal women [
66
].
3.4. Effects of RES on Myocardial Ischemia
3.5. Effects of RES on Heart Failure
5. Conclusions
Taking into account the beneficial effects of RES on hypertension, obesity, inflammation, diabetes and dyslipidemia, RES could constitute an interesting pharmacological approach for the treatment of metabolic syndrome, which is associated with an increased risk of CVD development. Nevertheless, among the points to discuss for the interpretation of preclinical and clinical studies, not only the poor bioavailability and the dose of RES are critical, but also the length of RES treatment and the best time for initiating it (most studies showed effectiveness of RES when it was administered for short periods and as a pretreatment) [
67
]. Larger controlled human clinical trials are thus needed to investigate these points and to study the effects of long-term RES supplementation.
Acknowledgments
The author thanks Paris Descartes Language Center for proofreading the article.
Conflicts of Interest
The author declares no conflicts of interest. The funding sponsors had no role in the writing of the manuscript.
Figure 1. Deleterious effects of oxidative stress on •NO bioavailability, and potential beneficial action of resveratrol (RES) as an antioxidant and as a modulator of the dimethylaminohydroase (DDAH)/asymmetric dimethylarginine (ADMA) pathway. CVDs could lead to increased ADMA concentrations (due to DDAH inhibition) and activation of NADPH oxidase, leading to oxidative stress. ADMA and peroxynitrite both induce eNOS decoupling, resulting in a decreased •NO availability. RES could act as an antioxidant agent (radical scavenging and stimulation of antioxidant defenses) and as an activator of DDAH. ADMA: asymmetric dimethylarginine; DDAH: dimethylarginine dimethylaminohydrolase; eNOS: endothelial NO synthase; PRMT: protein methyltransferase; ROS: Reactive oxygen species; SDMA: symmetric dimethylarginine.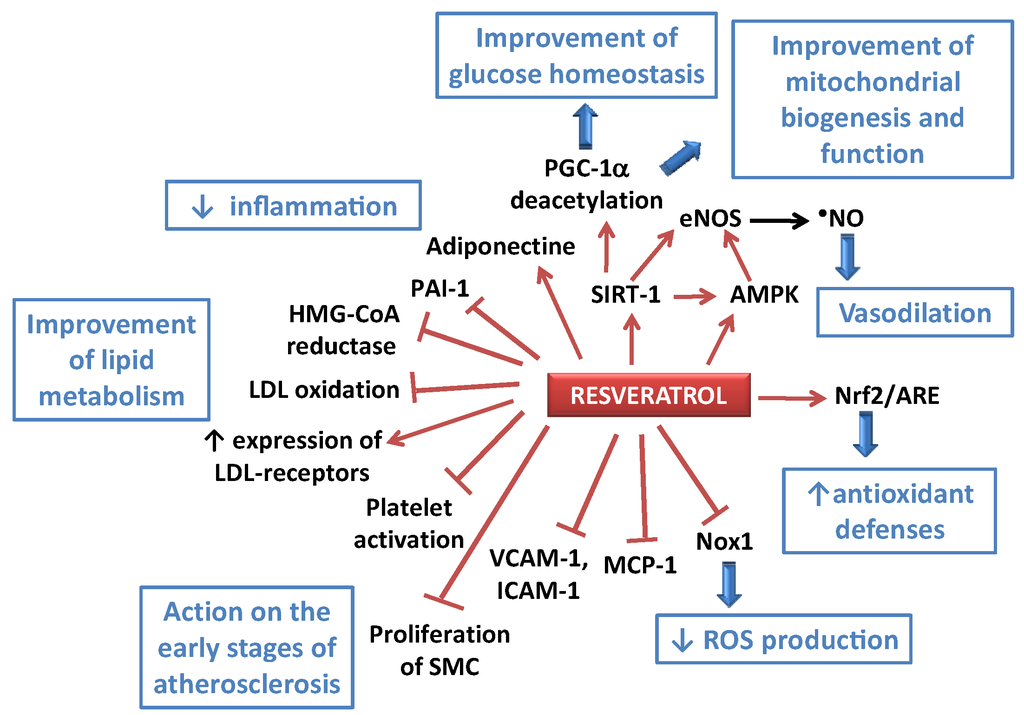 Figure 2. Some of the potential effects of resveratrol (RES) towards atherogenesis and impaired metabolism. AMPK: AMP-activated protein kinase; ARE: antioxidant response element; eNOS: endothelial NO synthase; HMG-CoA reductase: 3-hydroxy-3-methyl-glutaryl-CoA reductase; ICAM-1: intercellular adhesion molecule-1; LDL: low density lipoprotein; MCP-1: monocyte chemotactic protein-1; NF-κB: nuclear factor-kappa B; Nox1: NADPH oxidase 1; Nrf2: nuclear factor (erythroid-derived 2)-like 2; PAI-1: plasminogen activator inhibitor-1; PGC-1αperoxisome proliferator-activated receptor-γ co-activator 1α; ROS: reactive oxygen species; SIRT-1: silent information regulator 2/sirtuin 1; SMC: smooth muscle cells; VCAM-1: vascular cell adhesion molecule-1.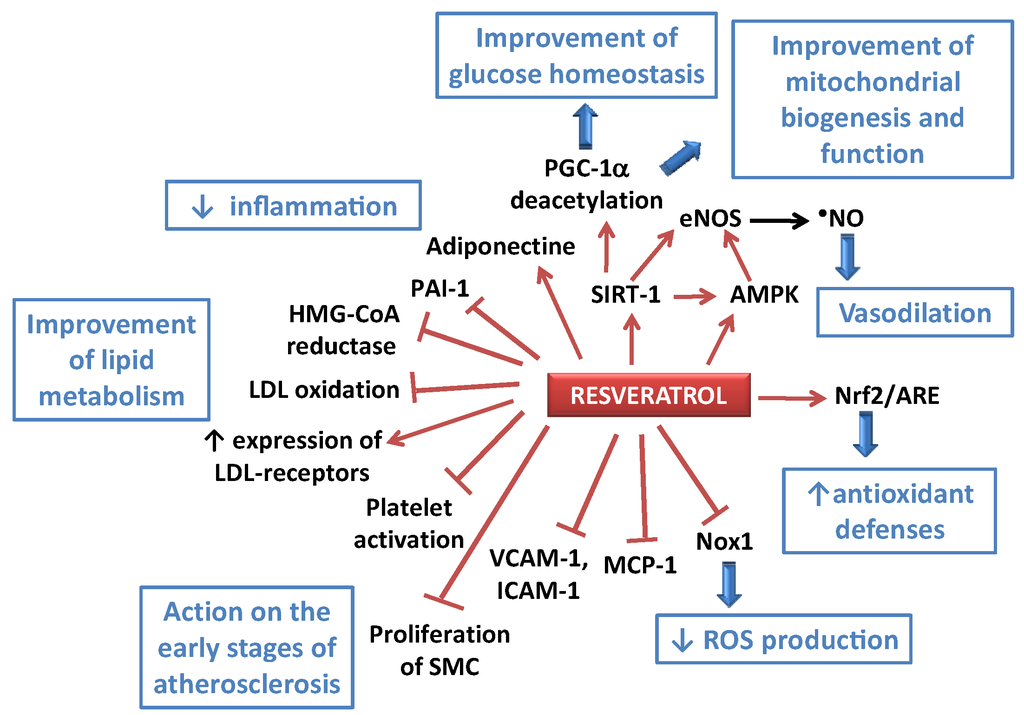 Table 1. Publications referred to as clinical trials using RES in CVDs. (1 mg/L RES = 4.38 µmol/L RES).
Table 1. Publications referred to as clinical trials using RES in CVDs. (1 mg/L RES = 4.38 µmol/L RES).
Authors
Date
Place
Aim of the Study and Population Studied
Dose of RES
Summary of Main Findings
Side Effects
Faghihzadeh

et al.

[132]
2015
Iran
Evaluation of the effects of RES supplementation on CV risk factors in 55 patients with non alcoholic fatty liver disease (NAFLD), in a randomised double-blinded placebo-controlled clinical trial
Supplementation with a 500-mg RES capsule or a placebo capsule for 12 weeks
Supplementation with RES did not have any beneficial effect on anthropometric measurements, insulin resistance markers, lipid profile and blood pressure; however, it reduced alanine aminotransferase and hepatic steatosis in patients with NAFLD.
None reported
Amadio

et al.

[129]
2015
Italy
Study of the effect of prostaglandin E2 (PGE2) induced by cigarette smoke on tissue factor (TF) expression and activity in endothelial cells. No CVD.
10 µM RES only used in vitro as SIRT-1 activator
(1)

In vivo

: positive correlation between PGE2 levels and TF antigen and activity in human smokers; similar findings in mice; (2)

in vitro

: exogenous or endogenous PGE2 up-regulated TF expression and activity via the EP1/SIRT1 pathway in endothelial cells. Cell treatment with exogenous PGI2 prevented the inhibition of SIRT1 and the induction of TF mediated by PGE2.
Not applicable (

in vitro

use of RES as SIRT-1 activator)
Van der Made

et al.

[133]
2015
The Netherlands
Randomized, placebo-controlled crossover study conducted in 45 overweight and slightly obese men (

n

= 25) and women (

n

= 20), with a mean age of 61 ± 7 years. Study of the effect of RES on apoA-I concentrations, and on other markers of lipid and lipoprotein metabolism, glucose metabolism, and markers of inflammation and endothelial function.
Subjects received in random order RES (150 mg per day) or placebo capsules for 4 weeks, separated by a 4-week wash-out period.
RES did not change metabolic risk markers related to CV health in overweight and slightly obese men and women. Effects on glucose metabolism not significant.
None reported
Hobbs

et al.

[151]
2014
USA
Effects of a multi-ingredient supplement featuring red yeast rice in patients with no CVD history or symptoms other than elevated blood lipids.
Study conducted in 19 hypercholesterolemic patients, to evaluate the effects of the supplement alone (in patients with trigly cerides <140 mg/dL) or associated with ω3-polyunsaturated fatty acids and vitamin E (in patients with triglycerides >140 mg/dL, receiving 1384 mg of ω-3 daily). The supplement contained a blend of red yeast rice, biofla-vonoids, polycosanol, 525 mg natural ω-3 fatty acids, RES, coenzyme Q10, folic acid, niacin, B6, B12, and black pepper.
The supplement decreased total cholesterol and LDL-cholesterol significantly, and addition of an ω-3 supplement also non significantly decreased triglycerides in the subgroup with triglycerides >140 mg/dL. Very small size of the group and RES associated with other components.
None reported
Semba

et al.

[134]
2014
USA
Prospective cohort study, the Invecchiare in Chianti (InCHIANTI) Study ("Aging in the Chianti Region"), conducted (1998–2009) in a population-based sample of 783 community-dwelling men and women ≥ 65 years, to determine whether RES levels achieved with diet were associated with inflammation, cancer, cardiovascular disease, and mortality in humans
783 subjects had 24-h urine samples available for measurements of RES (no data on the dietary amount of RES)
Total urinary RES metabolite concentration was not associated with inflammatory markers, CVD or cancer, or predictive of all-cause mortality, therefore RES did not substantially influenced health status and mortality risk of this population.
None reported
Thushara

et al

. [130]
2014
India
No study on RES effects: study on ameliorative efficacy of crocin on sesamol-induced platelet apoptosis
Soare

et al.

[135]
2014
USA
6-month randomized, single-blind controlled trial, in 56 non-obese men and women, aged 38 to 55 years, assigned to a dietary supplement (SUP) group or control (CON) group (24 weeks of daily supplementation), with a 6-month follow-up
SUP group : 10 dietary supplements each day (100 mg RES, a complex of 800 mg each of green, black, and white tea extract, 250 mg of pomegranate extract, 650 mg of quercetin, 500 mg of acetyl-

l

-carnitine, 600 mg of lipoic acid, 900 mg of curcumin, 1 g of sesamin, 1.7 g of cinnamon bark extract, and 1 g fish oil).
No effect on arterial stiffness, endothelial function or blood pressure in nonobese men and women. No effect on key metabolic variables involved in aging and in CVD, including plasma markers of inflammation, oxidative stress and glycation, plasma lipids, growth factors, or body composition. Lack of beneficial metabolic effects perhaps related to the low phytochemical bioavailability or inadequate supplement potency of the phytochemicals.
Adverse events limited to mild gastro intestinal discomfort associated with taking the large number of oral supplements in 19% of the participants.
Micans [152]
2013
UK
Measurement of aortic wave velocity as a noninvasive method to evaluate the stiffness of arteries. Small clinical trial (20 patients) to appreciate the effects of supplements that appear to improve arterial stiffness
4 groups of patients: placebo, arginine,

trans

-RES (45 mg),

l

-carnosine, aminoguanidine: aortic wave pressure test before the supplement (baseline), and 1 h, 1 week and 1 month after supplement
Results for RES were given after 45 mg

trans

-RES given dialy for 5 weeks, showing an improvement of 15% in the aortic wave velocity test. No effect observed in the placebo roup.
None reported
Tomé-Carneiro

et al.

[125]
2013
Spain
Study of the molecular changes in peripheral blood mononuclear cells (PBMCs) associated to the one-year daily intake of a RES-enriched grape extract (GE-RES) in hypertensive male patients with type 2 diabetes mellitus, constituting a subset of 35 patients from a larger intervention study previously described [83]
Patients randomly allocated as follows: placebo (

n

= 9), GE (

n

= 13) and GE-RES (containing 8 mg RES) (

n

= 13)
Supplementation with GE or GE-RES did not affect body weight, blood pressure, glucose, HbA1c or lipids; no significant change in serum inflammatory markers, only a significant reduction of alkaline phosphatase and IL-6 levels. The expression of the pro-inflammatory cytokines CCL3, IL-1β and TNF-α was significantly reduced and that of the transcriptional repressor LRRFIP-1 increased in PBMCs from patients taking the GE-RES extract. A group of miRNAs involved in the regulation of the inflammatory response were found to be highly correlated and altered in the group consuming the GE-RES for 12 months.
None reported
Bo

et al.

[44]
2013
Italy
Randomized, double-blind, cross-over trial performed in 50 healthy adult smokers
25 subjects randomly allocated to "RES-first" (30-days: 500 mg RES/day, 30-days wash-out, 30-days placebo) and 25 to "placebo-first" (30-days placebo, 30-days wash-out, 30-days 500 mg RES/day)
RES significantly reduced C-reactive protein and triglyceride concentrations, and increased total antioxidant status values. No change in uric acid, glucose, insulin, cholesterol, liver enzyme concentrations, weight, waist circumference, and blood pressure.
None reported
Tomé-Carneiro

et al.

[92]
2013
Spain
Triple-blind, randomized, placebo-controlled, one-year follow-up, 3-arm pilot clinical trial of dose-depending effects of a RES-containing grape supplement on 75 stable patients with coronary artery disease treated according to guidelines for secondary prevention of CVD
3 arms: 350 mg/day of placebo, RES-containing grape extract (grape phenolics plus 8 mg RES) or conventional grape extract lacking RES during 6 months, and a double dose for the following 6 months
After 1 year, in contrast to the placebo and conventional grape extract groups, the RES-containing grape extract group showed an increase of the anti-inflammatory serum adiponectin and a decrease of the thrombogenic PAI-1; inhibition of atherothrombotic signals in peripheral blood mononuclear cells.
None reported
Popat

et al

. [153]
2013
UK
Not applicable: phase 2 study of SRT501 (RES) with bortezomib for patients with relapsed and or refractory multiple myeloma
Militaru

et al.

[95]
2013
Romania
Randomized, double-blinded, active-controlled, parallel clinical trial with 60 days oral supplementation with calcium fructoborate, RES, and their combination, in 166 subjects with stable angina pectoris
3 groups (with usual medical care and treatment): group 1 received a single daily capsule with RES 20 mg/day (10 mg trans-RES); group 2 received a single daily capsule of RES 20 mg/day (10 mg trans-RES) combined with calcium fructoborate (CF) 112 mg/day (3 mg boron); group 3 received a single daily capsule of CF 112 mg/day (3 mg boron). Non-randomized control group: only usual medical care and treatment.
Significant decrease of hs-CRP in all groups at the 30-day and 60-day visits, greater for group 3, followed by group 2. The NT-proBNP was significantly lowered in groups 1 and 3, but combination RES + CF (group 2) was the most effective. Lipid markers showed slight changes from baseline in all groups. Improvement in the quality of life: best for group 2.
None reported
Agarwal

et al.

[154]
2013
USA
Double-blind, randomized, placebo-controlledtudy of the effects of RES on endothelial response and plasma biomarkers in 44 healthy individuals using a novel unbiased assay to assess the overall inflammatory capacity of plasma on expression of genes associated with inflammation and atherosclerosis
1 month treatment RES supplement : 400 mg trans-RES (98% pure, from Polygonum Cuspidatum), 400 mg of mixed Bordeaux whole grape extract (90% polyphenols), and 100 mg quercetin
Exposing cultured human coronary artery endothelial cells to plasma drawn post-RES resulted in significantly lower mRNA expression of VCAM, ICAM, and IL-8 than plasma drawn from the same subjects at baseline (no effect of placebo). Significant reduction in plasma interferon-γ with RES supplement (not with placebo), and significant reduction in fasting insulin concentration with RES supplement
2 subjects with RES and 1 with placebo reported mild gastrointestinal side effects
Tomé-Carneiro

et al.

[45]
2012
Spain
Study of the effect of a grape supplement in oxidized LDL (LDLox), apolipoprotein-B (ApoB), and serum lipids on 75 statin-treated patients in primary CVD prevention
Grape exctract containing 8 mg RES. 3 parallel arms: one capsule (350 mg) daily for 6 months containing RES-enriched grape extract (GE-RES, Stilvid®), grape extract (GE, similar polyphenolic content but no RES), or placebo (maltodextrin)
LDL-cholesterol, ApoB, LDLox and LDLox/ApoB decreased in the Stilvid® group, whereas the ratio non-HDL-cholesterol/ApoB increased, which might exert additional cardioprotection
None reported
Tomé-Carneiro

et al.

[155]
2012
Spain
75 patients undergoing primary prevention of CVD participated in this triple-blinded, randomized, parallel, dose-response, placebo-controlled, 1-year follow-up trial: effects of a dietary RES-rich grape supplement on the inflammatory and fibrinolytic status
3 groups: placebo (maltodextrin), or RES-rich grape supplement (8 mg RES), or conventional grape supplement lacking RES, for the first 6 months, and a double dose for the next 6 months
1-year consumption of a RES-rich grape supplement improved the inflammatory and fibrinolytic status in patients who were on statins for primary prevention of CVD and at high CVD risk (

i.e.

, with diabetes or hypercholesterolemia plus ≥1 other CV risk factor)
None reported
Zamora-Ros

et al.

[156]
2012
Spain
Study of the associations between total urinary RES metabolites (TRMs) as biomarkers of wine and RES consumption and CV risk factors in a large cross-sectional study including high CV risk individuals (1000 participants—479 men and 521 women—of the PREDIMED Study)
TRMs were used as a biomarker of wine consumption (when the model was not adjusted for alcohol intake) or as biomarkers of RES intake (when the model was additionally adjusted for alcohol intake)
Both RES and wine intake, evaluated as TRMs, were associated with beneficial changes in blood lipid profiles, fasting blood glucose (only RES) and heart rate, suggesting that RES intake via wine consumption might help to decrease CV risk factors
None reported
Magyar

et al.

[93]
2012
Hungary
Double-blind, placebo controlled trial conducted in 40 post-infarction Caucasian patients to investigate if RES had a clinically measurable cardioprotective effect
10 mg RES daily (capsule) for 3 months
RES improved left ventricle diastolic function, endothelial function, lowered LDL-cholesterol level and protected against unfavourable hemorheological changes measured in patients with coronary artery disease
None reported
Fujitaka

et al.

[157]
2011
Japan
Study of Longevinex, a modified RES, on endothelial function in 34 patients with metabolic syndrome
2 groups: group A, with Longevinex administered for 3 months and then discontinued for 3 months, and group B, with Longevinex administered between 3 and 6 months. 1 capsule of Longevinex daily, containing 100 mg trans-RES
Longevinex specifically improved endothelial function (flow-mediated dilatation) in subjects with metabolic syndrome
None reported
Wong

et al.

[158]
2011
Australia
Is consumption of RES able to improve flow-mediated dilatation (FMD) of the brachial artery is a biomarker of endothelial function, in 19 overweight/obese (BMI 25–35) men or post-menopausal women, aged 30–70 years, with untreated borderline hypertension (systolic BP: 130–160 mmHg or diastolic BP: 85–100 mmHg)
3 doses of RES in RES capsules (resVida™ 30, 90 and 270 mg) or placebo capsules, in randomised, double-blind, placebo-controlled, crossover human intervention trial comprising 4 visits at weekly intervals (note that the lowest RES dose (30 mg) used in this study cannot be obtained from normal dietary habits)
First study to evaluate the acute effects of RES consumption on human circulatory function: significant dose effect of RES on plasma RES concentration (

p

< 0.001) and on FMD (

p

< 0.01), which increased from 4.1 ± 0.8% (placebo) to 7.7 ± 1.5% after 270 mg RES
None reported
Karlsen

et al.

[159]
2010
Norway
Effect of bilberry juice (RES content: 1–12 mg/100 g fw) on serum and plasma biomarkers of inflammation and antioxidant status in men aged between 30 and 70 years and women between 45 and 70 years and at least 12 months postmenopausal, at elevated risk of CVD
One group consumed 330 mL bilberry juice/day (diluted in 1 L water) and one group consumed 1 L water/day
Supplementation with bilberry juice resulted in significant decreases in plasma concentrations of C-reactive protein (CRP), interleukin (IL)-6, IL-15, and monokine induced by interferon-g (MIG)
None reported
Gresele

et al.

[160]
2008
Italy
Study of the effects of RES, at concentrations attainable after moderate wine intake, on platelet ●NO production in 20 healthy volunteers. Moreover, RES at the concentrations detected in plasma after wine intake, was incubated in vitro with washed platelets and several variables related to ●NO production and to signal transduction were measured
Study before and after 15 days of controlled white or red wine intake (300 mL/day): total polyphenolic concentration = 1.8 g/L for red wine and 0.25 g/L for white wine. Maximum RES concentration for in vitro studies: 0.5 μmol/L
After wine intake, increase of plasma RES and release of ●NO by stimulated platelets. In vitro, RES enhanced production of ●NO by stimulated platelets, activity of platelet ●NO synthase (NOS), phosphorylation of protein kinase B, an activator of the endothelial NOS (eNOS), and phosphorylation of vasodilator-activated protein.
None reported
Zamora-Ros

et al.

[131]
2006
Spain
Analysis of urinary total RES metabolites (TRMs) as a biomarker of moderate wine (sparkling, white, or red wine) consumption, in 2 open, prospective, randomized, crossover, single-blinded clinical trials
Daily amount of total RES (for 4 weeks): 0.357, 0.398, and 2.56 mg for sparkling, white, and red wine, respectively
RES metabolites in urine may be useful biomarkers of wine intake in epidemiologic and intervention studies (the aim of the study was not to report beneficial effect of RES in patients with CV risk)
None reported
Cruz

et al.

[127]
2006
Sweden
Investigation of acute vasodilator responses to phytoestrogens and selective estrogen receptor-alpha (ERalpha) agonist in isolated small arteries from 15 men (38–71 years) with established coronary heart disease (CHD) and with a history of MI (1–12 months before study)

vs.

healthy male control subjects
10-30 µM RES
Phytoestrogens (especially RES), at concentrations achievable by ingestion of phytoestrogen-rich food products, induced dilatation

ex vivo

of small peripheral arteries from normal men and from those with established CHD. The contribution of ●NO to dilatory responses by these compounds is pertinent to arteries from control males, whereas other ●NO-independent dilatory mechanism(s) are involved in arteries from CHD
Not applicable (

ex vivo

study)
Lekakis

et al.

[161]
2005
Greece
30 male patients with coronary heart disease, randomly assigned either to a red grape polyphenol extract dissolved in 20 mL of water (

n

= 15) or 20 mL of water (placebo) (

n

= 15), to examine whether acute intake of the extract has a positive effect on brachial artery flow-mediated dilatation
Use of 600 mg extract containing 0.9 mg trans-RES and other polyphenolic compounds
Intake of the extract caused an increase in flow-mediated dilatation, which was significantly higher than the baseline values. No change was observed after intake of placebo.
None reported (the long-term effect of the extract on endothe-lial function has not been studied)
Rakici

et al.

[128]
2005
Turkey
First study of the relaxant effect of RES on human blood vessels of internal mammary artery and saphenous vein grafts from 38 randomized male patients undergoing coronary artery revascularization
10–70 μM RES
70 µM RES caused relaxation in saphenous vein and internal mammary artery (mainly endothelium-dependent and ●NO-mediated relaxations in internal mammary artery, partially in saphenous vein rings)
Not applica-ble (

ex vivo

study)
© 2016 by the author; licensee MDPI, Basel, Switzerland. This article is an open access article distributed under the terms and conditions of the Creative Commons Attribution (CC-BY) license (http://creativecommons.org/licenses/by/4.0/).