Beta-Cryptoxanthin Inhibits Lipopolysaccharide-Induced Osteoclast Differentiation and Bone Resorption via the Suppression of Inhibitor of NF-κB Kinase Activity
1
Cooperative Major of Advanced Health Science, Tokyo University of Agriculture and Technology, 2-24-16 Nakacho, Koganei, Tokyo 184-8588, Japan
2
Department of Biotechnology and Life Science, Tokyo University of Agriculture and Technology, 2-24-16 Nakacho, Koganei, Tokyo 184-8588, Japan
3
Institute of Global Innovation Research, Tokyo University of Agriculture and Technology, 2-24-16 Nakacho, Koganei, Tokyo 184-8588, Japan
4
Graduate School of Sport Sciences, Waseda University, 2-579-15 Mikajima Tokorozawa-shi, Tokyo 359-1192, Japan
5
Faculty of Sport Sciences, Waseda University, 2-579-15 Mikajima Tokorozawa-shi, Tokyo 359-1192, Japan
6
Institute of Crop Science and Resource Conservation, University of Bonn, Karlrobert-Kreiten-Strasse 13, 53115 Bonn, Germany
†
These authors contributed equally to this work.
*
Author to whom correspondence should be addressed.
Received: 28 December 2018 / Revised: 31 January 2019 / Accepted: 4 February 2019 / Published: 10 February 2019
Abstract
Beta-cryptoxanthin (β-cry) is a typical carotenoid found abundantly in fruit and vegetables such as the Japanese mandarin orange, persimmon, papaya, paprika, and carrot, and exerts various biological activities (e.g., antioxidant effects). We previously reported that β-cry suppressed lipopolysaccharide (LPS)-induced osteoclast differentiation via the inhibition of prostaglandin (PG) E
2
production in gingival fibroblasts and restored the alveolar bone loss in a mouse model for periodontitis in vivo. In this study, we investigated the molecular mechanism underlying the inhibitory effects of β-cry on osteoclast differentiation. In mouse calvarial organ cultures, LPS-induced bone resorption was suppressed by β-cry. In osteoblasts, β-cry inhibited PGE
2
production via the downregulation of the LPS-induced mRNA expression of cyclooxygenase (COX)-2 and membrane-bound PGE synthase (mPGES)-1, which are PGE synthesis-related enzymes, leading to the suppression of receptor activator of NF-κB ligand (RANKL) mRNA transcriptional activation. In an in vitro assay, β-cry directly suppressed the activity of the inhibitor of NF-κB kinase (IKK) β, and adding ATP canceled this IKKβ inhibition. Molecular docking simulation further suggested that β-cry binds to the ATP-binding pocket of IKKβ. In Raw264.7 cells, β-cry suppressed RANKL-mediated osteoclastogenesis. The molecular mechanism underlying the involvement of β-cry in LPS-induced bone resorption may involve the ATP-competing inhibition of IKK activity, resulting in the suppression of NF-κB signaling.
View Full-Text
►

▼

Figures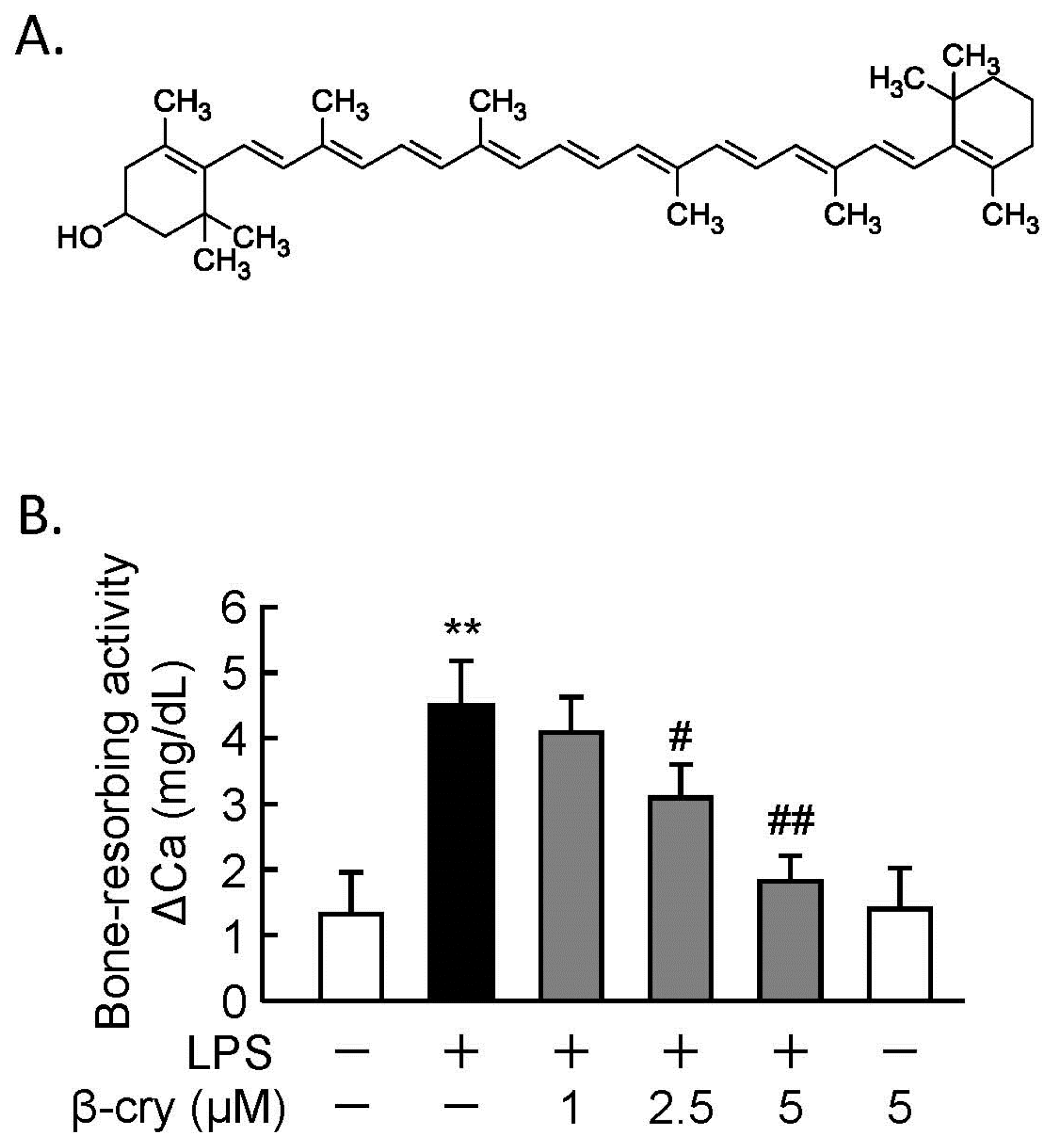 Figure 1
This is an open access article distributed under the
Creative Commons Attribution License
which permits unrestricted use, distribution, and reproduction in any medium, provided the original work is properly cited (CC BY 4.0).

Share & Cite This Article
MDPI and ACS Style
Hirata, N.; Ichimaru, R.; Tominari, T.; Matsumoto, C.; Watanabe, K.; Taniguchi, K.; Hirata, M.; Ma, S.; Suzuki, K.; Grundler, F.M.; Miyaura, C.; Inada, M. Beta-Cryptoxanthin Inhibits Lipopolysaccharide-Induced Osteoclast Differentiation and Bone Resorption via the Suppression of Inhibitor of NF-κB Kinase Activity. Nutrients 2019, 11, 368.
Note that from the first issue of 2016, MDPI journals use article numbers instead of page numbers. See further details here.
Related Articles
Comments
[Return to top]