Open Access This article is
freely available
re-usable
Review
Mechanism and Potential of Egg Consumption and Egg Bioactive Components on Type-2 Diabetes
1
Department of Agricultural, Food and Nutritional Science, University of Alberta, Edmonton, AB T6G 2R3, Canada
2
Cardiovascular Research Centre, University of Alberta, Edmonton, AB T6G 2R3, Canada
*
Author to whom correspondence should be addressed.
Received: 26 December 2018 / Accepted: 1 February 2019 / Published: 8 February 2019
Abstract
:
Type-2 diabetes (T2D) is one of the major global health challenges and a substantial economic burden. Egg and egg-derived components have been indicated to possess antioxidant, anti-inflammatory, anti-hypertensive, immunomodulatory, and anti-cancer activities. However, the scientific evidence about the benefits of egg on T2D is debatable. The relationship between egg consumption and the risk of T2D from observational epidemiological studies is not consistent. Interventional clinical studies, however, provide promising evidence that egg consumption ameliorates the risk of T2D. Current research progress also indicates that some egg components and egg-derived peptides might be beneficial in the context of T2D, in terms of insulin secretion and sensitivity, oxidative stress, and inflammation, suggesting possible application on T2D management. The current review summarizes recent clinical investigations related to the influence of egg consumption on T2D risk and in vivo and in vitro studies on the effect and mechanism of egg components and egg-derived peptides on T2D.
Keywords:
type-2 diabetes; egg consumption; egg peptides; egg components; insulin
1. Introduction
Diabetes is a rapidly growing public health problem worldwide, which is characterized by prolonged hyperglycemia and impaired insulin secretion together with or without insulin resistance. Type-1 diabetes is caused by the cell-mediated autoimmune destruction of pancreatic β-cells and accounts for 5–10% of diabetic cases. The majority of diabetes victims (90–95%) are affected by type-2 diabetes (T2D), marked by insulin resistance and relative insulin deficiency [
1
]. T2D is closely associated with life style—especially diet and exercise—and is preventable.
According to the World Health Organization, between 1980 and 2014, the global prevalence of diabetes among adults has been increasing from 4.7% (108 million people) to 8.5% (422 million people) [
2
], in which the westernized lifestyle with dietary changes and lack of exercise is believed to play a role [
3
,
4
,
5
]. Thus, the identification of effective dietary components that can reduce the risk of T2D or slow down the progression of complications is important to improve the quality of life for diabetic patients and people at risk of T2D. Egg is one of the major protein sources in the diet. Also, egg is composed of a broad range of health beneficial components including amino acids, vitamins, minerals, and carotenoids [
6
]. To date, there are some evidence showing the beneficial property of some egg components and egg-derived peptides in the context of T2D, which are often associated with their anti-oxidative and anti-inflammatory properties [
6
,
7
,
8
]. In this review, we will provide an update on the mechanism and potential of egg, egg components, and egg-derived peptides on T2D management.
2. Egg Consumption and the Risk of T2D
3. Egg Components and T2D
3.1. Egg White Hydrolysate (EWH)
3.2. Lutein and Zeaxanthin
3.3. Choline
Choline is a serine-derived water-soluble amine and is the build block of phosphatidylcholine and sphingomyelin, which are essential membrane phospholipid and precursors of second messengers diacylglycerol and ceramide. Choline is also a precursor of an crucial neurotransmitter acetylcholine, which is involved in voluntary muscle movement and cognitive function [
113
]. Another important physiological function of choline is that it is required for the transport of triglyceride in lipoprotein from liver [
114
].
Eggs, liver, and peanuts are good food sources of choline. The choline content in whole egg is ~100 mg/egg, mainly in egg yolk [
115
,
116
]. There are some evidence showing the beneficial effect of choline on glucose and insulin metabolism. In mice with metabolic syndrome, muscle synthesis of fatty acid and triglyceride was reduced by choline dietary supplementation, whereas glycogen generation was increased. In addition, phosphorylation of IRS-1 and Akt in muscle was enhanced by choline [
117
]. In a study that involved 2394 adults from Newfoundland, the dietary choline intake was negatively associated with blood concentrations of fasting glucose and insulin and HOMA-IR in both males and females with age, total calorie intake, and physical activity level being controlled [
118
]. Choline was also reported to aid in the delivery of insulin ingested orally. An ionic liquid consist of choline and geranate was shown to improve oral insulin delivery and result in a significantly reduced blood glucose level for up to 12 hours in rats [
119
], which were attributed to enhanced paracellular transport and reduced enzymatic degradation of insulin.
However, there are also studies showing contradictory results. Phosphatidylethanolamine N-methyltransferase-deficient mice, which display impaired choline de novo synthesis, were protected from high-fat diet-induced obesity and insulin resistance [
120
]. In addition, a choline-deficient diet led to an improved glucose tolerance and less weight gain in wild-type mice [
120
]. Similar attenuation on weight gain and improvement on glucose tolerance and insulin resistance by a choline-deficient diet were seen in both ob/ob obese mice and high-fat diet-fed wild-type mice [
121
]. In a human study that involved three prospective cohorts with 203,308 subjects (both male and female) without diabetes, cardiovascular disease, and cancer [
122
], a valid food-frequency questionnaire was used to assess the dietary intake of phosphatidylcholine, which can be degraded to choline by gut microbes. The results showed that higher phosphatidylcholine intake was associated with increased risk of T2D [
122
].
4. Egg-Derived Peptides and T2D
4.1. Alpha-Glucosidase Inhibitory Peptides
Although individual variation and abdominal discomfort have been reported, synthetic α-glucosidase inhibitors, such as acarbose and voglibose, were shown to be beneficial against postprandial hyperglycemia in diabetic individuals by inhibiting α-glucosidase, which hydrolyzes carbohydrate and release monosaccharides for absorption in the small intestine [
123
,
124
]. Both acarbose and voglibose were effective on improving glucose turnover in T2D patients who were taking insulin and metformin and blood glucose levels were not adequately controlled [
125
], indicating α-glucosidase inhibitors could be valuable supplements for T2D patients. It was also reported that voglibose diet supplementation augmented GLP-1 secretion in both healthy people and mice with T2D, which is attributed to the delaying effect on carbohydrate absorption [
126
,
127
]. However, acarbose was not shown to increase GLP-1 secretion in patients with T2D [
128
], indicating α-glucosidase inhibitors may have distinct potency on promoting GLP-1 secretion in different health conditions. Thus, food-derived α-glucosidase inhibitors might be attractive options replacing synthetic ones for the management of T2D. Eight peptides with α-glucosidase inhibitory activity have been identified in egg albumin with peptide KLPGF being the most potent one, which was shown to have comparable potency as acarbose [
129
]. Another egg white derived peptide RVPSLM is ~3-fold more potent than acarbose in glucosidase inhibition [
130
]. Peptide VTGRFAGHPAAQ with high α-glucosidase inhibitory activity was identified from egg yolk protein [
131
]. However, effect of α-glucosidase inhibitory peptides from egg on glucose and insulin metabolism in the context of T2D requires further study.
4.2. ACE Inhibitory Peptides
In the context of T2D, angiotensin II, produced from angiotensin I by ACE, has been implicated to play a role in the development of insulin resistance. Angiotensin II was reported to inhibit insulin/ PI3K/Akt signaling, induce oxidative stress by activating NADPH oxidases, and upregulate inflammation by activation of NF-κB [
86
], which is known to initiate the transcription of pro-inflammatory genes including cytokines, chemokines, and adhesion molecules [
132
]. The action of angiotensin II is believed to be mainly through a G-protein coupled receptor, angiotensin II type 1 receptor [
133
]. ACE inhibitors, traditionally used for anti-hypertension purpose, have been reported to exert favorable effects on kidney, heart and eye functions in T2D patients [
134
].
Milk derived ACE inhibitory tripeptides, IPP (Ile-Pro-Pro) and VPP (Val-Pro-Pro), induced similar adipogenic differentiation to insulin, which was accompanied with restored adipokine levels and reduced activation of NF-κB [
135
]. An ACE inhibitory tripeptide, IRW (Ile-Arg-Trp), which is derived from egg white ovotransferrin, has been indicated to be beneficial against insulin resistance. In fully differentiated L6 myoblasts, IRW were reported to restore TNF-α-impaired insulin- stimulated glucose uptake by promoting phosphorylation of IRS-1 tyrosine residue and Akt, which were accompanied with decreased phosphorylation of p38 and c-Jun N-terminal kinases [
97
]. IRW in vitro treatment also reversed angiotensin II-impaired insulin-stimulated glucose uptake in L6 myoblasts, by reducing serine phosphorylation of IRS-1, increasing Akt phosphorylation, upregulating GLUT-4 translocation, decreasing expression of angiotensin II type 1 receptor, and inhibiting ROS generation [
136
]. The effect and mechanisms of ACE inhibitory peptides from eggs on diabetes largely remain to be elucidated.
4.3. DPP-4 Inhibitory Peptides
Several DPP-4 inhibitors (also known as gliptins) have been approved in the US, Europe, Japan, and South Korea to treat T2D, which are supposed to augment the bioavailability of incretin hormones, prolong the action of insulin, and thus provide benefits on postprandial glucose response [
137
]. Peptide LPQNIPPL originated from water-soluble extract of a gouda-type cheese was reported to have DPP-4 inhibitory activities in vitro, and improve glucose tolerance as shown in oral glucose tolerance test in healthy rats when administrated together with glucose by intraperitoneal injection [
138
]. In addition, oral administration of peptides with DPP-4 inhibitory activity derived from the porcine skin gelatin hydrolysates were demonstrated to improve glucose tolerance in diabetic rats in 21 and 42 days after streptozotocin injection [
139
]. Three peptides, YINQMPQKSREA, VTGRFAGHPAAQ, and YINQMPQKSRE, with DPP-4 inhibitory activity have been identified in egg yolk protein, with YINQMPQKSRE being the most active one (IC50 = 222.8 µg/mL) [
131
]. However, further studies elucidating the effect of egg-derived DPP-4 inhibitory peptides in the context of T2D are needed.
5. Concluding Remark
To date, the observational epidemiological evidence about the egg consumption and the risk of T2D is not consistent, which might be the result of different dietary pattern and socioeconomic factors. However, it has been indicated that there is association between higher egg consumption and improved blood lipid profile, insulin sensitivity, and glucose response in interventional clinical trials.
EWH, lutein, zeaxanthin, and ACE inhibitory tripeptides from egg have been shown to have some benefits against glucose and insulin intolerance, oxidative stress, and inflammation in the context of T2D (
Figure 1
). The effect of EWH seems to be related to the production process, which needs optimization. In addition, the role of α-glucosidase inhibitory peptides, DPP-4 inhibitory peptides, and choline from egg in T2D is poorly understood. Thus, more mechanistic studies are warranted to elucidate the role of each components of egg on T2D. Furthermore, the absorption and bioavailability of the egg components and egg-derived peptides largely remain to be addressed.
Author Contributions
Writing—original draft preparation, X.W., M.S., and C.M.; writing—review and editing, X.W. and J.W.; supervision, J.W.; funding acquisition, J.W.
Funding
This research was funded by Alberta Livestock and Meat Agency (ALMA); Egg Farmers of Canada; and Natural Sciences and Engineering Research Council (NSERC) of Canada.
Conflicts of Interest
The authors declare no conflict of interest.
Figure 1. Major bioactivities of egg components and egg-derived peptides that possibly contribute to the benefits in T2D.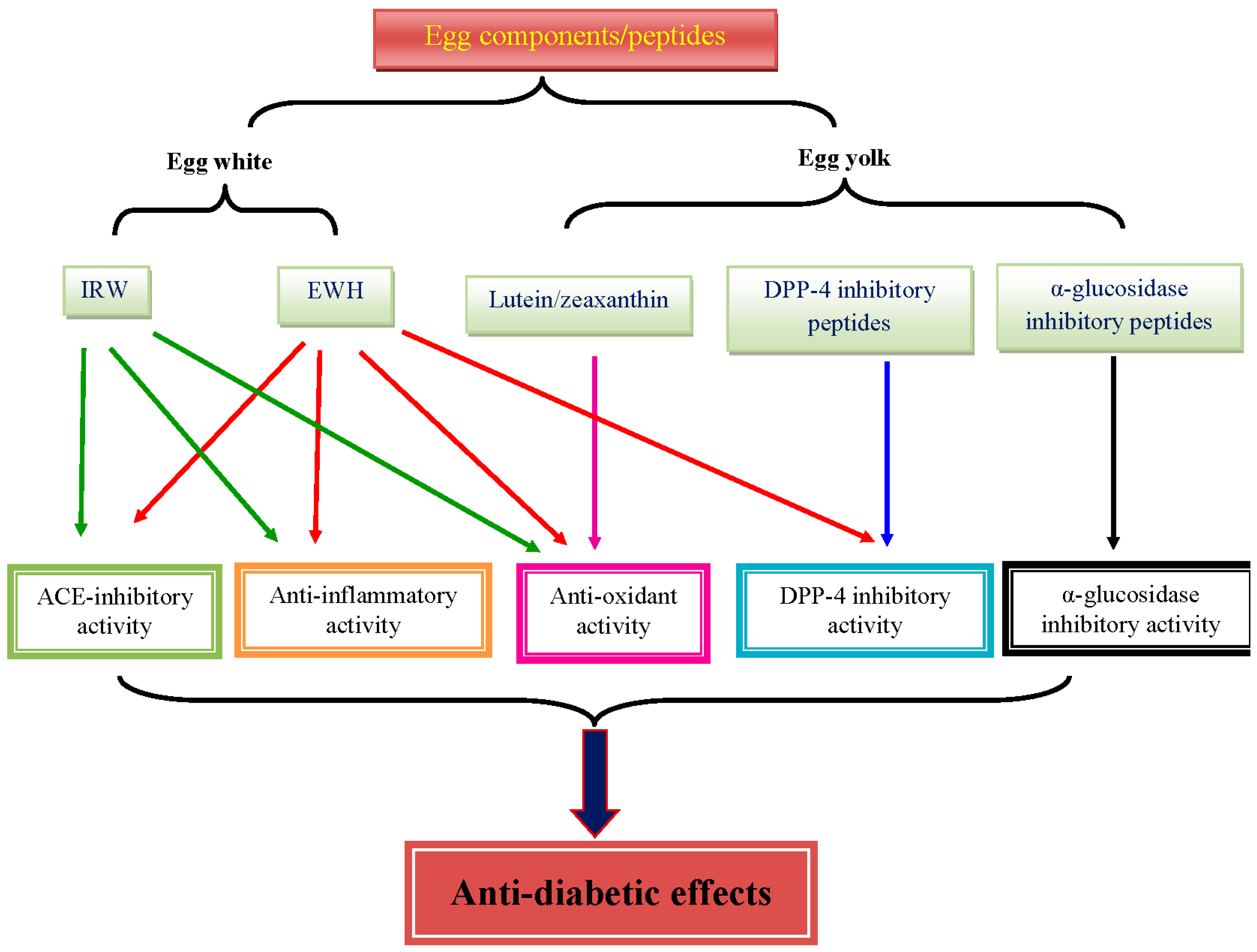 Egg Dose
Subjects
Duration
Study Design
Primary and Secondary Outcomes
Results
3 eggs/day [52]
37 women with metabolic syndrome *; aged 30–70 years
12 weeks
Randomized, single blind, parallel design
Plasma lipids, apolipoprotein, oxLDL, CETP and LCAT
Improved HDL, large HDL particles, total and medium VLDL particles, HOMA-IR, and LCAT activity
2 eggs/day [53]
65 subjects with T2D or impaired glucose tolerance; aged 54 ± 8.2;
BMI 34.1 ± 4.8 kg/m2
12 weeks
Randomized, controlled, parallel design
Blood lipid, glucose, insulin, HbA1c, CRP and apoprotein-B, homocystein
Increased HDL cholesterol; improved glycemic and lipid profiles
Egg breakfast [57]
21 healthy men; aged 20–70 years
1 week
Randomized, Cross-over
Fasting blood glucose, plasma insulin, ghrelin, leptin, GLP-1, PYY
Less variation in plasma glucose and insulin; reduced ghrelin response and energy intake
2 eggs per day [58]
34 adults with T2D (14 postmenopausal women and 20 men); mean age = 64.5 years
12 weeks
Randomized, controlled, single-blind, cross-over
Glycated hemoglobin, systolic blood pressure, body mass index, visceral fat rating, waist circumference, and percent body fat
Reduced body mass index, visceral fat, waist circumference and percent body fat; unchanged glycemic control
High-egg diet (≥12 eggs/week) or low-egg diet (<2 eggs/week) [54]
140
aged subjects with
prediabetes or T2D;
BMI ≥ 25 kg/m2
3 months
Randomized, controlled, parallel-arm
Plasma blood glucose, HbA1c, TC, LDL-C, HDL-C, TG, apolipoprotein B, CRP
No significant changes between groups
High-egg diet (≥12 eggs/week) or low-egg diet (<2 eggs/week) [59]
128 subjects with prediabetes or T2D; aged ≥18 years; BMI ≥25 kg/m2
12 months
Randomized, controlled, parallel-arm
Plasma glucose, HbA1c, 1,5-anhydroglucitol, traditional serum lipids, markers of inflammation, high-sensitivity C-reactive protein, interleukin 6, soluble E-selectin, oxidative stress, and adiponectin
No significant changes between groups
* The National cholesterol Education Program's Adult Treatment Panel III report definition [60]. cholesteryl ester transfer protein: CETP; C-reactive protein: CRP; glucagon-like peptide 1: GLP-1; lecithin cholesterol acyltransferase: LCAT; total cholesterol: TC; triglyceride: TG; oxidized LDL: oxLDL.
EWH Preparation Method
Animal Model/Group
EWH Dose/
Duration
Major Results
Protease [90]
Nagoya-Shibata-Yasuda mice
27.6% (w/w, diet)
/8 weeks
Decreased plasma glucose and insulin concentration; improved insulin resistance
Alcalase [94]
Obese Zucker rats
1 g/kg (body weight)/day/15 weeks
Reduced renal mRNA expression of IL-1β, IL-13, and TNF-α; decreased renal P22(phox)protein expression; unchanged blood GLP-1 and glucose concentration
Thermolysin and Pepsin [91]
High-fat diet-fed rats
4% (w/w, diet)/6 weeks
Reduced plasma IL-1α, IL-β, and MCP-1 concentrations and fat pad mass; increased lean mass and upregulated Akt phosphorylation in liver, muscle, and fat tissues; improved glucose tolerance and insulin sensitivity
Protease [92]
Goto-Kakizaki rats
27.6% (w/w, diet)/6 weeks
Decreased fasting blood glucose concentration and triglyceride content in muscle; improved HOMA-IR;
Protease [93]
Rats fed with a high-fat and high-sucrose diet
39.4% (w/w, diet)/6 weeks
Reduced food intake, body weight gain and fat deposition; decreased stearoyl-CoA desaturase and glucose-6-phosphate dehydrogenase activity in liver and muscle; suppressed serum levels of triacylglycerol and leptin; increased muscle weight; upregulated fecal excretion of triacylglycerol, cholesterol, and total bile acids

© 2019 by the authors. Licensee MDPI, Basel, Switzerland. This article is an open access article distributed under the terms and conditions of the Creative Commons Attribution (CC BY) license (http://creativecommons.org/licenses/by/4.0/).