Nutrition and Muscle Strength, As the Key Component of Sarcopenia: An Overview of Current Evidence
1
AGE Research Group, Translational and Clinical Research Institute, Faculty of Medical Sciences, Newcastle University, Newcastle upon Tyne NE4 5PL, UK
2
NIHR Newcastle Biomedical Research Centre, Newcastle upon Tyne Hospitals NHS Foundation Trust and Newcastle University, Newcastle upon Tyne NE4 5PL, UK
3
Newcastle upon Tyne Hospitals NHS Foundation Trust, Newcastle upon Tyne NE7 7DN, UK
*
Author to whom correspondence should be addressed.
Received: 8 November 2019 / Revised: 27 November 2019 / Accepted: 29 November 2019 / Published: 3 December 2019
Much has been achieved by recent research to increase understanding of the links between nutrition and muscle health. Focusing on muscle strength as the key component of sarcopenia, the aim of this overview was to evaluate its links to nutrition, both to variation in habitual diets in older populations, as well as considering supplementation effects in trials. A main message from the reviewed studies is that while many provide suggestive evidence of benefits of higher nutrient intakes and diets of higher quality, findings are inconsistent, and data on muscle strength are often lacking. To assess the potential of optimising diets as a strategy to promote and maintain muscle strength, gaps in current evidence need to be addressed. These include the need for (i) better understanding of individual differences in responsiveness to dietary change, and the need for targeted nutritional support; (ii) clearer distinction between protective and therapeutic actions of diet; and (iii) definition of the role of dietary patterns and their influence on muscle strength, to allow effects of changes in food consumption to be evaluated—particularly when combined with physical activity. Development of this evidence is needed to enable translation into appropriate dietary recommendations for older populations.
2. Nutrition in Older Age
Alongside lower levels of physical activity and a reduction in energy needs in older age, food consumption declines and energy intakes fall. The effect of age on energy intake is significant. For example, in a recent meta-analysis of studies of healthy adults, this amounted to a difference of approximately 20% when comparing younger (aged 26 years) and older (aged 70 years) groups [
15
], and steeper declines in intake have been reported among even older adults [
16
]. The drivers of low food intake include the effects of age-related changes in sensory perception [
17
], poor oral health [
18
] and impaired appetite [
19
], that can act to reduce meal size and eating frequency and may also affect food choice. In particular, appetite loss, described as the 'anorexia of ageing', is often reported and is a key determinant of nutritional risk [
20
]. However, influences on diet in older age are complex and, in addition to these physiological changes, there is an array of wider contextual and personal factors that also impact on dietary intake [
21
]. Notably, in parallel with declining energy intake, intakes of other nutrients, including protein and micronutrients, are also likely to fall [
22
]. As requirements for some nutrients do not change, or may even increase in older age, without greater consumption of nutrient-dense foods it can become more challenging for older adults to meet nutrient needs [
23
]. This underlines the need for a diet of adequate quality—potentially at the same time as food access and preparation are becoming more challenging and diets more monotonous, contributing to nutritional risk. Although the prevalence of poor diets varies across studies of older populations, consistent with this concern, low diet quality is common in developed settings [
24
] and malnutrition rates are high [
25
].
3. Mechanistic Considerations
There is now a body of evidence that links poor nutrition to adverse effects on muscle in older age, suggesting that strategies that support older adults to maintain nutrient intake could help to preserve muscle strength and mass—and could be effective both to prevent and treat sarcopenia. Although the underpinning physiology is not fully understood, a number of possible mechanisms are recognised. Firstly, low food consumption can lead to insufficient energy intakes; the ensuing loss of body weight is due not only to depletion of stored fat but also to the catabolism of muscle, leading to reduced muscle mass [
26
]. Secondly, protein requirements may be increased in older age. Apart from providing amino acids, the consumption of dietary protein is an anabolic stimulus that has direct effects on muscle protein synthesis. As this response has been shown to be blunted among older adults, their protein intakes may need to be relatively greater to maintain nitrogen balance and to prevent losses of muscle mass and strength [
7
,
27
]. Thirdly, there may be important anti-oxidant effects of some dietary components. Oxidative stress, arising from the accumulation of reactive oxygen species (ROS) can damage biomolecules in muscle [
28
] and, via effects on signalling pathways, is also linked to inflammation [
29
]. Whilst normally counterbalanced by effects of endogenous antioxidants, the role of exogenous antioxidants may be significant [
30
]; ensuring sufficient intakes of dietary antioxidants in older age, such as carotenoids and selenium, may therefore offer protection against oxidative damage to muscle tissue. Fourthly, the links between inflammation and sarcopenia point both to the potential benefits of dietary factors that have anti-inflammatory effects, such as
n
-3 fatty acids, as well as the importance of dietary influences on adiposity, particularly visceral adiposity, that contribute to a low-grade inflammatory state [
13
]. Supplementation with
n
-3 long chain polyunsaturated fatty acids (LCPUFAs) has a lowering effect on CRP, IL-6 and TNF-α levels; manipulation of the balance and dietary content of
n
-3 and
n
-6 LCPUFAs may therefore have potential as an approach to prevent or treat sarcopenia [
31
]. Finally, there is suggestive evidence of influences of other dietary components, but for which understanding of the underpinning mechanisms is currently less clear. The best example of these may be vitamin D, for which there is considerable interest in the links between status and muscle function [
7
]. But recently, with increased understanding of the role and influence of the gut microbiota on health, effects on skeletal muscle function, potentially via effects on anabolic resistance, have also been suggested [
32
]. These effects could be important and, as diet is a key influence on microbial composition in the gut [
33
], merit further study.
4. Nutrition and Muscle Strength
The growth in evidence that examines links between diet and muscle outcomes in older populations has enabled collation of findings to establish consistency across studies and, in some cases, meta-analyses to evaluate effect size. The following sections provide an overview of current evidence on muscle strength, focusing particularly, where available, on recent systematic reviews and meta-analyses.
4.1. Observational Evidence
4.2. Dietary Interventions
While existing observational evidence of links between nutrition and muscle strength in older age may not yield clear messages, the prevalence of poor nutrition in older populations, together with established mechanistic links between nutrition and muscle function, suggest that intervention to increase nutrient intake has potential to improve outcomes—at least among older individuals who are at nutritional risk. There is now a sizeable body of literature on the effects of nutrient supplementation, although there are challenges in collating the findings of these studies arising from differences in study design, the nature of populations studied, nutrients provided (singly or in combinations), the dose and duration of supplementation, and most notably, whether combined with exercise training or not. To date there have been few studies of whole food provision as a device to increase nutrient intake, and even less is currently known about the efficacy of making overall changes in dietary patterns to achieve gains in muscle strength.
4.3. Nutrition and Exercise Interventions
The interactions between nutrition and physical activity may be important [
86
], and many intervention studies have combined nutritional supplementation with exercise training to enable the potential for additive or synergistic effects on muscle health to be explored. A number of reviews have collated this evidence; all point to the degree of heterogeneity across studies, particularly in terms of study design and participant characteristics, and, overall, the lack of conclusive messages that can be drawn [
87
,
88
,
89
].
However, some studies have suggested synergistic effects, such that exercise training may only be effective among supplemented participants, or that the training effects are enhanced in supplemented individuals. Two current examples of interest are supplementation with protein/amino acids or with
n
-3 LCPUFAs. In the most recent systematic review and meta-analysis, Hou and colleagues included 21 RCTs of older participants (published January 2004 to May 2018). Protein supplementation combined with resistance training resulted in greater gains in muscle strength, although differences in physical performance were not found [
90
]. Comparable effects have been described in primary studies of
n
-3 LCPUFA supplementation in which greater strength gains have been observed among supplemented older women who received training [
91
,
92
], but not in men [
92
]. Since the number of studies of LCPUFAs is still small, further research is needed to confirm such effects.
The combined effects of food supplementation with exercise training is very limited, although in a trial of combined exercise training with/without increased meat consumption in a group of older women, Daly and colleagues reported greater gains in muscle strength in response to resistance exercise training in the meat group, in comparison with control resistance-trained participants [
93
]. However, in contrast, increased consumption of fortified milk in combination with exercise training has not been shown to enhance training effects [
94
]. Perhaps the most encouraging data come from a recent Swedish RCT in older women, a rare example of a combined resistance exercise training and dietary intervention to improve muscle outcomes, in which the change was an alteration in dietary pattern, specifically, to increase compliance with a 'healthier' dietary pattern over a period of 24 weeks (based on wholegrain foods, fruits and vegetables, fish, and polyunsaturated fats from vegetable oils and nuts) [
95
,
96
]. Improvements in muscle power were seen both in the exercise and the exercise–healthy diet groups, but the gains were greater in the group that combined exercise training with a healthier pattern of diet [
95
]. Furthermore, combined resistance training with this dietary change has recently been shown to result in a significant hypertrophy of type IIA muscle fibres—suggesting its potential to reverse age-related effects [
96
]. Much more needs to be known about the effects of changing dietary patterns when combined with exercise training or increased physical activity, and the potential of this approach to protect and promote muscle health among older adults.
5. Evidence Summary
The aim of this review was to provide an overview of current evidence that links differences in diet and nutritional status to muscle strength, a key characteristic of sarcopenia [
14
], considering both variation in habitual diets in observational studies, as well as supplementation effects in intervention studies and randomised trials. A number of messages come from the reviewed evidence. Firstly, whilst many observational studies provide suggestive evidence of both higher nutrient intakes and habitual diets of higher quality being linked with greater muscle strength in older adults, findings are often inconsistent, with the benefits observed in some studies balanced by lack of effects seen in others. Secondly, trial evidence of the effects of dietary change achieved through nutrient supplementation, or changes in food consumption, is often lacking (antioxidant nutrients, LCPUFAs, whole foods and dietary patterns) or, in common with the observational studies, is inconsistent in its findings (protein, vitamin D). While there are likely to be many contributing factors to this lack of consistency, arising particularly from differences in study populations, both in observational studies and trials, as well as differences in study design, overall, there is currently little evidence from these studies of muscle strength to inform dietary recommendations for older populations. For example, there is continuing debate regarding protein requirements in older age. While essential amino acids, particularly leucine, are considered key to the anabolic response, the optimal amount and balance of animal (leucine-rich) protein vs. plant protein in the diet remains to be defined [
97
]. Additionally, differences in the timing/pattern of protein consumption and meal feeding also need further investigation [
98
,
99
]. However, a third message from the reviewed studies is that improvements in strength have been found in trials that combine dietary change with exercise training. Although evidence of benefit from this type of trial has often been mixed [
88
], and the balance of existing studies is largely from interventions based on protein/amino acid supplements, there appears to be some consistency in recent meta-analysis of this evidence. Intriguingly there is also suggestion of comparable effects in some recent studies of different types of dietary intervention (
n
-3 LCPUFAs, dietary pattern), although further research is needed. Finally, this review focused on muscle strength, and the messages may differ had other muscle outcomes been considered. For example, the meta-analysis reported by Hou and colleagues found differences in muscle strength, but not in physical performance, resulting from combined protein supplementation and exercise training [
90
]; conversely, the systematic review of observational studies by Bloom and colleagues suggested benefits of diets of higher quality for physical performance, but found inconsistent evidence of effects on strength [
66
]. In part this may be explained by the balance of evidence currently available for review, but it does highlight the need for a clear focus on individual muscle outcomes. Although physical performance is strongly linked to muscle strength [
100
], it is multidimensional, also involving central and peripheral nervous system function [
14
]. Any differences in effects according to muscle outcome may therefore be informative, indicating the need for clear delineation of dietary effects on separate aspects of muscle health.
6. Conclusions
This review has highlighted a number of gaps in the evidence for future research to address.
At present, our understanding of the role and importance of nutrition in aetiology of low muscle strength and sarcopenia is incomplete, preventing evaluation of the potential of using dietary change for prevention or treatment. However, the sound mechanistic links between nutrition and muscle function, together with some of the current evidence, suggest that further research is needed to develop understanding and enable consideration of implications for future dietary recommendations to protect and promote muscle health in older populations.
Author Contributions
Conceptualization and design of the review S.R., A.G. and A.A.S.; writing—original draft preparation S.R.; all authors commented on and approved the final manuscript.
Funding
This work was supported by the National Institute for Health Research Newcastle Biomedical Research Centre, Newcastle upon Tyne Hospitals NHS Foundation Trust and Newcastle University.
Conflicts of Interest
The authors declare no conflict of interest. The funders had no role in the design of the study; in the collection, analyses, or interpretation of data; in the writing of the manuscript, or in the decision to publish the results.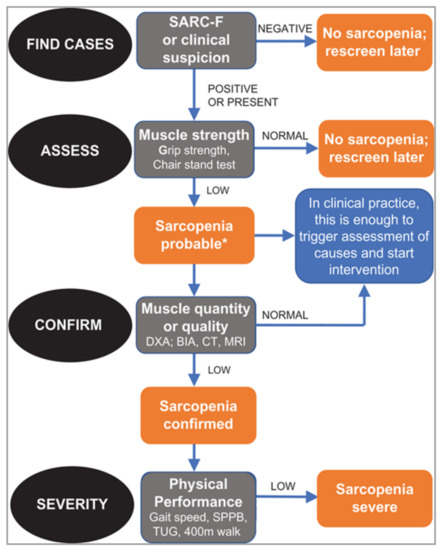 Figure 1.
Sarcopenia: European Working Group on Sarcopenia in Older People (EWGSOP2) algorithm for case finding, making a diagnosis and quantifying severity in practice (*considering other reasons for low muscle strength such as depression, stroke, balance disorders, peripheral vascular disorders) (DXA: dual-energy X-ray absorptiometry, BIA: bioelectrical impedance analysis, CT: computed tomography, MRI: magnetic resonance imaging, SPPB: short physical performance battery, TUG: timed-up-and-go test) [
14
]. Permission has been obtained from Oxford University Press.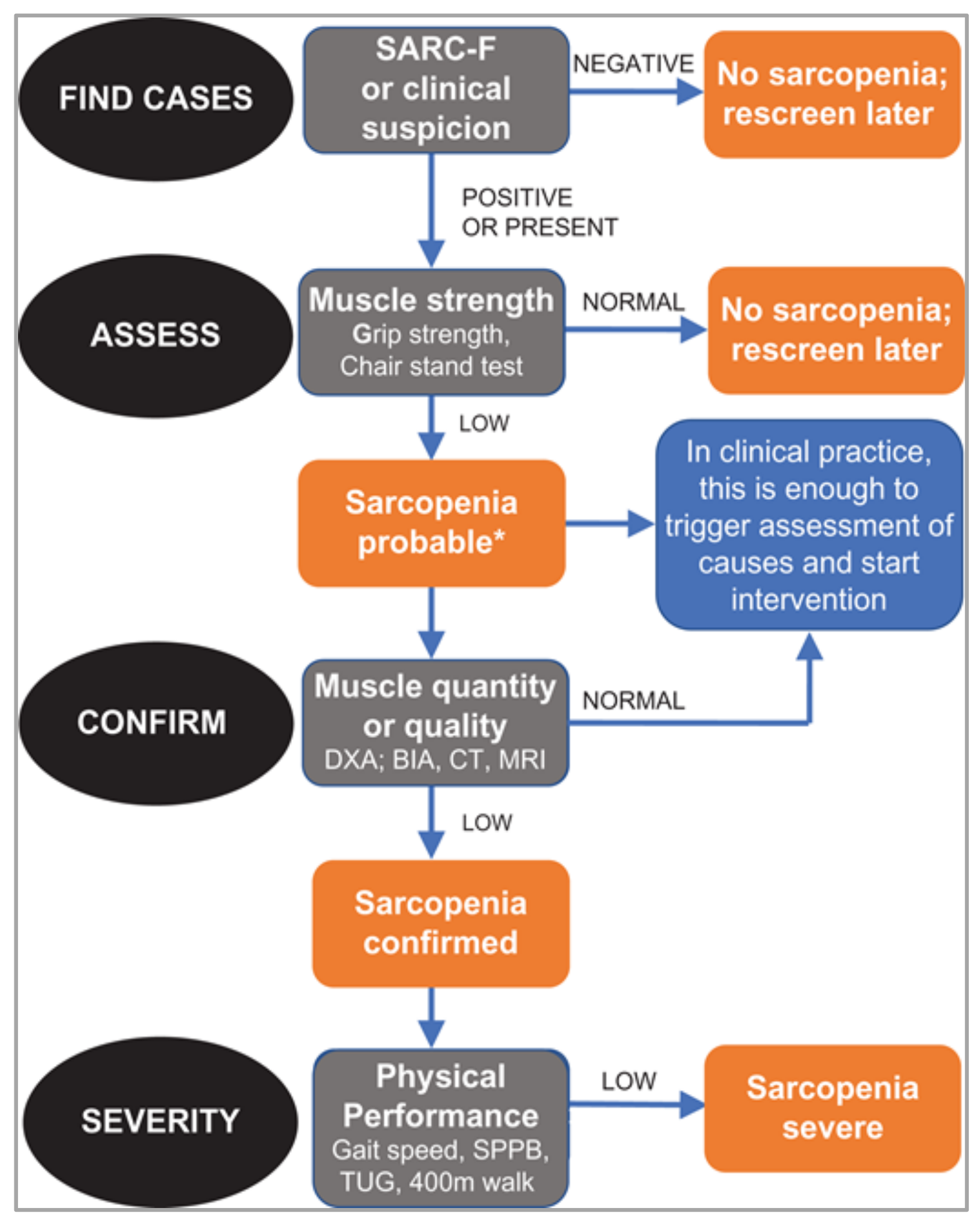 © 2019 by the authors. Licensee MDPI, Basel, Switzerland. This article is an open access article distributed under the terms and conditions of the Creative Commons Attribution (CC BY) license (http://creativecommons.org/licenses/by/4.0/).