Open Access This article is
freely available
re-usable
Review
The Role of Nutrients in Reducing the Risk for Noncommunicable Diseases during Aging
1
Nutrition Science & Advocacy, DSM Nutritional Products, CH-4303 Kaiseraugst, Switzerland
2
University Medical Center Groningen, 9713 GZ Groningen, The Netherlands
*
Author to whom correspondence should be addressed.
Received: 20 September 2018 / Accepted: 27 December 2018 / Published: 4 January 2019
Abstract
:
An increasing aging population worldwide accounts for a growing share of noncommunicable diseases (NCDs) of the overall social and economic burden. Dietary and nutritional approaches are of paramount importance in the management of NCDs. As a result, nutrition programs are increasingly integrated into public health policies. At present, programs aimed at reducing the burden of NCDs have focused mostly on the excess of unhealthy nutrient intakes whereas the importance of optimizing adequate essential and semi-essential nutrient intakes and nutrient-rich diets has received less attention. Surveys indicate that nutrient intakes of the aging population are insufficient to optimally support healthy aging. Vitamin and mineral deficiencies in older adults are related to increased risk of NCDs including fatigue, cardiovascular disease, and cognitive and neuromuscular function impairments. Reviewed literature demonstrates that improving intake for certain nutrients may be important in reducing progress of NCDs such as musculoskeletal disorders, dementia, loss of vision, and cardiometabolic diseases during aging. Current knowledge concerning improving individual nutrient intakes to reduce progression of chronic disease is still emerging with varying effect sizes and levels of evidence. Most pronounced benefits of nutrients were found in participants who had low nutrient intake or status at baseline or who had increased genetic and metabolic needs for that nutrient. Authorities should implement ways to optimize essential nutrient intake as an integral part of their strategies to address NCDs.
Keywords:
chronic disease; noncommunicable disease; nutrient inadequacies and deficiencies; nutrient interventions; public health; musculoskeletal disorders; dementia; eye disorders; cardiovascular disease
1. Introduction
In general, activities endorsing lifestyles that include healthy diets have usually focused on limiting the consumption of salt, sugar, and saturated fat. However, focus on the need to meet adequate dietary intake of essential nutrients through a healthy diet is considered equally important.
2. Musculoskeletal Health in the Older Adult
The gradual loss of bone mass and disruption of bone architecture associated with osteoporosis results in an increased risk of bone fractures, particularly of the hip, spine, and wrist. It is an age-related chronic, complex, multifactorial skeletal disorder which affects both men and women, particularly postmenopausal women [
25
]. Osteoporosis places a huge personal and economic burden on society. In Europe, for example, the disability caused by the disease is greater than that caused by cancers (with the exception of lung cancer) and is comparable or greater than that caused by a variety of chronic NCDs, such as rheumatoid arthritis, asthma and hypertension-related heart disease [
26
].
In a WHO report it was noted that the remaining lifetime risk of an osteoporotic fracture in women aged 50 years in developed countries was >40% (>20% for hip fracture) [
27
]. At the time of this report, osteoporotic fractures had the sixth highest disease burden in the Americas and Europe combined, as estimated by disability-adjusted life years [
27
,
28
]. In 27 countries in the European Union, based upon the overall epidemiology of 22 million women and 5.5 million men with osteoporosis, it was calculated that this would result in 3.5 million new bone fractures (hip, 610,000; vertebral, 520,000; forearm, 560,000; and others 1.8 million) [
28
]. The economic burden to manage these incident and prior bone fractures was calculated to be €37 billion.
In the elderly, both micronutrient and macronutrient deficiencies appear to contribute to the pathogenesis of skeletal fractures as a consequence of age-related bone loss and frailty [
16
]. Nutrients that play a role in bone metabolism include vitamin D and vitamin K, calcium, magnesium, phosphorus, proteins, and fatty acids.
2.1. Vitamin D in Musculoskeletal Health
2.2. Vitamin K in Musculoskeletal Health
Two forms of vitamin K exist: vitamin K
1
(phylloquinone, mainly found in green leafy vegetables) and vitamin K
2
(menaquinone, mainly found in fermented dairy and produced by lactic acid bacteria in the intestine). Vitamin K is required for promoting osteoblast differentiation, upregulating transcription of specific genes in osteoblasts, and activating bone-associated vitamin K dependent proteins, which play critical roles in extracellular bone matrix mineralization. Less is known about vitamin K and health, but there is growing evidence suggesting a synergistic effect between vitamins K and D in bone [
40
]. A number of studies reported that vitamin K is essential for optimization of bone health with benefits in preventing bone loss [
41
]. Vitamin K
2
supplementation combined with vitamin D and calcium for 2 years in a randomized placebo-controlled trial resulted in a significant increase in bone-mineral density and content in older women [
42
]. In another recent RCT it was found that combined vitamin K
2
, vitamin D and calcium supplementation for 6 months increased the bone mineral density of lumbar 3 spine vertebra compared to vitamin D and calcium alone in postmenopausal Korean women [
43
].
Current research investigating the effect of vitamin D alone or in combination with other nutrients on fractures, cardiovascular disease, diabetes, cognitive function, immunity, and other benefits is ongoing in two large scale studies in older adults (DO-HEALTH in Europe, FIND in Finland). In addition, many research groups engage in basic science to study the combined action of vitamin K2, vitamin D, and calcium, and their function on the molecular level. More studies are required that target vitamin D supplementation in combination with other nutrients such as calcium and vitamin K where it is needed, in people with vitamin D deficiency or older people, who are more likely to be frail in institutionalized residents.
3. Cognitive Disorders
Dementia is a term that describes a decline in cognitive abilities including memory, and reduction in a person's ability to perform everyday activities [
44
]. Dementia prevalence is forecast to increase dramatically in future years [
45
]. At present about 50 million people have dementia worldwide, and this is projected to reach 80 million by 2030 and 150 million by 2050 [
46
]. Alzheimer's disease (AD) is the most common form of dementia in people aged >60 years, accounting for 60–70% of the total number of cases and is the major focus of this section [
46
]. Vascular dementia is the second most common cause of dementia with at least 20% of dementia cases.
Alzheimer's disease is a complex, progressive, multifactorial, neurodegenerative disease [
24
,
45
]. The presentation generally involves progressive memory loss, impaired thinking, disorientation, and changes in personality and mood. As the disease advances there is a marked reduction in cognitive and physical functioning [
47
,
48
]. Genetic factors account for about 70% of the risk contributing to AD, while modifiable factors related to general health and lifestyle may also be involved [
48
]. Risk factors for vascular dementia are predominantly modifiable and of vascular origin (including hypertension, diabetes mellitus, dyslipidemia, and the metabolic syndrome). Managing non-genetic risk factors effectively may provide opportunity to prevent and treat the progressive cognitive decline associated with AD [
47
]. The focus of this section of the review is on nutritional status and its potential role in AD.
The Role of Nutrition in Dementia
The metabolically active form of vitamin D, 1,25-dihydroxy vitamin D, binds to vitamin D receptors that are present in brain regions involved in cognition. Proposed mechanisms for the protective effects of vitamin D against cognitive decline include clearing Aβ peptide, regulating intraneuronal calcium, anti-inflammatory activity, antioxidative activity, preventing and reducing ischemia, and regulating choline acetyltransferase neurotrophic agents. There is strong evidence that patients with AD have lower vitamin D status than healthy controls and that lower vitamin D status is associated with increased risk of developing dementia. Although vitamin D supplementation alone was insufficient to improve cognition in a study of patients with newly diagnosed AD, the Vitamin D Council recommends that middle-aged and older adults maintain vitamin D blood levels in the higher range of normal (175–200 nmol/L; 70–80 ng/mL).
4. Eye Disorders
Future studies may include additional assessments of the relationship between macular pigment and different genotypic and phenotypic forms of age-related macular degeneration, the optimum dosages of lutein, zeaxanthin, and the possible effects when combined with other nutrients.
5. Cardiovascular Disease
Despite the global decline in cardiovascular mortality, cardiovascular diseases remain the leading cause of morbidity and mortality, contributing to escalating health care cost [
82
]. Cardiovascular aging progresses over decades, influenced by risk factors such as tobacco use, poor physical activity and diet, resulting in hypertension, dyslipidemia (high triglycerides and lower HDL), elevated fasting blood glucose, and central obesity [
83
]. Cardiovascular disease is the major clinical problem in the older population, with 68% of adults 60–79 years having cardiovascular disease and this increases to 85% after the age of 80 years [
84
].
Good nutrition plays an important role in delaying the progression of cardiovascular disease [
85
,
86
]. The adverse effects of excess intakes of saturated and trans fats, cholesterol, added sugars, and salt in relation to cardiovascular disease progression has been relatively well-established whereas the effect of addressing inadequate essential nutrients is less well-known. Older adults are highly susceptible to undernutrition due to the various physiological and socioeconomic factors [
87
]. In contrast to overnutrition, the potential of addressing undernutrition to optimize cardiovascular health in older adults has received inadequate attention [
88
]. Evidence for nutrition in reducing the risk for cardiovascular aging mostly derives from epidemiological studies, whereas fewer interventions studies have been performed. The RCTs addressing cardiovascular disease generally have included, but not exclusively, older adults, not allowing generalizability of results to typical older adults. The authors have therefore focused on nutrition interventions addressing cardiovascular aging progress, not restricted to elderly.
5.1. Cardiovascular Events
5.2. Hypertension
Hypertension is a major public health concern given its link to serious cardiovascular events such as stroke and ischemic heart disease, the leading causes of worldwide mortality [
6
]. It has been estimated that hypertension is responsible for approximately 40% of cardiovascular deaths. By the year 2025 almost 30% of the global population will be diagnosed with high blood pressure, with 25% of these cases occurring in developing countries [
125
]. Hypertension rises dramatically with aging due to longer exposure to age-associated alterations in vascular function and structure and cardiovascular risk factors [
126
].
Hypertension is a multifactorial disease with lifestyle factors such as physical activity, smoking and drinking habits, diet, bodyweight, and anxiety playing a predominant role. Management of these is the first step to achieving adequate blood pressure control. Indeed, it has been reported that two lifestyle modifications can help improve blood pressure control and decrease the number of cardiovascular outcomes [
127
].
5.3. Diabetes
Type 2 diabetes has become a global health-related pandemic which is forecast to rise from 425 to almost 630 million by 2045 [
135
]. In developing countries, the forecasted increase is more alarming, particularly in regions which are more rapidly adopting a Western lifestyle. The direct financial burden on healthcare systems and society is huge, as are the indirect costs from loss of work attendance. Intensive lifestyle modification, e.g., personalized nutrition and physical activity programs, with the goal of improving glycaemia and losing excess body weight should be the mainstay of initial management in individuals with prediabetes [
136
].
6. Conclusions
Inadequate or even deficient nutrient intake and status is still widely prevalent at global level and, although generally underacknowledged, is a main risk factor for NCDs [
20
]. Nutrient surveys indicate that the aging population is at particular risk for poor nutrient intake and status, which may result in increased risk for chronic fatigue, and cardiovascular, cognitive, and neuromuscular disorders in older adults. The present paper reviews the evidence for the role of various nutrients in modifying the risk of development of NCDs throughout aging.
Inadequate vitamin D, calcium and vitamin K intake and status are generally reported in the aging population and have been associated with musculoskeletal disorders, such as increased bone fracture risks. Increased vitamin D in combination with increased calcium and possibly also vitamin K may reduce the risk for hip fractures, thus beneficially impacting musculoskeletal health.
Inadequate B vitamins intake and status, in particular folic acid, vitamins B6 and B12, have been associated with age-related cognitive decline, while supplementation has been reported to improve cognitive performance. Similarly, evidence has been reported for vitamin C, D, and E, as well as omega-3 LCPUFAs (e.g., DHA) to slow down dementia progression.
Increased intake of lutein and zeaxanthin has been demonstrated to improve macular pigment optical density measures, a marker of age-related macular degeneration.
Various nutrients have been reported to play a role in reducing the risk for ischemic heart disease, stroke, myocardial infarction, heart failure, hypertension, and diabetes with varying levels of effect size and evidence. B-Vitamins reduced homocysteine levels and reduced the risk for stroke. Some but not all studies reported that higher omega-3 LCPUFAs intakes resulted in reduced risk of cardiovascular events; most pronounced effects being shown in subjects with low intake or status. Vitamin C and D may reduce hypertension, omega-3 LCPUFAs may have positive effect on blood lipid profiles, and omega-3 LCPUFAs, vitamin D, and chromium may reduce diabetes risk factors.
Most pronounced benefits of nutrient interventions were sometimes found in subgroups which had low baseline intake or status of the nutrient. Genetic factors can affect the status of certain nutrients, as well as contribute to increased risk for NCDs and raise the needs for certain nutrients [
139
,
145
]. Targeted supplementation with nutrients of concern to genetically predisposed subgroups has been shown to confer benefits as shown by some examples in this review. More research is needed to unravel the benefits of optimizing nutrition where it is needed, for instance by targeting those at increased risk for NCDs linked to low nutrition status or genetic profile.
Due to a growing aging global population, related NCDs including musculoskeletal disorders, dementia, loss of vision, and cardiovascular diseases will place an increasing burden on health systems and costs. Adequate nutrient status may help to improve health and wellbeing in older populations and slow the progression of NCDs. Implementing a long-term preventative strategy to promote healthy aging and break down the barriers to adequate nutrition for older adults could result in significant healthcare cost savings. Nutrition is increasingly acknowledged and integrated into public health policies and programs to manage healthy aging. Promoting nutrient-rich diets and adequate nutrient intakes for healthy aging should be considered part of an integral approach to address NCDs in health policies. There is a need for public and/or private partnerships where governments, health authorities, academics, and the food sector jointly promote the benefits of healthy nutrient-rich diets and lifestyle to manage NCDs.
In conclusion, data indicate that inadequate nutrient intake and status is common in older aged adults and represents a risk for the development of NCDs during aging. Studies for the aging population have demonstrated that optimizing nutrition can reduce the risk and progress of NCDs. Although the scientific evidence is not conclusive for all health benefits, it should not prevent health authorities from promoting balanced and adequate nutrient intakes as integral part of nutrition strategies to reduce the burden of NCDs associated with inadequate nutrition.
Author Contributions
M.J.B., M.E., and P.V.D. wrote the manuscript.
Funding
This research received no external funding.
Acknowledgements
Editorial assistance was provided by Content Ed Net (Switzerland).
Conflicts of Interest
M.J.B. and P.V.D. are employed by DSM Nutritional Products, a manufacturer of vitamins and supplier to the food, dietary supplement, and pharmaceutical industries. M.E. is a former employee of DSM Nutritional Products. There were no other conflicts of interest.
Figure 1.
Europe map of vitamin D deficiency in older adults (mean 25(OH)D status (nmol/L) in adults aged ≥50 years) (based on: [
39
]).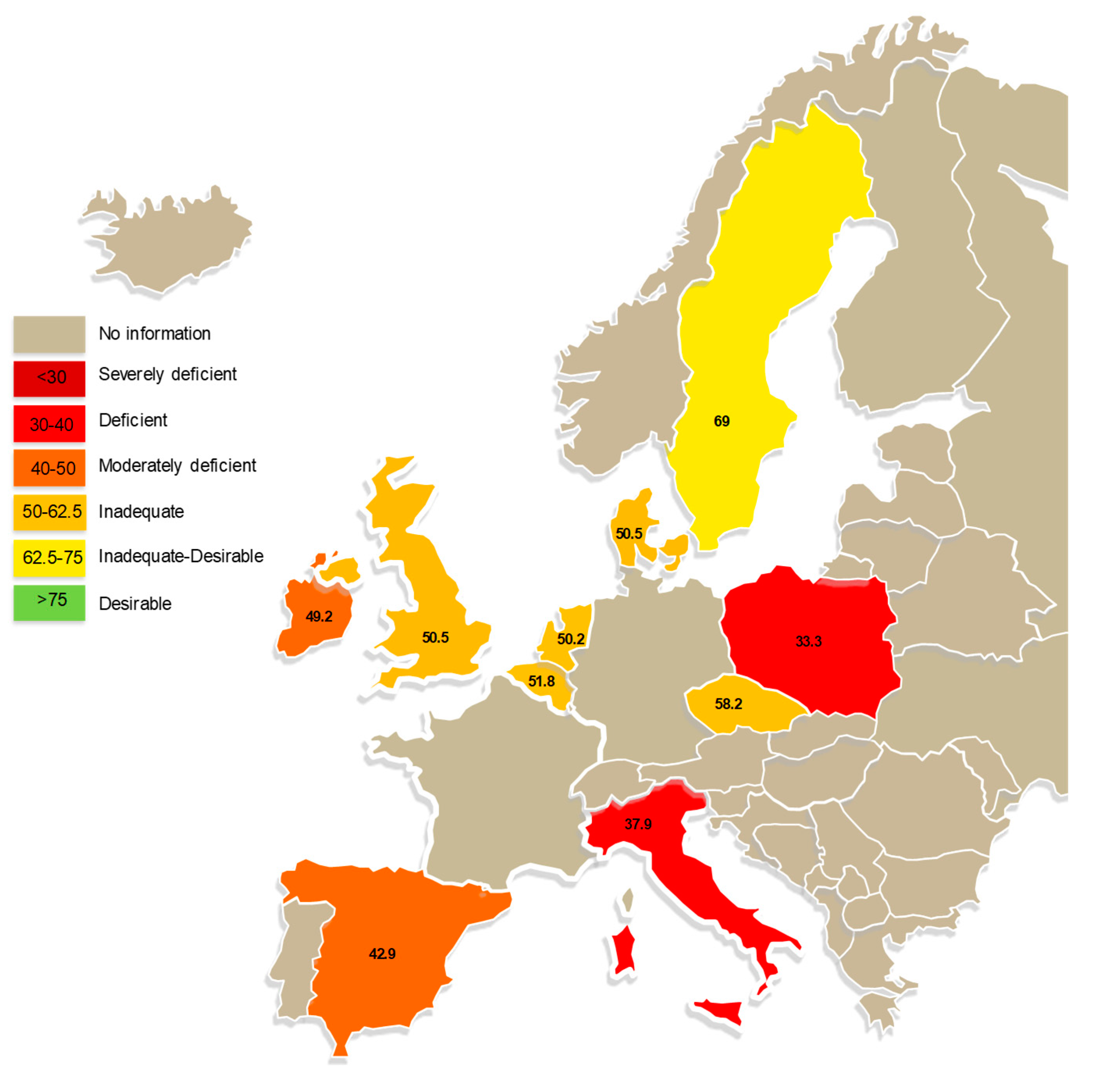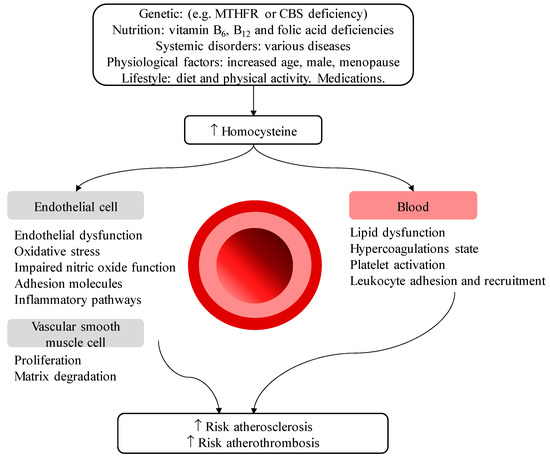 Figure 2. Risk factors and mechanisms for high homocysteine in cardiovascular disease. MTHFR: methylenetetrahydrofolate reductase, CBS: cystathionine beta-synthase.

Table 1.
Percentage of adults with nutrient intakes meeting the estimated average requirement (EAR) or adequate intake (AI) or exceeding the maximum reference value (MRV) [
12
].
% Meeting EAR or AI
EAR or AI
Denmark


n

= 2025 people
Czech Republic


n

= 1869 people
Italy


n

= 2831 people
France


n

= 2624 people
Protein, g/d
0.66 g/kg BW
84%
88%
99%
98%
MUFA, E%
10–20 E%
69%
92%
75%
77%
Dietary fiber, g/d
25
19%
4%
12%
9%
Calcium, mg/d
750
70%
31%
43%
62%
Iron, mg/d
M: 6; F: 7
92%
96%
98%
98%
Potassium, mg/d
3500
31%
4%
19%
18%
Magnesium, mg/d
M: 350; F: 300
46%
25%
20%
23%
Zinc, mg/d
M: 7.5; F: 6.2
90%
48%
97%
91%
Vitamin A, µg RE/d
M: 570; F490
77%
38%
66%
77%
Vitamin C, mg/d
M: 90; F: 80
50%
35%
62%
44%
Vitamin E, mg/d
M: 13; F: 11
5%
44%
47%
34%
Vitamin D, µg/d
15
3%
1%
1%
1%
Vitamin B1, mg/d
0.6
97%
98%
47%
100%
Vitamin B2, mg/d
M: 1.1; F: 0.9
80%
35%
84%
92%
Vitamin B12, µg/d
4
55%
36%
52%
50%
Folate, µg DFE/d
250
59%
24%
77%
51%
% exceeding MRV
MRV
SFA, E%
<10 E%
86%
80%
62%
91%
Added sugar, E%
<10 E%
32%
21%
24%
Sodium, mg/d
<2400 mg/d
80%
98%
13%
85%
RE: retinol equivalents, DFE: dietary folate equivalents, E%: energy percentage, MUFA: mono-unsaturated fatty acids, SFA: saturated fatty acids. The red, orange, yellow, light green and dark green signals, respectively, represent ≤5%, 6–35%, 36–65%, 66–95%, and ≥96% of people meeting the EAR.

Table 2.
Critical nutrients in older adults [
18
].
Micronutrient
Challenges, Clinical Signs, and Symptoms in Older Adults
Vitamin B12
(cobalamin)
Deficiencies common in older adults, often underdiagnosed. Role in reducing elevated homocysteine, a cardiovascular risk factor. Absorption decreases mainly due to high prevalence of age-related atrophic gastritis. Among the common causes of anaemia in older adults, leading to weakness and fatigue. Low status increases the risk for cardiovascular disease and cognitive impairment.
Folate
Deficiencies common in older adults. Role in reducing elevated homocysteine, a cardiovascular risk factor. Closely related to vitamin B12 and B6. Among the common causes of anaemia in older adults, leading to weakness and fatigue. Deficiencies linked to depression and dementia.
Vitamin B6
Deficiencies common in older adults. Role in reducing elevated homocysteine, a cardiovascular risk factor. Closely related to vitamin B12 and folate.
Thiamine
(vitamin B1)
Deficiencies common in older adults, often underdiagnosed. Risk factor for heart failure, peripheral neuropathy, and encephalopathy.
Calcium
Deficiencies common in senior women. Mean intake decreases with age, probably related to general change in diet. Associated with low bone mass, rapid bone loss, and high fracture rates.
Vitamin D
Older adults are less exposed to sun and have diminished ability of the skin to synthesize vitamin and the liver and kidney to hydrolyze vitamin D with age. Deficiency is a risk factor low bone mass, rapid bone loss, high fracture rates, and muscle weakness.
Vitamin C
Prevalence of inadequate intake is very high among adults. May help elderly maintain immune cells and function. Smoking increases need.
Iron
Women's iron requirements decrease after the menopause. Deficiencies are mainly seen among hospitalized, institutionalized, or chronically ill older adults. Among the common causes of anaemia in older adults, leading to weakness and fatigue.
Zinc
Deficiency is common in the elderly. Risk factor for immune deficiency and susceptibility to infection in the elderly.
Selenium
Deficiency deficiency may increase risk of diseases of aging such as cardiovascular disease, reduced immune response, and cognitive decline.
Magnesium
Often deficient in older adults. Maintains muscle integrity and function.

© 2019 by the authors. Licensee MDPI, Basel, Switzerland. This article is an open access article distributed under the terms and conditions of the Creative Commons Attribution (CC BY) license (http://creativecommons.org/licenses/by/4.0/).