Calcium Pyruvate Exerts Beneficial Effects in an Experimental Model of Irritable Bowel Disease Induced by DCA in Rats
1
CIBER-EHD, Department of Pharmacology, Center for Biomedical Research (CIBM), University of Granada, 18071 Granada, Spain
2
Instituto de Investigación Biosanitaria de Granada (ibs.GRANADA), 18012 Granada, Spain
3
Dr. Ivo Pischel Consulting, 53547 Rossbach, Germany
4
Centre for Pharmacognosy and Phytotherapy, UCL School of Pharmacy, University of London, London WC1N 1AX, UK
5
Department of Pharmacology, Center for Biomedical Research, University of Granada, Avenida del Conocimiento s/n 18016-Armilla, 18071 Granada, Spain
*
Author to whom correspondence should be addressed.
Received: 28 December 2018 / Revised: 5 January 2019 / Accepted: 8 January 2019 / Published: 10 January 2019
Abstract
Pyruvate is a normal constituent of the body that participates in carbohydrate metabolism and functions as a scavenger of free radicals. Calcium pyruvate monohydrate (CPM) is a more stable derivative that has proved its anti-inflammatory effect in experimental colitis, among other disorders, and that could also be considered a source of calcium. Thus, it would be useful for the treatment of diseases with an inflammatory component and a high prevalence of osteoporosis like the irritable bowel syndrome (IBS). The aim of the present study is to evaluate the effects of CPM in a rat model of chronic post-inflammatory visceral pain induced by deoxycholic acid (DCA) that resembles IBS. Rats were administered DCA for three days intracolonically and then treated daily with CPM (40 and 100 mg/kg) or gabapentin (70 mg/kg) (positive control) by oral gavage for 17 days. The treatments reduced the visceral hypersensitivity measured by response to colorectal distension and referred pain. DCA induced changes in the colonic immune response characterized by increased expression of the cytokine
Il-1β
and the inducible enzyme
Cox-2
, which was reduced by the treatments. DCA also decreased the gut expression of the mucins
Muc-2
and
Muc-3
, which was normalized by CPM, whereas gabapentin only increased significantly
Muc-3
. Moreover, DCA increased the expression of
Tlr3
, which was decreased to basal levels by all the treatments. However, the serotonin receptor
Htr-4
, which was also elevated, was not affected by any of the treatments, indicating no effect through this signalling pathway. In conclusion, CPM ameliorated the visceral hypersensitivity and the referred pain caused by DCA, being as effective as the control drug. Furthermore, it improved the immune status of the animals, which could contribute to the visceral analgesia and the regeneration of the intestinal epithelial barrier integrity.
View Full-Text
►

▼

Figures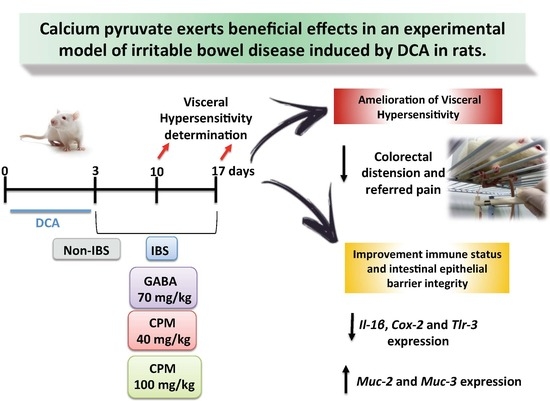 Graphical abstract
This is an open access article distributed under the
Creative Commons Attribution License
which permits unrestricted use, distribution, and reproduction in any medium, provided the original work is properly cited (CC BY 4.0).

Share & Cite This Article
MDPI and ACS Style
Rodríguez-Nogales, A.; Algieri, F.; Vezza, T.; Garrido-Mesa, J.; Molina-Tijeras, J.A.; Rodríguez-Cabezas, M.E.; Utrilla, M.P.; Pischel, I.; Gálvez, J. Calcium Pyruvate Exerts Beneficial Effects in an Experimental Model of Irritable Bowel Disease Induced by DCA in Rats. Nutrients 2019, 11, 140.
Note that from the first issue of 2016, MDPI journals use article numbers instead of page numbers. See further details here.
Related Articles
Comments
[Return to top]