Platycodon grandiflorum

Saponins Ameliorate Cisplatin-Induced Acute Nephrotoxicity through the NF-κB-Mediated Inflammation and PI3K/Akt/Apoptosis Signaling Pathways

1

Department of Chinese Materia Medica, College of Chinese Medicinal Materials, Jilin Agricultural University, Changchun 130118, China

2

Intelligent Synthetic Biology Center, Daejeon 34141, Korea

3

School of Biomedical Sciences, University of Queensland, Brisbane 4072, Australia

*

Author to whom correspondence should be addressed.

Received: 8 August 2018 / Revised: 11 September 2018 / Accepted: 14 September 2018 / Published: 19 September 2018
Abstract
Although cisplatin is a potent chemotherapeutic agent against cancers, its clinical application is seriously limited by its severe side effects of nephrotoxicity. Previous studies reported that saponins isolated from the roots of
Platycodon grandiflorum
(PGS) exerted protective effects in various animal models of renal injury, with no confirmation on cisplatin-induced injury. This study was designed to investigate the protective effect of PGS (15 and 30 mg/kg) on cisplatin-induced kidney injury in mice. The levels of serum creatinine (CRE) and blood urea nitrogen (BUN), and renal histopathology demonstrated the protective effect of PGS against cisplatin-induced kidney injury. PGS exerted anti-inflammation effects via suppressing nuclear factor-kappa B (NF-κB) activation and alleviating the cisplatin-induced increase in inducible nitric oxide synthase (iNOS), cyclooxygenase-2 (COX-2), tumor necrosis factor-α (TNF-α), and interleukin-1β (IL-1β) in kidney tissues. The expressions of phosphorylation of phosphatidylinositol 3-kinase/protein kinase B and its downstream apoptotic factors, such as Bcl-2 and caspase families were regulated by PGS in a dose-dependent manner. In conclusion, PGS exerted kidney protection effects against cisplatin-induced kidney injury by inhibiting the activation of NF-κB and regulating PI3K/Akt/apoptosis signaling pathways in mice.
View Full-Text
►

▼

Figures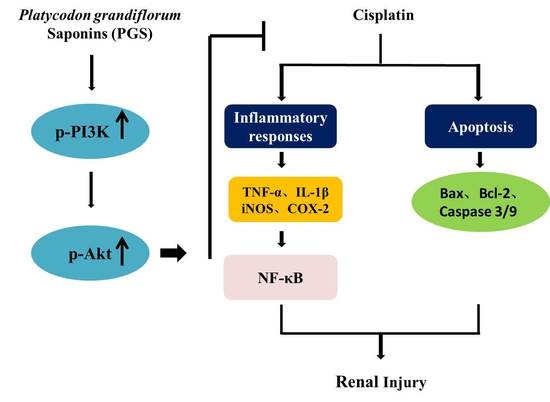 Graphical abstract
This is an open access article distributed under the
Creative Commons Attribution License
which permits unrestricted use, distribution, and reproduction in any medium, provided the original work is properly cited (CC BY 4.0).

Share & Cite This Article
MDPI and ACS Style
Zhang, W.; Hou, J.; Yan, X.; Leng, J.; Li, R.; Zhang, J.; Xing, J.; Chen, C.; Wang, Z.; Li, W. Platycodon grandiflorum Saponins Ameliorate Cisplatin-Induced Acute Nephrotoxicity through the NF-κB-Mediated Inflammation and PI3K/Akt/Apoptosis Signaling Pathways. Nutrients 2018, 10, 1328.
Note that from the first issue of 2016, MDPI journals use article numbers instead of page numbers. See further details here.
Related Articles
Comments
[Return to top]